Greatist only shows you brands and products that we stand behind.
Our team thoroughly researches and evaluates the recommendations we make on our site. To establish that the product manufacturers addressed safety and efficacy standards, we:
Evaluate ingredients and composition: Do they have the potential to cause harm?
Fact-check all health claims: Do they align with the current body of scientific evidence?
Assess the brand: Does it operate with integrity and adhere to industry best practices?
We do the research so you can find trusted products for your health and wellness.
Monthly subscription boxes can deliver everything from chocolates and fruit to pens and beer. Guess who else can get their very own subscription box — yep, your dog.
(We checked, and no, a dog subscription box does not mean they regularly send you puppers to cuddle. We're disappointed too.)
The best dog subscription box fits your dog's personality and delivers products they'll use every month. This can save you time at the store and give you both something to anticipate. Let's be real — they're going to chew it all up anyway.
Dog subscription boxes provide single, monthly, or quarterly deliveries of goodies for your waggly furbaby. Boxes may include:
food
treats
toys
gear
maybe even a few items for you (although you already have a dog and therefore everything you'd ever need)
Our picks: The best dog subscription boxes
These boxes come with a wide variety of options and themes. Some switch up their themes monthly. Others feature treats or plush toys only.
Boxes may cater to chewers, older dogs, or dogs with dental problems. Big borkers and teeny yappers can get a box that works for their personality, tastes (literally), and human's budget.
And we know you bought three Marvel-themed dog costumes last month alone. So you've got no excuses.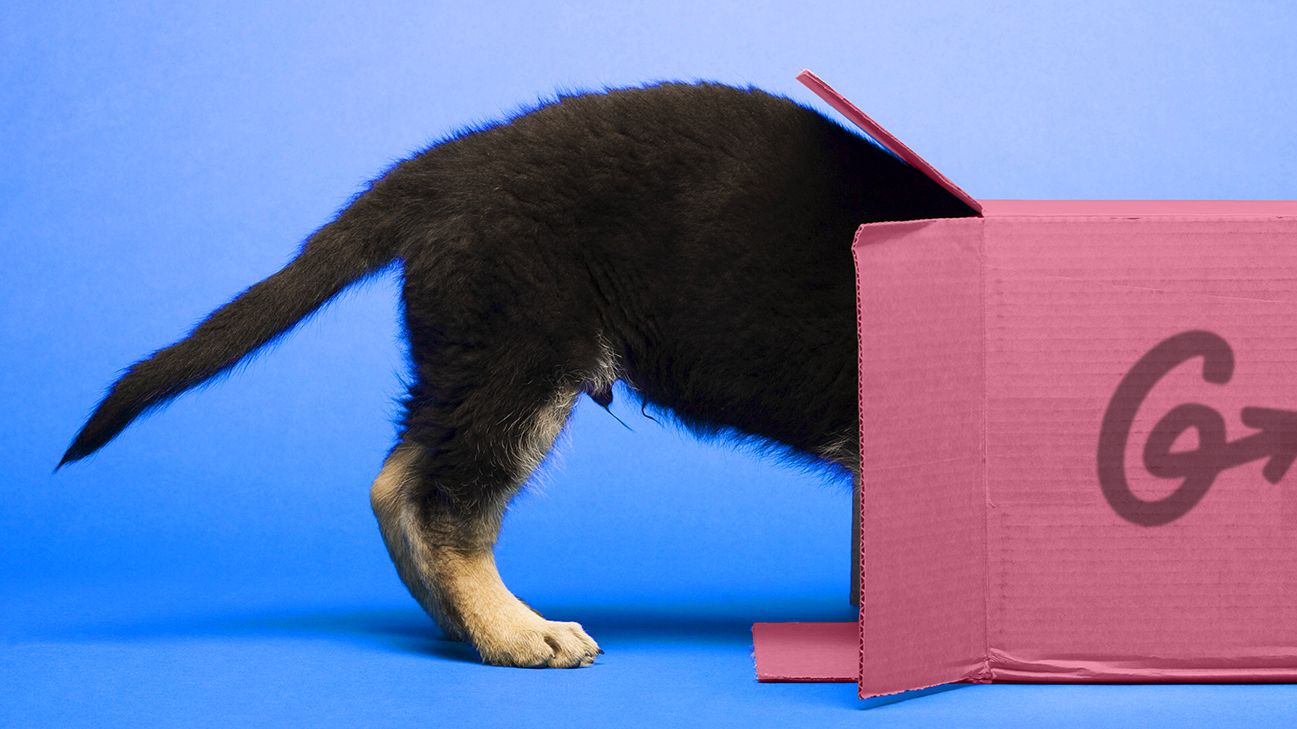 Dog subscription boxes cost anywhere from $15 to more than $90 per month. Some subscriptions allow you to buy a single month at a time. Others require that you choose a delivery schedule.
What's in the box will determine the value and whether you're getting a discount on items your dog would need either way. Not all boxes are a good deal, the same way not all dogs are confirmed good boys (half of them are lovely ladies too).
You can skip some boxes and save money by buying individual items at the store yourself. In other cases, the subscription gets you a discount on poop bags, treats, or toys.
Subscriptions that cater to heavy chewers are a way to buy better quality products than you could find in the store.
Boxes that come with organic treats and dog food may not save money (because, y'know, organic), but they can give you access to healthy products that might not be available at a pet store near you.
It's completely down to your dog, their needs, and your budget.
You might not be familiar with the concept of dog subscription boxes. But they're great for:
families with a furry family member (the dog, not Uncle Max) (Seriously, your beard isn't making you cool while you still wear two fanny packs.)
dogs who chew through toys every month
adventurous owners looking for new treats
dogs with health issues
dogs with dental problems
city-dwellers who need regular deliveries of poop bags (get that sh*t done)
We used the following criteria to pick these subscription boxes:
Range of box options. Multiple box options let you customize the box to your dog's size, habits, and personality.
Product quality. If you're going to pay a monthly subscription fee, you should be paying for quality. And who doesn't want the best for their pooch?
Variety of products. Food only? Toys only? A gift or two for you? The more options a box provides, the better.
Price. Subscriptions that save money or provide access to hard-to-find items add value to the excitement of getting a package.
We based our pricing guide on purchasing a monthly subscription. Some dog subscription boxes offer a discount for a 12-month commitment.
$ = under $30
$$ = $30–$50
$$$ = over $50
The best for toys
Price: $$

"A toy for every dog" accurately describes the KONG box.

These boxes are full of items specifically targeted to your dog's issues (because dogs are people too). If your dog experiences anxiety and teething or needs help with crate training or weight control, these toys can help them conquer their troubles.

Complete your dog's profile at sign-up and you'll receive a box with two toys, three treats, training tips, and a recipe card — all customized to your pup's unique needs

There's even a box for super chewers and shredders (the perfect gift to distressed sofas everywhere).
The best for doggie gear
Price: $$

If your dog has an Insta and maintains that drip at all times, this might be the special delivery of their doggie dreams.

For dogs aspiring to Dapper Dan levels of style, Dapper Dog's themed boxes deliver bandannas, treats, and toys.

Before long, you'll have a complete collection of cute bandannas and chewables for your dog, whether in the safari or the spa theme. And their IG will be poppin'.
The best for treats
Price: $$
Big Lu's natural chews and treats offer a delicious and nutritious monthly surprise.

The box includes a mix of bully sticks, jerky, ears, tendons, and other unique treats and chews.

While the name says "big," the company tailors the boxes to dogs of all sizes — we know how your chihuahua feels when they get left out.

You also get the option of choosing the protein, so dogs with allergies aren't at risk.
The best for food
Price: $$$

Owners looking for nutritious, natural (human-grade) food won't be disappointed with Ollie.

At sign-up, you enter all your dog's information, such as age, allergies, size, and preferences.

Ollie develops a custom meal plan based on your dog's specific nutritional needs and packages the meals for portion control.

Plus, you don't need to worry about bisphenol A (BPA). This is a chemical that sometimes pops up in canned dog food and can mess with dogs' hormones.

You can store the meals in the freezer and thaw them in the fridge. Ollie lets you pick a delivery schedule that works for you and your pupper.

If you're looking for hands-free shopping, customized nutritional profiles, and fresh ingredients, Ollie could let your dog have its day.
The best for healthcare
Price: $$

Only veterinarian-approved products make it into this subscription box.
Any treats and toys come with health recommendations for your fave furball. The box also includes items like dog shampoo, conditioning sprays, dental aids, and nutritional supplements.

You can customize the box for your dog's individual needs, such as chew style, age, and specific health issues.

And so as not to leave out our feline friends, you can also choose a cat box. (But knowing most cats, they'll completely ignore the contents and make a beeline straight to the empty box.)
The best for older dogs
Price: $$$

You might not be able to teach your old dog new tricks, but Greenwell Pet boxes provide healthcare and wellness products that support older dogs and dogs with chronic health issues. So they can at least feel better while they stick to their previous tricks.

If you're not sure what kind of ointments and tinctures will relieve your dog's arthritis or digestive health issues, the Greenwell Pet Box may help you find a solution.

You get different products each month, like CBD oils or medicated shampoos. Plus, there's at least one eco-friendly toy and treat in each delivery.
The best for the owner
Price: $$

Who doesn't love getting a package every month? Your dog doesn't have to be the only member of your fam who gets excited for the postman. The Dog Mom Box includes treats and toys for your dog and a little swag for you.

Think T-shirts and pillows for you and treats and chews for your dog. There's a different theme each month. If you don't want a subscription, you can send just one box to your favorite mom and dog. Wagging tails and happy faces all around!
The best for the health-conscious owner
Price: $$

Fresh, healthy food is as good for your dog as it is for you. The Farmer's Dog provides foods with whole, natural ingredients. The service tailors meals to your dog's nutritional needs, size, and allergies.

There are no processed brown pellets, meat powders, or sneaky label tricks here. Preportioned packets of fresh food arrive at your doorstep. The meals aren't frozen and don't contain a whole bunch of preservatives. So it's pretty close to something you'd make in your own kitchen.

You can adjust deliveries or change your plan at any time. Plus, it comes in eco-friendly packaging, reducing your carbon pawprint.
The best for chewers
Price: $$

Heavy chewers can tear through a stuffed animal in minutes (R.I.P., Mr. Bunny).

The Bullymake Box doesn't arrive with just any toys. It's full of toys meant for dogs who would chew through furniture if they could.

Each box follows a monthly theme, creating a fun surprise for you as well. Boxes include treats, too, but you can choose a toy-only option if your dog has allergies or you don't need more dog goodies around.
The best for multi-dog homes
Price: $

Pooch Perks' four package options let you choose how many goodies you need based on how many dogs you have. Let's be honest: You're gonna want as many dogs as you can possibly handle. They're dogs.

These boxes also have monthly themes — particular kudos goes out to the Shark Week box.

Different box options include treats (large and small), poop bags, toys, and chews.

The most expensive box — the Extreme Pampering box — offers the most bang for your multi-dog buck. And Pooch Perks offers several payment options, including monthly payment and prepaying for 3, 6, or 12 months.
The best for a small budget
Price: $

This affordable box arrives with three or four items that range from treats and chews to toys and poop bags.

Pet Treater also lets you customize by choosing either a treats-only box or toy-only box. That way, your home doesn't get filled with items your dog ignores.
Home delivery saves you time and makes sure your dog gets what they need when they need it.
With such a wide range of options, you're sure to find one that fits in with your lifestyle — and, most importantly, your doggo's.
If you're still unsure, just imagine the excitement on your dog's face (and wiggly butt) when their treats arrive every month. It's pure monthly joy for both of you.
And if you don't have a dog yet, hurry the f*ck up (if your landlord will let you). They can actually boost your health.