Oh, the great outdoors. After a year+ of quarantine and travel restrictions, it's finally time to get back out there and explore. Nature lovers everywhere are ready to hit the hiking trails.
But LBH, it's been a minute since many of us have travelled and we're not all hardcore hikers. Maybe the idea of sleeping in a tent with wildlife sniffing around isn't your scene. Or maybe you just want to baby step back into adventure life. Either way, day hiking to the rescue.
Day hiking basically blends all the things you love: fresh air, exercise, and Insta-worthy views, all topped off with sleeping in an actual bed at the end of the day instead of a tent. These 9 tips will walk you through everything you need to know about day hiking.
Fill me in: Why should I go on a day hike?
The best part about day hiking is, well, the day part. "It allows you to get out into the mountains, forest, desert, or any other landscape without the need to commit to a longer expedition," says Gaby Pilson, MSc, W-EMT, and outdoor educator for Outdoors Generations.
When it comes to day hiking, all are welcome. "It's a great way to keep in shape and can be done by almost anyone, regardless of activity level, age, or experience," says Michelle Michaud, certified hiking guide with 57Hours.
And after what feels like a decade of social distancing, Pilson points out that day hiking is a perfect opportunity to reconnect with your tribe. "It's a great option for adventuring with friends and family that doesn't involve spending the night outside," she says.
But hiking is good for more than just your body and your social calendar. "Being outdoors is the best natural therapy, and it is free," says Sara Schulting Kranz, certified wilderness guide and author of, Walk Through This: Harness the Healing Power of Nature and Travel the Road to Forgiveness.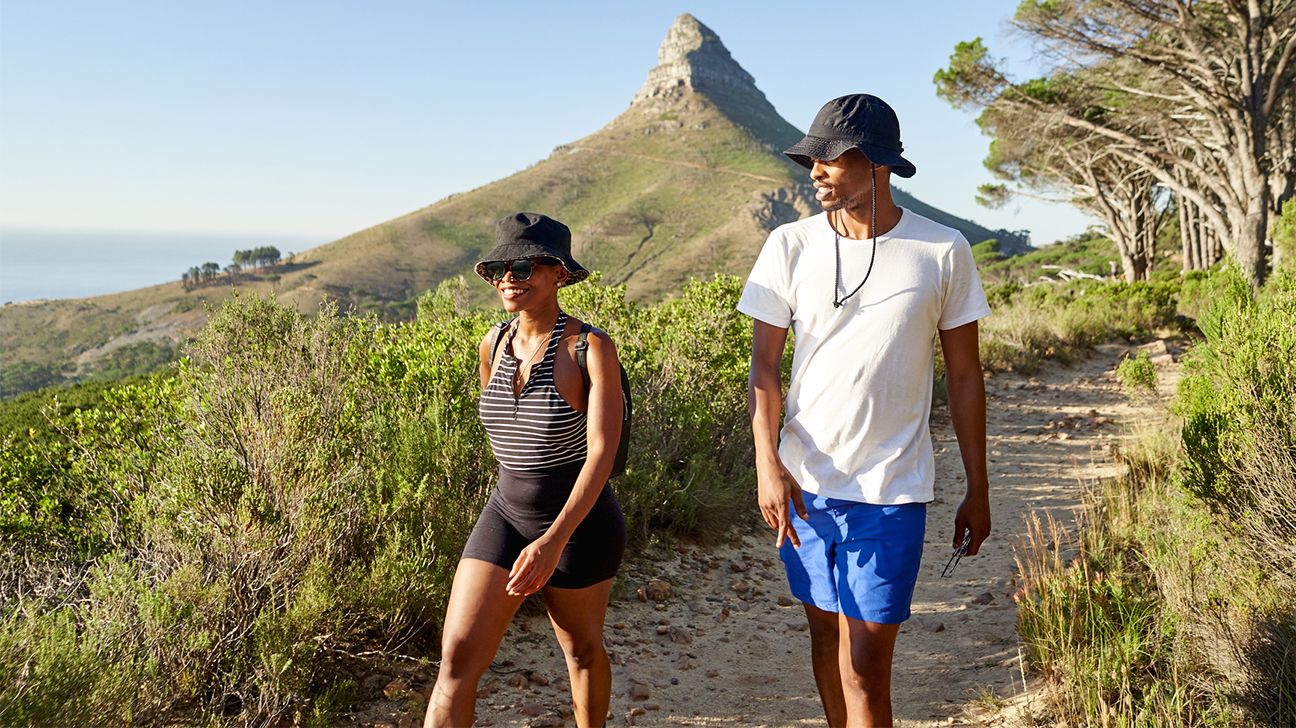 Scout the best hike for you
First things first, you need to pick a trail. "The best way to find and scout good day hikes is usually through word of mouth," says Pilson. "If you're going to a park, forest, or other similar area of publicly managed land, talking to a local ranger is usually your best bet."
No ranger in sight? No worries. There's an app for that. Here are some apps and websites that can help you find a hiking trail, including:
Choose an appropriate level of difficulty
Sure, you might want to get some good steps in, but you also want to enjoy your day hike. So, before you commit to a trail, make sure you're cool with how much it's going to test you.
Schulting Kranz recommends choosing a trail that coincides with how active you are. She says to make sure you understand what easy, moderate, and strenuous means, and to read the trail description thoroughly.
Things that will make a hike more difficult include:
Length. How many miles is it? More miles = more work.
Terrain. Will you be climbing over rocks or strolling on a well-maintained path?
Elevation. Is the trail flat or are you heading up a mountain?
Weather. How hot or cold is it? And will elevation changes bring temperature changes?
Dress for success
What to wear
Comfort is key. Check the weather and plan your outfit based on the temperature, trail difficulty, and chance of precipitation.
If it's warm and you're likely to get your sweat on, opt for clothes (and undergarments!) made of moisture-wicking or quick-drying fabric. You may want to wear long sleeves to protect you from the sun and bugs. And bring a lightweight jacket or extra layer in case the temperature drops.
If you're doing a winter hike, layer up with long underwear, fleece pants, and an insulated jacket or vest. A hat and gloves will also help keep heat inside your body.
And if there's a chance you might get wet (hi, rain or snow), make sure you're prepared with a rain jacket and pants. Consider picking up a pair of gaiters to help keep your shoes dry too.
But wait, there's more: You should pack some extra clothes in case of an emergency. "I always carry an extra jacket and/or windbreaker in the summer, and an extra layer of everything in the winter," says Schulting Kranz.
For your feetsies
When hiking, you need to make sure your shoes are made for walking because that's just what they'll do 🎶. "If you're new to day hiking, a pair of mid-top hiking boots is usually your best bet for footwear," says Pilson. "These boots provide good ankle and foot support without weighing you down."
More experienced hikers may prefer a low-top hiking shoe or trail runners. Schulting Kranz recommends low-riding, lightweight, water-resistant hiking shoes by Merrell.
And your socks also matter. "Wearing hiking-specific socks is often overlooked but is crucial to helping your feet stay dry and blister-free," says Michaud. She recommends Swiftwick's Pursuit Hike Socks.
Gear up
You may not be pitching a tent and camping overnight, but day hiking still requires some gear. "Day hikers are notorious for inadvertently underpacking on their adventures," says Pilson.
No matter what trail you're trekking, she says you should always be prepared with what's known in the hiking world as the 10 essentials:
Food: an extra day's worth of nutritious, no-cook food and snacks
Water: and water treatment supplies
Warm clothing and rain gear: hats, gloves, long underwear, rain shell
Light: flashlight, headlamp, or lantern
Sun protection: SPF, sunglasses, hat
Fire starters: matches, lighter, or an actual fire starter
Navigation tools: map, GPS, compass
Repair kit: knife, scissors, duct tape, screwdriver
First aid kit: bandages, antibiotic ointment, hydrocortisone ointment, etc.
Emergency shelter: tent, tarp, space blanket
If your hike is 10 miles or longer, Pilson recommends also bringing sleepover stuff in case of an emergency. And Michaud suggests a water filter and guidebook for those longer day hikes. She also says to have your guidebook handy or at least a map pre-downloaded on your phone.
But your gear doesn't have to be a total safety drill. Schulting Kranz is all about using the time to get quiet with your thoughts. "I also love taking my journal and pen, along with downloaded meditations on my phone," she says. "Meditating in nature is one of the best ways of calming anxiety and having clarity in my thoughts."
Packing up all that gear
Wondering how you're going to carry all that gear? That's where your hiking backpack comes in. Here's what our experts have to say about choosing a backpack:
"Most day hikers prefer to use a 15 to 35 liter day pack because this provides the best mix of gear storage space and weight savings," says Pilson. She prefers top-loading packs because they offer more storage space but says a lot of day hikers like panel-style packs for the easy access to gear.
Schulting Kranz says she's all about ultralight adventure equipment and recommends ULA backpacks. Michaud likes the storage space and stability of the Nathan's TrailMix 12L pack.
At the end of the day (hike), the goal is to find a backpack that works for you. "The best hiking backpack for your adventures is the one that fits you best," says Pilson.
OK, so you've got your trail picked out and all of your gear packed and ready to go. Here are some tips for dominating your day hike:
Fuel up
Eat before your hike
The day of your hike is not the day to experiment with intermittent fasting. "Before a hike, focus on hydration and getting a good mix of carbs, fats, and protein to sustain you through the day," says Pilson.
Hydrate, hydrate, hydrate
It's important to hydrate before, during, and after a hike. Schulting Kranz says to bring at least 2 liters of water with you and avoid drinks that will dehydrate you, like alcohol, soda, or anything with a lot of sugar.
Water is key but you also need to replace electrolytes you lose when you sweat. Michaud recommends Gnarly Hydrate, a drink mix full of electrolytes and B vitamins.
Munch on healthy snacks
No one likes a hangry hiker. "If you're hiking in hot temperatures, make sure that you eat even when you don't feel hungry," says Schulting Kranz.
Her go-to trail snacks are a sandwich, dried fruit, high caloric bars, and nuts.
Safety first: Staying safe on the trail
Leaving city life and heading out into the wild — even if only for a day — comes with certain risks. Here are some tips for staying safe during your day hike.
Plan ahead. Familiarize yourself with your trail and make sure you have all the necessary gear.
Share your itinerary. Make sure someone knows where you'll be hiking and approximately what time you should be finished.
Keep an eye on the weather. Be willing to turn around if the weather starts to look dubious. As Pilson points out, "the mountains will be there another day."
Stay alert. Always remain aware of your surroundings (so take out at least one of your ear buds).
Stay connected. Michaud says to carry an emergency beacon responder or at least a fully charged phone. Schulting Kranz recommends the Garmin inReach Explorer.
If you don't know, ask. Don't be afraid to ask fellow hikers for help.
Mind trail etiquette
Trail etiquette is like the unspoken rules of how to be a polite hiker. One of the biggest questions people have when it comes to trail etiquette is who has the right of way. Here's what you need to know:
Mountain bikers yield to hikers.
Downhill hikers yield to uphill hikers.
Everyone yields to horses.
Large groups yield to smaller groups.
But trail etiquette is also about how you interact with Mother Nature. Leave No Trace is a set of principles established to help people enjoy and protect our natural world. It includes guidelines like:
Repackage food to minimize waste.
Walk single file in the middle of a trail.
Leave rocks, plants, and other natural objects where they are.
Don't follow or feed wildlife.
And then there's also your basic "be a good human" rules like keeping quiet and being mindful of where you can and can't bring your dog.
Watch out for the locals
And by locals, we mean wildlife. No matter where you go day hiking, there will likely be bugs so be sure to throw some insect repellent in your hiking backpack. Mosquitoes can carry vector-borne diseases, so this is a must. It's also a good idea to check your clothes and bod for ticks, since they can carry and transmit Lyme disease.
Also check to see if bears or snakes are native to the area where you're hiking. If they are, might want to invest in some bear spray or a snake bite kit just in case.
And don't forget to enjoy yourself
Finally, don't forget the F word. "Even though it's challenging at times, hiking is supposed to be fun," says Pilson. "Surround yourself with like-minded hikers that hike at your pace and in your style."
And make sure you slow down and take a lot of moments to stop and look around. "So many hikers are focused on their footing because they don't want to trip — which is fine — but don't forget to appreciate the view around you, too," says Schulting Kranz.
She says one of her favorite things to do is to stop, get silent and still, and open her senses. "Notice what you see, taste, touch, hear, and smell," she says. "It's an opportunity to be present in the moment and notice the details in life."
Some bonus tips to keep in mind:
Lock up the logistics. If your hike starts in one place and ends in another, you'll have to do some car shuffling.
Potty time. Feel free to bring toilet paper but you have to take it with you after using it (remember, leave no trace!) so bring a plastic bag or something to carry it in.
Period patrol. Hiking on your period can get tricky so you'll need to weigh the pros and cons of tampons vs. a menstrual cup (or consider period proof underwear or leggings). Either way, make sure Aunt Flow is ready to go.
Day hiking is the perfect way to spend time with the great outdoors without a major commitment. It's not as involved as a full-on camping trip, but it still requires some prep for success. If you pick a good trail, load up with the necessary gear, and have the right attitude, a day hike can be just what the post-pandemic doctor ordered.