We include products we think are useful for our readers. If you buy through links on this page, we may earn a small commission. Here's our process.
Greatist only shows you brands and products that we stand behind.
Our team thoroughly researches and evaluates the recommendations we make on our site. To establish that the product manufacturers addressed safety and efficacy standards, we:
Evaluate ingredients and composition: Do they have the potential to cause harm?
Fact-check all health claims: Do they align with the current body of scientific evidence?
Assess the brand: Does it operate with integrity and adhere to industry best practices?
We do the research so you can find trusted products for your health and wellness.
Smart gym systems are taking the home workout scene by storm. And with the rise of the post-2020 virtual lifestyle, they have only gained ground. As a result, several new smart gym brands have recently launched to massive success.
However, not every piece of tech deserves a rec. Luckily for you, we did the work to find out which ones are really worth the 💰.
Step into the *fit*ure with us — here are our picks for the 9 best smart home gym systems of 2022.
9 Best smart gym systems of 2022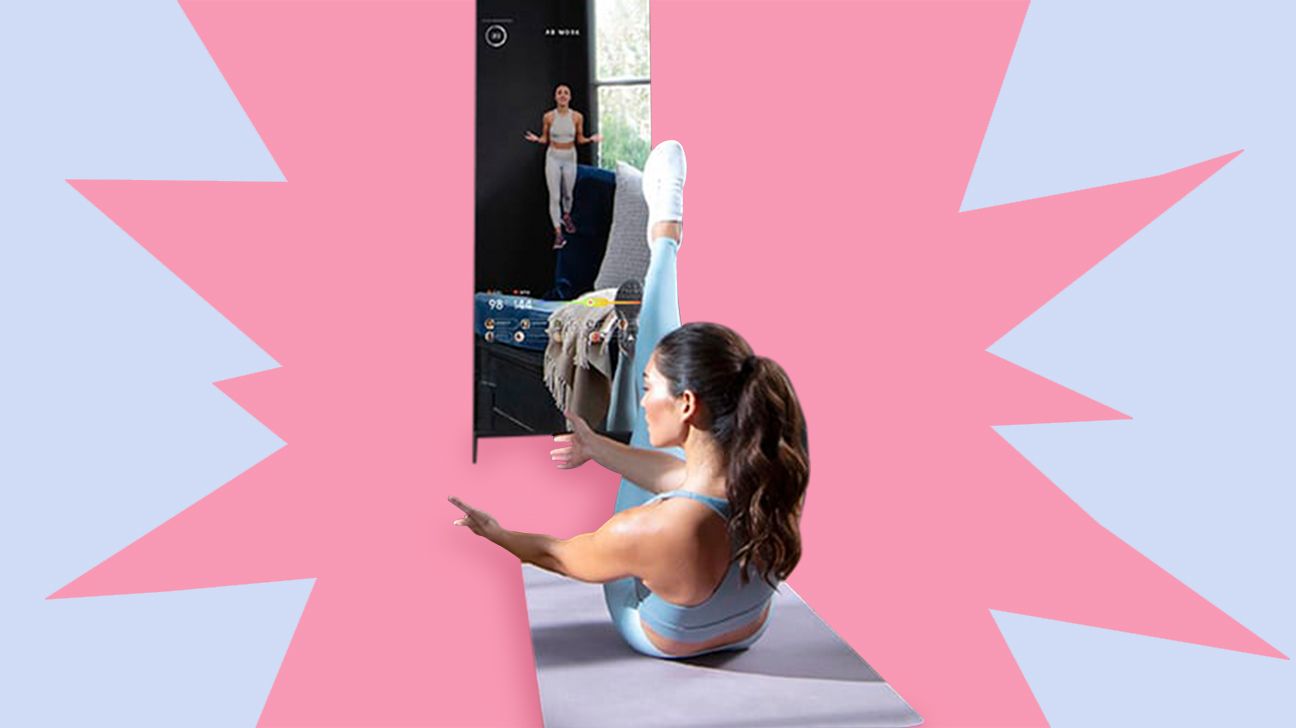 Here are the criteria we used to make our picks:
Variety. We aimed to include a variety of machines, and we looked for machines that pulled double duty. Strength and cardio? You got it. Yoga and kickboxing? Yes indeed!
Smarts. Any ol' treadmill comes with Bluetooth speakers these days, but what else makes it "smart"? We chose smart fitness equipment that solved problems using the power of technology… even some problems we didn't know we had. Mostly, we looked for equipment that was made for streaming, made it easy to track your progress, and had at least some level of fitness app connectivity.
Practicality. With a few exceptions (because of their amazing tech), we leaned toward machines that maintain most of their functionality even if you stop paying for the membership or subscription fee. Because if it stops working when you stop paying… is it really that smart? 🤔
$ = under $1,500
$$ = $1,500–$2,500
$$$ = over $2,500
Price: $$
Workout types offered: cycling
Membership: not required; $29.99 for access to Stryde app and cycling classes
Notable features: totally unlocked tablet, membership not required
Max user weight: 350 lbs.
Dimensions: 24 x 48-in. footprint (exact dimensions not disclosed)
OK, the people at Stryde totally get us. Not only is their bike one of the least expensive smart bikes on the market, but it also comes with a totally unlocked 22-in. tablet. That means YouTube, Netflix, Hulu, Disney+, and more are all right there at your fingertips.
And that… makes us want to give them the $29.99 a month for their totally optional app (which features tons of unique cycling content from some of the best studios across the United States).
While most reviews are positive, some cyclers say it's actually pretty difficult to add new apps to the tablet. There are also several complaints of the seat sliding down during rides, and in general people aren't too pleased with the logistics company in charge of delivering Stryde Bikes.
Best for cardio and strength: MYX II Plus
Price: $$$
Workout types offered: cycling, cross-training, walking, running, strength training (through MYX x Openfit)
Membership: required; $29/mo
Notable features: dumbbells, heart rate monitor, workout mat, foam roller, kettlebell, and resistance band included
Max user weight: 350 lbs.
Dimensions: 54 x 21 x 47 in.
The MYX II is the newest iteration of the MYX indoor cycling bike, which has amassed a huge following as a sleek alternative to a Peloton bike.
MYX workouts are optimized based on your heart rate, which is why a heart rate monitor is included with each purchase. And now MYX has partnered with Openfit to provide access to tons of streaming fitness classes (not just cycling) through their new app.
With the included equipment, you'll be all set to lift, cycle, and ommmm.
Because the MYX II is newer, there aren't a ton of reviews yet. However, one complaint about the old MYX was that there were no live classes — which are now offered through the MYX x Openfit app.
Price: $
Workout types offered: boxing, kickboxing
Membership: not required (but unlocks workouts and tracking — without the membership, it's a very expensive conventional punching bag); $39/mo
Notable features: robust tracking features
Max user weight: N/A
Dimensions: 24 x 24-in. footprint
Fight Camp looks like a simple free-standing punching bag at first glance, but it packs a serious, erm, punch. The bag tracks every hit it takes, keeping you motivated along the way with fighter-led workouts that incorporate high intensity interval training to really up the ante.
And apparently the first rule of Fight Camp is "always talk about Fight Camp," because there are legions of adoring fans and rave reviews. But unfortunately, the app is available only for iOS. *cries in Samsung*
Price: $
Workout types offered: running, walking (plus full library of iFit workouts)
Membership: not required for manual use; iFit $180/year for individuals
Notable features: -3% decline to 12% incline
Max user weight: 300 lbs.
Dimensions: 35 x 77 x 60 in.
Perfect for beginner runners and seasoned racers alike, this 'mill from ProForm offers expanded speed and incline options — 0 to 12 miles per hour and -3% to 12% incline. It also comes equipped with a 10-in. touch screen and iFit compatibility.
If you have an active iFit membership, your treadmill settings will auto-adjust as you move through your workouts, and the program will use your stats and progress to make recommendations for future workouts
This treadmill also has great reviews and offers comparable features to much more expensive models.
Price: $$$
Workout types offered: elliptical (plus full iFit workout library)
Membership: not required for manual mode; iFit $180/year for individuals
Notable features: auto-adjusting stride
Max user weight: 375 lbs.
Dimensions: 59 x 30 x 74 in.
This is another smart gym system that's part of the iFit ecosystem. And while pricey, this elliptical is a must if you want to keep your elliptical workouts fresh.
The auto-adjusting stride allows you to use it in three different ways — as an elliptical, a stair-climber, or a treadmill — by simply changing the length of your stride.
However, while the product is really solid, some reviewers express serious frustration about shipping and dealing with customer service.
Best smart mirror: Tonal
Price: $$$
Workout types offered: strength, weightlifting
Membership: required; $49/mo
Notable features: instant form feedback from 3-D sensors, up to 200 lbs. of completely digital weight
Max user weight: N/A
Dimensions: 22 x 51 in.
The Tonal is arguably the coolest and most sophisticated tech on this list, and here's why: It combines a fitness mirror (v. cool) with 3-D sensors that provide immediate form feedback and correction AND digital weight that auto-adjusts even as each rep progresses so that you get maximum benefits. Mind. Blown.
Tonal lovers recommend springing for the Smart Accessories bundle — it's an extra $495 that, honestly, should just be included with every Tonal purchase by default because of the additional functionality the bundle provides.
Best for yoga: MIRROR
Price: $
Workout types offered: yoga, dance, strength, boxing, barre, etc.
Membership: required; $39/mo
Notable features: app with leaderboard, one-on-one personal training, and workouts made especially for use with fitness mirrors
Max user weight: N/A
Dimensions: 53 x 21 x 2 in.
The MIRROR is a gorg fitness mirror disguised as a home decor installation — although compared to mirrors like the Tonal, it's pretty low tech (with no instant form feedback).
It does provide a variety of boutique-style fitness classes, including lots and lots of yoga. Just follow along with the instructors on screen, mirror their form, and get your stretch on.
The MIRROR has tons of adoring fans, but the only major downside is that it's not a touch screen — you control it entirely through the app on your phone.
Price: $$
Workout types offered: strength, yoga, boxing, cardio, HIIT, etc.
Membership: required for use of screen; $39/mo
Notable features: 3-D sensors for automatic form correction, home gym-in-one
Max user weight: N/A
Dimensions: 38 x 26 x 72 in. (mirror and stand only)
Here's an analogy for you: The Tonal is to e-books as the Tempo Studio is to physical books. The one you choose is strictly a matter of preference.
If you like to keep things tactile with real weights, then the Tempo Studio is the high tech home gym experience you want. It's got the fitness mirror and 3-D sensors built in to offer immediate feedback on your form, but it comes standard with good ol' iron — dumbbells, a kettlebell, and weight plates.
The Tempo Studio has a huge following, and the great thing is that you can outfit your whole gym in Tempo equipment if you want. BUT be mindful that you'll need more space with the Tempo than with other, more compact options.
Price: $$
Workout types offered: walking, running (plus full library of Peloton workouts — cycling, yoga, strength, etc.)
Membership: not required (but nonmembers only have access to manual Just Run mode); $39/mo
Notable features: 24-in. adjustable touch screen
Max user weight: 300 lbs.
Dimensions: 68 x 33 x 62 in.
The Tread is back as part of the Peloton family that — let's be real — pretty much started the whole smart gym movement. It has a roomy running deck, along with speed and incline options topping out at 12.5 miles per hour and 12.5%, respectively. With the Peloton app, you can follow along with engaging trainer-led workouts and interact with other Peloton devotees.
One drawback is that, unlike the less expensive iFit-compatible treadmills, the Peloton Tread doesn't automatically adjust your speed or incline along with your Peloton workouts.
If you're still on the fence about going all-in on a smart gym system, here are some high level pros and cons of owning one.
made for streaming fitness, which is becoming more the norm
offer memberships for the whole fam/house with variety of classes
advanced feedback and tracking options
Bluetooth speakers and Bluetooth compatibility with headphones, heart rate monitor, etc.
space-saving (most offer more than one workout option)
more expensive than their non-smart counterparts
require ongoing paid memberships after equipment purchase
compromised usability if you discontinue your membership
potential for software issues to prevent you from working out
The great thing about smart gym systems is that pretty much anyone can find one that's juuuuuust right.
Hate working out? The Aviron and Liteboxer offer gamified workouts that are fun and engaging, with some major '90s/early '00s throwback vibes. Need to keep it low impact? Go with a smart rower, elliptical, or bike. Total beginner? A fitness mirror can help you learn proper form and technique by simply following along with the trainer on your screen.
And if you're a seasoned athlete looking to level up your fitness, you'll still find plenty of value in smart equipment.
Beefed-up treadmills like the Peloton Tread can help keep treadmill running from getting stale, and strength training equipment like the Tonal or Vitruvian provides up to 400 lbs. of weight with absolutely ZERO weight plates. That's minimalist bliss, right there.
Thinking about dropping some serious cash on a smart gym system? Here's what you need to consider before you hand over your CC deets.
What you enjoy
No matter how you slice it, this equipment is $$$… so make sure it's something you'll enjoy for years to come.
If you hate running, maybe don't get a treadmill. And if you ~just wanna dance~ make sure any smart gym system you let into your life offers dance classes through its membership.
If you want to do a little of everything, you'll definitely want to lean toward something like the MIRROR (which offers cardio, yoga, strength, and more) or the MYX II, which comes with weight training equipment and WAY more than just cycling classes.
Extra fees
By nature of their design, most smart machines require memberships in order to access their exclusive fitness content, so keep this in mind when you're budgeting.
Most memberships are $30 to $50 per month but may be less expensive if you pay annually. If you want to forego the membership altogether, go with the Stryde Bike, which comes with a totally unlocked tablet.
Space
Depending on which equipment you buy, you're gonna have to make like a billionaire and claim some space. If you have very limited space, you may want to consider a foldable treadmill or a fitness mirror. If you've got plenty of room, you could spring for something like the Tempo Studio.
Connectivity options
Most systems sync best with their own apps (naturally), but if you happen to be an Apple, Garmin, Samsung, or Fitbit superfan, you'll want to find something that will also sync with your preferred wearable.
If your equipment is gonna be in a shared space, then the ability to use Bluetooth earbuds is a definite must too.
Your existing equipment
Finally, you'll want to consider the equipment you already have — especially if it's smart or if you're already paying for any memberships.
Got a Peloton Bike? The natural best next purchase is the Peloton Tread. If you already have some NordicTrack in your home gym, stick with NordicTrack or ProForm — both brands are designed for iFit compatibility.
Here's what most smart gym system virgins want to know.
What makes a piece of fitness equipment "smart"?
There's no official definition of "smart" when it comes to fitness equipment, but generally smart gym equipment features a screen to offer streaming classes, Bluetooth connectivity for headphones and heart rate tracking, advanced performance tracking or monitoring options, and an exclusive membership offering live and on-demand fitness classes.
Which is more important, strength training or cardio?
Don't make us play favorites! Cardio gets your heart pumping, which offers tons of heart health benefits. But strength training helps you build muscle and boost your metabolic rate.
There's def room in your life for both if you choose, especially since most of these smart gym pieces provide options for both cardio and strength training anyway.
What basic equipment should I have on hand for my smart gym workouts?
If your new smart gym system doesn't come with weights, it may be a good idea to have some basic dumbbells, a kettlebell, some resistance bands, and a workout mat ready.
You can buy these much cheaper individually than the ones that may come with your smart gym system for an extra fee (although if you're going for a certain look, you may watch to spring for the matching weights and accessories).
What if I don't want to pay for any memberships?
If you're trying to avoid a required membership, you'll need to either buy a lower-tech piece of equipment (which would be cheaper) or stick with something like the Stryde Bike or the Aviron Rower — both of which allow you to use other programs or apps.
(Note: Aviron allows only YouTube, while the Stryde Bike comes with a totally unlocked tablet.)
What do I need to have in my home before purchasing a smart gym system?
You'll definitely need a good Wi-Fi connection and plenty of space to set up your equipment with an electrical outlet nearby. If you buy a complete system like the Tempo, make sure you have LOTS of space available in case you decide to add extra accessories such as their folding squat rack and weight bench.
Smart fitness equipment is the future of working out (esp in these home-centric pandemic days), and we are SO here for it.
If you're looking to add a touch of tech to your home gym, be sure to choose equipment that's fun for you, conducive to your space, at least minimally functional without a subscription fee, and compatible with your existing wearable devices and other equipment.
Ayo, technology!