We include products we think are useful for our readers. If you buy through links on this page, we may earn a small commission Here's our process.
Greatist only shows you brands and products that we stand behind.
Our team thoroughly researches and evaluates the recommendations we make on our site. To establish that the product manufacturers addressed safety and efficacy standards, we:
Evaluate ingredients and composition: Do they have the potential to cause harm?
Fact-check all health claims: Do they align with the current body of scientific evidence?
Assess the brand: Does it operate with integrity and adhere to industry best practices?
We do the research so you can find trusted products for your health and wellness.
If we could Scrooge McDuck into a vault of bath bombs, we probably would. That's the kind of deep love the beauty-obsessed have for new products.
Since you're here, we'd wager you're a fellow beauty lover (or you're shopping for one). Well, look no further — here are the 18 most delightful beauty products we think should be under everyone's tree this year.
The very best beauty gifts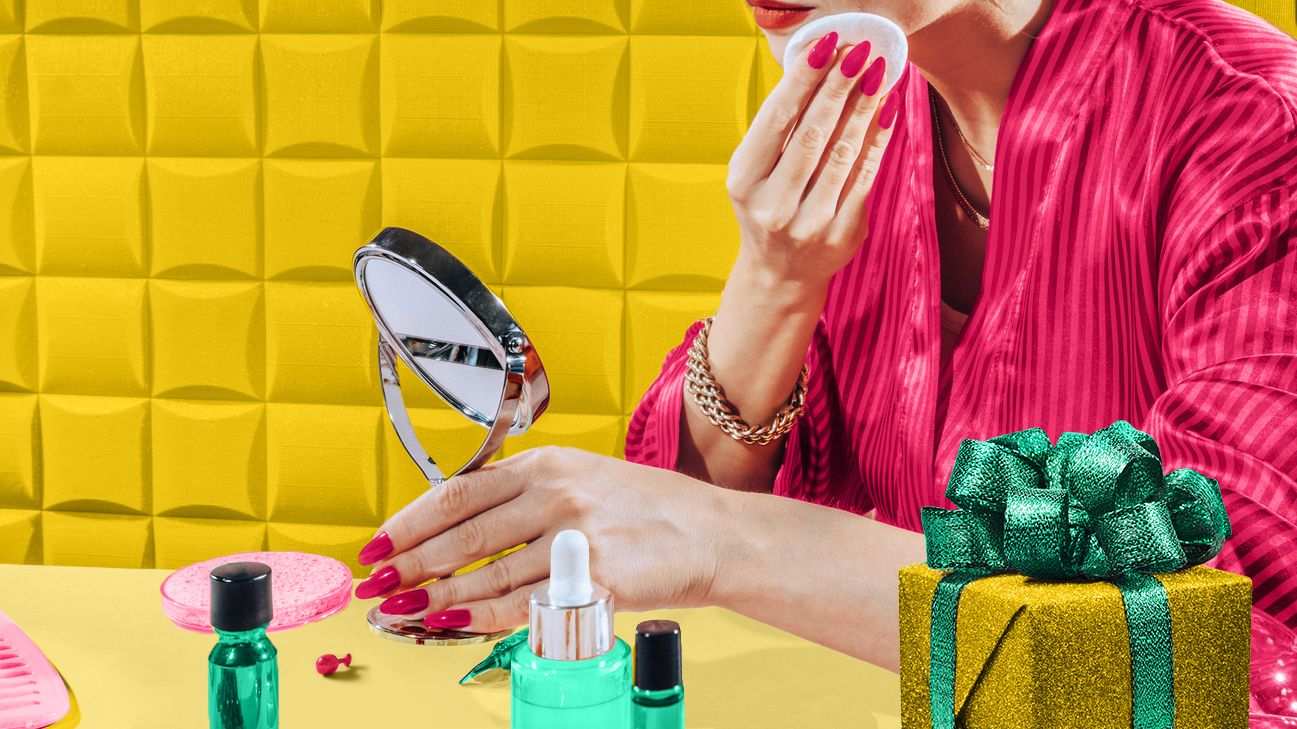 $ = under $30
$$ = $31–70
$$$ = over $70
Best for dry winter skin
Since we love science, we're stoked at the intense level of research and (animal-free!) testing that goes into products from new-to-the-scene company Happy 2nd Birthday.
Developed with a team of dermatologists to be safe enough for folks undergoing cancer treatments, this moisturizer is soothing and hypoallergenic. But here's what makes this a really great gift: It's the perfect non-lotion-y moisturizer.
It's absolutely scentless — not vaguely musky-smelling, like most "unscented" products, but actually without a smell — and it leaves skin lightly hydrated but not greasy. Plus, it's packed with prebiotics, probiotics, and vitamin B5, so it's ultra-nourishing too.
Best splurge gift
We're not the first to say it, and we won't be the last: The Dyson Airwrap is the beauty gift of ALL seasons. This groundbreaking styling tool has been getting a lot of attention for a while now, and we can confirm it's not just hype — this thing absolutely, completely, undeniably deserves it.
While it's *reeeally* pricey, it's an amazing gift for anyone who struggles with making their hair look salon-perfect (or even just passable) at home. Plus, it has a host of attachments so you can experiment with more than just curls.
It's also considerably less damaging than most other styling tools because it uses lower temperatures.
Best for folks feeling the holiday burnout
This inexpensive set includes a clarifying serum that's packed with soothing willow bark extract and brightening niacinamide, a light and dewy facial moisturizer made with calming aloe and green tea, and a facial acupressure wand for a DIY facial massage anytime.
This is an awesome gift for anyone who just needs to chill out after a very difficult year — and yuuup, that's all of us.
Best for your friend who never shaved their quarantine beard
A lot of beard oils have two issues: They tend to use ingredients that can cause breakouts, and they smell kind of overpowering and cloying.
We love Prospector Co. for making oils that are great for skin and smell awesome. Our favorite is the Burroughs, which is formulated with jojoba, grapeseed, argan, and kukui nut oils and scented with woodsy, earthy notes like cedarwood, juniper, and myrrh.
This stuff hydrates and softens dry winter beards and mustaches, so you and your bearded boo can cozy up with no beard burn (a win-win).
Best for your friend who loves CBD
We're all washing our hands about a million times a day right now, which means our hands could use some love. Made with just natural ingredients like beeswax, coconut oil, broad-spectrum hemp extract, lavender oil, and eucalyptus oil — this balm has a simple, clean, and effective formulation and a light, floral scent.
Great for anyone in your life who could use some of the natural benefits of CBD (or who just needs to seriously hydrate their overwashed hands).
Best for women of color
Dana Hill, the brilliant founder of Cocotique, has put together a truly excellent beauty box subscription service for women of color. The brands included are high quality, and she ensures there's a fun blend of hair care, skin care, and makeup products.
This is a great gift for anyone who's looking to explore new products and try out new brands. It's also a great choice for those who never treat themselves. A 3-month, 6-month, or — heck, if you're feeling extra generous — 12-month subscription is really the gift that keeps on giving long after the holiday season ends.
Best for people who love a bold red lip
Wearing lipstick has kinda gone the way of the dodo since masks have become a critical element of life, but this stuff can change all that.
Apply your lipstick per usual, and then paint Lip Lock on top. It might sting for a bit but once it sets, your lipstick does. not. come. off.
Not on a mask, not on a glass, not on a box, or on a fox. It's an ideal present for anyone who just really, really misses rocking a bold lip.
Best for hair feeling winter's drying effects
This set is great for any hair type and for locks that have been through any amount of processing. It includes Christophe Robin's cult-favorite detox shampoo and a regenerating hair mask.
Here's the deal: The detox shampoo breaks down product buildup, restores balance, and soothes sensitive and flaky winter scalps. It also just feels freaking amazing on your head.
Then there's the hair mask, which is an absolute wonder for adding hydration back into parched winter hair. Paradoxically, this is a great gift for both those who do way too much to their hair and those who don't do much at all.
Best for people in need of a spa day
Look, are we above being tempted by the unicorn-like holographic shimmer of this face mask? Come on, of course not — this stuff looks like it's straight out of an episode of "Jem and the Holograms." We're smitten by it.
But we wouldn't recommend this if it didn't also work super-duper well.
Combining AHA and BHA, this rinse-off mask is more than just a pretty jar full of entrancing alien goop. It's extremely effective for exfoliation, which you actually need to do more often in the winter than you might think.
Best for people who need to level up their lip balm
NYX is known for making products that are way higher quality than they have any right to be, given how inexpensive they are.
The Butter Gloss is no exception — somehow it's cracked the code on not being sticky. Instead, it's hydrating, creamy, and gently pigmented, so it's clear why this product consistently garners so much love.
This trio is a good range for a wide variety of skin tones, so it's a great gift for just about anyone who likes a little bit of shine on their lips. This would also be a coveted addition to a $10-max "white elephant" gift exchange, although we suspect those might not exactly be in favor this year.
Best for damaged hair
Formulated for all hair types, Olaplex is the gold standard for anyone with damaged hair (chemical processing and heat styling really do a number on your locks).
The brand is justifiably famous for its brilliant disulfide bond-repairing Hair Perfector, an at-home treatment that reduces breakage and protects hair structure, which is included in this set.
The bond maintenance shampoo and conditioner are also incredibly nourishing, and the leave-in oil does a great job of moisturizing and managing frizz.
If anyone on your list has gone a little overboard with the bleach this year out of sheer boredom, this is the kindest gift you can give them.
Best for a no-makeup look
We love Danish brand Kjaer Weis for a lot of reasons: It's organic, clean, and incredibly high quality, and every product is intended to be kind to your skin. Another great benefit: The products and packaging are eco-friendly, and many of them are refillable, creating less waste.
This cheek color is a truly makes skin look radiant. It's a lovely gift for anyone who loves that subtle no-makeup makeup look.
Best for folks with mobility challenges
After famed makeup artist Terri Bryant was diagnosed with Parkinson's, she founded Guide to craft ergonomically designed, easy-to-open beauty products.
This combination of innovative eyeliner tool and silky vegan formula glides on easily and keeps the hand steady, even for people with arthritis, Parkinson's, multiple sclerosis, or any other issue that might impact someone's ability to get their cat-eye as perfect as ever.
It's a wonderful, on-trend gift for anyone who loves a good dramatic eye.
Best stocking stuffer
Full disclosure: We've tried pretty much every single sheet mask available on Soko Glam. This one consistently makes it into the cart.
It's ultra-hydrating and ideal for sensitive skin. You can go for a walk in the sharp winter wind, slap this on, and feel instantly refreshed. And at less than $3, it's the perfect stocking stuffer.
Best for your friend who loves French luxury
Look, we're American and uncultured enough to admit that we're instantly wooed by the name "French Girl." (Ooh! Très chic! What stylish, minimalist packaging!)
But then there's the product itself, which is gorgeous. The body oil smells absolutely heavenly and is perfect to luxuriously coat yourself with after a long, steamy bath or shower.
It's a treat for anyone who could use a little extra self-care time or who just enjoys the physical act of taking care of their skin.
Best for bar soap devotees
OK, it's us. We're the bar soap devotees. There's something about a handmade bar of soap made with smell good, feel good ingredients that you can actually see — and hey, they're better for your skin and less irritating than most drugstore liquid body washes too.
Good JuJu Herbal has mastered both the art and science of soap-making, with perfectly sudsy soaps that get you squeaky clean (with clean ingredients) and smell intoxicating. This gift set comes with a bar soap (we recommend the Lavender Poppy scent), a felted soap, a lip balm, a wooden soap dish, and a linen gift bag.
Best for serious relaxation
Spa Technologies makes some seriously luxe, spa-quality self-care products and gifts (hence the name), and this one probably tops them all as far as gifts go.
It comes with eucalyptus and rosemary scented mineral salts to help you relax tense muscles and refresh your skin. After soaking for a bit, wash up with the Seaweed Exfoliating Body Wash for smooth, soft skin and lock in moisture with the Hydrating Laminaria Oil.
After a particularly hard day, use the Arnica Sports Gel on sore muscles. The whole deal comes in an organic cotton gift bag, and we recommend gifting with a bottle of wine or sparkling cider for a full luxury bath experience.
Best anti-aging gift set
Do you remember dial-up internet? Then it's time for a wrinkle-fighting skin care routine. Your skin care-loving friends will appreciate this luxury gift set too.
This one from Bioeffect features the company's best-selling EGF Serum and EGF Eye Serum — EGF is short for epidermal growth factor, BTW. This brand uses super-clean ingredients, like barley grown in their own laboratory-slash-greenhouse, and Icelandic water.
We're big-time fans of the face serum (even if we're still in denial about needing it).