We include products we think are useful for our readers. If you buy through links on this page, we may earn a small commission Here's our process.
Greatist only shows you brands and products that we stand behind.
Our team thoroughly researches and evaluates the recommendations we make on our site. To establish that the product manufacturers addressed safety and efficacy standards, we:
Evaluate ingredients and composition: Do they have the potential to cause harm?
Fact-check all health claims: Do they align with the current body of scientific evidence?
Assess the brand: Does it operate with integrity and adhere to industry best practices?
We do the research so you can find trusted products for your health and wellness.
TBH, it's always faster and safer to see a trained lash pro to remove your eyelash extensions. But it is possible to remove them at home.
Once upon a time, your lash extensions looked lush and fluttery. Now the darn things resemble spider legs drooping from your eyelids. Yikes. 😬
If you plan to ditch the whole lewk instead of paying for a fill, you might be wondering: Is it OK to remove eyelash extensions yourself?
For those set on the DIY route, we asked a licensed esthetician and lash specialist to weigh in.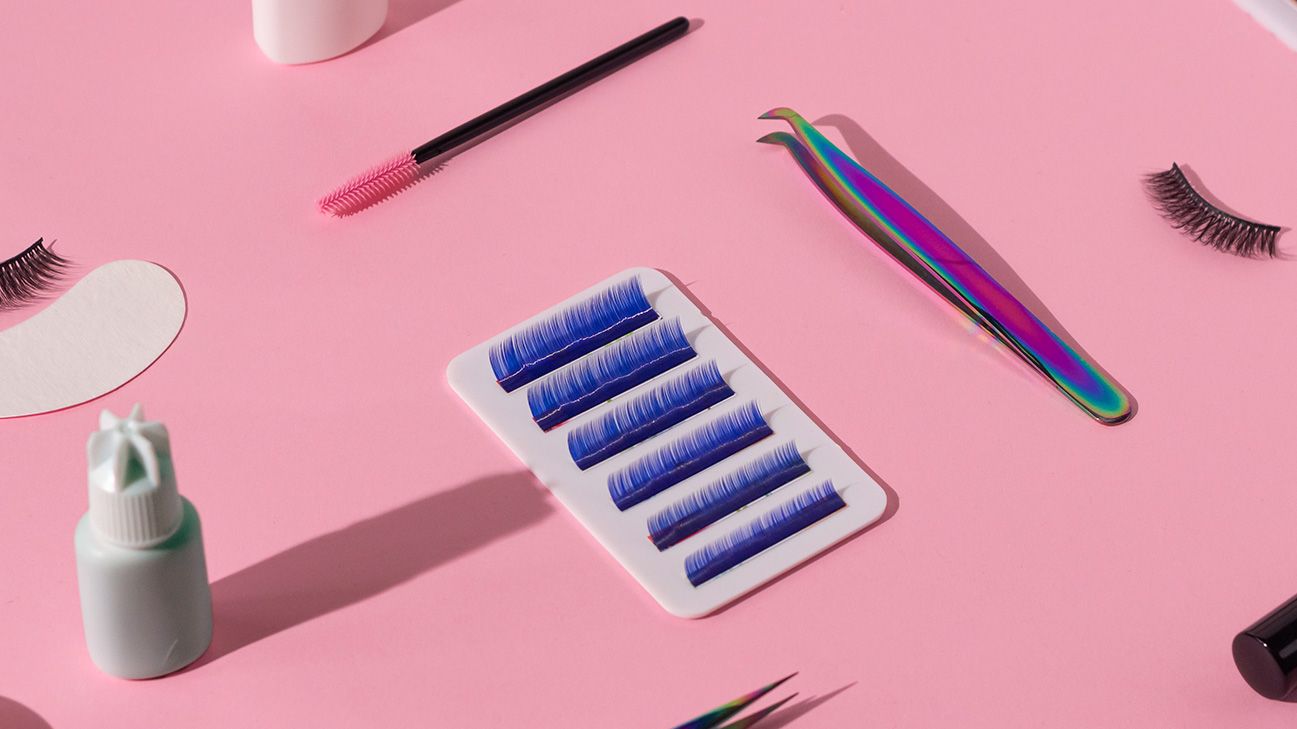 First off, lash pros don't recommend removing eyelash extensions at home. Even the American Academy of Ophthalmology (AAO) says it's best to leave these things to licensed aestheticians.
"Professionally trained lash techs have lash extension removers (cremes, gels, and liquids) from the companies they purchase from," explains licensed esthetician Christina Clark, who has also trained with NovaLash.
If you're set on doing this solo, follow Clark's tips below for removing eyelash extensions at home.
1. Resist the urge to pluck
You got eyelash extensions because you love the look of fluffy, voluminous lashes, right? Plucking or pulling at the falsies will only wreak havoc on your natural fringe.
Bottom line: Even if you're uber-careful about pulling only at the extension, the tugging motion can weaken the natural lash beneath.
2. Pick up an oil- or glycerin-based product
Remember how your lash tech advised against oil-based cleansers to keep your extensions fresh for as long as possible? Clark says that's because oil, glycols, and glycerin break down lash adhesive, causing your lashes to fall off.
Some products that she says might work to your advantage:
3. Use your new glue-dissolving product daily
"Nothing is going to work as quickly as a professional lash remover," says Clark.
A beauty product with adhesive-dissolving ingredients might take a few days to slip between the extension and natural lash. Patience, grasshopper.
A few suggestions:
4. Baby your natural lashes as the extensions fall out
Even with help from glue-dissolving ingredients, your extensions will probably hang on for several days. Be patient and shift your focus from extension removal to lash nourishment.
Clark recommends keeping your natural lashes healthy with lash serums or moisturizing oils. "Castor oil is known to help lash strength," she says.
Heads up: Your eyelashes will look a bit spidery or uneven at this point. Some folks use mascara or magnetic falsies to keep their fringe looking fly during the transition.
5. Decide what's next
Going au naturale after extensions can leave you feeling a little bare. If you miss the fluff, you've got options!
try DIY falsies
nourish your lash hair with castor oil
grow your lashes with serums
contact a licensed aesthetician for another set of lash extensions
It's also never too late to embrace what you've got. Give it a time and you might fall back in love with the natural look.
Let's keep it 💯: The absolute safest way to remove eyelash extensions is to have them taken off by a pro.
There are two major risks of DIY removal:
Lash damage. You could end up with thinned or spidery lashes from tugging at your extensions during removal. Not a great look.
Eye damage. According to Clark, using lash removal chemicals at home can result in serious eye damage.
Having your eyelash extensions removed in a salon is more controlled than DIY removal. Clark says lash technicians are trained to keep the eyes and skin protected while glue-dissolving chemicals do their work.
Even after your extensions are carefully removed, pros will shampoo and dry your natural lashes to ensure the chemical remover has been safely cleared away.
Will removing your eyelash extensions hurt?
Getting eyelash extensions removed should not hurt, says Clark. Proper removal involves dissolving lash adhesive, not painfully plucking eyelashes.
Can you remove eyelash extensions quickly?
Most eyelash extension removal appointments last 30+ minutes. Timing varies according to the number of lashes and type of extensions.
When should eyelash extensions be removed?
Technically, you don't need to remove these bad boys unless you:
experience an allergic reaction
realize your extensions were improperly applied
decide you no longer want extensions
If you love the look, your lash pro will offer you a "fill" — a refresh on new growth or overgrown extensions — instead of removing the whole set to start over.
Do eyelash extensions damage your eyelashes?
A small 2013 study found that some folks experience eye redness and eyelid swelling due to eyelash extensions. But if you're not allergic to the lashes or glue, Clark says extensions applied by a professional shouldn't cause damage.
Common causes of breakage include improperly trained lash techs using too much glue or applying extensions that are too long or heavy for your natural lashes.
What if eyelash extensions won't come off?
Contact your local lash pro. 🤷‍♀️ They've got the goods to gently dissolve extension adhesive without damaging your natural lashes or the sensitive skin around your peepers.
It's possible — but not ideal — to remove eyelash extensions at home. Scheduling an appointment with a professional lash technician will give you faster, safer results.
If you *do* wanna DIY your lash removal, prepare to play the long game. Start using skin care products with ingredients like oil or glycerin. Sometimes steamy showers help loosen the adhesive too.
If you experience eye redness, lid swelling, or painful lash clumping before or during the extension removal process, seek help from a licensed aesthetician — and consider calling your eye doctor.