We include products we think are useful for our readers. If you buy through links on this page, we may earn a small commission. Here's our process.
Greatist only shows you brands and products that we stand behind.
Our team thoroughly researches and evaluates the recommendations we make on our site. To establish that the product manufacturers addressed safety and efficacy standards, we:
Evaluate ingredients and composition: Do they have the potential to cause harm?
Fact-check all health claims: Do they align with the current body of scientific evidence?
Assess the brand: Does it operate with integrity and adhere to industry best practices?
We do the research so you can find trusted products for your health and wellness.
With all the stellar work your skin does as a durable shield against the elements, it will inevitably develop wrinkles, lines, and blemishes over time — otherwise known as aging. And "anti-aging," or as we like to call 'em "pro-aging" serums can form part of our defense against these effects.
What are serums? And can they actually reduce the skin effects of aging?
Although you may think your bomb moisturizer will do just as good a job as serum, it's not true. Serums are not the same as your usual array of skin care products.
Serums are known for their high concentrations of active ingredients like antioxidants, anti-inflammatories, skin-plumping agents, and other goodies. They're pretty thin (i.e., not gloopy), and it's best to apply them after cleansing and before moisturizing.
The active ingredients penetrate deeply into the skin, where they help reduce fine lines and wrinkles. At the same time, they also diminish hyperpigmentation, uneven skin tone, acne scarring, and damaged collagen fibers.
The weight of sun exposure and environmental damage wreaks havoc on skin cells. These stressors cause a decrease in collagen production, which eventually leads to the formation of fine lines, wrinkles, and sagging skin.
To fight back against these visible signs of aging, skin care products aim to fill out and plump the skin with moisture-rich ingredients, keeping it soft and hydrated. Not only does this improve the appearance of lines and wrinkles over time, but it also creates a smoother surface for makeup application.
Skin care routines are as varied as people's complexions, but some general steps are widely recognized as good pro-aging practices. Exfoliating, cleansing, hydrating, and moisturizing are skin care mainstays. But what about serums?
Now, if you're new to the serum game, we can't blame you if you're hesitant to slap the first one you see onto your skin. That's why we've done the research work for you to ID some of the best options out there for various skin types.
So, without further ado, let's have a look at the 10 best "anti-aging" serums to keep your skin looking fresh.
10 Best anti-aging serums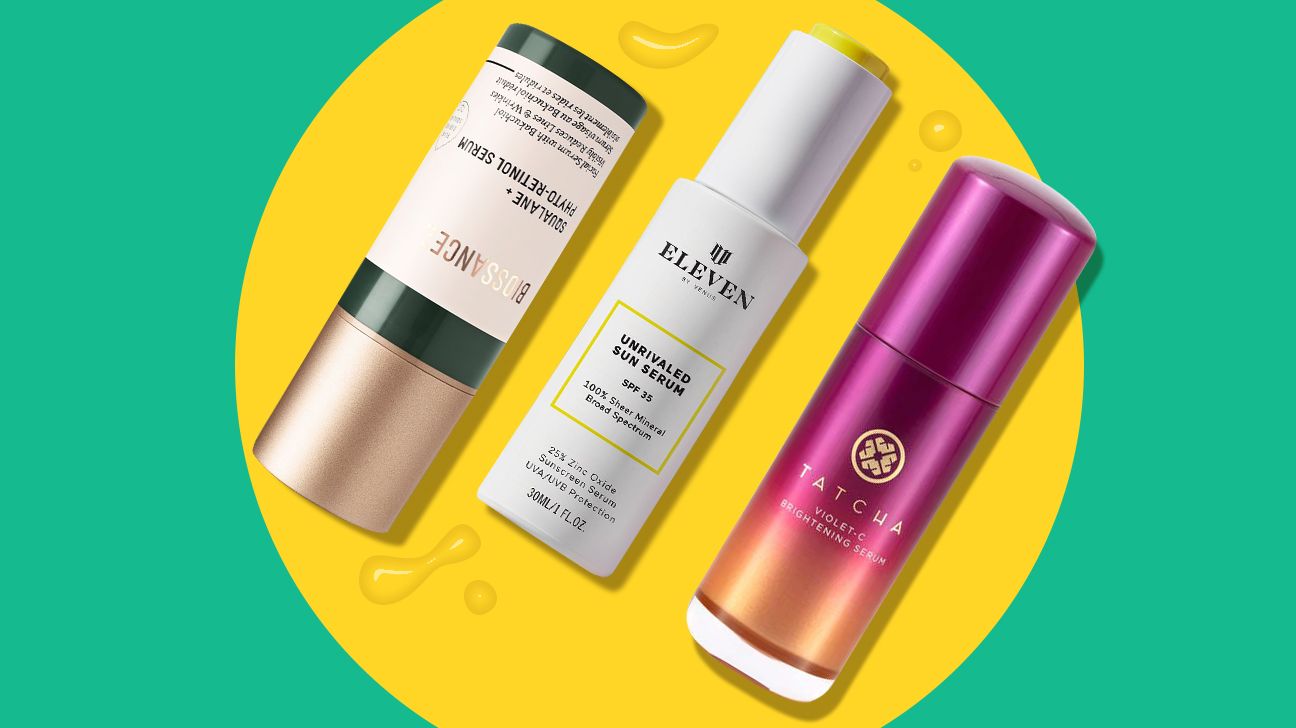 We looked at various factors when compiling our list of the best serums to help your as it ages because, of course, you're worth it. Here are the main things we considered:
Active ingredients. You need to know what's in the serum so you know what you're putting onto your skin, and what it took to make it.
Price point. You need a good option you can afford. And you need to know you're getting good bang for your buck.
Reviews. You need to know that other users can vouch for the effects or make you aware of any red flags.
Plus, each of our picks has gone through a comprehensive vetting process. We wanted to ensure our chosen brands aren't making unsupported health claims or engaging in anything dodgy!
$ = under $40
$$ = $40–75
$$$ = over $75
Let's soak these in! These are the crème de la crème (or serum de la serum) of skin care for reducing wrinkles and fine lines.
Best anti-aging serum for oily skin
Price: $
Highlights: lightweight formula packed with niacinamide, peach and mountain yam extract, hyaluronic acid, and peptides
The weightless formula of this serum soaks rapidly into the skin without leaving a greasy residue, so it's a great option if your skin is already oily. People rave about their dewy, luminous skin after using the serum for a few weeks.
It's a popular serum as it really packs a punch with versatile ingredients that hydrate, reduce inflammation, increase collagen production, and keep free radical damage in check.
It's cruelty-free and fragrance-free, so it's the best serum on our list for anyone with sensitive skin. But be aware that niacinamide can trigger skin reactions in some people. So, it's best to do a patch test somewhere hidden before slathering it everywhere.
Best anti-aging serum with SPF
Price: $$
Highlights: silky, lightweight, combines reef-safe zinc oxide with prickly pear stem extract
There's no need to worry about harmful chemicals in this sun-protecting serum, as it uses 25 percent zinc oxide to protect your skin against damaging ultraviolet (UV) rays. And it's transparent, doesn't leave a powdery, white residue, and is suitable for all skin tones.
Protecting your skin from sun damage helps support collagen and elastin. It can also prevent and reduce pigmentation issues.
According to reviews, you can't fault it as a sunscreen, but the dropper is infuriating to use and gets clogged easily.
Best anti-aging serum for dry skin
Price: $$$
Highlights: hydrating formula with hyaluronic acid and niacinamide
Hydration is essential for dry skin, and PCA takes the top spot in this category, thanks to its star ingredient, hyaluronic acid.
This smoothing, long-lasting serum is a triple threat. It provides hydration on the skin's surface, deep within its tissues, and boosts your own hyaluronic acid production.
Hydrolyzed hyaluronic acid (say that three times if you can) draws moisture into the skin, sending fine lines packing, while the niacinamide helps maintain your skin's protective barrier.
The reviews generally sing its praises, but a few people weren't impressed at the half-filled bottle that doesn't last long.
Best splurge anti-aging serum
Price: $$$
Highlights: brightening formula with vitamin C, vitamin E, and ferulic acid
Yes, it's pricey, but it's also unique. We chose Skin Ceuticals for our splurge serum because of its impressive, patented formula that banishes up to 41 percent of oxidative skin damage from the environment.
And if that's not good enough, the vitamin C in this luxurious formula works its magic for up to 72 hours — brightening your complexion and helping the appearance of lines and wrinkles.
Users seem to agree that a little goes a long way, which helps them feel better about the price.
Best cruelty-free anti-aging serum
Price: $$
Highlights: gel-like cream formula with plant-derived retinol alternatives
Biossance uses sugarcane-derived squalane rather than the stuff from shark's livers, thereby saving the lives of 2 million sharks every year. Coupled with being a vegan, sustainable brand, they took our cruelty-free top spot.
This serum also contains bakuchiol — a rational alternative to retinol that improves fine lines, wrinkles, and sun damage. Reviewers report that it's lightweight and doesn't irritate the skin. However, those with oily skin may find it slightly too greasy.
Best exfoliant anti-aging serum
Price: $
Highlights: lightweight formula with 16 active ingredients
Is it a peel, or is it a serum? Mad Hippie doesn't seem to know. That said, it's our fave exfoliant choice, as it contains 10 percent alpha-hydroxy acid (AHA) to gently remove dead skin cells and reduce the appearance of wrinkles. It also rejuvenates and nourishes the skin, leaving you looking smoother, brighter, and more glowy.
And by way of a bonus, Mad Hippie also blends the antioxidant properties of apple stem cells and a blend of alpine plants to balance your skin's discoloration and help retain moisture.
Best anti-aging serum with vitamin C
Price: $$
Highlights: fluid texture that absorbs quickly containing 20 percent vitamin C and 10 percent AHA's
We don't have a category for the prettiest packaging, so instead, the Tatcha Violet-C is our top vitamin C choice, thanks to its high concentration of two types of this powerful antioxidant.
Vitamin C helps tackle the effects of damaging free radicals, which contribute to the aging process. Additional ingredients, including 10 percent fruit-derived AHA's, act together to promote cell turnover, while hydrating and plumping the skin.
Best anti-aging serum for fine lines
Price: $$
Highlights: smooth texture with 12.5 percent vitamin C and hyaluronic acid
This potent serum is our recommendation for fine lines because the vitamin C-rich formula combines with hyaluronic acid to boost radiance and visibly diminish fine lines, wrinkles, and pores. It's also hydrating, as the hyaluronic acid attracts moisture, creating a plumping, smoothing effect.
However, some users do report having slight skin reactions to this serum — and it isn't a cruelty-free choice.
Best anti-aging serum for acne-prone skin
Price: $
Highlights: weightless texture with 10 percent vitamin C, salicylic acid, and neurosensine
If you're experiencing adult acne, this Pure Vitamin C face serum with salicylic acid helps clear up clogged pores while tackling lines and wrinkles with its vitamin C formula.
It's suitable for sensitive skin and soothes inflamed acne patches with neurosensine — a compound naturally found in healthy skin.
Best soothing anti-aging serum
Price: $$
Highlights: light formula with niacinamide
If your face has maskne, redness, irritation, or inflammation, reaching for this Stress Rescue Super Serum is a wise move.
Niacinamide is the hero here, waving a double-edged sword. Firstly, it soothes inflammation, then it works to improve the skin's lipid barrier, reducing sensitivity.
And if that isn't enough, the ashwagandha and goji help your skin adapt to stress, reduce free radical damage, minimize dark spots and fine lines, and calm your overall complexion.
There's a slew of reviews from overjoyed peeps who can't praise this serum's skin-calming effects enough.
While we believe beauty exists even with wrinkles, we won't dissuade you from wanting to stave them off. And anyone who values their skin could definitely benefit from an anti-aging serum, as they're an effective, noninvasive way to help combat unwanted blemishes and address issues like inflammation and dryness.
Think of anti-aging serum as a super-concentrated magic moisturizer that you should weave into your skin care routine no matter your age or skin situation.
You may think that if you're in your 20s, managing the signs of aging isn't a top priority, but the truth is the earlier you start, the better. Prevention is better than cure. Although you may not realize, as soon as you join adulthood, the mechanisms that repair your skin begin to slow down, and early skin care practice lays the groundwork for great skin later on in life. And it's never too late to start.
Many anti-aging serums make fantastic claims about their benefits, but do these products have any downsides? Here are some of the pros and cons of using anti-aging serums:
They provide deep moisture. They have tiny molecules, meaning they can deposit moisture and hydration deep into the tissues of your skin, not just on the surface like a cream.
They bring out your natural glow. They contain powerful active ingredients like retinol, vitamins, and antioxidants that help your skin health shine from within.
They're versatile. There are great options for all purposes and skin types, whether your skin is super sensitive, oily, or dry. Chances are good you'll be able to find one that suits your skin without making matters worse.
They can be pricey. Yep. Some of these serums cost as much as $1,800 per ounce. No shade toward those who got it like that. But for the rest of us, that's a hit!
You won't see results overnight. You'll likely need to use an anti-aging serum for at least 1 to 2 months consistently before you see any actual results. So beware of any claims of fast-acting effects.
They can contain harmful ingredients. Also, watch out for preservatives like parabens and sulfates that can irritate your skin.
They lose potency. Leaving any serum on the bathroom shelf for months at a time weakens the strength of the active ingredients, so you're not getting as much bang for your buck.
Got questions? We've got answers.
How long can I keep open serum?
If you're using serum regularly (which, if you have some, you really should be), then it's unlikely to last longer than 6 months. However, skin care products generally last between 6 months and 1 year before they begin to lose their potency. So aim to use your serum within the first 9 months.
How many different serums do I need?
It really comes down to personal taste. Some people like to use separate day and nighttime formulas. Typically, day formulas contain sunscreen, whereas night formulas have a thicker consistency. Although it's recommended to use a serum with sunscreen during daytime hours, aside from that, there's no real advantage in using different serums at different times of the day.
How do you apply serum?
It's a little different from putting on lotion. You should cleanse and tone your skin before applying the serum and follow it up with a moisturizer. Check the ingredients on each of your products to ensure you won't be using combinations that will irritate your skin.
Are basically all anti-aging serums effective?
Sort of, but it obviously depends on the product you buy. Your best bet is to find a quality serum containing proven active ingredients like vitamin C — a powerful antioxidant that removes toxins from your skin. Also, look for retinol that stimulates cells to create fresh new collagen.
Effectiveness also comes down to how regularly you apply the serum and adhere to your skin care routine.
Isn't serum just a fancy moisturizer?
Nope, they aren't the same thing. Serums are thinner and lighter than moisturizers, with smaller molecules that nourish the deeper layers of the skin. A moisturizer also hydrates skin and aims to prevent moisture loss with ingredients that stop it from evaporating, like lubes and oils.
If you're looking for a serum to help manage signs of aging, there are some things to consider before purchasing:
Sunscreen. The absolute number one priority is choosing an option with sunscreen. Selecting a product that protects against UVA and UVB rays with an SPF of at least 30 can help prevent sun damage and skin cancer.
Skin type. Buying skin products tailored to your skin type can help keep your skin radiant by catering to its particular needs. You'll manage signs of aging more effectively if you maintain healthy skin.
Ingredients. Although it may look impressive, products with multiple active ingredients can irritate your skin. More ingredients don't necessarily boost the serum's effectiveness, but the right ingredients can. Look for retinoids that stimulate collagen and antioxidants that help prevent cellular damage.
When in doubt, talk with a dermatologist about products they would recommend specifically for your skin. No matter how persuasive the marketing is, certain skin products may not be ideal for you. A medical professional can advise you on a tailored skin care regimen.
If you want to combat the signs of aging on your skin, an anti-aging serum may be just the ticket. There's a vast range of serums at all price points, so look for one with youth-boosting ingredients proven to brighten your skin as well as reduce the appearance of fine lines, wrinkles, and discoloration.
And don't forget to opt for one that complements the other products in your skin care routine for optimal benefits.