We include products we think are useful for our readers. If you buy through links on this page, we may earn a small commission Here's our process.
Greatist only shows you brands and products that we stand behind.
Our team thoroughly researches and evaluates the recommendations we make on our site. To establish that the product manufacturers addressed safety and efficacy standards, we:
Evaluate ingredients and composition: Do they have the potential to cause harm?
Fact-check all health claims: Do they align with the current body of scientific evidence?
Assess the brand: Does it operate with integrity and adhere to industry best practices?
We do the research so you can find trusted products for your health and wellness.
As a skin care ingredient, niacinamide is gaining popularity super fast because of a long list of reported benefits. You may even already have some products in your skin care arsenal that contain it and not even know it.
So here's the scoop on exactly what it is, what it can do for your skin, and a few ways to add it to your daily routine, along with some of our top picks for niacinamide supplements and skin care products.
In a hurry and need to know what niacinamide is all about like, RN? Here's the tl;dr version:
Niacinamide (aka vitamin B3) is the active form of niacin, a vitamin your body needs to produce energy.
It has some antioxidant and anti-inflammatory effects, which means it has TONS of skin benefits when taken orally OR applied directly to the skin.
You can get niacin from food, take niacin supplements, or use topical products that contain niacinamide.
Talk with your doc about taking high dose niacin supplements, because they may cause flushing. (But niacinamide supplements are flush-free!)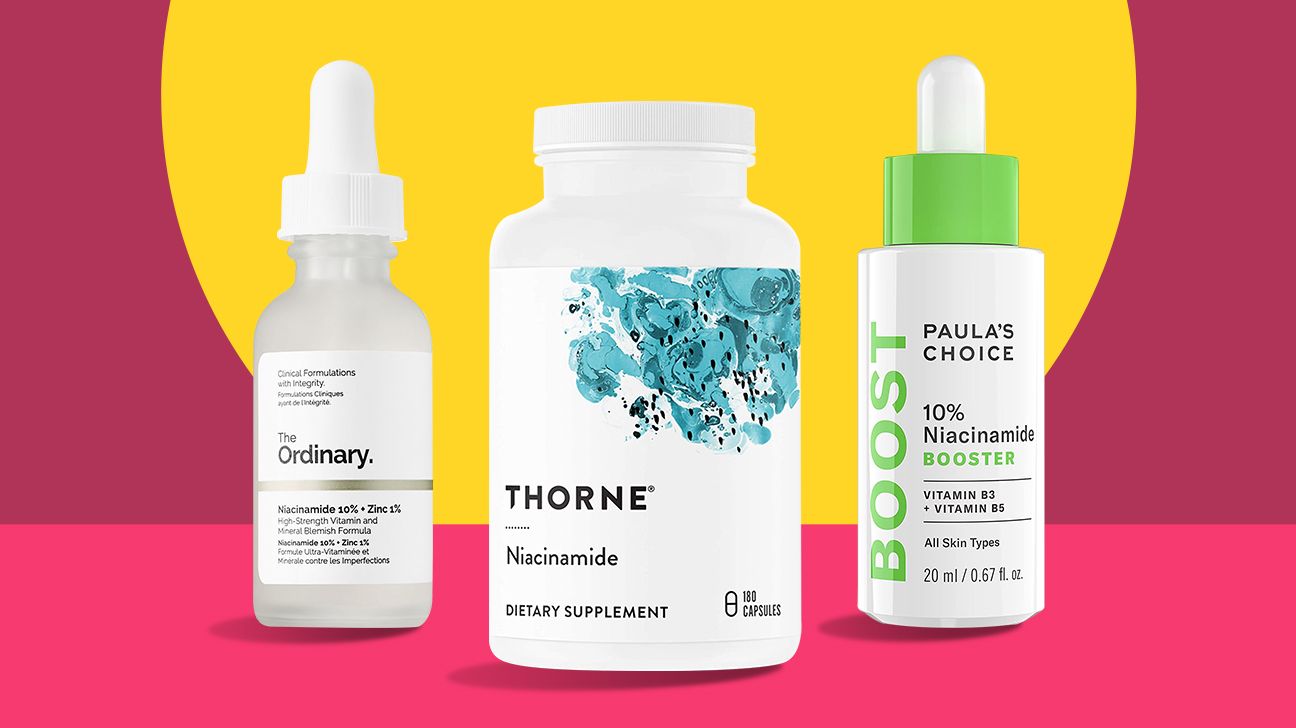 Niacinamide, sometimes called nicotinamide (no relation to the addictive substance found in tobacco), is the water-soluble form of vitamin B3. It's the form most commonly found in niacin supplements or skin care products.
Niacin is a vitamin every single tissue in your body needs a constant supply of to continue producing energy to power your cells. It helps your body harness the energy in food you eat and transform it into something you can use. (Read: It's pretty darn important.)
Additionally, niacin has a number of positive effects on your skin. Even better, you can get many of these benefits by consuming niacin orally OR by using niacinamide-containing skin care products.
And hey, why not both?
If you need proof that niacinamide is pure skin food, here it is.
Many of these benefits are results of niacinamide's potential anti-inflammatory and antioxidant effects on your skin, which allow it to protect your cells from damage.
Benefit
Oral or topical
The proof
Protects against sun damage and certain skin cancers
oral and topical
A high quality 2015 study of more than 300 people found that high dose niacinamide supplementation resulted in a 23% decrease in the development of new non-melanoma skin cancers compared to a placebo.

Research from 2021 found that topical niacinamide can help increase collagen synthesis (including in photodamaged skin), which can help reduce signs of premature aging *and* speed up wound healing.
Has antibacterial properties
topical
One animal study in 2017 found that a leave-on niacinamide formulation boosted antimicrobial peptide (AMP) activity on the skin, providing more protection against potentially harmful bacteria.
Improves skin barrier function and hydrates skin
oral and topical
Topical niacinamide may also increase the thickness of the stratum corneum, the top layer of your skin. This can help improve your skin barrier function, which plays a huge role in skin hydration and immune health. (Remember: Your skin is your body's biggest immune organ!)

Surprisingly, oral niacinamide intake may also help protect against water losses through the skin, leaving your skin more hydrated. In science speak: Niacinamide helps your skin develop a ceramide (lipid) barrier which, in turn, helps retain moisture. Hello, dewy glow!
Reduces hyper-pigmentation
topical
A 2021 review of studies found that 4% topical niacinamide can effectively reduce hyperpigmentation, which is the development of discolored patches on your skin from UV damage, acne, and even blue light.
Reduces the appearance of wrinkles
topical
Another win: The same 2021 review of studies found that 4–5% topical niacinamide improves skin elasticity and wrinkles, with anti-aging effects comparable to retinol. (Even better, you can use the two together to majorly minimize signs of aging).
Reduces appearance of large pores
topical
Research from 2021 found that niacinamide may help reduce the appearance of enlarged pores and uneven skin texture. Booyah!
Reduces acne
topical
According to a 2018 study, topical niacinamide may be able to reduce the number of acne spots on your skin by 40–60%, so ummmm… sign us up! Research indicates that niacinamide may be helpful for severe acne, too.
Curbs oil production
topical
An older study from 2006 found that 2% topical niacinamide can help curb oil production. Byeee, shine!
Improves inflammatory skin conditions
topical
Looking to combat redness or blotchiness? Niacinamide has shown to reduce inflammation, which in turn can help ease redness from acne, eczema, and rosacea.
As you can see, your skin may seriously benefit from oral or topical niacinamide. Here's how to add it to your daily routine.
Foods with niacinamide in them
Niacin is mostly found in animal foods like beef, chicken, and fish, but you can also get it from nuts, seeds, and beans. Most grain products are enriched with some niacin too. (So no worries, plant-based eaters!)
The niacin found in food is usually just plain ol' niacin, but it's quickly converted into niacinamide once you digest it. Your body can actually convert tryptophan (an amino acid that's used to build proteins) into niacinamide too.
Most adults need at least 14 milligrams of niacin or niacin equivalents (NE) like tryptophan daily, but men and folks who are pregnant or breastfeeding have slightly higher needs.
Niacin deficiency can lead to a disease called pellagra, which has pretty much been eradicated in most developed countries.
People who have niacin deficiencies are typically undernourished (either from poverty, eating disorders, alcohol use disorder, AIDS, inflammatory bowel disease, or liver cirrhosis) or have an inadequate intake of riboflavin (vitamin B2), pyridoxine, and/or iron. Other people with rare disorders like Hartnup disease or carcinoid syndrome are also more likely to have a niacin deficiency.
If you think you could be a good candidate for a niacin supplement, talk with your healthcare provider.
Niacinamide supplements
Most of the benefits of oral niacin intake found in studies were based on niacinamide supplements rather than intake of niacin-containing foods. But taking sky-high doses like the ones used in some studies can result in less-than-pleasant side effects.
Taking too much niacin can cause something called niacin flush, which includes uncomfortable skin redness and irritation and some potentially more serious complications like elevated body temp or blood pressure changes.
Niacinamide is naturally "flush-free," so you can safely take higher doses without these pesky side effects. Just another reason niacinamide is ab-fab (absolutely fabulous).
Your healthcare provider can help you navigate high dose niacin supplementation. For instance, you may want to take a higher dose if you have an increased risk of skin cancer. Definitely consult a professional before you start taking a high dose all willy-nilly, though.
Niacinamide skin care products
Finally, we've reached topical niacinamide. Most standalone niacinamide products are formulated as lightweight serums. Niacinamide is also added to other skin care products, such as creams, which may also contain other active ingredients.
Topical niacinamide products may cause some mild irritation when you start using them. No worries, though — this effect will go away over time.
What to look for in niacinamide serums
You may see niacinamide listed as "niacin" and "nicotinamide" on labels.
Most formulations are 5 percent or less. Reports suggest 5 percent is effective in treating sun damage and hyperpigmentation.
If you have sensitive skin, start with a lower concentration like 2 percent.
Here are our top picks for niacinamide supplements and topical products.
With nearly 4,000 glowing Amazon reviews, this niacinamide serum is definitely a favorite. The addition of zinc gives it an added anti-acne boost and it's also vegan and cruelty-free.
Paula's Choice is a cult favorite for skin care enthusiasts everywhere, and this niacinamide serum does not disappoint. It's got added antioxidants and panthenol (vitamin B5) to boost its soothing, skin-nourishing activity.
This serum from InstaNatural is made with nourishing ingredients like rosemary extract and avocado oil, but the star (of course) is the moisturizing, pore-minimizing niacinamide.
This supplement comes from a brand that healthcare professionals trust and is totally free of unnecessary ingredients. It provides 500 milligrams of extended-release, flush-free niacinamide per serving.
Jarrow Formulas is another favorite brand among healthcare pros. This niacinamide supplement is flush-free and provides 250 milligrams per serving.