We include products we think are useful for our readers. If you buy through links on this page, we may earn a small commission. Here's our process.
Greatist only shows you brands and products that we stand behind.
Our team thoroughly researches and evaluates the recommendations we make on our site. To establish that the product manufacturers addressed safety and efficacy standards, we:
Evaluate ingredients and composition: Do they have the potential to cause harm?
Fact-check all health claims: Do they align with the current body of scientific evidence?
Assess the brand: Does it operate with integrity and adhere to industry best practices?
We do the research so you can find trusted products for your health and wellness.
Sometimes walking down the skin care aisle feels like visiting Times Square. It's the ads! Everywhere! Promising you entry to the world of *insert new trend here* skin!
But even if you buy every celebrity face care product or follow your favorite influencer's "Get Ready with Me" video, replicating routines never, if rarely, give results for flawless skin. So, what gives?
Here's what you need to know about building your own personal skin care routine — plus a few product recs to get you started.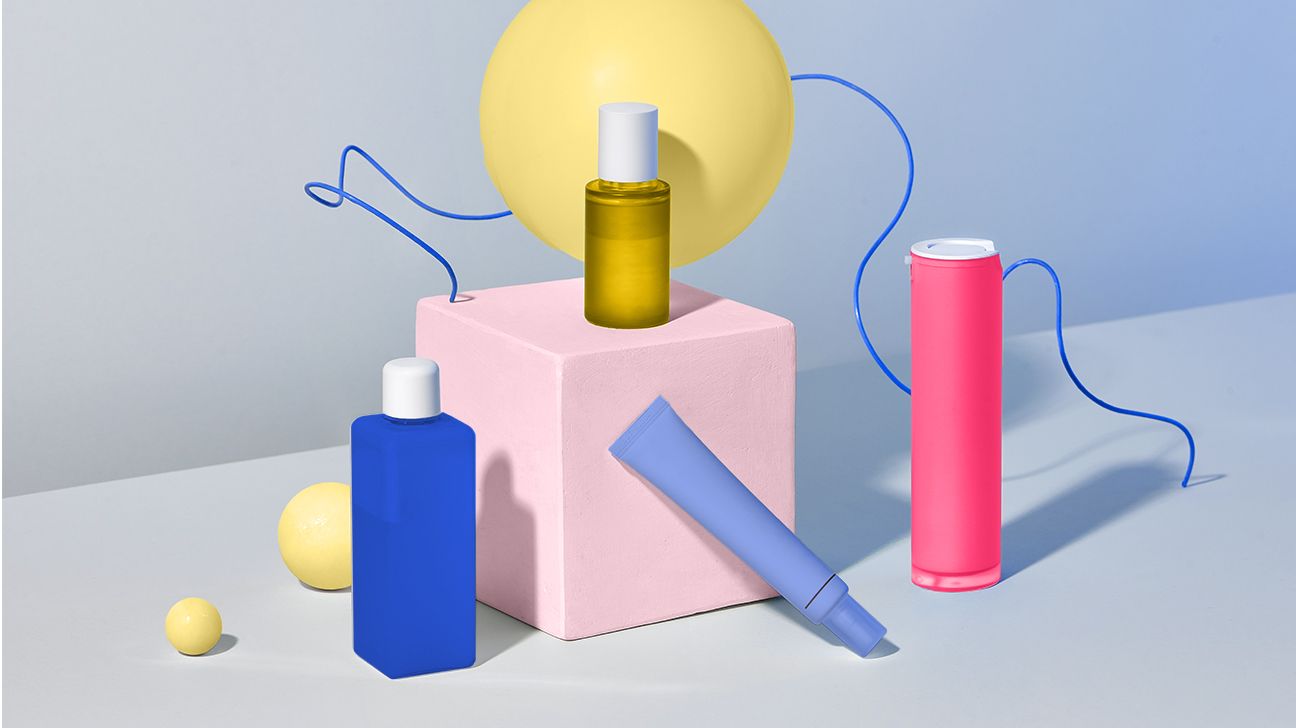 Crafting your skin care routine is pretty much a fine art. Before you start priming your canvas, you need to know what kind of material you're working with – aka your skin type. Here's the deal.
Determine your skin type
But how are you supposed to know whether you're oily or dry, combination, or normal?
Try the bare-faced test
Wash your face with a gentle cleanser, pat it dry, and resist the urge to apply moisturizer. Wait 30 mins and assess the sitch.
Normal. If you don't have any redness, dry patches, or oil, you prob have normalskin.
Dry. If your skin feels flaky, dry, or tight, you have dryskin.
Oily. If your face feels greasy or oily, you guessed it: Oily.
Combo. If your T-zone looks shiny but the rest of your face is dry, you have combo skin.
Sensitive. If your skin is straight-up itchy, red, or irritated, you prob have sensitive skin.
Use a blotting sheet
Apply a blotting sheet to your face and see what happens.
Normal. If it just picks up a tiny bit of oil, you prob have normal skin.
Dry. If there's next-to-none, you're prob dry.
Oily. If there's a whole lotta oil, you're oily.
Combo. If it picks up some from your T-zone but not a lot from the rest of your face, you're probably combo.
Sensitive.
Psst. This test doesn't really help identify sensitive skin, but if your dermis tends to flare up with products that aren't gentle, you're prob squarely in that category. When in doubt, talk with a derm.
Set your skin care goals
Goal setting isn't just for the gym — it's also a good idea when it comes to your skin care routine. Here are some potential ways to go for gold:
Reducing hyperpigmentation/brightening. If you want to kiss redness or dark spots goodbye, you might want a routine geared toward reducing hyperpigmentation. Ingredients like vitamin C and kojic acid will do the trick.
Anti-aging. There's nothing wrong with aging (it's also obvi unavoidable!), but some people wanna prevent premature (aka preventable) signs of it. If that sounds like you, you can look for products like retinol, vitamin C, and peptides, which are specifically geared toward replenishing and preserving skin.
Clearing acne. If you want your zits to be a distant memory, you prob need the likes of benzoyl peroxide, salicylic acid, or alpha hydroxy acids (AHAs) in your routine. This can vary a lot based on acne type and severity, but it's a good place to start.
Regardless of your goal, defining it can help you narrow down products that align with your needs. It sounds simple, and it is — but it works!
Remember: Be patient!
Dermatologist Dr. Elaine Kung tells us that it typically, "takes 3 months to notice a difference in a skin care product or routine."
Kung notes that the average skin cell cycle for adults — aka the time it takes for a lil skin cell to form in the dermis and make its way to the surface and shed — is about 28 days.
"Even pharmaceutical companies use 16 weeks as an early benchmark when they do clinical studies on a [skin care product]," she explains. So buckle up after you lather up — the average consumer should expect to wait a minute (or months).
"Be patient with your skin before giving up," Kung advises. "It may take a few cell cycles for [your products] to improve any skin conditions."
And pro tip: If you've ever felt confused by what stopped working (or why you're breaking out when nothing changed), an "old" product could be the culprit. This is why you should introduce new products one at a time. "You risk having a reaction and not knowing what caused it," says Dr. Angelo Landriscina, a dermatologist in Brooklyn, New York.
Psst: Based on dermatologist input, popular reviews, and editor's picks, we've also included product recommendations for each step of the routine.
$ = under $10
$$ = $10–30
$$$ = over $30
Building your skin care routine isn't rocket science — or at least, it doesn't have to be. Here's how to craft your routine for every level and need, ranging from lazy baby to aspiring skin care chemist.
An easy AF foundational skin routine
For beginners out there who don't want to spend a lot of money or who don't want to overwhelm their skin, this one's for you. "All you need for your face is a gentle cleanser, moisturizer, and sunscreen; that's really it. Everything else might be helpful, but it isn't essential," says Landriscina.
Stick to this 5-minute or less routine to keep your skin healthy and happy.
| | | |
| --- | --- | --- |
| Step | Purpose | Helps with |
| cleanser | remove dirt, oil, bacteria, and dead skin cells; provides a clean and cleared surface for product application | acne prevention, maintaining pH levels, skin hydration |
| moisturizer | skin hydration | dry skin, skin barrier balance |
| sunscreen | sun protection (Landriscina says that this is the most important step in a routine "without a doubt. Without it, everything else you're doing is in vain.") | hyperpigmentation, wrinkles, skin cancer prevention — just about everything skin health |
After (or even right next to) sunscreen, most skin professionals agree that cleansing to remove debris, unnecessary oils, and dead skin cells is crucial to your routine. But you probably don't have to go as hard as you think.
Dermatologists like Kung recommend washing gently twice a day with your fingers, for about 60 seconds. Stick to lukewarm water and keep those physical exfoliators away (for now).
Although some swear by cleansing just 1x a day, "I [always] recommend washing your face twice a day," Kung says. "There are many reasons to wash our faces in the morning so we start off with a clean slate. We may want to remove the skin care products that we applied at night. Dust can land on our faces. We can sweat at night. Our skin can produce oils."
Kung recommends using a gentle cleanser in the morning and a more intensive one at night. But if you're using leave-on products with AHA, BHA, or retinol, you should also go for a gentle nighttime one to avoid irritation.
Oily or acne-prone skin types can especially benefit from using a water-based cleanser to prevent excess oil buildup. Everyone else may want to opt for an oil-based cleanser — particularly those with dry skin.
Let's get into cleanser recommendations by skin type
Should I double-cleanse?
Before you work harder than you have to: According to the pros, most of the time, double cleansing isn't necessary. "Many people come into my office with overly complicated skin care — double cleanse, toner, essence, serum, and moisturizer," Kung says. She advises just keeping it simple, instead.
Double cleansing had its start in Korea and, like much of Korea's innovative beauty practices, has spread around the world. The idea is to start with an oil or balm cleanser to break down oils, makeup, and sunscreen, and then move on to a water-based cleanser that targets the pores.
It's best for makeup wearers or for people who feel like an oil slick at the end of the day and for whom one cleanser isn't cutting it. Otherwise, you'll want to stick to a single cleanse on a normal day.
If you feel like you haven't been hearing much about toners since 1999, you're not alone. Kung breaks the news to us bluntly: "Toners are not necessary for good skin anymore."
"Toners were created because well-water and soaps were alkaline," she explains. However, let's be real: "Most people reading this article will not be washing with well water anymore."
Plus, "skin care science has improved so much that cleansers are made to be gentle and pH balanced for our skin," making that bottle of toner pretty much superfluous.
She explains that contemporary toners either have a low concentration of AHA or BHA for those who want a little extra exfoliation, or a low-concentration of moisturizing ingredients like hyaluronic acid – aka the same ingredients that are already in a zillion other (often more effective) products.
"So, this toner step is often something I ask my patients to swap out for another product that may have an active ingredient that may be more helpful for their concerns or a prescription strength cream." Think: a serum, medicated cleanser, or prescription acne treatment may be a better bet.
Still wanna shop for a toner? Try these:
While a serum is not a necessary part of a skin care routine, they are beloved by dermatologists and estheticians alike for their concentrated ability to target specific issues. Skin plumping, brightening, hydrating, acne-fighting, wrinkles and fine lines — serums can target whatever you need.
Here are a few ingredients you can look out for in your serums when you shop
If your under eyes are a major area of concern — maybe you have hyperpigmentation, puffiness, or thinner skin there than you'd like — an eye cream may be for you.
But before you drain your savings by coating your under eyes in La Mer, do you really need an eye cream?
According to Landriscina, "Absolutely not. Typically, eye creams have a HUGE markup and there's nothing that necessarily sets them apart from regular moisturizers. However, if you have different skin care goals for your eye area than the rest of your face, they might be useful."
So, let's say your under eyes have some fine lines you want to tackle, but you're not looking to address that elsewhere Then you might actually save money by only applying a more intensive replenishing cream to the under eye area.
For Liu, they aren't necessary either, but she does note: "They are formulated and tested for the skin area which is more sensitive. Expectation: Moisturizing may help with fine lines and puffiness, [but] will not improve dark circles."
Basically, you might want to manage your expectations and assess your goals and sensitivities before splurging.
Finding an eye cream to meet your needs
Effective ingredients for this delicate area include:
Extra exfoliation isn't necessary for your skin care routine, but it can be super beneficial. Basically, it means removing the outer layer of your skin — either through chemicals or physical agents — to reveal the fresher layer underneath.
Since exfoliating can be pretty harsh on the skin, many sensitive skin types may want to skip it. Those with oily skin, however, may especially benefit from the gritty cleaning and pore-clearing action an exfoliant can offer.
It isn't usually an everyday thing — think once or twice a week after cleansing. (Unless you're using a cleanser + exfoliant combo.) If your skin gets dry or irritated, though, stop right there! 🛑
Finding the best exfoliant for you
Here's the deal.
Chemical peels. If you want to get rid of acne, scars, or dark spots, a chemical peel (either at home or at the derm or aesthetician's office) might help. These days, there are tons of options that address a range of skin concerns. If you want to DIY, the Murad Resurgence Replenishing Multi-Acid Peel ($$$) (with both salicylic and glycolic acid) is a perfect pick.
Physical exfoliants. Some people also like to add a good old-fashioned physical exfoliant to their routine. Facial scrubs with abrasive ingredients like salt, sugar, etc. are a great way to lift away dead skin with help from a little friction. This can help brighten and smooth the skin *and* help your serums absorb better. If you're ready to slough off dead skin, the ACURE Brightening Facial Scrub ($) is a solid bet. Just keep in mind that physical exfoliants aren't usually ideal for sensitive skin.
Combo exfoliants. There are also combination exfoliants, which have both chemical and physical exfoliants in one convenient package. These are ideal for oily skin. Other skin types become stripped or irritated from all that exfoliation action. If you want an exfoliant-cleanser with both physical and chemical agents, the Dermalogica Daily Microfoliant ($$$) is for you.
Take it from Kung, moisturizers are essential — even if the name might make our oily-skinned friends think otherwise. "Moisturizer is a misnomer to me because it gives the connotation that if my skin isn't dry then I don't need to use it … [but] even people who do not have dry skin can benefit from a product that helps prevent transepidermal water loss."
Plus, they protect our skin from wear-and-tear by mimicking our natural skin barrier, she says. "I tell my patients to think of their moisturizer as a liquid Band-Aid which shields their skin from irritants."
Liu agrees. "Anytime our skin gets wet, we should be moisturizing, otherwise it will lead to dry skin and hand dermatitis."
Climate and season may also affect your moisturizing routine, too. For those with dry skin or who live in dry environments, Kung sometimes recommends using a heavier moisturizer with an occlusive (like petrolatum). "However, heavy moisturizers are not universally appropriate for everyone. People with oily or acne-prone skin don't necessarily need moisturizers that are occlusive."
Here's a moisturizer breakdown by skin type
What about face oils and night creams?
If you have super dry or mature skin, face oils or night creams might lend the extra hydration you need.
But Kung notes that in many cases, buying a separate face oil may not be necessary. Because "if you flip to the back of your skin care product labels, chances are that jojoba, sunflower, safflower, macadamia nut, avocado, or coconut oil are already there!"
"Cosmetic science is very complicated and international skin care brands have done years of research and development into their products to offer you something good to use," she adds. "For example, Cetaphil has avocado oil, and La Roche Posay Lipikar has rapeseed oil."
Also, PS: night creams are a PM step for a reason. Some night creams might have ingredients which could make the skin more sensitive to sun damage when applied during the day (like retinol).
Check the product's instructions and warnings before use and if you see these kinds of warnings, stick to nighttime use. Be doubly sure not to skip out on your sunscreen the next day.
Every expert we spoke to stressed how crucial daily sunscreen use is. Indoors or outdoors, rain or shine, winter or summer, skipping sunscreen is one of the biggest mistakes a person can make, says Landriscina. "Without proper sun protection, everything else [from your routine] will be useless," he stresses.
The sun is very damaging to the skin, can speed up the aging process, and, most severely, increase your risk for skin cancer.
After you moisturize, make sure you're applying an adequate amount to protect your whole body. A shot glass' worth should the job on average, or 2 to 3 tablespoons on the body and 1 to 2 for the face and neck.
Be sure to reapply after 8 hours or earlier if anything happens that could remove the sunscreen, like sweating, swimming, or friction.
To shop for sunscreen, check out our article on best sunscreen by skin type here. Here's a preview of our selects:
| | |
| --- | --- |
| Category | Recommendation |
| oily skin | Zinc has soothing properties that can help to control oil and soothe inflammatory acne, so oily skin types might enjoy this gentle zinc-oxide-based mineral formula from Elta MDUVClearSPF46 ($$$) for protection. |
| sensitive skin | Sensitive skin might benefit from a mineral sunscreen over a chemical formula to avoid irritation. Baby your skin with Aveeno Baby's Continuous Protection Sensitive Skin Zinc Oxide Sunscreen ($$), it's ultra-gentle and is even tear-free! |
| eco-friendly | Thinksport's Safe Sunscreen ($) is the full package. It's affordable, free of biologically harmful chemicals, reef-safe, cruelty-free, vegan, and even gluten-free. Now that's a sunscreen. |
| dark skin | Long have the melanin-blessed labored to find a sunscreen that would not leave us grey or ghostly. Enter Black Girl Sunscreen SPF 30 ($$), no white cast product that also features carrot seed oil, cocoa-seed butter, and avocado oil for a smooth glow. |
Of course, there's more fun for the true enthusiasts. We're talking exciting add-ons and tools that level you right up in ways celebrities and influencers don't always talk about.
Keep in mind, that these are not required by any means, and the prices are often a little eye-widening. But if you're yearning for more, we've got you covered.
Clay masks
A tool for oily and acne-prone skin, clay masks work by absorbing excess oil. To avoid dehydrating your skin, limit use this 2 to 3 times a week, before moisturizing.
LED lights
LED light therapy is proven to have a host of benefits for the skin with continued use, from tackling wrinkles to inflammation. Those with sensitive skin and lots of patience might be curious to try this out at home.
Microcurrent tools
If you're looking to firm or tone your skin, look to microcurrent tools. It might sound scary, but don't worry. This works without penetrating your skin by sending tiny electro currents that tell your muscles to tighten up.
While you shouldn't be able to feel this treatment, some have reported teeth sensitivities. If that's you, you may want to avoid the mouth area and use it for the glamorous forehead results.
Sheet masks
Depending on your skin concerns, sheet masks can be a soothing, clarifying, or hydrating part of your routine.
Heads up, though. Kung notes that while those ingredients like glycerin, hyaluronic acid, and aloe can be soothing for skin, added fragrances might irritate sensitive skin. Others contain ingredients that help clear pores or diminish oil in skin, but may also cause a reaction if kept on too long.
So, basically, go for it as an occasional pick-me-up. But take a look at the ingredient list to ensure it's truly serving your needs.
Microneedling
Microneedling works by slightly damaging the skin to prompt it to produce collagen to heal itself, which can help with acne scarring, wrinkling, and large pores.
Aesthetician appointments
Outside of seeing a dermatologist, the best thing you can do for your skin is to book regular appointments with a licensed esthetician. Licensed estheticians are certified professionals with a depth of knowledge and expertise that the layperson lacks.
They're able to do procedures for the skin that we can't do at home, like laser treatments, facials, microdermabrasion, and chemical peels, just to name a few. Both professionals can also evaluate your skin, routine, and products to make sure you're treating your skin right.
As you might have read in some IG comments, why bother to spend money on skin care when there's a plethora of tutorials for DIY skin care at home? Well, Liu and Landriscina both strongly warn against it.
"Unfortunately there's a scourge of people online singing the praises of putting different foods on your skin," says Landriscina. "These will likely do nothing [but], at most, you can have severe reactions."
"A common example is lemons," he says. "People tout this as a cure for everything from acne to hyperpigmentation. However, citrus fruits harbor chemicals called furocoumarins that can cause a phototoxic reaction called phytophotodermatitis if the skin is exposed to the sun. I always advise using only substances designed for skin in your skin care routine," he says.
At the end of the day, no matter what you choose to do with it, please remember that whatever state your skin is in is beautiful. The stigma around acne is proven to diminish the quality of life of those who have it.
So as you practice patience for yourself, remember to also work on your inner beauty as well. Managing stress and maximizing happiness is one way of manifesting the clarity and brain space to focus on other things. And by putting skin health over skin aesthetics, the rest will fall into place.
When should I apply acne treatments?
Since some acne treatments ingredients including retinol, benzoyl peroxide and hydroquinone may make your skin more sensitive to the sun, it's a pretty good idea to apply at night.
Apply spot treatments or gels as the second-to-last step in your skin care routine, before moisturizing, unless directed otherwise.
Does it matter what products I use in the morning vs. night?
Sometimes it's a matter of personal preference. Other times it truly makes more sense – for instance, since retinol and benzoyl peroxide can make skin more photosensitive, applying at night can be safer for your skin.
That being said, you'll still want to load up on SPF either way.
What's the best order to use skin care products?
Pros generally agree that after cleansing, you should apply formulas from lightest formulas to the heaviest. So that means the general order might look like this:
cleanse
tone
serum
moisturizer
eye cream
SPF
But always check the product label, JIC.
What's the best skincare routine for your 30s? What about your 40s?
There's no magical age when your skin changes shape. Over time, cell turnover, collagen growth and hyaluronic acid production slows down, and this *could* happen around the third decade of your life. For this reason, many like to focus on regimens that help boost collagen production and aid in cell turnover in their 40s.
That's why some people decide to add ingredients like retinol, which boosts cell production, and hyaluronic acid, which hydrates, to their routines in their 30s.
As you age, cell turnover continues to slow. So by your 40s, you might want to work your way up to a stronger retinol formulation. Since skin may dry out later in life, amping up the hydration with a heavier moisturizer might also be necessary. Ingredients like glycerin, hyaluronic acid, and ceramides can also boost hydration and thicken and replenish the skin.
The fourth decade of your life might also be time to talk to a derm about more intensive treatments like laser treatments for dark spots – but it's really up to you.
How long does it take for a product to work?
Kung says it typically takes 3 months to notice a difference in a new skin care product. That's because the average skin cell cycle for adults is about 28 days, and your skin may need to go through a few cycles before you can see results.
Should I avoid using any products/ingredients together?
A general rule of thumb is to not mix combos of retinol, vitamin C, niacinamide, benzoyl peroxide, or AHA/BHA acids in one skin care sesh to avoid excess dryness or irritation. So consider using that retinol at night and vitamin C in the morning, for instance.
"Theoretically, you want to avoid skin care ingredients that may alter the pH of your vitamin C serum," Kung says. "So technically, niacinamide, AHA, BHA, and retinol are not suggested to be used with vitamin C serums."
"However, many skin care products contain all these ingredients because the cosmetic chemists have worked out the right concentrations of these ingredients to put in a single product. Consumers who are not privy to percentages and concentrations should not mix and match ingredients because they may counteract each other."
Basically, "leave the mix and match to the cosmetic scientists," she advises.