Jamba (formerly known as Jamba Juice) has been serving up dope drinks since 1990. They also offer a variety of smoothie bowls, hot eats, and snacks. While they're branded as a "healthy" alternative to other fast food joints, not every Jamba item is good for you 10/10. Here's the scoop.
Generally, yes. It depends on what you order, though, and it also depends what "healthy" means for you. Does your body need lots of calories to keep up with your super active lifestyle? Are you looking to restrict a certain ingredient to help manage a health condition?
In general, Jamba's juices, bowls, and smoothies contain plenty of nutritious ingredients. But a lot of menu items have a high amount of sugar, carbs, and calories per serving. (For many folks, those options wouldn't be the healthiest choices.)
Pro tip: If you're not sure what's the healthiest balance of nutrients for your diet, try talking with a Registered Dietitian.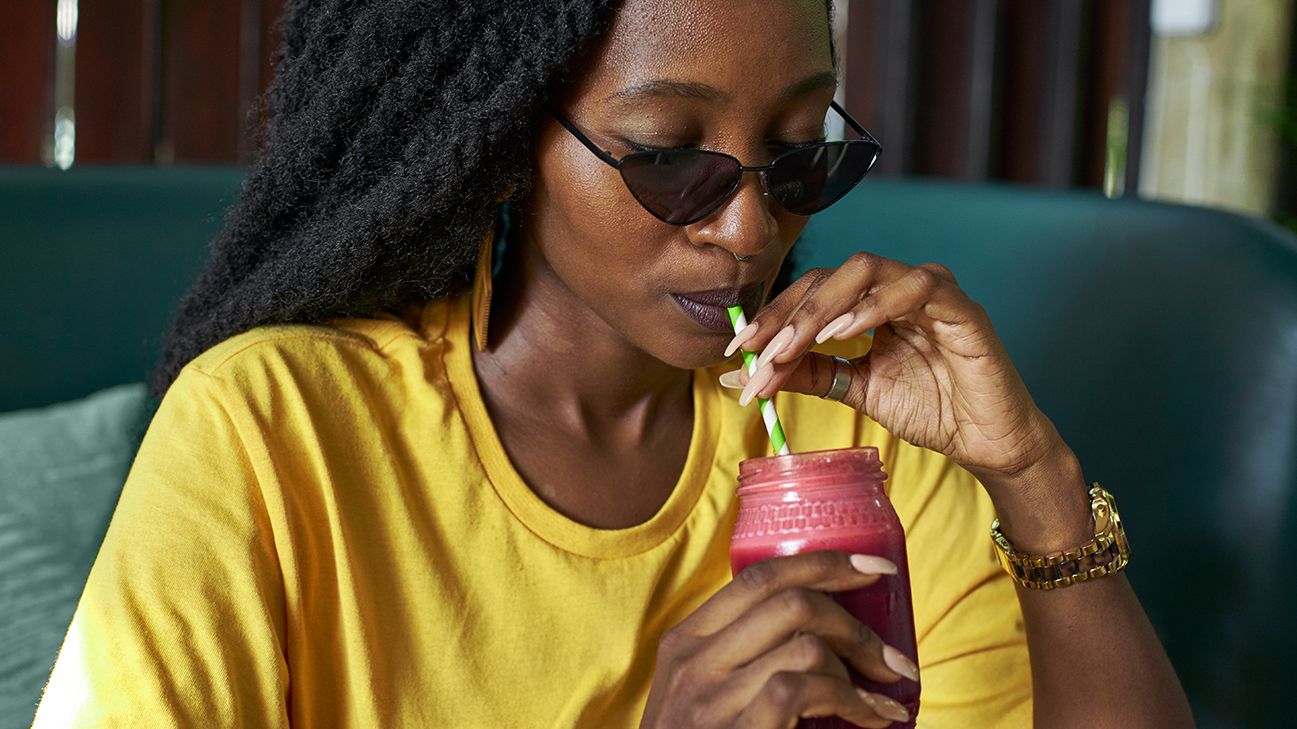 Not all Jamba menu items are hella healthy. But there are some ways to keep things in check. Here are some helpful hacks.
Swap added fruits for extra veggies.
Go for Greek yogurt in lieu of fro-yo or sherbet.
Get a small-size instead of a large.
Ditch add-ons like granola, honey, and syrups.
Jamba is a fresh, quick alternative to at-home juicing. But the fruit-based juices can really pile on the sugar. Why's that a prob? Getting too much sugar in your diet is associated with health issues like obesity and type 2 diabetes.
For lower sugar, healthier options, stick to their veggie-based juices. Here's some of our faves. P.S. Nutritional deets are based on a medium-size (22-ounce) serving.
1. Purely carrot
This juice is made with 100 percent carrot juice so it def lives up to its name 🥕. Carrots are a fab source of vitamin A, which might mean this juice has some perks for your peepers. Studies show vitamin A can combat eye disorders like glaucoma, macular degeneration, and cataracts.
Calories: 270
Sugar: 31 grams (g)
Carbs: 62 g
Fat: 1.5 g
Protein: 6 g
Fiber: 18 g
2. Veggie vitality
A trifecta of apples, carrots, and spinach — this juice is refreshing AF. It has 1,480 milligrams (mg) of potassium and boasts high levels of manganese and vitamin A.
Calories: 230
Sugar: 35 g
Carbs: 52 g
Fat: 1 g
Protein: 5 g
Fiber: 9 g
3. Great greens
This juice is chock-full of natural green goodness. It's a cool mix of cucumbers, spinach, apples, and lemons. We also stan that it's a solid source of vitamin K and vitamin C.
Calories: 200
Sugar: 31 g
Carbs: 47 g
Fat: 1 g
Protein: 6 g
Fiber: 6 g
Pro tip: If you're cutting carbs, ask them to swap the apples for extra spinach or kale.
Smoothies sound healthy in theory. But they can actually be calorie bombs that have fewer pros than cons. Here's how to avoid a sugar overload.
1. Lotta horchata
This is Jamba's tasty take on a Mexican classic. It's made with unsweetened almond milk, cold brew coffee, fat free vanilla frozen yogurt, cinnamon, and honey.
Calories: 280
Sugar: 47 g
Carbs: 57 g
Fat: 2.5 g
Protein: 6 g
Fiber: 2 g
Pro tip: Swap the fro-yo for nonfat Greek yogurt.
2. Apple 'n greens
It's a vibrant mix of apples, strawberries, pears, mangos, bananas, peaches, and kale. The result? A super satisfying smoothie.
Calories: 320
Sugar: 58 g
Carbs: 76 g
Fat: 1 g
Protein: 6 g
Fiber: 6 g
3. Vanilla blue sky
This banging smoothie is blended with bananas, unsweetened almond milk, vanilla coconut milk, and pineapples. But our fave part? A blue spirulina boost gives it a brilliant, bright blue color.
Calories: 280
Sugar: 37 g
Carbs: 61 g
Fat: 5 g
Protein: 3 g
Fiber: 7 g
Looking for a light, tasty meal? Jamba's got you covered.
1. Vanilla blue sky
It's the bowl version of the vanilla blue sky smoothie. The base is topped with blueberries, strawberries, coconut chips, and organic granola.
Calories: 330
Sugar: 33 g
Carbs: 62 g
Fat: 9 g
Protein: 6 g
Fiber: 8 g
Pro tip: Ditch the granola to reduce the calorie and carb count.
2. Island pitaya
For a taste of the tropics, try this fruit-tastic bowl. It's packed with pineapple, pitaya (aka dragon fruit), mangos, bananas, and strawberries. It's then topped with shredded coconut, honey, blueberries, and organic granola.
Calories: 480
Sugar: 70 g
Carbs: 102 g
Fat: 8 g
Protein: 7 g
Fiber: 11 g
3. Acai primo
This top-notch bowl is a beautiful blend of blueberries, strawberries, acai, bananas, and soy milk. They finish it off with shredded coconut, honey, and organic granola.
Calories: 510
Sugar: 65 g
Carbs: 101 g
Fat: 10 g
Protein: 8 g
Fiber: 11 g
Pro tip: This bad boy had 102 grams of carbs. You can bring that number down a bit by subbing in unsweetened almond milk. You could also skip the honey on top.
In the mood for some heartier food? Here are Jamba's healthiest options.
1. Oatmeal
A classic. This organic steel-cut oatmeal bowl is customizable. You can chose from toppings like bananas, blueberries, coconut flakes, brown sugar crumbles, and honey.
Keep in mind, the exact nutritional content will depend on which add-ins you choose. But the basic recipe has:
Calories: 170
Sugar: 5 g
Carbs: 31 g
Fat: 2.5 g
Protein: 6 g
Fiber: 4 g
2. Spring veggie egg bake
Finally! A keto-friendly option 😊. These yummy egg bakes can be compared to Starbucks's super popular sous vide bites. They're fluffy, fun, and filled with MontaAmore cheese, artichoke hearts, and red bell peppers.
Calories: 200
Sugar: 1 g
Carbs: 8 g
Fat: 14 g
Protein: 10 g
Fiber: 1 g
3. Turkey sausage wrap
This rad wrap is stuffed with scrambled egg whites, turkey sausage, and cheddar cheese.
Calories: 320
Sugar: 1 g
Carbs: 30 g
Fat: 15 g
Protein: 17 g
Fiber: 1 g
Juice shots rock. They're quick, easy, and tend to be super low in calories and carbs.
1. Wheat grass shot
Wheatgrass is a superfood that's might have anti-inflammatory, antioxidant, and antibacterial properties. A 2002 study shows it might also help with tummy troubles like ulcerative colitis.
Calories: 10
Sugar: 1 g
Carbs: 1 g
Fat: 0 g
Protein: 1 g
Fiber: 0 g
Pro tip: Add a squeeze of lemon for a *chefs kiss* moment 😘.
2. Ginger lemon cayenne shot
This shot a great way to stave off an afternoon slump. It's slightly spicy and super flavorful. Bonus: Ginger has fab antioxidant properties and cayenne pepper may boost your metabolism. Score!
Calories: 15
Sugar: 1 g
Carbs: 4 g
Fat: 0 g
Protein: 0 g
Fiber: 0 g
Jamba isn't the only name in the juice game. Other popular "healthy" drink chains include:
Maui Wowi
Smoothie King
Bahama Buck's
Nektar Juice Bar
Planet Smoothie
Tropical Smoothie Cafe
Jamba is a restaurant chain that's known for blended drinks, juices, and snacks. While some items are on the healthy-ish side, that's not the case for the entire menu. Most juices, smoothies, and bowls are loaded with sugar and high in carbs. You can cut calories and carbs by customizing your order to include less fruits, sugars, and bases.