It's all too easy to fall into a smoothie rut. Though there are countless combinations of fruits, powders, fats, and liquids to try, we often end up putting the same ol' things into the blender.
Perhaps it's that the options are so overwhelming, we'd rather stop pondering altogether (this happens basically every time we turn on Netflix), or perhaps it's that at our core, we're creatures of habit (if it ain't broke, don't fix it!).
Well, guess what? We've got a sneaky way to tweak smoothies without overhauling the taste: Add veggies. Yes, you've likely dabbled in spinach smoothies, but what about adding the likes of carrots and cucumbers?
No matter your veggie preference, this list of 31 veggie smoothies will give your favorite morning meal that much more taste — and nutritional oomph.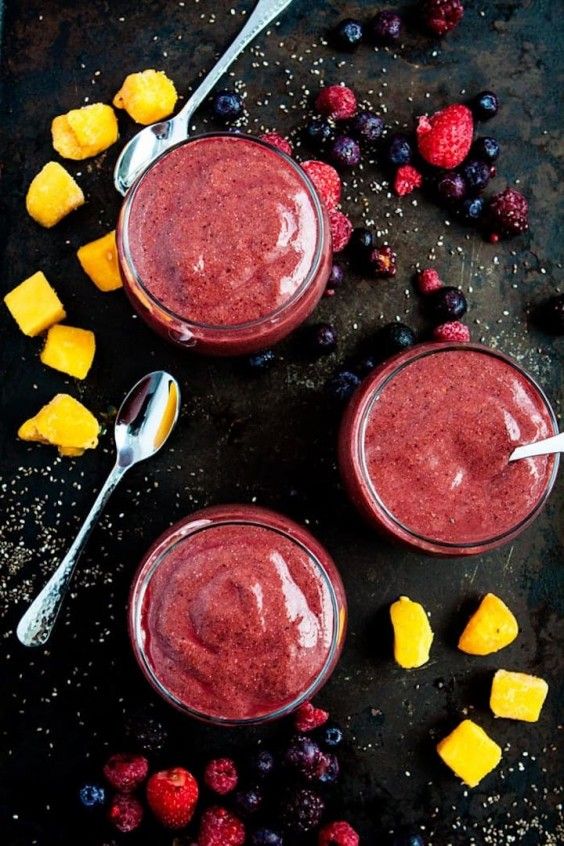 If you're not keen on veggies but want to incorporate more into your diet, this smoothie is for you.
The blueberries, mangoes, and orange juice completely mask the greens — kale is used, but spinach also works well. The chia seeds add a slight crunch and touch of protein. For the best texture, use frozen fruit or add ice cubes.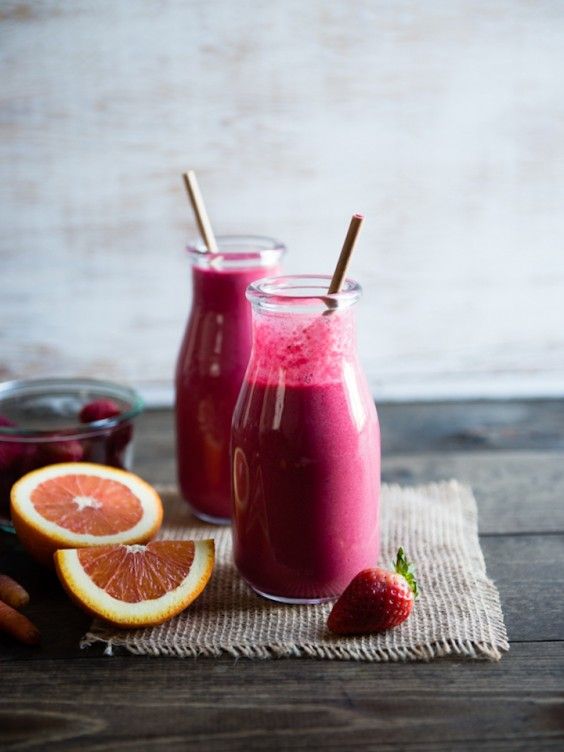 If you think the color is the most appealing thing about this smoothie, wait until you taste it. The sweetness of the berries, carrots, and coconut milk pair perfectly with tangy orange and earthy beet.
We wouldn't change a thing. That said, if you're looking for extra healthy fats, a tablespoon of coconut oil would do the trick without taking away from the already amazing flavor.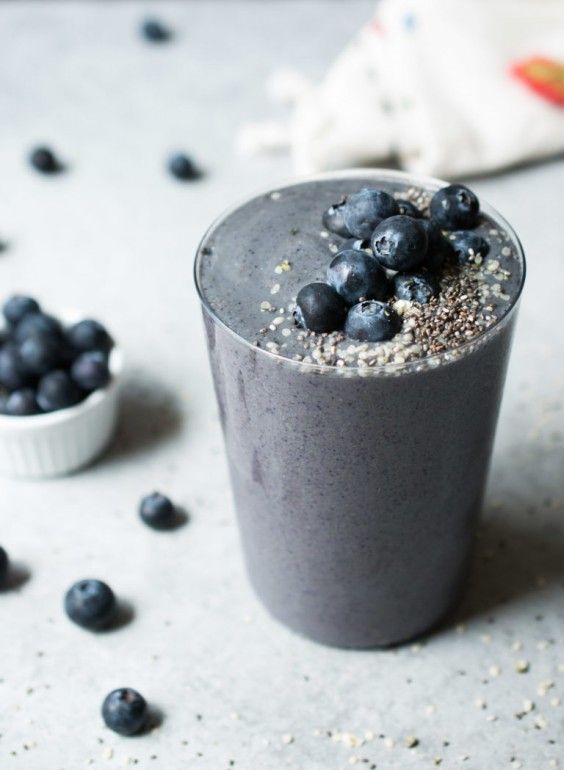 Naturally sweet, high in protein, super-filling, and packed with antioxidants, berries and nut butter are a surefire smoothie combo.
But what if we told you that adding zucchini and peas won't hijack the flavor but will supercharge the health benefits? Yeah, that convinced us too.
You probably won't find frozen zucchini at the store, so it's best to make at home by dicing, steaming, cooling, and freezing.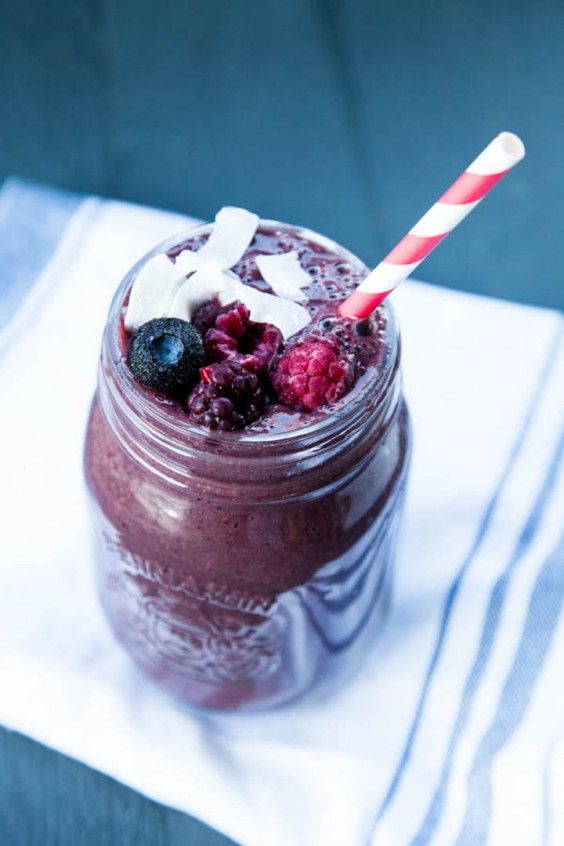 Why have one berry when you can have three? And why have one veggie when you can have two? The more, the merrier! Though this recipe only calls for spinach, it tastes great with added cauliflower or zucchini.
We also love tossing in a tablespoon of nut butter or ground flaxseed for extra fat and protein. Another delicious twist: Sprinkle granola or sliced almonds on top. Berry tasty indeed.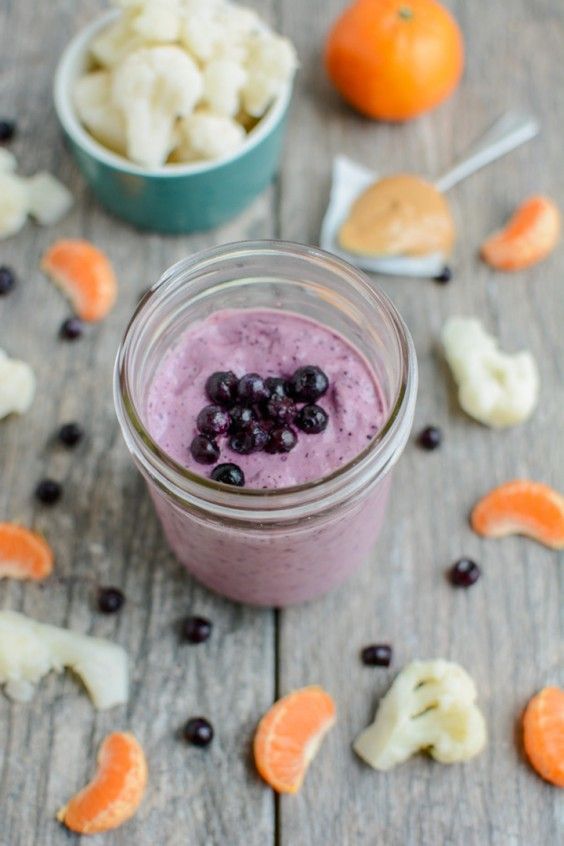 Will you be my clementine? On paper, the ingredients don't look the most compatible, but like some of the greatest loves, sometimes life surprises you.
The peanut butter, berries, cauliflower, and clementines blend seamlessly together and get a little extra oomph from yogurt and spinach. Just give it a go. You know never until you try, right?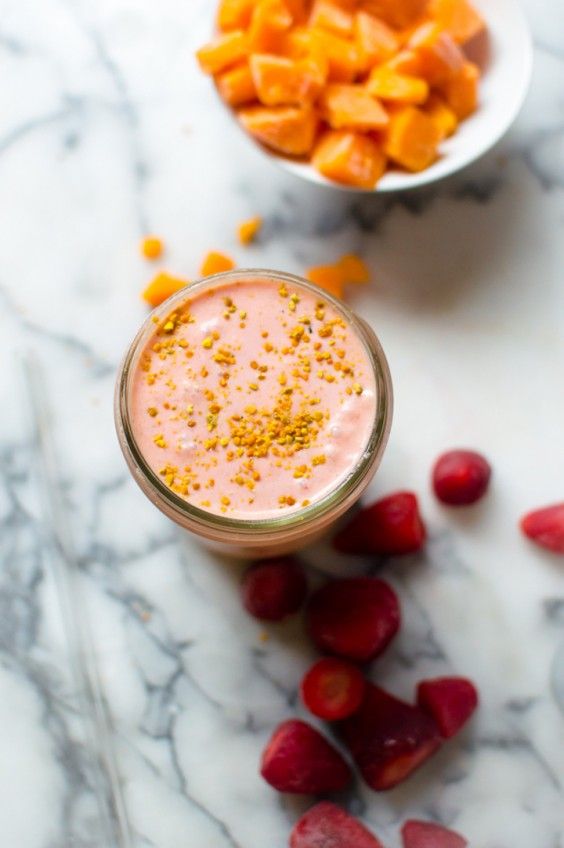 You don't have to wake up at sunrise to enjoy this smoothie, but it's so energizing you probably could. You may just want to make it the night before.
Made with frozen butternut squash, raspberries, banana, and add-ins such as nut butter, cinnamon, and chia seeds, this smoothie is well worth waking up for.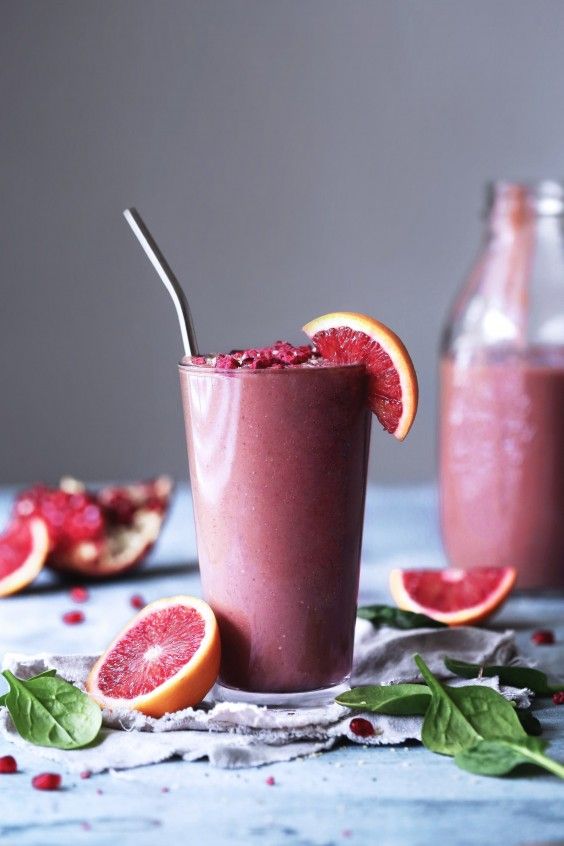 Orange you glad the summery fruits in this smoothie make the greens totally undetectable? Made with bananas, raspberries, pomegranate, this simple smoothie packs a serious antioxidant punch.
For extra protein, add a small spoonful of cashew butter. Oh, and don't forget the blood orange — we love the deeper flavor and vibrant color of orange's saucy sister.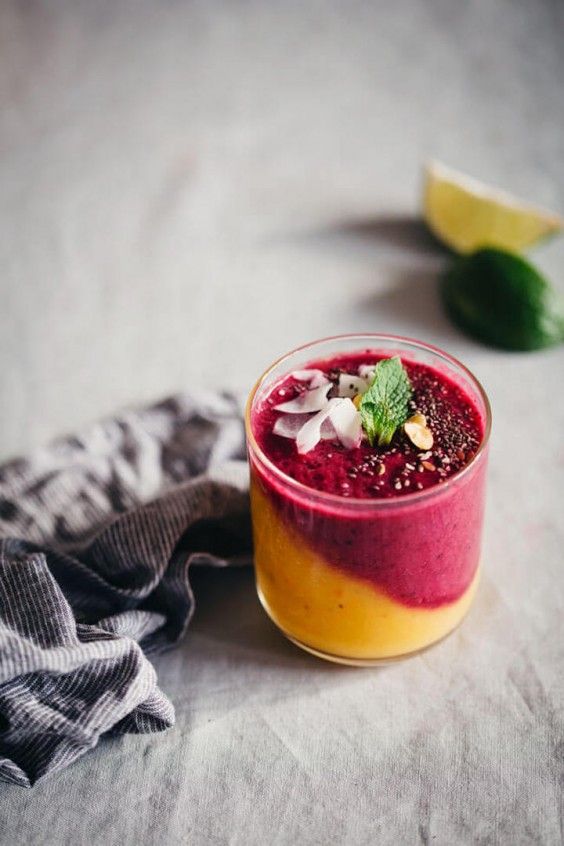 This smoothie is probably best left for the weekend, as it calls for 12 ingredients and two separate blending sessions. But hey, it still beats waiting for a frittata to bake. (Or is it just us who wakes up ravenous?)
Yes, this smoothie requires a touch more effort than others, but it's downright beautiful — healthy brunch, FTW! — and the taste is outstanding.
Sometimes matcha lattes just aren't enough. For days when you want to double up or skip the latte in lieu of something a bit healthier, try this green smoothie on for size.
Full of spinach, kale, Greek yogurt, and almond milk, it's basically like a matcha frappe. Top with sliced almonds for a nice little crunch and sub unsweetened vanilla almond milk for just the right amount of sweetness.
All this talk of coconut milk and nut butter almost made us forget about our other smoothie fave: avocado (the ultimate creamy add-in).
This five-ingredient smoothie is full of healthy fats, antioxidants, and a nice amount of fiber too. To keep the sugar down (you're sweet enough as you are), use Greek yogurt and frozen blueberries instead of flavored yogurt.
If you like piña coladas and getting caught in the rain… then you'll love this smoothie.
Made with some of our tropical fruit favorites — pineapple, banana, and not-so-tropical pear — the taste is reminiscent of beach vacations and weekends basking in the sunshine.
As with most tropical smoothies, coconut water or milk is a great substitute for almond milk. Dear pineapple smoothie, you're the one that I've looked for, come with me and escape.
One of our favorite ways to mask the bitter taste of greens in smoothies is fresh ginger. This smoothie takes things a step further with fresh mint, cinnamon, and pear.
It also gets a healthy boost of fat from MCT oil and hemp seeds. Experiment with any leafy green, and if you're feeling extra bold, throw in some chopped broccoli. (You'll never know it's there.)
This smoothie not only looks like the Incredible Hulk's breakfast, but it also makes us feel like the superhero.
Packed with cucumber, coconut, kale, and spirulina (one of our favorite edible algae), it's a deceivingly delicious drink for having all those greens. For the full Hulk effect, drink after a morning workout.
Talk about a kick! The smoothie has a citrus burst from lime and heat from cayenne pepper — not your average smoothie add-in. We love how smooth it goes down and how awake it makes us feel.
It's also light as can be, making it the perfect mid-morning snack or breakfast for those who aren't so breakfast inclined. It tastes great with a small handful of chopped celery.
This recipe boasts not one but two ingredients we don't often see in smoothies: melon and broccoli. Honeydew definitely works best, but feel free to experiment with cantaloupe too.
Just don't skip the mint and lime, which make the broccoli legit taste good — which we didn't know was possible when it comes to smoothies! That said, if the broccoli is too bitter, you can swap in cauliflower.
Just when we thought we'd tried every green smoothie, along came the kiwi. Sweet and juicy, the fruit is a wonderful departure from classic add-ins such as apple and mango.
Feel free to use kale in place of spinach if you're hankering for a different green and substitute whatever nondairy milk you fancy. To make it extra thick, soak the chia seeds in water overnight.
You're likely no stranger to green smoothies. But did you know many grab-and-go varieties are bathing in added sugars? Thanks, but no thanks. We prefer sticking to homemade varieties, like this delicious pineapple mix.
Made with only five ingredients, it's one of our favorite ways to start the day: with minimal effort and maximum flavor. We say sub the skim milk for coconut or oat milk and throw in a dollop of nut butter for extra protein.
This unexpected blend is sure to get anyone out of their smoothie rut, made with dates, Mandarin oranges, ginger, mint, romaine, and carrot.
There's a few other flavorful surprises thrown in there, so this smoothie tastes like no other. And as with many smoothie recipes, it only requires blending and drinking. Cheers to that!
The secret to this bright, tart smoothie lies in homemade carrot juice. Don't worry, you don't need a juicer. Simply blend carrots with filtered water and drain over a thin towel. It's seriously easy and worth the taste.
To ensure the smoothie is thick, freeze sliced bananas in advance. (Psst… freezing cubes of almond milk works wonders too.)
Bonus: You can make carrot muffins or a cake with the leftover pulp.
Spinach and kale we know, but romaine? This underrated lettuce is a surprisingly awesome addition to smoothies, especially tropical varieties like this mango and orange delight.
Celery or cucumber would also pair well with these light ingredients, and any tropical fruit — like pineapple, melon, kiwi, or passionfruit — could stand in for the ones in the recipe.
Just throw in what you fancy. The beauty of using romaine is that it pairs well with pretty much everything.
And we thought butternut squash was best for soup — shame on us! Butternut squash, like sweet potato, is a great way to thicken smoothies and kick up the amount of fiber.
It also adds natural sweetness and, when mixed with cinnamon and other spices, ends up tasting like pie. We'll take dessert for breakfast any day.
Figgy figgy figgy, can't you see, sometimes your taste just hypnotizes me. OK, this smoothie doesn't really make us go into a trance, but its flavor is so perfectly sweet and soothing, we do zone out while drinking it.
Though it's tempting to opt for store-bought cashew milk, do us a favor and just soak the nuts overnight. It makes the smoothie so dreamy and creamy.
One of two things happens when we buy a bag of baby carrots: They disappear in a day, or they're found a week later, hardly touched. (This likely correlates to how much hummus we have on hand.)
To avoid chucking out food or indulging in a hummus binge (it's for the carrots, we swear), try mixing them into this smoothie. Made with peach, banana, and coconut water, it's a perfect tropical mix for a hot summer day.
This smoothie is so delicious it left us craving seconds the first time we tried it. Fortunately, the recipe makes two servings, meaning you can stash some for later, or if you're really generous, you can share it.
The smoothie tastes great with maple syrup or honey as a sweetener, or you can buy unsweetened vanilla coconut milk and skip the added sugar.
This smoothie is the perfect antidote after a booze-filled evening (it happens to the best of us). It's refreshing, hydrating, and so light, you'll have no problem taking it down on a queasy stomach.
Use coconut water for extra flavor (and hydration) and sneak in some celery or zucchini if you want extra greens. And no, this smoothie isn't only for hangovers — it's great for a scorching (sober) day too.
Can you guess the secret ingredient? We'll spare you the suspense — it's sweet potato! (See that slightly orange hue?)
But that isn't the only unexpected ingredient hiding in this dessert-like drink. It also gets added decadence from dates and cocoa. It's the perfect smoothie for busting Monday blues or celebrating Friday.
It should come as no surprise that sweet potato makes the sweetest smoothies. So sweet, we think you can skip the maple syrup.
Start by blending without and only toss in if needed. Because really, the vanilla extract and almond butter are more than enough. Another great add-in is ground flaxseed. You'll be glowing by the time you finish it.
This smoothie may have been created for kids, but we'll be damned if that stops us from making it.
Thanks to peas, almond butter, and flaxseed, this not-so-childish drink channels Almond Joy candy. The coconut and dark chocolate chips (cacao nibs work too), make it the kind of green smoothie we've been dreaming of.
If it isn't already clear, we love smoothies that taste like any kind of treat. This cake-like smoothie is made with coconut yogurt (the key to creaminess), carrots (shredded work best), and a slew of spices.
Use almond milk and a small splash of maple syrup to turn this into "cake in a glass." To make it taste even better, add sweet potato or butternut squash purée and shredded coconut.
Is it really a smoothie if there's no fruit in it?! This low-maintenance blend is surprisingly sweet considering its main ingredients are cauliflower and tahini. Yes, seriously.
Nutmeg, clove, and cinnamon provide the true gingerbread flavor, while actual ginger makes it your belly's best friend. Molasses does taste pretty darn good, but we actually prefer maple syrup.
It's hard to beat the benefits of beets. (Sorry, we had to!) Beautiful, naturally sweet, and full of fiber, they're the perfect way to add flavor to smoothies if you're sick of bananas.
Though we probably won't be eating chocolate-covered beets anytime soon, the flavors work unexpectedly well together. The addition of almond butter and cinnamon doesn't hurt either.
Pro tip: Add frozen cauliflower or avocado to thicken it up that much more.
Until now, we loved the idea of earthy vegetable smoothies way more than actually drinking them. (Anyone else feel like they're sipping on dirt!?)
But there you have it: veggies really do belong in the blender. We officially have zero reason to skimp on the greens, especially when these veggie blends straight-up taste like a creamy dessert. Um, sign us up for seconds.