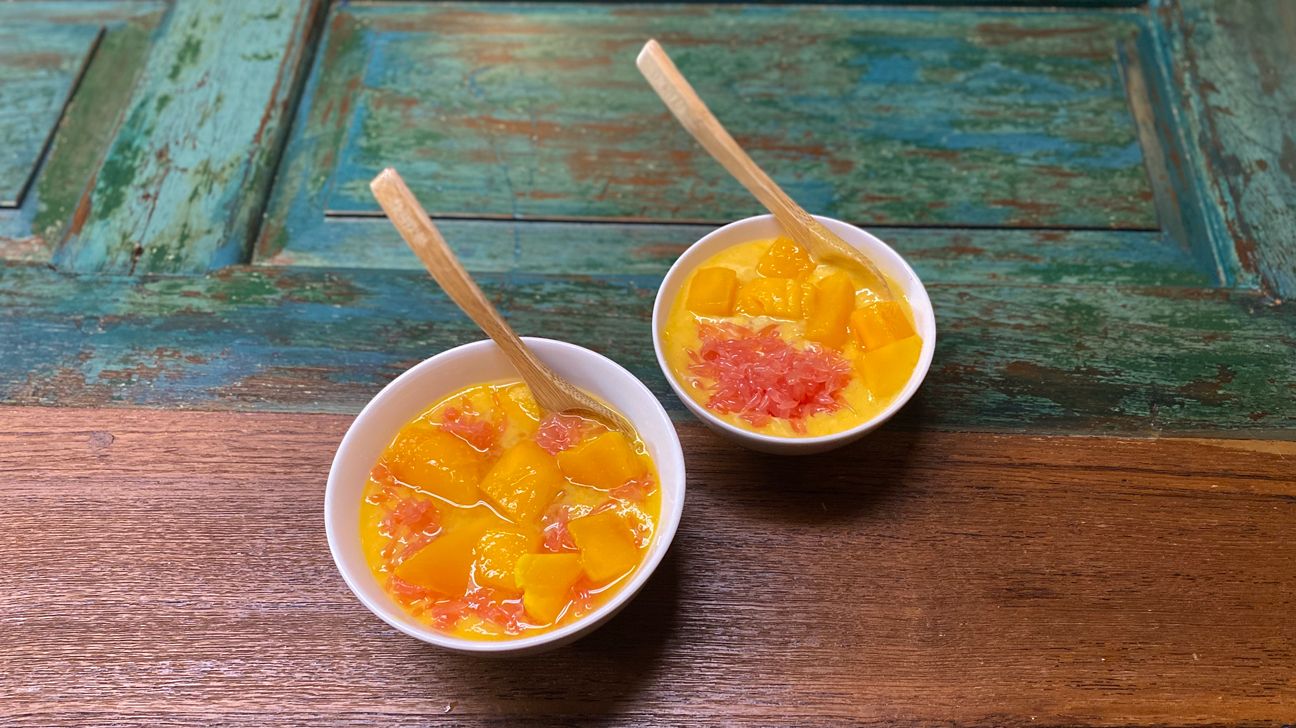 My childhood in Hong Kong was nothing short of delicious. Almost every weekend I was taken to a traditional dim sum restaurant decorated in vibrant red and gold, full of loud chatter and chaotic movement.
Since my 5-year-old brain couldn't fathom the chatter around the latest family drama, I usually spent my time running around the restaurant like it was a maze. The aunties pushing around the dim sum carts were to be avoided like the ghosts in Pac-Man. The adults, hidden by the chairs I was too short to see over, remained faceless.
My favorite one was mango pomelo sago, a refreshing dessert soup that would satisfy all mango lovers.
For those who don't know: Imagine a creamy mango smoothie blended with coconut milk and topped with pomelo pulp and diced mangos. Sago, which tastes and looks like mini tapioca pearls, is added to the mix for a slightly chewy texture. You can enjoy slurping the cold "soup" while biting into the fruits and sago.
Dessert soups may sound odd, but the recipes were likely inspired by the Cantonese preference for herbal soups, a quintessential element of Cantonese cuisine. Traditional hot soups are often packed with nutritious ingredients ranging from ginseng and goji berries to red dates and black fungus mushrooms. My mom, hailed as the soup master, takes pride in spending hours on end cooking herbal soups. These heartwarming soups are, of course, best when they're homemade.
In the summer, though, I'd much rather have the cold dessert soups.
Many of Hong Kong's classic desserts are sweet soups served in a bowl (either hot or cold), and they come in a variety of rich flavors like black sesame and red bean. And right now, in peak mango season, my craving for mango pomelo sago has been refueled. The original Cantonese name of this dessert, "Yeung Zi Gum Lo," has quite a poetic meaning — it's the "refreshing morning dew gifted from heavens." Or, if you want to be pedantic, it's from Guanyin, the goddess of mercy in Chinese mythology.
This heavenly dessert, unfortunately, is not that easy to find in the United States unless you live near a Chinatown. Even in Asia, the various interpretations of mango pomelo sago may differ from the traditional version in Hong Kong. The good news is, you can re-create this dessert at home with just a handful of ingredients.
You need a lot of mangos for this recipe, obviously. The tricky part is finding a ripe pomelo, which is usually in season from early fall to winter. If you can't find any pomelo, grapefruit is a great substitute and adds a nice hue of bright orange to the final presentation. You can also replace coconut milk with coconut cream for a richer texture. It's hard to go wrong with this recipe, so feel free to play around with the ingredients.
Makes 2 servings
Ingredients
approximately 1/4 cup sago
2 tablespoons rock sugar or granulated sugar
3 chilled mangos
1-2 segments of peeled pomelo or grapefruit
3/4 cup plus 1 tablespoon coconut milk
1/2 cup evaporated milk
Directions
Bring half a pot of water to a boil. Any size pot where the sago can be stirred will do. Reduce the heat to medium-high, add sago, and cook for 10 minutes. Stir occasionally to make sure sago doesn't stick to the pot.
Turn off the heat, cover the pot, and set it aside for 10 minutes.
Drain sago in a mesh strainer and rinse under cold water. Store in the fridge for later use. (Don't make the sago too far ahead, as it will turn into pudding overnight.)
Melt sugar in 50 milliliters water over the stove. Set aside.
Peel and dice mangos. Put 2/3 servings of mangos into a blender and blend until smooth, and place remaining mango cubes in a separate container. Refrigerate mango cubes and mango puree for at least 1 hour.
Separate pomelo or grapefruit sacs into individual juice pods by hand.
Pour mango puree into a bowl and mix in coconut milk and evaporated milk. Add sago, mango cubes, and pomelo. Add melted sugar according to your preferred level of sweetness. Voila!
Daphne K. Lee is a journalist based in Taipei and New York City. She mainly covers human rights and culture in East Asia. Find her on Twitter.