When we talk about "cheese pairings," we generally mean cheese paired with wine. This makes sense — there's nothing like the magic of a Blanc de Blancs Champagne with a fluffy triple creme or a ruby-hued granacha with a giant hunk of manchego. But attempting to pair wine and cheese can make even a knowledgeable food lover's palms sweat. Everyone thinks they have to be an expert, which saps away the fun of pairing!
That's why I love nonwine cheese pairings. When something hasn't been done before, that just means there's no way to do it wrong. It's all about experimentation and the fun of discovering your preferences (which, psst, is what all cheese pairing should be about!). And, who says you have to pair cheese with wine, anyway?
Here are some nonwine — and even a few nonalcoholic — drink pairings to try with cheese.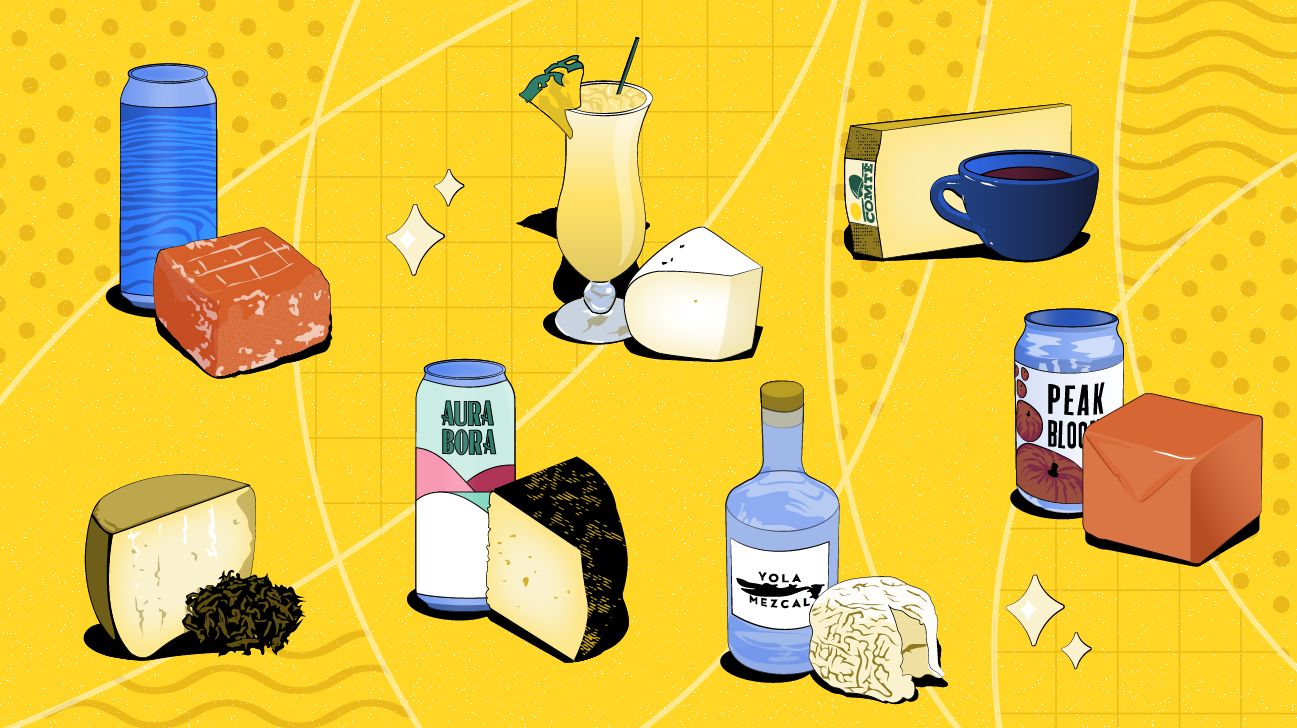 The lush flavor of this Pilsner from Brooklyn-based Threes Brewing immediately transports you to a Vermont hay field on a summer's day. It's light and refreshing, but not at all wimpy. It's one of those beers that has plenty going on but isn't trying to be the star of the show. Paired with Grey Barn Prufrock, a creamy, organic cow's milk cheese from Martha's Vineyard, Massachusetts, it's even more heavenly.
Prufrock cheese has alfalfa-y notes that mesh well with the fresh hay notes in the beer, plus the same kind of yeastiness that you get in bread that juuuust came out of the oven. Texture-wise, the carbonation of the beer fluffs up the creaminess of the cheese. I can't get enough of this summery pairing.
Think of Comte, one of France's most popular cheeses, as Gruyere's long-lost fraternal twin. Both are hard cow's milk cheeses. But where Gruyere has savory notes of caramelized shallot, Comte is much more in the toasted hazelnuts and scalded milk category.
I always have Comte around the house, and on a busy day, I'll have slices of it for breakfast with my coffee. You could add in some toast too, but I love just coffee and Comte together. It's like savory, complex hazelnut coffee — only it's also cheese.
Hard cider in general can be great with cheese, but I especially like Eden's because they make their cider like wine, rather than like beer. Instead of keeping apples in cold storage and pressing or fermenting juice in batches throughout the year, they press and ferment all their juice at harvest. Peak Bloom has fresh, fragrant notes of farmers market apples. Much like not all wine tastes like grapes, not all cider tastes like apples, but this one does and it's a treat, especially when it comes to pairing with cheese.
I recommend pairing it with gjetost (pronounced: yay-toast), which is kind of cheating because while gjetost is technically a cheese, it's also basically a sliceable savory Nordic caramel made by boiling down leftover whey (the byproduct of the cheese-making process). Yes, what I am suggesting is essentially a caramel-apple pairing and it is MAGNIFICENT.
If you're new to mezcal, you may think of it as "that smoked tequila stuff." But while smoke gets top billing, mezcal offers a lot more than that, from flavors of freshly cut grass to Meyer lemon peel to hints of peppercorn. There's also a mineral-y flavor to mezcal, especially Yola 1971 Mezcal (organic and female-founded), that steals the spotlight when paired with a creamy ripened goat cheese like Vermont Creamery Coupole.
Coupole, with its yeasty flavors on the rind and grassy, preserved lemony flavors inside, is a lovely mirror for the same flavors in the mezcal. It's a pairing that you can sit and ponder, but also one that you will very much want to continue shoveling into your mouth. Mezcal is one of my favorite things to pair with cheese, and you'll understand why, when you try this pairing.
There are plenty of fancy seltzers out there, but I recently came across Aura Bora and have been averaging a can a day ever since. The flavors are vibrant yet balanced, and I especially like the herbaceousness of the basil (which goes almost licorice-y, in a good way) juxtaposed with the freshness of the berry flavors.
Paired with slices of young manchego cheese (aged 3 to 6 months), whose flavors always remind me of an almond croissant, it's like a fresh blueberry pie.
Tiki drinks are surprisingly incredible with cheese. I think it's because many of these cocktails have a creamy element like orgeat syrup or something coconutty, which helps to keep the cheese at its creamiest.
A Painkiller cocktail, which is generally comprised of dark rum, cream of coconut, and pineapple and orange juices, highlights the nuttiness and caramel corn notes in a goat Gouda. It's basically a tropical getaway in a cheese pairing.
Lapsang souchong is a black tea from the Fujian province of China, smoked over pine wood. The smoke isn't overwhelming, instead highlighting the delicate orchard fruit flavors and minerality of the tea leaves. It's so good paired with Fiore Sardo, a sheep's milk cheese from Sardinia, Italy that's also smoked. Fiore Sardo's delicate smokiness is layered with notes of honey and spice, with a bite reminiscent of accidentally swallowing a mouthful of ocean water at the beach.
You might think that putting these two smoked products together would be a smoke bomb. Instead, the pairing is a total smoke show. The smoke steps back, bringing out notes of persimmon flavor in the Lapsang souchong, and the flavor of a whole-wheat biscuit topped with honey in the cheese. When I tried this pairing for the first time, it put a huge smile on my face. I hope it does the same for you.
Christine Clark is a professional food and beverage nerd. She's a Certified Cheese Professional by the American Cheese Society, with bylines in Food52, Wine Enthusiast, VinePair, Epicurious, AllRecipes, and more. You can follow her on Instagram here or check out her website here.