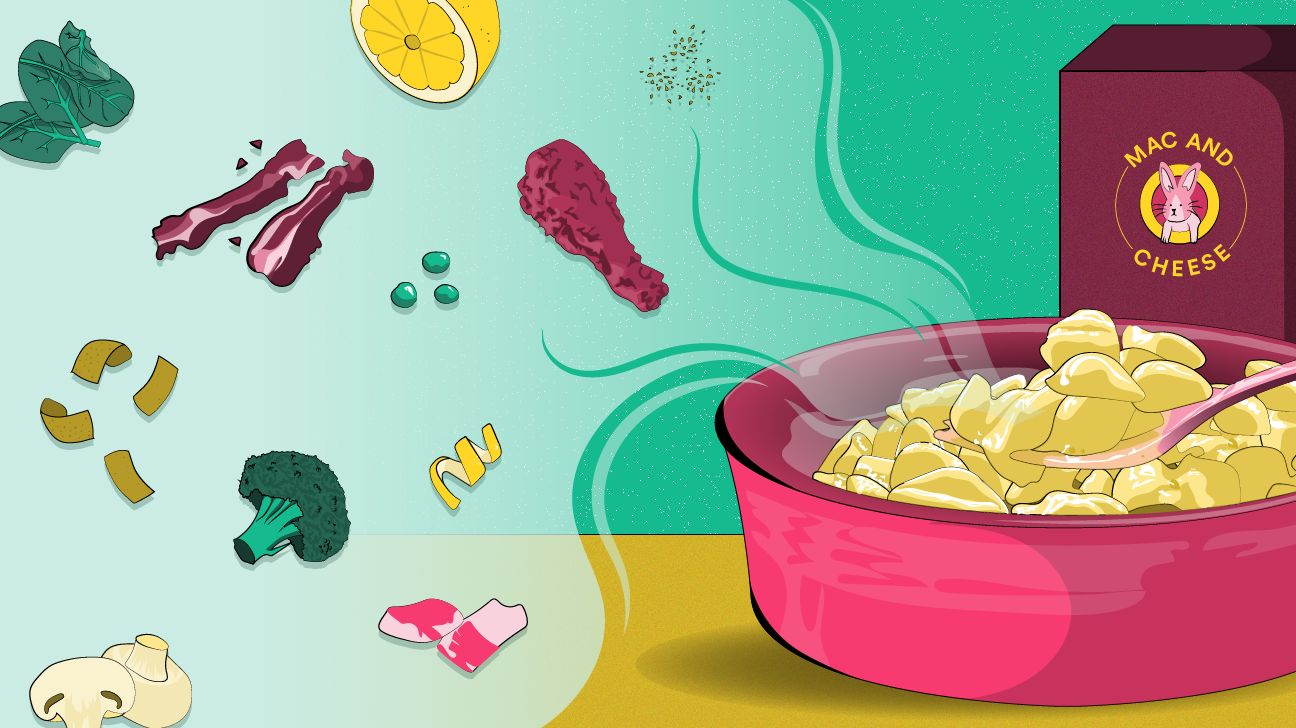 We include products we think are useful for our readers. If you buy through links on this page, we may earn a small commission. Here's our process.
Greatist only shows you brands and products that we stand behind.
Our team thoroughly researches and evaluates the recommendations we make on our site. To establish that the product manufacturers addressed safety and efficacy standards, we:
Evaluate ingredients and composition: Do they have the potential to cause harm?
Fact-check all health claims: Do they align with the current body of scientific evidence?
Assess the brand: Does it operate with integrity and adhere to industry best practices?
We do the research so you can find trusted products for your health and wellness.
You can tell yourself that you're buying Annie's Shells & White Cheddar (the undisputed best of Annie's mac and cheese offerings) in bulk — at Costco because where else — in case of the apocalypse. But we all know the truth. Annie's, even on its own, is divine eats. No apocalypse necessary.
But there are only so many times you can eat the same old Annie's white cheddar and shells before things start to get a little repetitive, even if you're the most fervent shells and cheddar lover in the free world. The good news is that shells are the perfect canvas for the Fancy AF dinner of your dreams.
With this cheesy blank canvas before you, there are endless opportunities to make new and interesting meals. We've compiled a list of some fancy upgrades that you can make to your Annie's shells — one for every single night of the week, and then some.
Up the ante of your shell-iciousness by adding shredded Buffalo chicken to the party in all its spicy goodness. You can add crumbles of blue cheese, too (there's no such thing as too much cheese, friends), for even more Buffalo inspiration.
Mix everything together, add some Frank's Red Hot for good measure, and pop the mac in a casserole dish and into the oven for 15 to 20 minutes at 350°F (177°C), or until bubbling, so that the flavors can really combine. Magic!
Although Frito pie is traditionally served in a bag of Fritos (yes, the chips), this dish is probably best served in a large bowl. It's easier to scoop into your mouth that way, after all. Top a hefty helping of Annie's shells with a ladle of chili, followed by green scallions, thinly sliced jalapeños, and of course, Fritos, and you have a mac marriage made in heaven.
If this dish is unfamiliar (it's a Tex-Mex specialty), keep the chips whole; the idea is to use them to help scoop the chili (or, in this case, chili and mac) into your mouth.
You may not be able to splurge for lobster, but have you considered crab? Mix some hand-picked crab meat into your mac, squeeze in a little fresh lemon juice, and top it with breadcrumbs for a quick bake in the oven — 20 minutes at 350°F (177°C) should do the trick.
The result is a mac that lies somewhere between crab cake and cheesy pasta perfection.
This is a really easy upgrade that takes just minutes to execute: Take Panko breadcrumbs, toast them in a constantly moving, dry frying pan over medium heat until they're brown, then toss them over your hot and creamy bowl of Annie's shells.
The combination of crunchy and creamy is a moment of bliss you won't soon forget.
There is nothing Fancier AF than a vegetable-studded macaroni and cheese. Please do not @ me. Tiny peas hiding in your creamy shells? Fancy. Pearl onions draped in cheese? Fancy, I say!
Frozen vegetables, reheated on the stove (either in water or in water and butter) work perfectly for this. Toss them in with your mac and you have the fanciest of macs.
For a crispy, decadent, and inexpensive Fancy AF upgrade to your Annie's, have you even considered bacon?
Toss a strip or two in the oven (who are we kidding: put the entire package in), bake until crispy, and make your own bacon bits. That salty crunch, paired with those Annie's shells, is nothing short of sublime.
Instead of boiling noodles in plain water, boil them in stock (chicken or mushroom stock will work for this, even though traditional stroganoff calls for beef stock). Then toss the finished noodles with sautéed mushrooms for a play on beef stroganoff, only this version comes with cheese rather than with a thick, brown sauce.
Garnish your shells and mushrooms with chopped parsley for the Fanciest AF mac and shells plating of all time. This dish is more than Instagram-worthy, I promise.
You've got one cheese covered already. How about adding a few more? In a mixing bowl, toss together shredded mozzarella (for extra melty-ness) and shredded cheddar (for a little extra bite).
Place in a casserole dish and bake for 12 minutes at 350°F (177°C) until melty and oozy and then top with shredded parmesan. Then bake for 3 more minutes and you have a 4-cheese mac that's absolutely to die for.
When two things are meant to be, why keep them apart? Fried chicken chunks, cooked until golden brown, make a crunchier, more delicious, and more perfect mac topping than breadcrumbs ever could (with no disrespect to those buttery, delicious crumbs).
Chop up some green scallions or chives and sprinkle them on top for a delicious and very, very fancy take on shells and white cheddar.
So that's it. Nine ways to make your box of white cheddar and shells fancy AF. Want to kick it up a notch? Here's how to pick the perfect wine pairing for your mac.
Hannah Selinger is an IACP award-nominated food, wine, travel, and lifestyle writer based in East Hampton, New York, where she lives with her husband, two sons, two dogs, and two tortoises. Her work has appeared in The New York Times, Eater, The Washington Post, The Wall Street Journal, The Cut, and more.