Most of us are used to popping dried cranberries into muffins or trail mix, but when it comes to their fresh counterparts, we're a little adrift. What are you actually supposed to do with that bag of plump, jewel-toned juice balls?
Turns out, there are tons of delicious (and healthy) ways to use fresh cranberries in home cooking. They make a colorful, tangy addition to everything from breakfast scones, to veggie sides, to desserts.
And, compared to store bought dried cranberries, they're more hydrating and contain no added sugar. Here are 16 recipes that prove fresh crans aren't just for Thanksgiving sauces.
1. Cranberry pineapple smoothie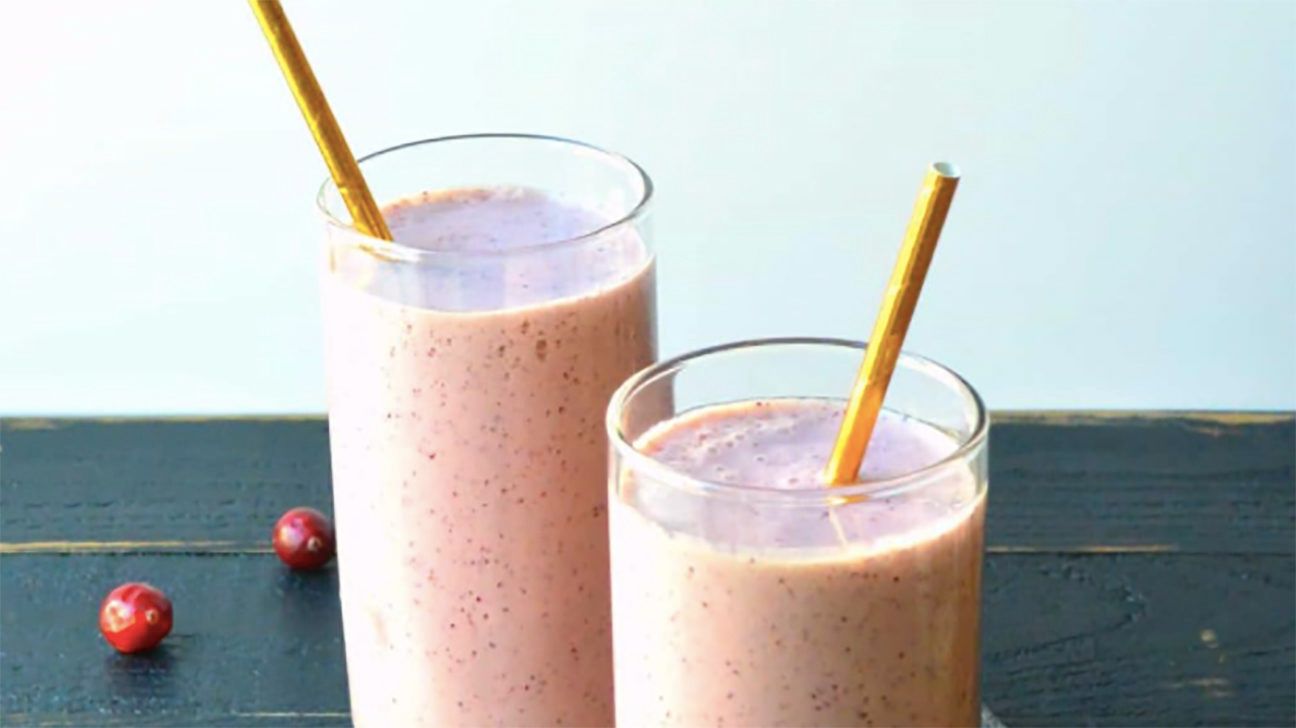 Start your day off tart and juicy by blending fresh cranberries with a mix of pineapple, banana, and non-dairy milk in this delicious smoothie. For easy breakfast meal prep later in the week, make the full two serving batch and freeze half. You'll thank yourself the next time a busy morning rolls around.
2. Healthy cranberry bliss scones
There's a time and place for an indulgent scone, but sometimes you want one without the hefty calorie count. Healthy cranberry bliss scones use just two tablespoons of butter, relying instead on Greek yogurt for moisture.
White whole-wheat flour adds extra fiber and vitamins like magnesium and potassium. Grab a cup of coffee and enjoy these on a lazy winter morning.
3. Cranberry-orange granola
Cranberry and orange are the chocolate and peanut butter of the fruit world. The two fruity BFFs go together beautifully in this homemade granola. Plus, the juicy crans provide a nice texture contrast to the crunch of baked oats and seeds.
4. Cranberry guacamole
When mild, creamy avocados meet tangy, wild child cranberries, sparks fly. Bursts of fruit flavor amidst the smoothness make this guacamole a totally unforgettable option for your next holiday potluck.
5. Fresh cranberry salsa
A starter that's gluten-free, vegan, and free of all top eight allergens? Check, check, and check. Just about anyone can eat this fresh cranberry salsa — and with its combo of spicy jalapeno, crunchy red onion, and sweet apples, pretty much everyone will want to.
6. Roasted brussels sprouts with cranberries, bacon, and maple
You've roasted brussels sprouts before. But have you roasted them with fresh cranberries, bacon, and maple syrup? It's a superfood side that'll pair well with tons of savory main dishes.
7. Cranberry fruit salad
We don't blame you if you don't want to eat fresh cranberries all by themselves for your daily fruit serving. (So. Tart.) But put them with other fruits like mandarin oranges and pineapple and you've got a lunch or dinnertime side that's much more palatable.
This tasty chopped mélange packs healthy fats from walnuts, plus vitamin C by the boatload.
8. Cranberry chicken
If you're a sucker for a one-pan dinner (who isn't?) that you can whip up in 30 minutes, this beauty checks all the boxes, and then some. Fresh cranberries, shallots, honey, and spices form a finger-licking glaze atop chicken thighs. This may well become your new favorite fall meal.
9. Spinach salad with fresh cranberry vinaigrette
Bring whole food goodness to your workday lunch with a cranberry infused fall salad. Nutrition fun fact: The olive oil in this vinaigrette provides fat to increase absorption of vitamin K from spinach.
10. Turkey cranberry grilled cheese
Everyone knows about the obligatory day-after-Thanksgiving sandwich of turkey and cranberry sauce. Now try kicking things up a notch by making it a grilled cheese.
In this out-of-the-box lunch, homemade cranberry sauce accompanies Monterey Jack, Dijon mustard, and (of course) turkey for a deliciously melty mashup.
11. Roasted cranberry brown sugar pork chops
Roasting makes everything better — and cranberries are no exception. This sweet and savory mixture of pork chops, fresh herbs, and juicy crans is the winter winner you need to serve for company, stat.
12. Fresh cranberry apple farro salad
Farro is a high fiber, high protein whole grain that's well worth including in your diet, especially when mixed with fresh cranberries, crunchy celery, and toasted pecans. Make this recipe vegan by replacing the butter with olive oil and the chicken broth with veggie broth.
13. Cranberry Old Fashioned
Ready to feel fancy? Bourbon and bitters team up with fresh cranberry simple syrup in this spin on the classic cocktail. Garnish with additional cranberries speared on a sprig of rosemary for extra swanky points.
14. Sparkling vodka with cranberry and lime
If you've got a handful of fresh cranberries, some vodka, and an extra can of LaCroix, you have the makings of this festive drink. Cheers to simple and sweet!
15. Cranberry almond tart
For such a showstopping dessert, you may be surprised at the relatively short ingredient list it takes to make this cranberry almond tart. But that's just as well. It makes less work for you and lets fresh cranberries shine.
16. Apricot-cranberry bars
And now, a cranberry dessert on the healthier side. The secret ingredient in these bars (besides the fresh cranberries)? A cup of Grape Nuts in their crust. Between this crunchy base and the two fruits, these bake up to be surprisingly high-fiber — but still totally tasty.
Sarah Garone is a nutritionist, freelance writer, and food blogger. Find her sharing down-to-earth nutrition info at A Love Letter to Food or follow her on Twitter.