Sweater weather is (mostly) awesome: twinkle lights, cozy flannels, holiday prep. But there are also downsides, like nasty colds and stuffy sinuses.
Since research suggests that ginger may help clear those nasal passages (among other health benefits), we rounded up 10 ginger recipes that might help you breathe a little easier *and* dial back any nausea or inflammation that's been dragging you down.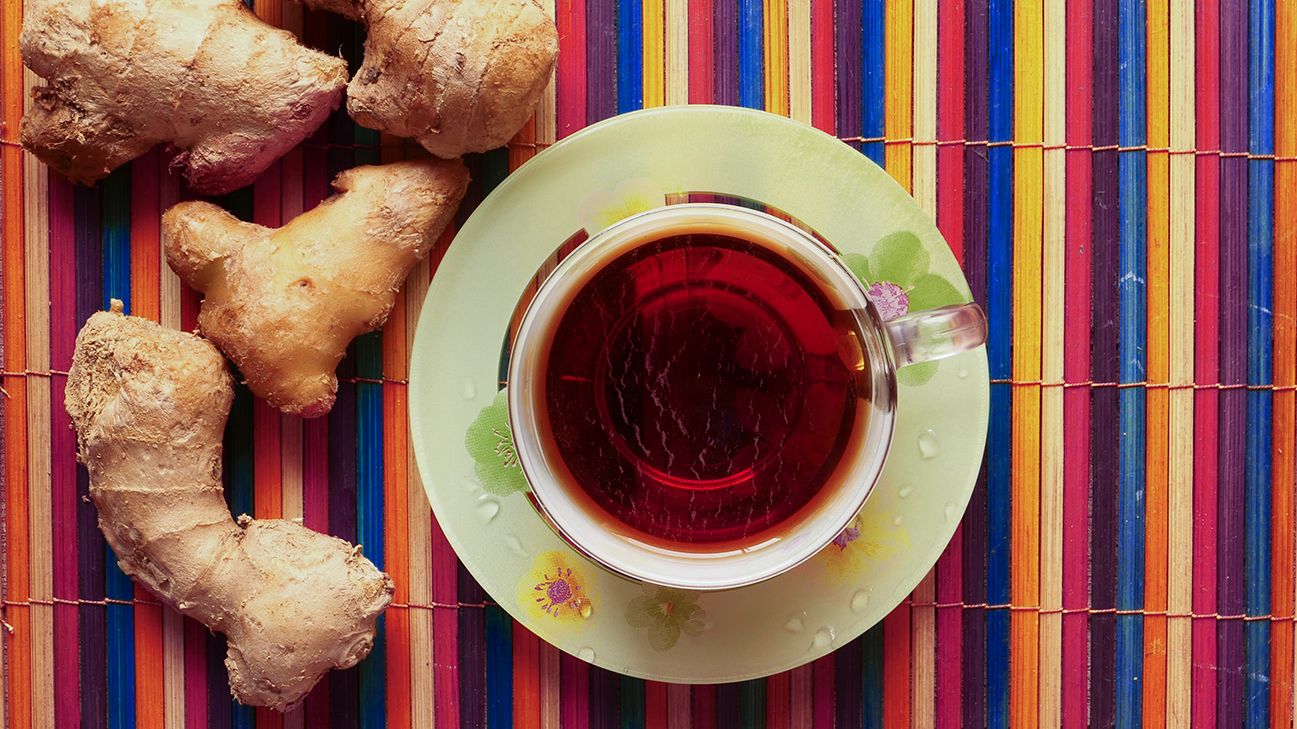 1. Honey-ginger tofu and veggie stir-fry
Stir-frying is a year-round favorite: Protein + all your favorite veggies = a quick and easy meal.
This one calls for tofu, asparagus, carrots, and onions, all covered in a ginger-garlic-honey-soy sauce. Serve it over brown rice or farro.
Prepare to be wowed by this honey-ginger tofu and veggie stir-fry recipe.
2. Creamy roasted carrot ginger soup
Ginger brings big flavor to this roasted carrot soup that's surprisingly simple to make and perfect for chilly days.
Bake carrots in the oven, and then blend with garlic, ginger, and vegetable broth, plus half-and-half or coconut milk for a lighter or dairy-free version.
This roasted carrot-ginger soup recipe calls for just a teaspoon of ginger, but feel free to add more to taste.
3. Shrimp, snow pea, and ginger stir-fry
Shrimp and snow peas can be a bit bland on their own but are elevated into a delicious meal when combined with ginger, garlic, scallions, lime juice, and soy sauce. Serve over sushi rice, brown rice, or soba noodles for a healthy meal.
Grab your wok and get our favorite shrimp, snow pea, and ginger stir-fry recipe.
4. Sticky ginger-soy glazed chicken
This budget-friendly glazed chicken recipe is stick-to-your-ribs delicious *and* full of healthy ingredients like ginger and scallions. Boost the health benefits even more by skimping on the brown sugar a bit, buying high quality chicken cuts, and using a nourishing fat like avocado oil.
Find this delicious sticky ginger-soy glazed chicken recipe here.
5. Curried rice salad with ginger dressing
Perfect as a main dish for plant-based eaters or a side dish for meat-loving peeps, this enticing rice salad is made from a surprisingly simple array of ingredients. Peppers, onions, raisins, and rice shine alongside chickpeas, mint, and parsley. Add some crunch with pine nuts (or whatever nuts you have on hand, TBH) and you're done!
Discover the recipe for curried rice salad with ginger dressing.
6. Toasted sesame ginger salmon
More than a tablespoon of fresh ginger gives this sweet salmon a kick. Top with sesame seeds and scallions for even more flavor. Pescatarians, this might be one of your new favorite ginger recipes.
Take a peek at the toasted sesame ginger salmon recipe.
7. Tomato ginger soup with crunchy chickpeas
Upgrade your classic tomato soup recipe with this creamy vegan dish that uses coconut milk, tomatoes, chickpeas, garlic, and lots of ginger. Crunchy chickpea croutons — which are baked with paprika, cumin, garlic, and onion powder — add texture and spice.
Get our favorite tomato ginger soup recipe.
8. Spinach and ginger smoothie bowl
Is it just us, or are smoothies more filling when served in a bowl? This version is healthy and sure to keep your stomach happy until lunch.
First, blend a banana, spinach, oats, and a 1/2-inch piece of ginger with coconut milk and a tablespoon of maple syrup. Then, add a few ice cubes (or a frozen banana for a thicker consistency) and top with your favorite nuts or a colorful sprinkling of pomegranate seeds.
Snag the smoothie recipe here.
9. Vegan coconut ginger ice cream
Ginger recipes for your sweet tooth? Heck yes! Even in winter, ice cream is always a good idea. Especially when it's made with tasty, vegan-friendly ingredients like coconut milk, fresh ginger, maple syrup, turmeric, cinnamon, and vanilla extract.
Take a look at the "golden milk" ice cream recipe.
10. Chocolate parfait with cherries and ginger
You did save room for dessert, didn't you? Antioxidant-rich chocolate meets probiotic-packed Greek yogurt, and it's a match made in heaven. The sprinkling of crystallized ginger cuts through the sweet-and-sour blend with a gentle, sinus-opening spiciness. *chef's kiss*
Get our favorite chocolate parfait with cherries and ginger recipe.
If you're craving a warm, spicy treat, look no further than these ginger recipes! You can enjoy the tasty benefits of ginger in everything from your main dish to dessert.