Pomegranate season runs basically parallel to the holiday season, from October through January. So it's no surprise that the fruit's bright little nibs are a classic choice for adding nutrients, crunch, and (of course) cheery ruby color to holiday dishes.
But you're not alone if you feel a little befuddled about how to actually use those juicy little nuggets — in holiday cooking or otherwise. Pomegranates are notoriously tough to deseed, and once you get to their bite-size nubbins (aka arils), it might seem like all you can do is toss them atop a salad as garnish.
Trust us, though: Pomegranate seeds are way more than edible red confetti. We've rounded up 15 delightful recipes — from drinks to desserts — that'll add pom pizzazz to your festivities all season long.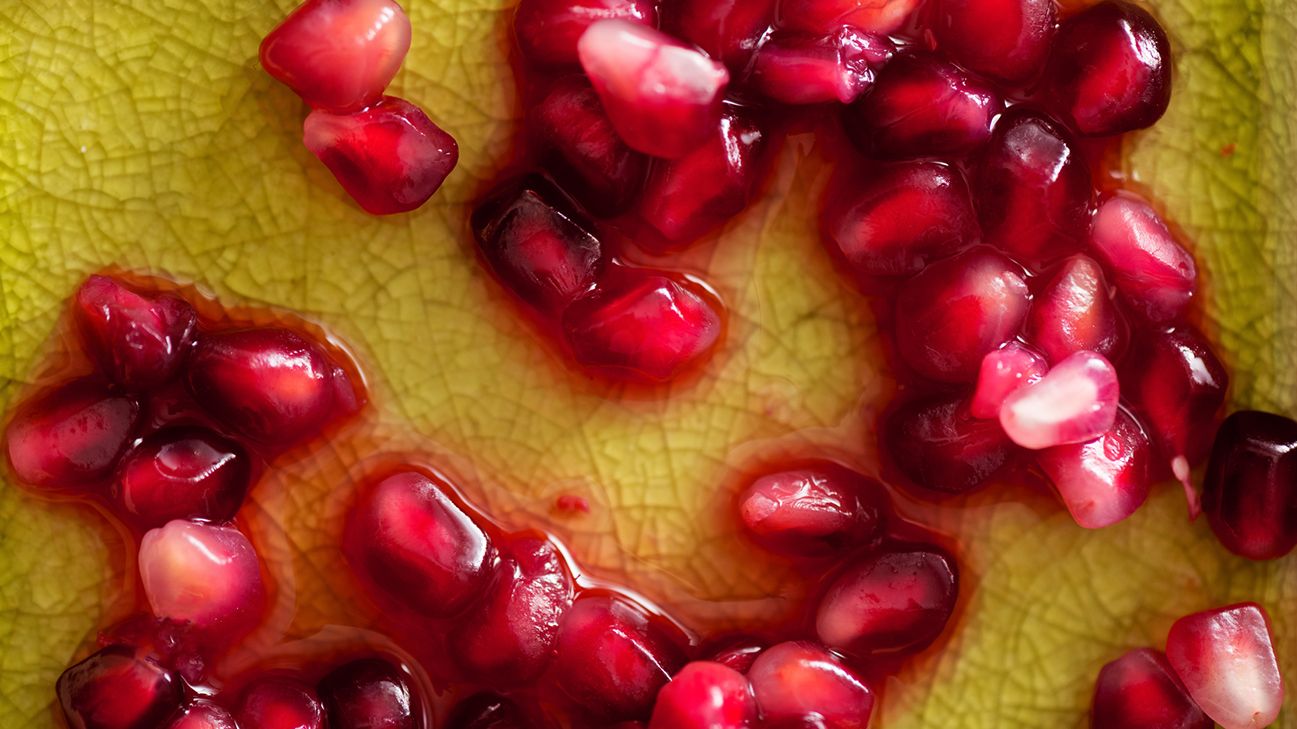 If you're attending any office holiday get-togethers, these should be some great options for the punch bowl.
1. Pomegranate holiday sangria
Every holiday gathering needs a pitcher (or bowl… or vat…) of punch. This pomegranate sangria delivers the goods with a blend of wine, liqueur, pomegranate juice, and fresh pomegranate nibs. Just be careful to chew, not swallow, the seeds as you sip.
2. Cranberry pomegranate holiday mocktail
Sometimes during the holiday season, it pays to stay sober, whether for health reasons, because you're pregnant, or because you're serving as DD. If you or your guests are steering clear of alcohol, try this zippy, fruity mocktail made with just five ingredients. With its deep claret color, it even looks like red wine (but is totally alcohol-free).
3. Pomegranate maple fizz
Fun fact: The "fizz" cocktail (a combo of alcohol, carbonated water, and an acidic juice) became popular during the Roaring '20s, when bathtub gin was all the rage.
For this bubbly pink version, you'll whip up your own pomegranate juice using a blender and strainer. From there, a quick stir of tonic water, maple syrup, and vodka brings together a cocktail that exudes old-timey charm.
Here are some options for those who enjoy a light premeal bite or late night nom.
4. Pomegranate popcorn
If you're any kind of popcorn connoisseur, you've probably tried all manner of mix-ins with your kernels. How about adding pomegranate to the list? For a holiday movie night, a bowl of popcorn sprinkled with pomegranate nibs and dark chocolate makes an intriguing sweet-and-savory combo.
5. Muhammara
Move over, hummus! This holiday season, there's a new dip in town. Muhammara is a Middle Eastern spread made with red bell peppers, walnuts, and pomegranate molasses. This version amps up the pom flavor by adding a smattering of arils on top. With fresh veggies and pita, it'll steal the show as part of a buffet.
6. Wild blueberry and pomegranate bruschetta
Although pomegranate doesn't look like most other berries, it's technically classified as one — hence its compatibility with blueberries (and basically any other berries). Pom nibs mingle with their fruity cousins in this antioxidant-rich bruschetta, which features the berries and a Greek yogurt-goat cheese spread layered atop baguette slices.
7. Tahini cauliflower wings
Pomegranate seeds return to their Mediterranean roots in this flavorful veggie app. Roasted cauliflower gets dolled up with a tahini-yogurt dressing and then tossed with pomegranate arils, toasted pine nuts, and fresh parsley. Wanna make it vegan? Just replace the dairy yogurt with a plant-based version.
Yes, pomegranate may be the secret ingredient you never knew your favorite dish needed.
8. Pomegranate cider pork loin roast with rosemary smashed potatoes
Call off the search — we've found the perfect Christmas dinner. Pork loin gets special treatment here, roasted with a simple DIY pomegranate cider and topped with creamy gravy. Paired with luscious rosemary mashed potatoes (and with pomegranate seeds sprinkled on top, obvs), it's a masterful centerpiece for any feast.
9. Sweet potato chickpea curry with pomegranate basmati rice
When it's chilly outside, who can say no to a warming curry — especially one that's finished off with festive pomegranate arils? Veggie-rich and full of cozy spices, this Indian main dish is like a hug in food form.
10. Pomegranate avocado quinoa salad
In this ultra-colorful salad, pomegranate joins forces with another surprising berry: avocado! (Yep, it's technically a berry too — who knew?) Additional superfoods like kale, quinoa, pecans, and garlic round out the fiesta of whole-food ingredients. Try this healthy main dish as part of a holiday lunch or brunch.
11. 3-ingredient pomegranate balsamic chicken
The name says it all (literally). This three-ingredient main dish is the definition of simple elegance. Pan-seared chicken thighs get slathered with a balsamic-pomegranate glaze on the stovetop and then baked to tender juiciness in the oven.
Adding a handful of extra arils on top is optional, but don't skip 'em! They add an appealing pop of color and tangy flavor.
Finish things off with any one of these pomegranate-infused treats.
12. Vegan pomegranate brownies
Many would agree that you can never go wrong mixing fruit and chocolate — but other berries tend to hog the chocolaty spotlight, leaving pomegranate out in the cold. These vegan brownies studded with chocolate chips and pomegranate nibs balance things out right.
And did we mention they're gluten- and dairy-free? Be sure to leave some out for Santa.
13. Vanilla bean pomegranate mini cheesecakes
Which makes more sense for your festivities, multiple mini cheesecakes or one larger pie? It's six of one, half a dozen of the other with this vanilla bean pomegranate cheesecake, which can be shape-shifted into multiple individual desserts.
A coconut-cashew cheesecake layer rests atop a nutty crust, and the whole thing gets finished off with a thick, fruity glaze. The fact that it's no-bake is the cherry — er, pomegranate — on top.
14. Pomegranate mousse
This recipe for silky pomegranate mousse takes advantage of the nibs' natural coloring ability to concoct a pretty-in-pink dairy dessert that's way classier than boxed pudding. Be sure to make it in see-through jars or glasses for the full visual appeal.
If you don't have the agar-agar the recipe calls for as a thickener, you can simply sub gelatin (as long as you're not vegan).
15. Pomegranate pistachio dark chocolate bark
We're all for rich holiday desserts, but if a treat is tasty and healthy, so much the better. Enter this better-for-you pomegranate pistachio dark chocolate bark from Maple and Mango.
Antioxidants are in full force in each of its three ingredients, and it's easy to break into portion-controlled bites. Plus, its red and green color scheme is a Christmasy as it gets.
As you haul out the holly and mistletoe this year, don't forget about artfully decorating your food too! Pomegranate's gorgeous red gems can adorn all manner of delicious dishes. By January, you just might be a pom-nivore.