Turmeric has been and continues to pop up all over trendy food lists. Though research is still a little hazy on whether or not its health benefits are as extensive as everyone thinks, it's safe to say, turmeric has antioxidant and anti-inflammatory benefits.
Plus, it adds a bright color and peppery taste to pretty much any meal, and works great in grains, soups, smoothies, and proteins (aka our favorite foods). It's not just for turmeric tea anymore! If you're not on the turmeric train yet and haven't cooked with the root before, know that you can buy it ground or fresh. The fresh kind is similar to ginger: Peel the skin off and then grate or cut off pieces to cook with.
1. Turmeric chickpea oats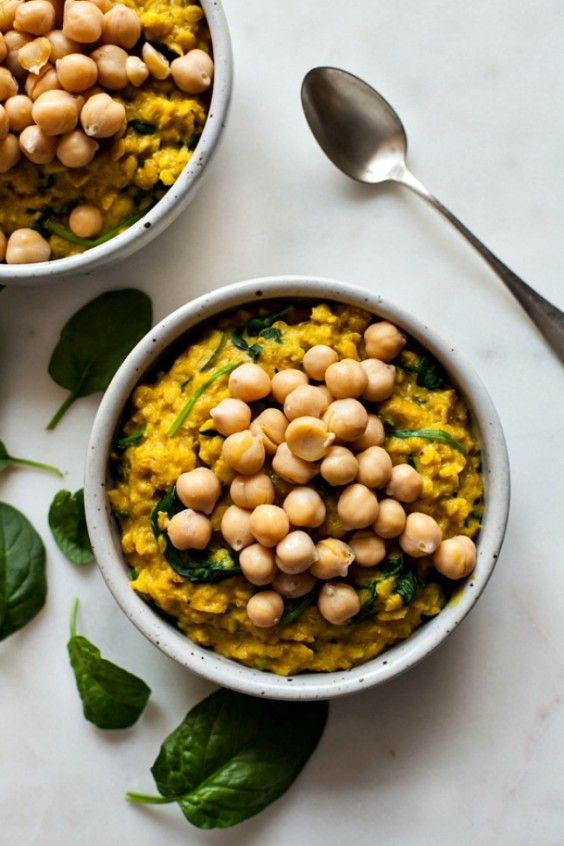 Oats are a staple for anyone looking for something fast and filling and that requires very little effort (read: everyone). This recipe requires just a tad more effort than overnight oats, and is a savory twist on a typically sweet dish — making it preferable for dinner on nights when you've got no time. Use nutritional yeast for some cheesy goodness and baby spinach to get in your greens.
2. Turmeric sweet potato hummus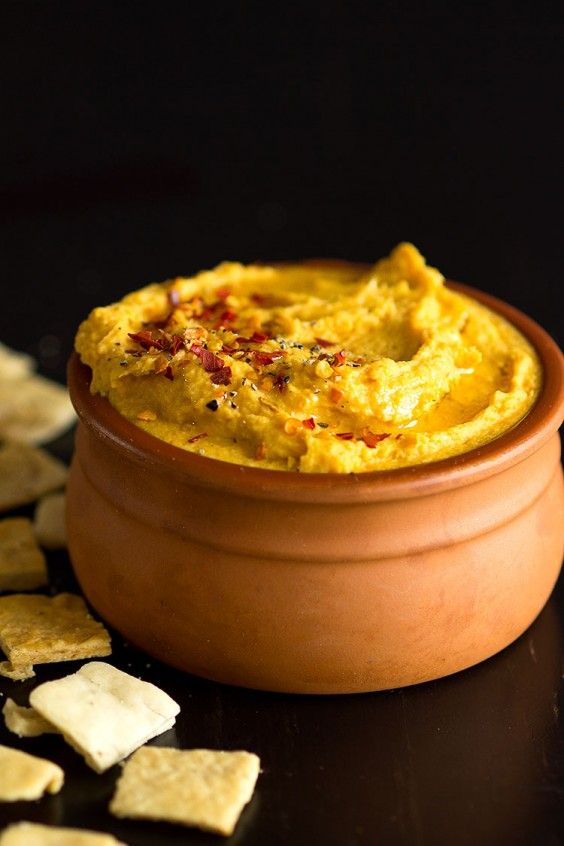 We love hummus, but its only downside is the plain kind's bland color… it can sometimes make the snack feel a little beige. Sweet potatoes and turmeric solve that problem in this recipe that's basically the color of our favorite fall leaves. Serve with veggies, pita chips, or on a sandwich for a spicy, creamy snack in any season.
3. Turmeric quinoa power bowls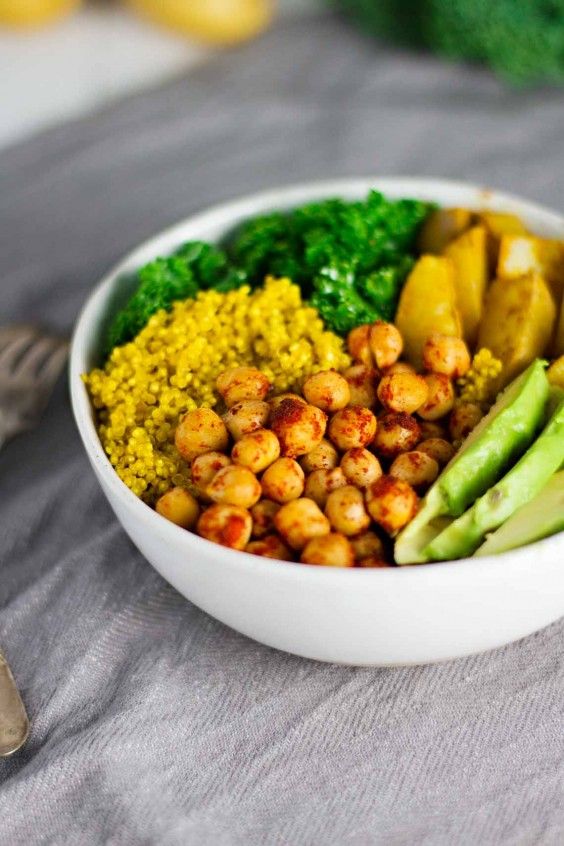 This nutrient-dense vegan bowl gets a peppery kick thanks to turmeric and paprika. The recipe makes 4 servings, so it is great for meal prep or at least lunch and dinner for two. With just five whole ingredients — chickpeas, kale, quinoa, yellow potatoes, and avocado — it is super easy to create. If you're craving more protein, we suggest swapping out one of the starches for chicken or tofu.
4. Garlic turmeric shrimp with cabbage mango slaw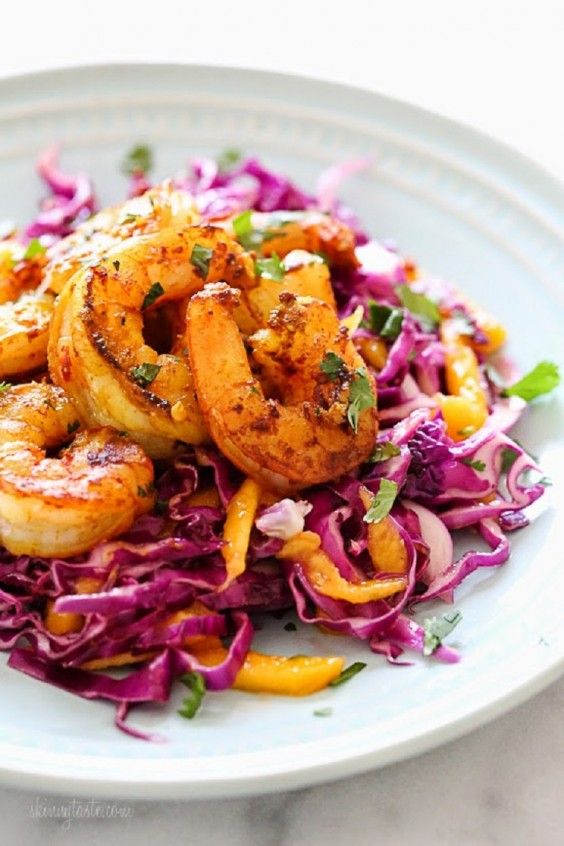 Sweet and spicy is always a winning combo in our book. Balance out turmeric, cumin, and red pepper flake-seasoned shrimp with cabbage, mango, and red onion. It'll have you feeling summery no matter what time of year you make it.
5. Kale and cauliflower turmeric soup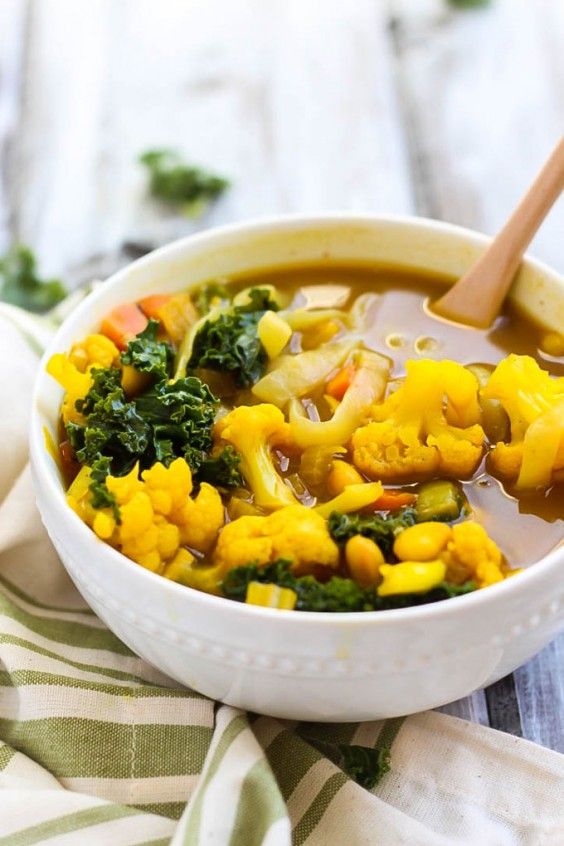 Went a little crazy at the office party/barbecue/birthday celebration? Give your body a healthy dose of much-needed veggies with this colorful, nutrient-rich soup. It packs in kale, carrots, onions, cauliflower, and celery, plus white beans and clear noodles to round things out.
6. Turmeric ginger colada smoothie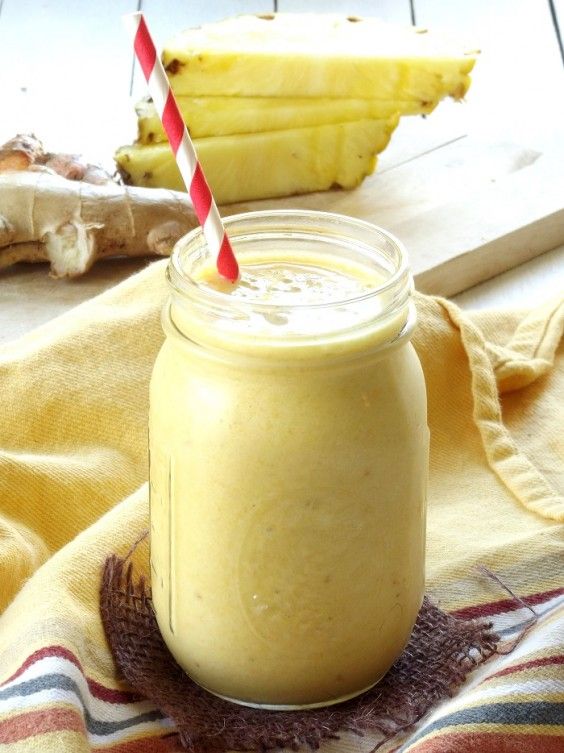 If you like piña coladas, and gettin' lost in the rain… you'll love this gingery, fruit-packed smoothie. Made with pineapple, banana, nondairy milk, fresh ginger, and turmeric, plus a teaspoon of vanilla extract, this colorful drink has us dreaming of the beach. Add in a little Greek yogurt or vanilla protein powder to make it filling enough to be a meal.
7. Golden milk energy bites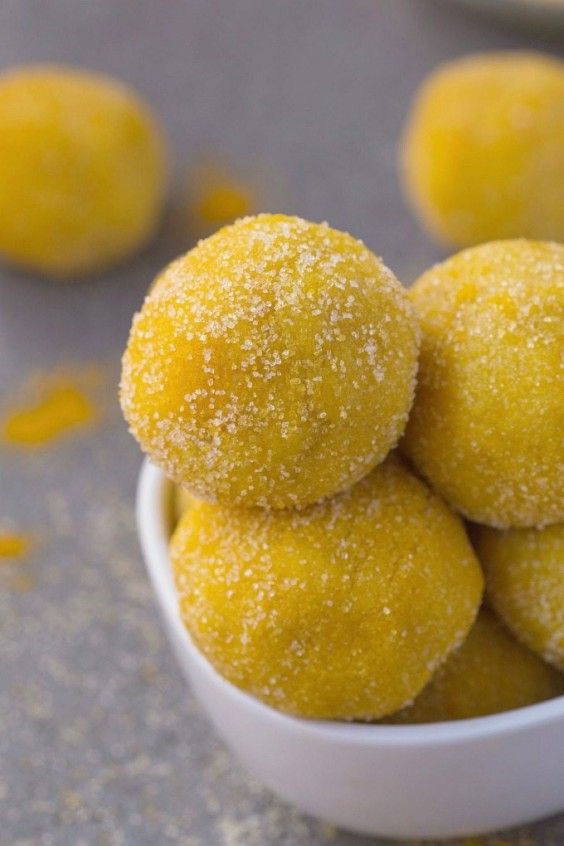 These bite-size snacks are great to have on hand when you're craving something sweet, especially since they use nutrient-dense ingredients like unsweetened applesauce, coconut flour, and cashew butter. Plus, as this blogger points out, they look like Golden Snitches, and that's pretty rad.
8. Spinach tofu with turmeric brown rice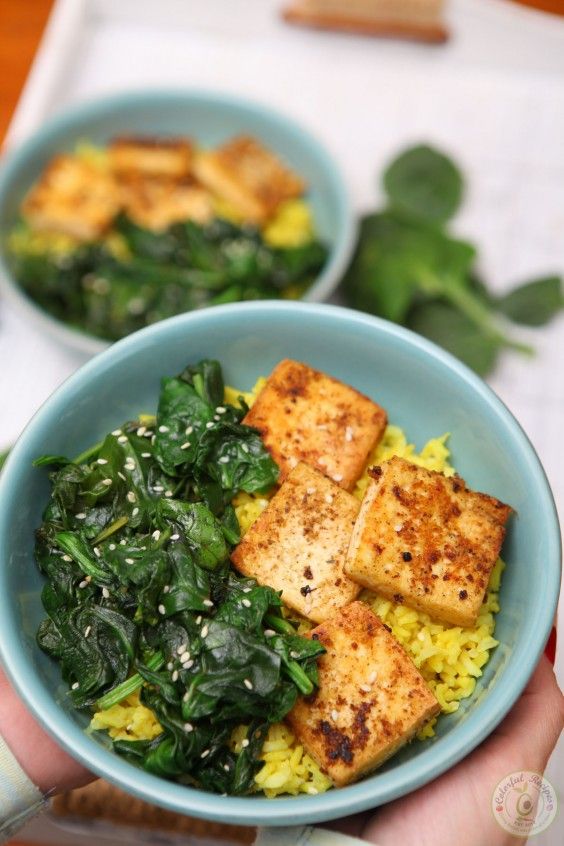 Switching out brown rice for white or yellow rice is one of the simplest nutrient swaps. Make it even more palatable by adding turmeric and vegetable broth until your rice becomes a yummy yellow rice again. Paired with pan-fried tofu and sauteed spinach, this delish meal might just become a new favorite.
9. Honey mustard turmeric chicken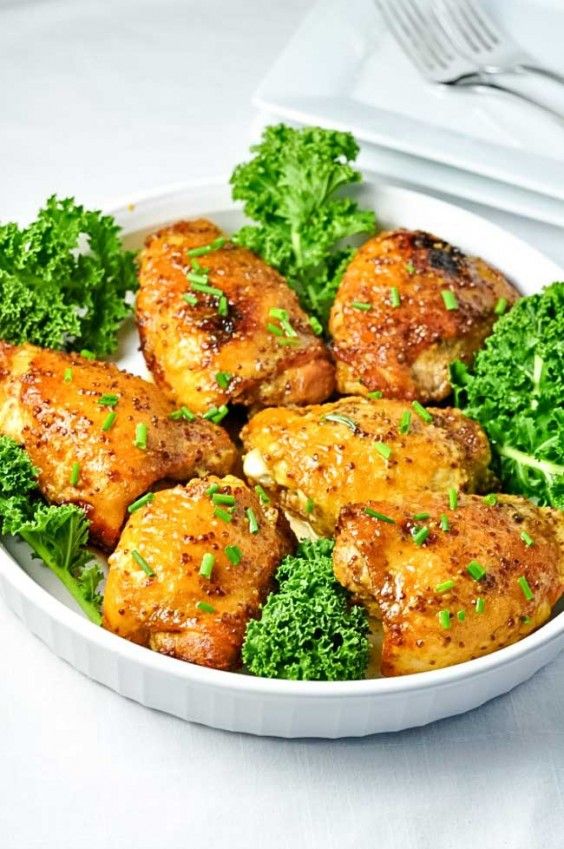 Be careful: Once you taste these crispy, tender chicken thighs, you'll want to eat them all week long. Rub chicken thighs with turmeric, mustard powder, olive oil, salt, and pepper, then bake in the oven with an easy honey mustard sauce. Serve with cauliflower, mashed potatoes, or warm greens. Healthy comfort food? You know it.
10. Moroccan-spiced parsnip soup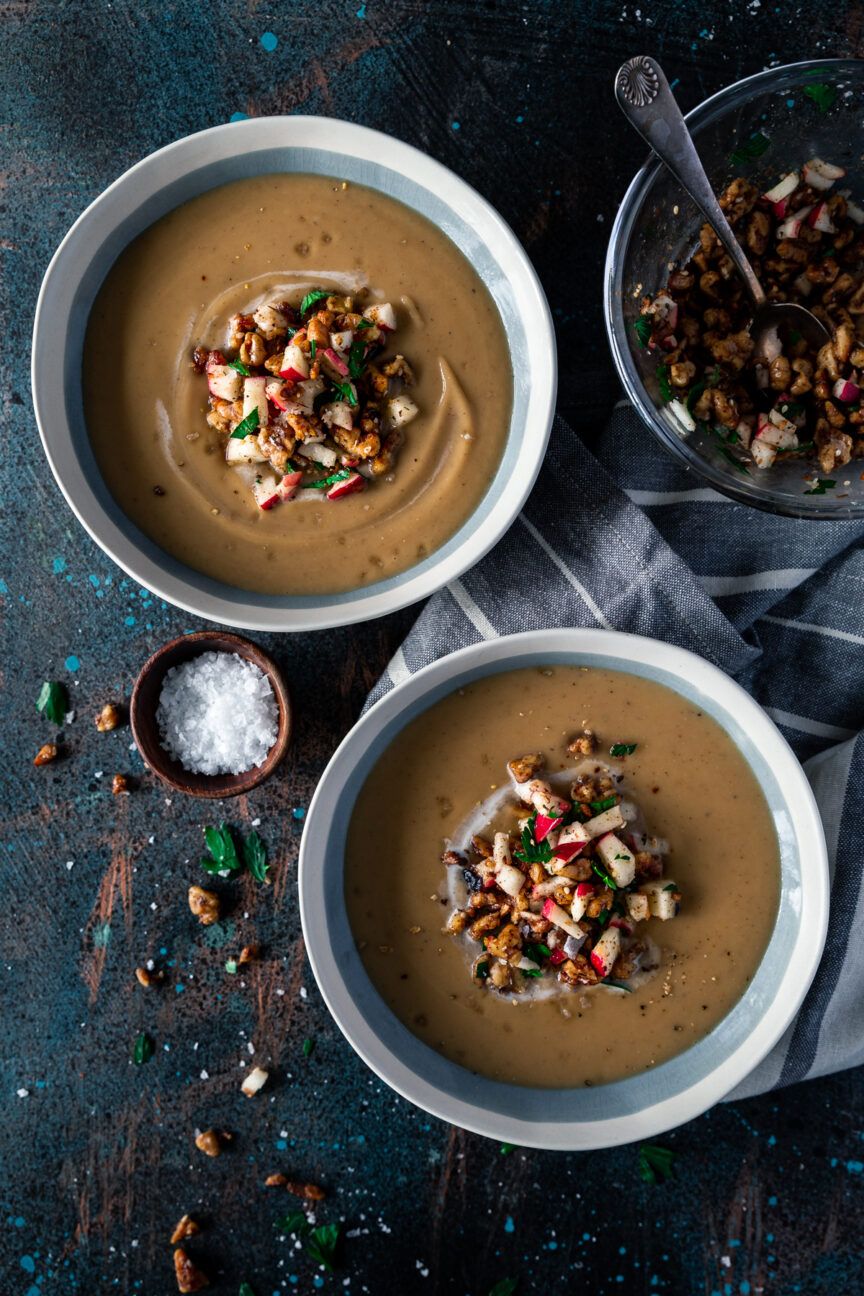 Another bonus of cooking with turmeric is how well it blends with other spices. It's why the spice blend called ras el hanout is getting so popular. Think cardamom, cumin, clove, cinnamon, nutmeg, allspice, dry ginger, and, of course, turmeric. so this spiced parsnip soup will hit every spice spot perfectly.
11. Turmeric carrot soup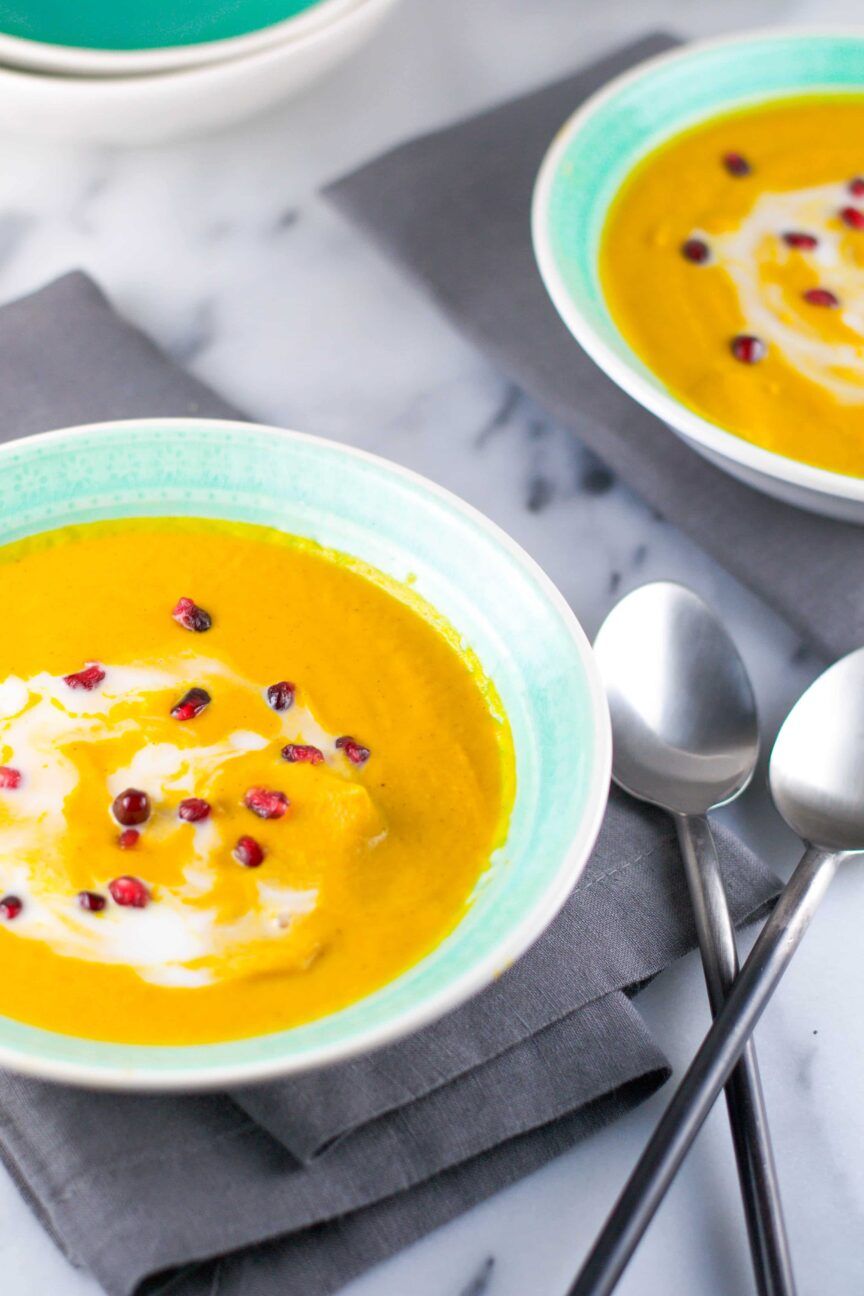 Raise your hands for warm, nourishing soup all year-round. Blend up some turmeric combined with carrots, veggie broth, cinnamon, and ginger and you'll be looking for a roll to clean up the bottom of the bowl. It's also infinitely customizable for whatever veggies (root or otherwise) you may have on hand.
12. Greek yogurt and turmeric mac and cheese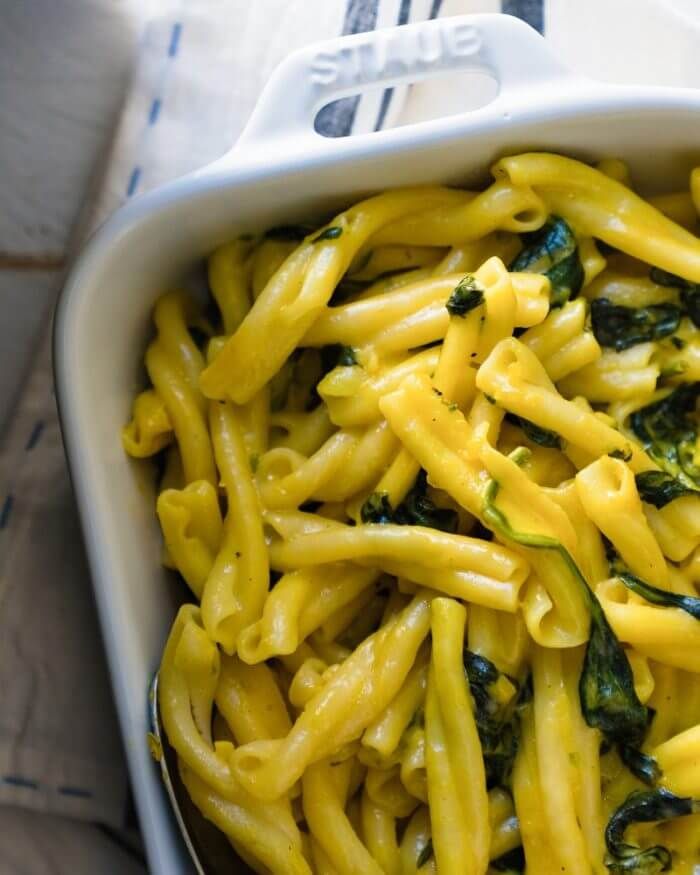 Mac and cheese recipes that utilize subtle flavors and spices (like adding in mustard powder or curry powder) are some of our faves. Add turmeric as a potential addition and you'll be hooked. This recipe adds some greens and delicious depth of flavor with turmeric for just the kick of mac and cheese needs.
13. Peach chutney with turmeric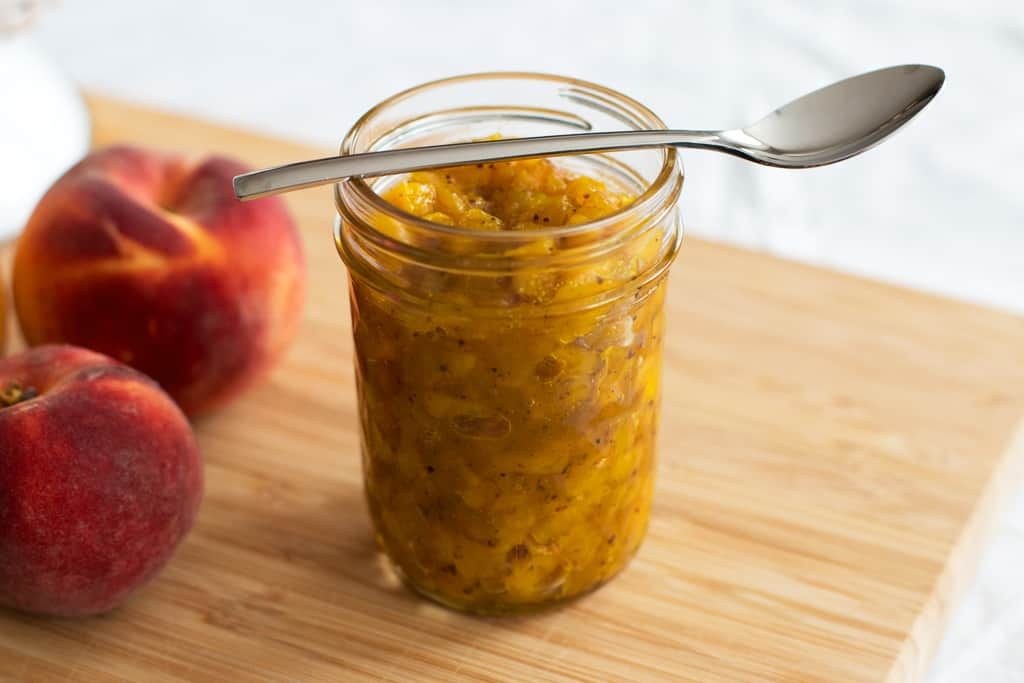 Chutney is one of those super-versatile condiments that adds flavor and balance to dishes. It can take a savory dish and make it spectacular. This peach chutney with turmeric would be ideal for slathering on chicken, paired with some bread or naan, or paired with fruits, nuts, and cheese on a charcuterie board.
14. Smashed chickpea and goat cheese wraps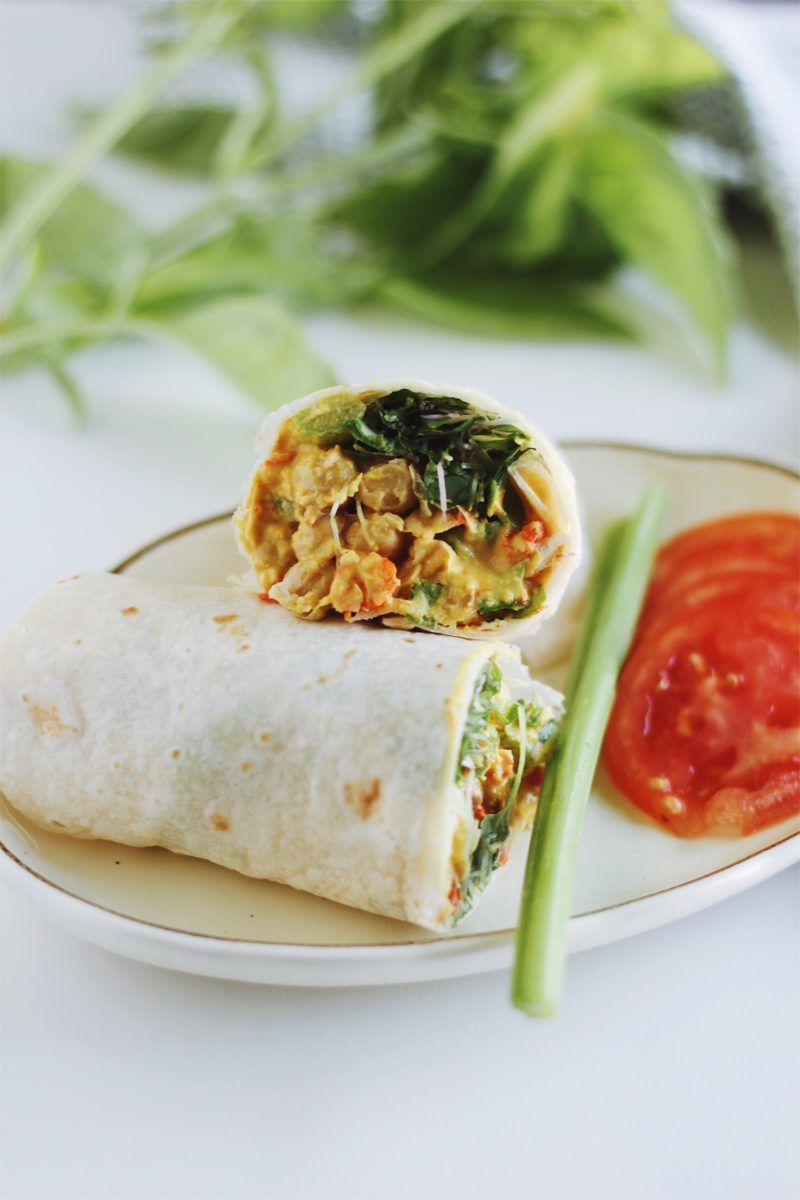 Chickpeas and turmeric, sitting in a tree… they're meant to be. This wrap takes all kinds of good stuff (red peppers, microgreens, olives, goat cheese, basil, and more) and seasons it all with turmeric, lemon zest, and olive oil. Wrap me up in it for life.
Turmeric may be a popular trend, but that doesn't mean it isn't legit for health and taste. We'll learn more about why turmeric could be a healthy component in our eating plan as research continues to ramp up.
In the meantime, it doesn't hurt to start stocking up on the gold stuff to add to smoothies, bowls, drinks, soups, and more even if it's just for taste alone. Stay gold, Pony Boy.