A burger isn't a burger without ketchup and mustard. A salad without dressing? Yeah right. More like a schmalad.
Dressings, condiments, and marinades add some kick to our plates. But when it's super simple to just pour them out of bottles, the nutrition labels might point to several reasons why store-bought options aren't the best idea: They add empty calories, sugar, and sodium.
That's three uninvited dinner party guests to turn away at the door. Instead, make your own — it's super easy and way better for you.
Here are 37 recipes to make dressing that salad a little healthier, slathering that burger bun a little more wholesome, and marinating that meat a little more natural.
Give your salad a funky top hat.
1. Olive oil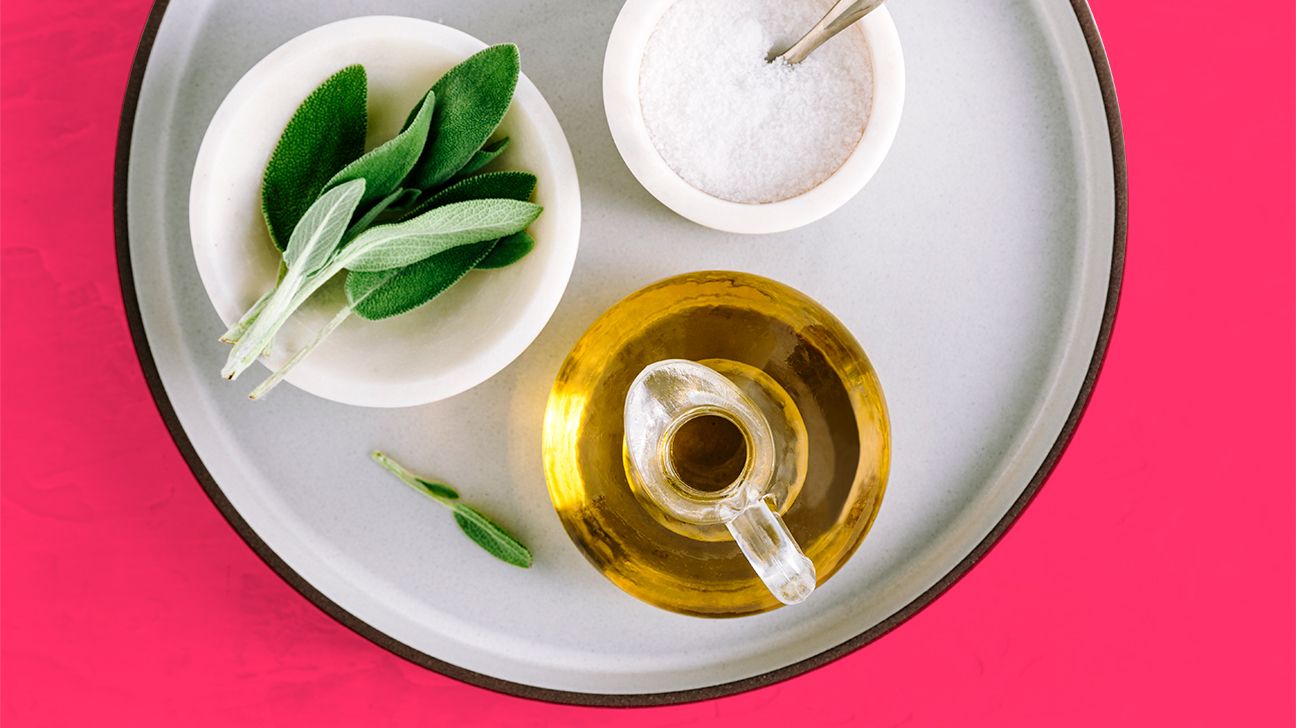 Sometimes all a salad needs is a drizzle of some really good olive oil. A little fat is never a bad thing.
In fact, research actually found that full-fat salad dressings may help the body better absorb certain nutrients (specifically carotenoids).Goltz SR, et al. (2012). Meal triacylglycerol profile modulates postprandial absorption of carotenoids in humans. https://onlinelibrary.wiley.com/doi/abs/10.1002/mnfr.201100687
Extra virgin olive oil (aka EVOO, the purest form of olive oil) typically has the best flavor and is top-notch when used in its raw form.
Plus, it's high in omega-3s, including oleic acid. These play an essential role in keeping brain cells healthy. It's also high in phytochemicals, antioxidants that may help people prevent some types of cancer.Ranjan A, et al. (2019). Role of phytochemicals in cancer prevention. https://www.ncbi.nlm.nih.gov/pmc/articles/PMC6834187/
2. Fruit n' nut delight
There's nothing better than making a dressing packed with whole-foods! It's like adding more nutrition via your sauce.
Get all the benefits of whole-fruit and nuts by mixing them into a dressing. The addition of nuts also creates creaminess while adding some heart-healthy fats and fiber.
1/3 cup chopped nuts
1/2 cup chopped fresh fruit
1/4 cup unsweetened soy or almond milk
1 tablespoon lemon or lime juice
3. Mighty avocado dressing
It's no secret that here at Greatist that we're huge fans of the mighty avocado.
The creaminess of the avocado makes for a great texture without adding too much oil, and the flavor adds richness and depth to any salad.
You can add a rich, tangy touch to any crunchy salad with a mix of:
1 avocado
1 cup plain yogurt (we choose Greek yogurt!)
1/4 diced red onion
1 teaspoon dill
some other spices
4. Roasted tomato vinaigrette
Any dressing that has another serving of whole vegetables gets an A+ in our books.
The addition of whole roasted tomatoes to this dressing recipe not only adds tons of great nutrients but also achieves an awesome hearty texture.
Plus, tomatoes are a great source of lycopene, a carotenoid (antioxidant) that's been associated with everything from a reduced risk of prostate cancer,Fraser GE. (2020). Tomato consumption and intake of lycopene as predictors of the incidence of prostate cancer: The adventist health study-2. https://link.springer.com/article/10.1007%2Fs10552-020-01279-z all the way to preventing cardiovascular disease.Mozos I, et al. (2020). Lycopene and vascular health. https://www.ncbi.nlm.nih.gov/pmc/articles/PMC5974099/
The basics?
12 ounces plum tomatoes
1 tablespoon garlic
1 tablespoon EVOO
1 teaspoon Italian seasoning
2 tablespoons red-wine vinegar
It's a perfect topper for a green salad or roasted veggies or meat.
5. Cheat-sheet buttermilk ranch
Ranch dressing is one of those classic childhood favorites (or maybe late-night college pizza flavors?) that piques our indulgence every once in a while.
But the kind from the bottle, typically packed with buttermilk, oil and egg yolks, and in some cases added sugar, thickeners, and preservatives, isn't exactly an everyday treat.
Try a mix of:
1/2 cup and 1 tablespoon non-fat buttermilk
3 tablespoons white-wine vinegar
1 tablespoon fresh basil
1 1/2 teaspoon cup chives
1/4 teaspoon garlic
You can replace that classic flavor any night of the week (guilt-free).
6. Classic lemon vinaigrette
Emeril Lagasse has it right with this one. His salt-free recipe recreates that classic French vinaigrette flavor without maxing out your daily sodium intake.
What's the trick? There is none. Just mush together the following ingredients in a blender:
2 tablespoons fresh herbs, including parsley, tarragon, chives, and oregano
1 tablespoon shallots, minced
1 teaspoon garlic, minced
lemon and lime zest
1 tablespoons Dijon mustard
2 tablespoons lemon juice
1/4 cup grapeseed oil
7. Sweet honey dressing
Sometimes fruit needs a little dressing too, right?
Try blending up the following ingredients:
1 cup plain Greek yogurt
2 tablespoons honey (or agave)
1 tablespoon grated orange zest
the juice from 1/2 a lemon
You get the sweetness and the citrus kick, as well as the richness of the yogurt.
8. Green goddess
This classic avocado dressing is perfect for summer (well, it's perfect anytime, but the mint and cilantro give it a summery tang).
Blend:
the meat of 1 avocado
1 1/2 cup fat-free buttermilk
1/4 cup fresh herbs (tarragon, mint, parsley, and cilantro work well)
2 tablespoons rice vinegar until smooth.
9. Maple mustard dressing
Tangy. Sweet. Who doesn't love the combo of maple and mustard?
This dressing is the perfect combo and goes well with any hearty salad —especially mixed greens with goat cheese, pecans, and beets.
Plus it's easy to throw together. Just blend up:
2 tablespoons coarse-grain mustard
1/4 cup maple syrup
1/2 cup walnut or canola oil
1/4 cup apple cider vinegar
2 tablespoons soy sauce
sprinkling of salt and pepper
(Yes, this is a personal favorite!)
10. Easy apricot
Here's another recipe that uses fresh fruit for a powerful effect.
A chopped, whole apricot forms the base of this dressing along with a tablespoon of apple cider vinegar and a teaspoon Dijon mustard, making this salad dressing a perfect mash-up of sweet and savory.
You'll also need to throw in:
1 tablespoon lemon
7 drops stevia
1/4 cup olive oil
1/4 teaspoon salt
And by using fresh fruit, you eliminate the need for added sugar, which puts it head and shoulders above many bottled dressings.
11. Ginger carrot dressing
The delicious orange pulpy dressing that coats Japanese-inspired restaurants' green salad has a secret.
You ready? It's white miso paste!
Try this simple recipe, combining:
1 cup sliced carrots
1 small shallot
1 piece of fresh ginger (measuring about 2 inches)
1/4 cup white miso
2 tablespoons rice vinegar
3/4 teaspoon sesame oil
1/3 cup canola oil
12. Classic honey mustard
We'll dip anything in honey mustard dressing. Chicken fingers? Done. Fries? Absolutely. Apple slices? Hey, don't judge!
The replacement's simple, with just four ingredients:
2 tablespoons apple cider vinegar
2 tablespoons Dijon mustard
1 tablespoon honey
1/2 cup olive oil
13. Simply citrus
Fresh citrus juice is a perfect accompaniment to greens. It just makes them pop. A mix of juices (orange, grapefruit, lemon, and lime) is what makes this dressing even more special that your average.
Combine 3 tablespoons of each citrus juice with 1 1/2 cups olive oil, and add salt and pepper to taste. Shake or whisk the whole shebang until it's well combined.
And that's it.
If your salad's full of nuts, you'll absolutely love drizzling this zingy concoction over the top.
14. Lemon Caesar
Perhaps the most ubiquitous of any salad dressing, the classic Caesar can certainly take a toll on any healthy diet (it is a dangerfood, after all).
Instead of the classic egg yolk-based dressing, try this combo as a healthy alternative:
1 teaspoon lemon zest
3 tablespoons lemon juice
1 teaspoon Dijon mustard
1 teaspoon Worcestershire
2 cloves garlic
1/2 cup olive oil
1 tablespoon plain Greek yogurt
a dash of pepper
This makes 2—3 servings, so why not share the Caesar love.
15. Yogurt herb Dijon spread
Non-fat Greek yogurt is a great way to get a creamy dressing without the extra fat (and it adds an extra dose of protein to boot).
Mix the following:
1/2 cup plain Greek yogurt
2 tablespoons Dijon mustard
1/4 cup chopped fresh herbs
Serve this alongside veggie sticks or toasted pita and watch the mmmms roll in.
16. Ketchup
Even though the shelf-stable varieties might not be such a healthy choice (most are packed with sugar/ high-fructose corn syrup, and all), this popular tomato-based condiment is actually pretty healthy.
(Thanks, lycopene!)
Try this simple recipe made with a base of tomato paste, apple cider vinegar, and a handful of spices.
17. Horseradish sauce
Bloody Mary lovers rejoice! Horseradish is packed with glucosinolates, compounds that also run rampant in cruciferous veggies (like cauliflower).
They are associated with reduced cancer-related damage to the lungs and stomach by carcinogens.Maina S, et al. (2020). Human, animal and plant health benefits of glucosinolates and strategies for enhanced bioactivity: A systematic review. https://www.ncbi.nlm.nih.gov/pmc/articles/PMC7464879/ They may potentially enhance your body's protection against some cancers.
While its sauce has less of a nutritious kick than, say, chomping on raw horseradish, it's a far more pleasant experience. To make your own, you just need a horseradish root, water, vinegar, and salt.
18. Hot sauce
This bad boy's OK to get out of the bottle.
Capsaicin is the star of this spicy sauce. It's what gives chili peppers their heat and can boost metabolism.
Plus, some studies suggest that this compound can help the body use fat as fuel more effectively.Rogers J, et al. (2018). Capsaicinoids supplementation decreases percent body fat and fat mass: Adjustment using covariates in a post hoc analysis. https://www.ncbi.nlm.nih.gov/pmc/articles/PMC6088424/
So, if you can handle the hot ones, why not?
19. Avocado spread
This might be the simplest "spread" out there. Here are the steps:
Mash an avocado.
That's it. Job done. Put your feet up, weary traveller, for you have nailed the avocado spread.
Pro tip: Adding a few drops of lemon or lime juice keeps the color bright.
Because of its high (healthy) fat content, mashed avocado makes a great substitute for creamy sandwich spreads, like mayonnaise. Plus, it's a great source of omega-3s.
20. Hummus
Hummus is another great alternative to mayo. It's just as creamy, even more flavorful, and offers a little extra protein and fiber.
Just be careful not to overdo it! More than 1 tablespoon or 2 and this spread can get a little calorie-heavy.
21. Vanilla almond butter
When you want a high fiber, protein-packed snack, try using this vanilla almond butter on the classic PB&J instead of the standard peanut butter.
This recipe uses only five ingredients:
2 cups raw almonds
2 cups roasted, unsalted cashews
2 tablespoons coconut oil
1 teaspoon vanilla extract
1 or 2 tablespoons honey
Take all that with a pinch of salt (literally) and blend it.
22. Pesto
Basic pesto can turn any panini or grilled cheese into something a bit fancier
Just blend up:
2 bunches fresh basil
2 sun-dried tomatoes
5 cloves garlic
3/4 cup of EVOO
Blend them until smooth and… hey presto! Pesto.
If you're not so crazy about the pungent garlic flavor, roast it first.
23. Green mayo
Ewwww, what? Don't run away just yet, though.
We're not so crazy about mayonnaise by itself, but throwing in a dose of greens makes anything a bit healthier (for those who really can't get enough mayo) (there's definitely such a thing as enough mayo, by the way).
Check out this recipe, which takes the classic base for homemade mayonnaise and adds:
75 grams spinach
40 grams watercress
40 grams parsley
2 tablespoons chopped tarragon
1 tablespoon chives
Throw in a splash of lemon juice and a dash of salt and pepper, and this one comes with the Greatist seal of approval.
24. Cranberry orange thyme sauce
When it's thyme to relive Thanksgiving with one of those turkey cranberry sauce sandwiches (or make use of the leftovers), reach for this fresh cranberry classic.
Flavored with thyme (hence the pun in the opening sentence) and sweetened with orange juice and honey, this cranberry sauce goes great with poultry any time of the year.
Here's the rub…
25. Coffee, coffee, coffee
Believe it or not, that morning cup of joe is actually a great steak marinade. Ahh, coffee. Improving both your mornings and your evenings.
It's perfect for tenderizing red meat in place of high sodium, bottled marinades.
Don't want to brew a pot first? Coffee grounds also work as a great rub for grilling meats.
26. Mojito mbharinade
A marinade with rum in it? Yes please, and "Yo ho ho!" to you too.
Try a mix of:
2 shallots
1/4 cup mint
1/4 cup rum
1/2 cup lime juice
Throw in some lime zest, salt, and canola oil for a festive flavoring that's great with chicken.
27. Chili spice rub
Packed with capsaicin, chili peppers and powders are a great addition to any meaty meal.
Mix equal amounts of:
cumin
chili powder
paprika
cayenne pepper
Then, rub this potent mixture on chicken or steak before roasting or grilling. Be careful! This is a spicy one.
28. Garlic rub
Let's just face it — garlic makes just about anything better. That definitely includes grilled and roasted meats.
For every 1.5 pounds of meat, combine:
8 cloves garlic
1 tablespoon olive oil
1 tablespoon mustard
1 teaspoon lemon zest
a sprinkle each of salt and pepper
Rub it on the meat and let it sit for a few hours before cooking. You'll have lovely, tender, garlicky goodness just waiting for you.
29. Classic Indian
Want tasty tandoori chicken from any oven or grill? It's easy. (And no, you don't need to buy a Tandoor oven.)
Marinate chicken or beef in the following and watch your mind get blown:
1/2 cup plain Greek yogurt
2 tablespoons olive oil
1 teaspoon ground cumin
1 teaspoon ground turmeric
1/2 teaspoon ground coriander
30. Easy teriyaki
Simply mix:
31. Dijon sun-dried tomato
This is a Greatist family favorite.
Combine:
1 teaspoon thyme
1 teaspoon rosemary
1/4 cup olive oil
2 sun-dried tomatoes in oil
1 tablespoon Dijon mustard
Spread the whole business on top of salmon or chicken, and bake until cooked through. Voila! Deliciousness.
32. Terrific Thai
This marinade is perfect for fish, shellfish, and chicken.
The mixture goes like this:
1/2 cup unsweetened coconut milk
1 shallot, minced
the juice of 1 lime
2 tablespoon fresh chopped cilantro or parsley
1/2 tablespoon chili paste or powder
33. Simple lemon and herb
Perfect on chicken, fish, or pork, a combination of lemon zest and fresh herbs can never go wrong.
Combine the following magical elixir for zingy simplicity:
the juice and zest of 1 lemon
1/4 cup olive oil
1/4 cup chopped fresh herbs
Marinate the meat for up to 30 minutes. Careful, though — the citrus juice can start to "cook" the meat (especially fish) if left too long (naughty citrus).
34. Turkish delight
Take a trip overseas (or as close as you can get to one in 2020) with this Turkish-inspired marinade, perfect for lamb or chicken (especially in kebab form).
Combine:
1 cup plain Greek yogurt
the juice and zest of 1 lemon
1 cup chopped fresh mint
2 cloves garlic, minced
a sprinkle of salt
1/2 teaspoon cinnamon
1/2 teaspoon cayenne
1/4 teaspoon ground allspice
Mix and marinate the meat for anywhere between 1 and 4 hours. Grill it for the best results.
35. Rosemary balsamic
This one's simple and does a fine number on chicken thighs.
Mix together:
2 tablespoons olive oil
2 tablespoons balsamic vinegar
6 garlic cloves
6 fresh rosemary sprigs
a hearty grind of pepper
Marinate for up to 24 hours (that's a long soak but it's worth it) and grill or bake for a soft, fragrant, tender cook.
36. Classic chipotle
Chipotle chilies in adobo sauce make this marinade super special. Another hot one, and the overnight marinade soaks the smoky flavor right through the meat.
For every pound of meat (chicken or pork work wonders with this marinade) combine:
1 chipotle in adobo
3 cloves garlic, minced
the juice of 1 lime
1 teaspoon vinegar (of your choice)
Marinate the mixture overnight for maximum impact.
37. Honey lime marinade
For a stark, vivid reminder of tropical climes, cover your chicken in this sweet and sour favorite. Bonus points: It's a piece of cake, too.
Combine:
1/2 cup honey
1/3 cup reduced sodium soy sauce
the juice of 2 limes
This mix should cover about 4 chicken breasts.
Whether you're dipping, dunking, spreading, or submerging your food in sauce (and whether it's a salad or steak), taking the time to make your own sauciness is a special type of magic.
If you don't have the time, don't worry. There are some healthier choices out there on the shelves of your nearest supermarket. Check them out here.