We include products we think are useful for our readers. If you buy through links on this page, we may earn a small commission. Here's our process.
Greatist only shows you brands and products that we stand behind.
Our team thoroughly researches and evaluates the recommendations we make on our site. To establish that the product manufacturers addressed safety and efficacy standards, we:
Evaluate ingredients and composition: Do they have the potential to cause harm?
Fact-check all health claims: Do they align with the current body of scientific evidence?
Assess the brand: Does it operate with integrity and adhere to industry best practices?
We do the research so you can find trusted products for your health and wellness.
Ever notice how a great marinade can instantly elevate what otherwise would be a pretty boring piece of grilled meat?
Soaking your meat in oils, juices, spices, and other ingredients is a quick and easy way to level up your barbecue game, and doesn't require a lot of unnecessary mess either. Here's what some of our favorite grill-masters have to say on bringing your carne to life with a soak in a tasty bath.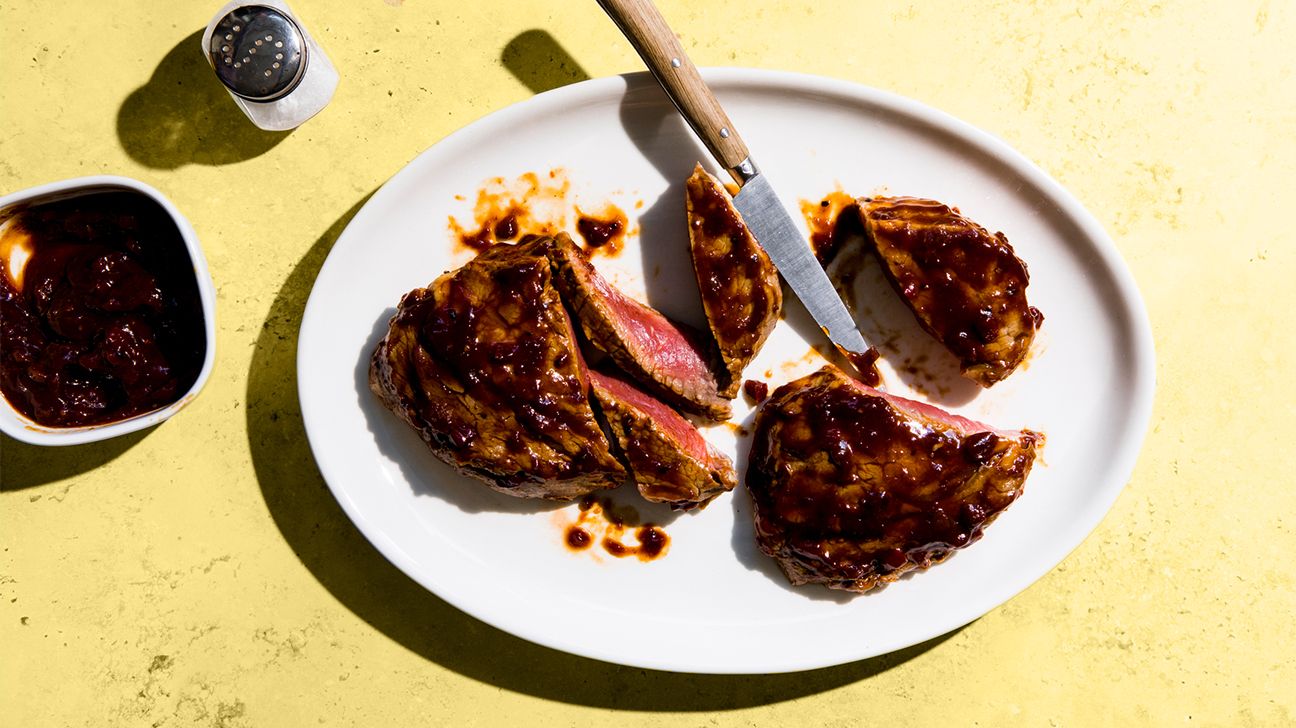 First things first: Before you can even get to the marinade, there are some general rules to remember no matter what type of meat you're grilling to ensure you're bringing out its primo properties.
"Freshness and the right proportions are key," says Sage Lau, owner of Thank You Come Again at DeKalb Market Hall. He advises that your meat should always be fatty and recommends marinating overnight if you can. His other grilling tenet: Never freeze meat, as it can suck the juiciness right out.
Grilling temperature matters too. "The cooking surface you use should be very hot when the meat is placed down to sear the edges and lock in the juice," Lau says. "The flame itself should be low/lowered so the meat doesn't dry out while cooking."
A marinade will help with that — so let's get to the goods! Here are liquid flavor infusions for every type of meat.
Hanger steak
NYC's Left Bank chef and co-owner Laurence Edelman likes to get creative marinating his hanger steaks. "I love a dark marinade like pineapple juice with Chinese [rice] wine and soy sauce," he says. "The pineapple juice tenderizes and flavors the meat."
Strip steak
A strip steak is great in an Italian preparation, with a touch of fresh garlic and rosemary and marinated for 12 hours before grilling, Edelman says.
Rib-eye
Similar in its ease of use — and utilizing many ingredients you likely already have in your pantry — is Bill Fletcher's suggestion for rib-eye.
The owner and chef at Brooklyn's former Fletcher's BBQ says you should look for 2-inch thick boneless rib-eye steaks and marinate for 4-6 hours in 1⁄2 cup olive oil, 1⁄4 cup balsamic vinegar, and 2 tablespoons Worcestershire.
"Whisk all that together, and before adding the steaks, coat all sides with 1⁄2 cup minced fresh rosemary and one tablespoon coarse black pepper," he says. "Pat them dry after removing from marinade, coat with a few pinches of kosher salt, and let air-dry 1 hour at room temperature before grilling."
Fletcher advises serving these babies with a horseradish aioli. His recipe calls for 1⁄2 cup mayo, 2 tablespoons prepared horseradish, 2 tablespoons plain yogurt, 1 tablespoon of red wine vinegar, 1 teaspoon minced rosemary, and 1 teaspoon freshly ground black pepper.
Though it's slightly more involved, Chef Jordan Terry, who started as a meat cook before rising to his current role as executive chef at Dirty French, tells us he likes a marinade inspired by southeast Asian cuisine.
To make it, blend together:
Pour over the chicken and grill with excess marinade, allowing it to char with the skin.
For Fletcher, "My go-to summertime chicken method involves brining breasts on-the-bone." His recipe calls for brining chicken breasts overnight in a solution of:
6 quarts water
1⁄2 cup kosher salt
1⁄2 cup white sugar
"In the morning I remove from brine, pat dry, and let them air dry in the fridge all day, uncovered, until I'm ready to grill. After grilling, I toss the breasts in a light dressing of 1⁄4 cup olive oil, juice from 2 fresh lemons, and 1 tablespoon of minced fresh garlic with salt and pepper to taste."
"I like grilling lamb in the springtime, as it's a bit more unexpected," says Chef Marc Vidal of Boqueria. At the restaurant, their pintxos morunos — grilled spiced lamb skewers — are popular for good reason.
"I marinate boneless lamb top rounds for 2 days with toasted cumin, coriander, fennel, onion, pimenton, and lemon and serve them with pickled shallots and salsa verde," he says. "The acidity and freshness of the dish is perfect for warm weather grilling, and the skewers make great small bites for a cookout."
For mutton, Fletcher likes to keep things simple. As a marinade, he blends together:
1⁄2 cup olive oil
juice of 1 lemon
1 tablespoon minced garlic
1 tablespoon oregano
"Grill mutton low and slow over indirect heat, and add some wood chips to your fire," he advises.
The rich, earthy taste of venison (aka deer meat) is best when it's cut with something on the sweeter side. "Since it's so lean, marinate venison with blackberries or blueberries to give it a nice taste," Cibo e Vino's Executive Chef Maro Gjurasic says.
Pork is ideal for marinating in fresh orange slices, orange juice, honey, garlic, olive oil, and fresh bay leaves, Edelman says.
"The citric acid does wonders to break down tough micro-fibers, and the sweetness from both the honey and the oranges give the cut a seriously delicious skin. Bay leaves are just good — always, and always good with pork," he adds.
Since pork does well with robust flavors, Fletcher advises using sweet and savory combinations for summertime preparations.
"For a process that'll work for many different cuts of the pig, pick up some country-style pork ribs, or a pork tenderloin, or slice a pork shoulder into steaks," he says. Then whisk together:
1⁄2 cup tamari or soy sauce
1⁄2 cup white sugar
1⁄2 cup neutral oil like grapeseed or light olive oil
1⁄4 cup hoisin sauce
2 tablespoons rice wine vinegar
1⁄2 teaspoon Chinese five spice powder
1 tablespoon fresh minced ginger
1⁄2 teaspoon sea salt
"Reserve half of this marinade, then dunk your pork in the rest of this in a bowl overnight. The next day I pat dry the pork and put a coat of fresh coarsely ground black pepper on all sides." After that, let pork and grill meet for low-and-slow indirect grilling, Fletcher advises.
"Use the reserve as a finishing sauce at the table, but add the juice of 1 fresh lime, and 1⁄4 cup of freshly minced cilantro before you do," he says.
"For seafood, we often find our inspiration from New Orleans, and will marinate shrimp or lobster with blackening spices and Tabasco before charring," says Terry. This easy-to-follow recipe for his blackening oil uses many ingredients you probably have on your spice rack. Combine:
200 g olive oil
5 g cayenne
20 g ground black pepper
10 g onion powder
10 g garlic powder
20 g Tabasco sauce
10 g Worcestershire sauce
2 g dried thyme
2 g dried oregano
5 g sweet paprika
Cover your seafood in it, grill, and enjoy!
Michelin-starred chef, restaurateur, and grilling savant Akira Back says citrus is a tried and true companion for nearly any type of seafood, and fresh herbs go a long way in brightening milder fish like mahi mahi and cod.
But Akira's favorite way to dress a fish for the grill is with Korean-style barbecue or bulgogi sauce.
He makes his own which calls for simple ingredients you can easily find. Korean pear — sometimes called Chinese or Asian pear — is perhaps the only one you might not find in every market, but a high-end grocery store like Whole Foods should carry them. If you can't find it, he recommends subbing in a red apple.
Back's bulgogi fish marinade brings a little heat to your catch with fresh ginger, but the best part about this rich sauce is a sweet and salty caramelized crust that forms around a fresh fillet. This is largely thanks to a base of soy sauce, sugar, and corn syrup.
If you like a little heat, you can always amp up this sweet fish marinade with some crushed red pepper or chili paste too.
Try this large-batch fish marinade for an Asian-style fish fry. Blend together:
14 oz. corn syrup
12 oz. soy sauce
8 oz. sugar
7 oz. sake
3.5 oz. sesame oil
3.5 oz. diced onion
3.5 oz. diced Korean pear
1 oz. garlic
3/4 oz. spring onion
1/4 oz. fresh ginger
Add fish to marinate for up to an hour, then grill away.
With a few staple oils, vinegars, herbs, and spices, you're all set with the makings of marinades galore for any cut of meat, fish, or plant-based proteins like tofu and seitan. Try mixing and matching any of these easy recipes to your favorite grill-able mains.
And if you happen to prefer a steak marinade on your tilapia or a pork marinade on your veggies, it's all good! You have every right to grill at will, enjoying these concoctions or some of your very own.