If it's a barbecue you're after, there's nothing better than cooking up a feast on the grill. But if you're running out of ideas, a griller in the mist, sometimes it's grill or be grilled… by your hard-to-please guests.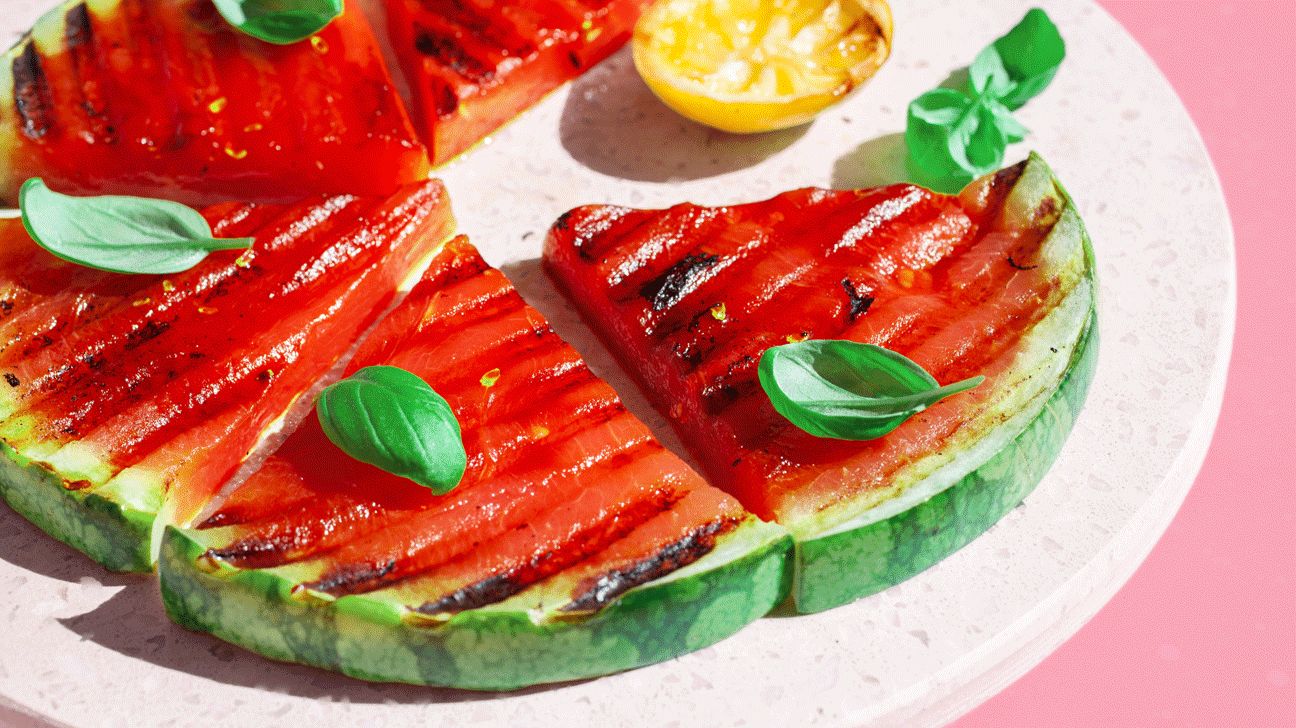 Stick pretty much anything over a flame, and it cooks. Yet so many people fail to look beyond the humble hamburger for inspiration. Friends, it's time to think outside the BBQ.
From meatballs to avocados, French toast to banana splits, grilling will never be the same.
Filling, classy, and (relatively) healthy — you won't even look at a burger again.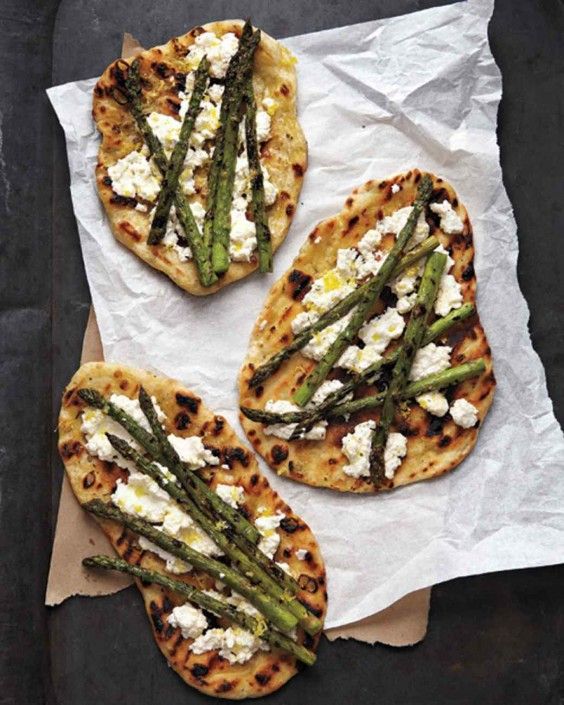 Forget delivery fees — you don't need a wood-fired oven to get a great pizza. It's just as appetizing on the grill.
Simply brush olive oil on flattened dough (if you'd rather not put in the elbow grease, you can find premade pizza dough at most grocery stores). Then place it on the grill.
This recipe uses the irresistible combo of asparagus and ricotta. But you can use grilled dough as the base for any pizza, salad, or open-faced sandwich you want. (Even bagels — the world really is yours at this point.)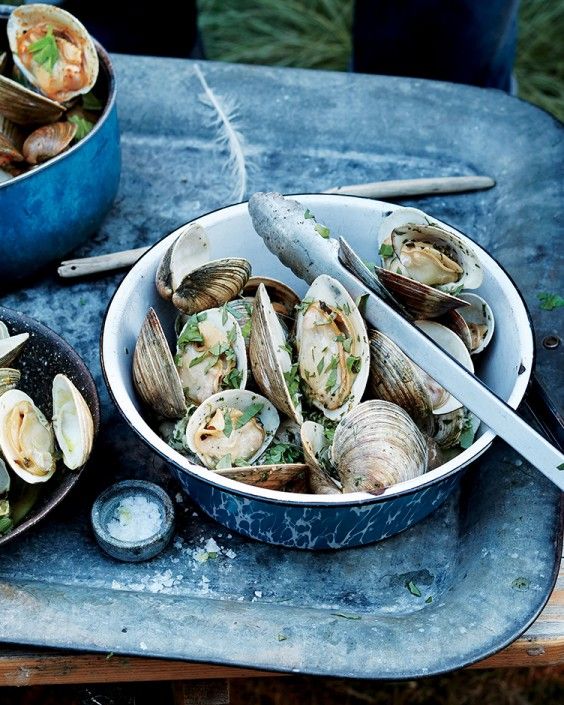 Nobody should shy away from throwing seafood on the grill. It would be almost shellfish of you (*groan*).
The only prep you have to do is clean them: Simply place them in a bucket of cold water and cornmeal to extract any sand.
Dry the shells, coat them with the awesome paprika butter mixture in the recipe, and place them on a high-heat grill for 2 to 3 minutes. They're ready when the shells pop open!
If you like your food fishy, grilling is so far from your only option. We found 41 other ways to get fish in your belly.
Put a twist on the typical vegetable kebabs by adding lemon quarters to the skewers.
The core recipe uses chicken, asparagus, lemon, and onion, but you can experiment with other vegetables at the kebab party too: peppers, mushrooms, tomatoes, zucchini, whatever you want.
Grilling softens the sourness of the lemons and adds the perfect citrus flavor to the veggies. Grilliant.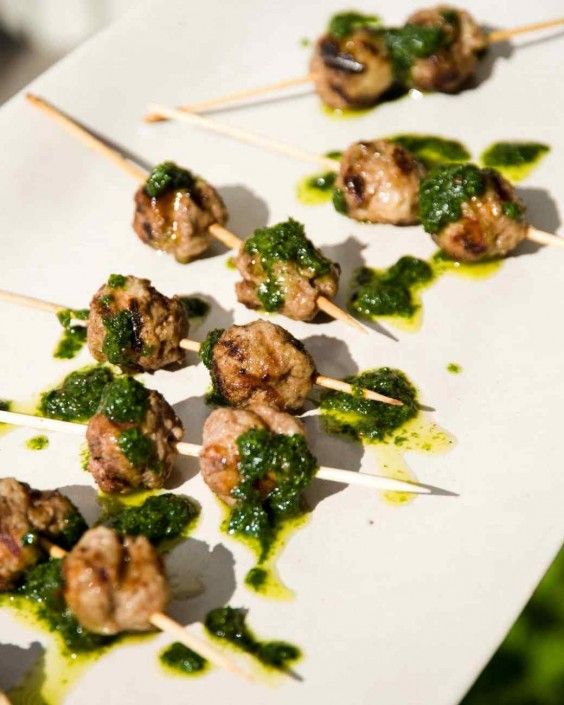 These lamb meatballs may look fancy, but they take just 6 to 8 minutes to cook on the grill.
Roll them into tiny balls, pop them on skewers, and grill them senseless. The salsa verde is a flavorful twist on traditional red sauce and gives the dish a zesty kick.
Here are our favorite salsas you can buy off the shelves.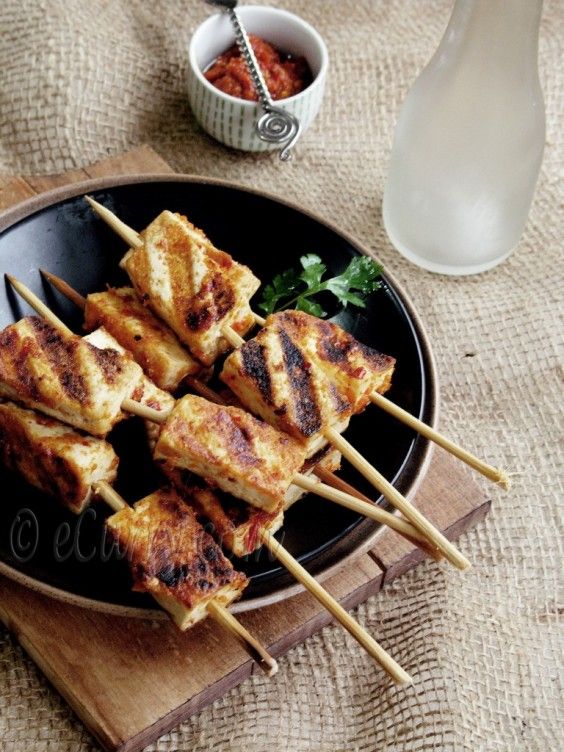 Vegetarians, rejoice: Veggie burgers aren't the only hearty meal you can grill up for yourselves.
Try cutting tofu into 1/2-inch-thick slices and soaking them in this spicy and impactful homemade marinade. Then, drain the tofu to get rid of any excess liquid and pop it on the grill.
Cook each side for 3 to 4 minutes and serve the whole shebang with a salad or brown rice.
Tofu has a reputation for being a bit bland, but it's no slouch — how you prep it is important. We've got 41 great ideas for you to try.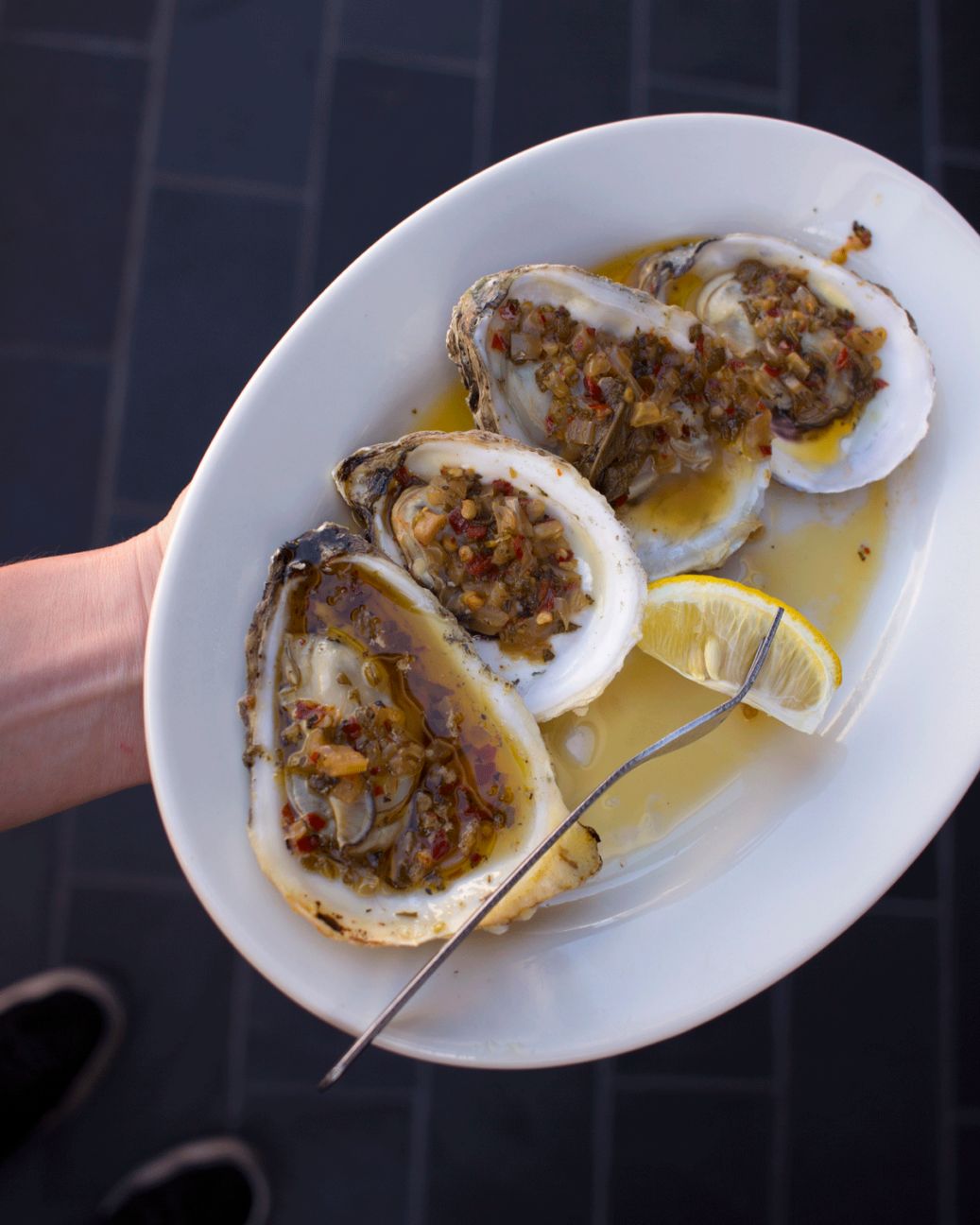 Nothing says summer like a bucket of oysters. For some awesome flavor, throw together this easy garlic butter sauce and place the oysters on the grill (flat side up) for 5 minutes or until the shells open.
Make sure the meat inside is hot — this will be a sure sign that it's time to dig in.
They're notoriously quick and easy, just like these simple seafood concoctions.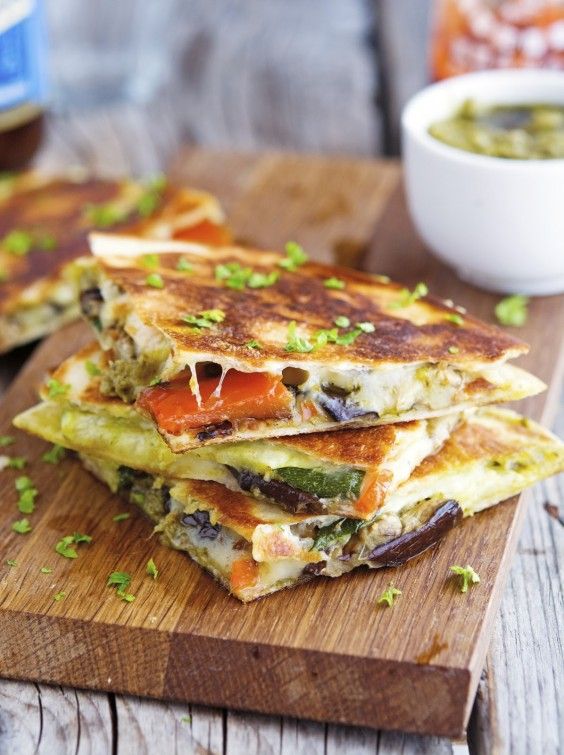 Skip the pan and take the tortillas outside. Quesadillas are a melty, cheesy voyage to a happy mouth place.
Prepare this loaded veggie filling, and then fire up the grill. This recipe also includes homemade kale pesto between layers of veggies and cheese for the ultimate savory treat.
If you're a pescatarian, we think this would taste poppin' with some grilled shrimp.
Because, sometimes, a main gets lonely.
Yep, we went there. Not only can we rub our faces with avocados, but they also taste amazing after a grilling.
Just cut the fruit in half (keeping the skin on), take out the seed, and coat the avo with olive oil. Place it cut side down on the grill for 5 to 7 minutes.
This version tops the grilled avo-goodness with some herbs and tomatoes for a super-summery flavor.
We love love love avocadoes. Here's how much.
Use this DIY method to make real flame-roasted peppers that play their role perfectly in any main dish or as a side.
We love this Greek-inspired recipe that calls for topping the peppers with a homemade minty tzatziki sauce. These also taste spectacular on larger meat and veggie skewers.
Cooking bacon indoors can lead to a sprawling, greasy mess, so take the mess outside instead.
The bacon won't sit in its own fat, so it'll be a healthier option without the extra cleanup. For perfect, crispy pieces of heaven, cook each slice of bacon for 5 to 6 minutes on medium-high heat.
Stick them on a burger, crumple them into a salad, or enjoy these bad boys straight from the plate — no-one's judging. You can eat bacon at every meal if you want.
Salad greens are great for you, but let's be honest: It's usually what coats the leaves that sparks the cravings. ("Ooh, I'm craving some lettuce," said no one ever.)
So to spice (and smoke) things up, try throwing lettuce on the grill! Simply wash and cut a head of lettuce in half before grilling it for about 5 minutes on each side, or until grill marks appear.
This recipe calls for topping it off with an easy homemade Caesar dressing, but feel free to use whatever you have on hand or make your own. Grilled lettuce makes a summer salad fit for an emperor.
For a healthier and more flavorful version of a burger's best friend, try roasting sweet potato slices on the grill.
Cut the potatoes into wedges, toss them with olive oil and the awesome cilantro-lime dressing, and grill for about 10 minutes.
You can also put things inside sweet potatoes — stuffing them yields amazing results. Why not give it a try?
Summer's the perfect time to grab fresh zucchini at the farmers market.
Simply slice one into rounds, season it with olive oil, and top the seasoned fancy cucumber with some irresistible feta and lemon juice.
Cook for 5 to 6 minutes, depending on whether you want them soft or a little crunchy, and enjoy your creation as a side dish with an irresistible, salty, citrusy flavor.
Zucchini can be wilder than it looks — here are 11 ways to zhuzh it up.
Sure, we have to bake bread. But what about grilling it too?
Simply slice a nice crusty loaf, brush it with olive oil, and rub it with a garlic clove. Then place your unsuspecting bread friend on the grill until lightly browned. It usually takes about 3 minutes per side.
Sprinkle with salt and shaved Parmesan and nobody will even remember what hot dogs are. Add some gooey, stanky brie and you'll barely remember where the bread went.
Bread can also be a holiday staple. We'll give you the lowdown on how to drum up your very own holiday bread.
If you've ever seen a rapper skillfully recover from forgotten lines in a battle, you'll know that a grilling can bring out the best in an arty choke (OK, you have to give us that one).
Canned artichokes have nothing on the smoky grilled version. Be sure to boil the artichokes and slice them in half for prep. Scoop out the first few layers, brush the artichokes with olive oil, and sprinkle them with salt.
Remember to turn them occasionally during their grill time. You don't want one side getting all the fun, so apply the heat for 4 to 5 minutes on each side.
Take them off the heat, squeeze on some lemon juice, and voila! They're super heckin' grilled.
Late comedian Mitch Hedberg said it best: "Rice is great if you're really hungry and want to eat two thousand of something."
But… grilled? You heard it right! Simply prepare rice balls, lightly brush them with olive oil, and place them on the grill.
Cook the balls for about 5 minutes on each side so they get nice and crunchy. If you have an Asian food market near you, grab some Japanese short-grain rice, which works best in this recipe.
Because you're grilling so well by this point, you won't want to stop at the main.
"I could eat a peach for hours," intoned Nic Cage's dastardly, Travolta's-face-stealing terrorist in "Face/Off." He was definitely talking about the fruit and nothing else, OK? Remove your mind from the gutter.
🍑.
Stop it.
Anyway, summer is all about peaches, and you can enjoy these, too, on the grill.
Luckily, you won't need hours like Mr. Cage. These peaches take just a few minutes and taste amazing with a big scoop of ice cream on the side — because, well, what doesn't? Grilled peaches a la mode, anyone?
No fruit is safe from your grilling prowess.
It's time to bring the tropics to your backyard. Simply slice a pineapple into rounds and grill it until browned — about 3 minutes per side. Job done. You can keep the ice cream out from the peaches.
Feeling extra fancy? Brush the fruit with a honey-citrus marinade before throwing it on the grill.
Grill-nola, coming your way.
Place a sheet of aluminum foil full of berries and granola on the grill for a warm and crunchy treat. Serve the creation immediately over grilled ice cream (yep, you can do that too) or Greek yogurt.
You can add this to the 39 other Greek yogurt recipes you now know.
Breakfast is the perfect time to fire up the grill, and any time of day is the perfect time for French toast. In this recipe, a full tablespoon of vanilla extract gives a flavor boost to traditional French toast.
If your grill is big enough, you can knock out all 12 slices at once.
Here's another healthy French toast recipe to keep your mornings sweet AF.
To forgo sloppy, juicy watermelon slices that can ruin pretty much any summer outfit, try throwing them on the grill.
This funky recipe uses a spicy lime-cayenne pepper sauce, but you can also sprinkle grilled watermelon with salt and a squeeze of citrus for a simpler dish.
Add a dollop of Greek yogurt or coconut whipped cream for some extra sweetness! It's not for everyone, but grilled watermelon fans swear by it.
Ungrilled watermelon is still a mighty thirst quencher, along with these 14 other foods.
Grapes are juicy, sweet marvels whether you eat them frozen, fresh, or hot off the grill.
Take a (literal) bunch and place them on a hot grill rack. Cook for 4 to 5 minutes, turning them occasionally. You can serve them alongside a lean pork tenderloin or in a summer salad.
Your guests certainly won't wine about this one (OK, we really will stop now).
Summer isn't summer without grilling — so make sure to keep it inventive, healthy, and flavorful.
If you're a tong short of a grilling kit, don't forget to check out all the equipment you'll need for making the perfect grilled goodies.