We include products we think are useful for our readers. If you buy through links on this page, we may earn a small commission Here's our process.
Greatist only shows you brands and products that we stand behind.
Our team thoroughly researches and evaluates the recommendations we make on our site. To establish that the product manufacturers addressed safety and efficacy standards, we:
Evaluate ingredients and composition: Do they have the potential to cause harm?
Fact-check all health claims: Do they align with the current body of scientific evidence?
Assess the brand: Does it operate with integrity and adhere to industry best practices?
We do the research so you can find trusted products for your health and wellness.
Fish sauce is a favorite in Southeast Asian-inspired dishes for its umami (full, savory) flavor from fermented fish amino acids.
But what if there's nothing fishy going on in your kitchen? If you're out of fish sauce, don't want to commit to buying a full bottle, or have dietary restrictions, it's time to reel in a backup plan.
These fish sauce substitutes can help you make your meal a success — even if you're just relying on what you have on hand.
Best fish sauce substitutes
No matter what you're making, there's a sauce sub for you. Check out these best options for:
Stir-fry: oyster sauce
Marinade: soy sauce
Broth: Worcestershire sauce
Low sodium: coconut aminos
Vegan: a vegan fish sauce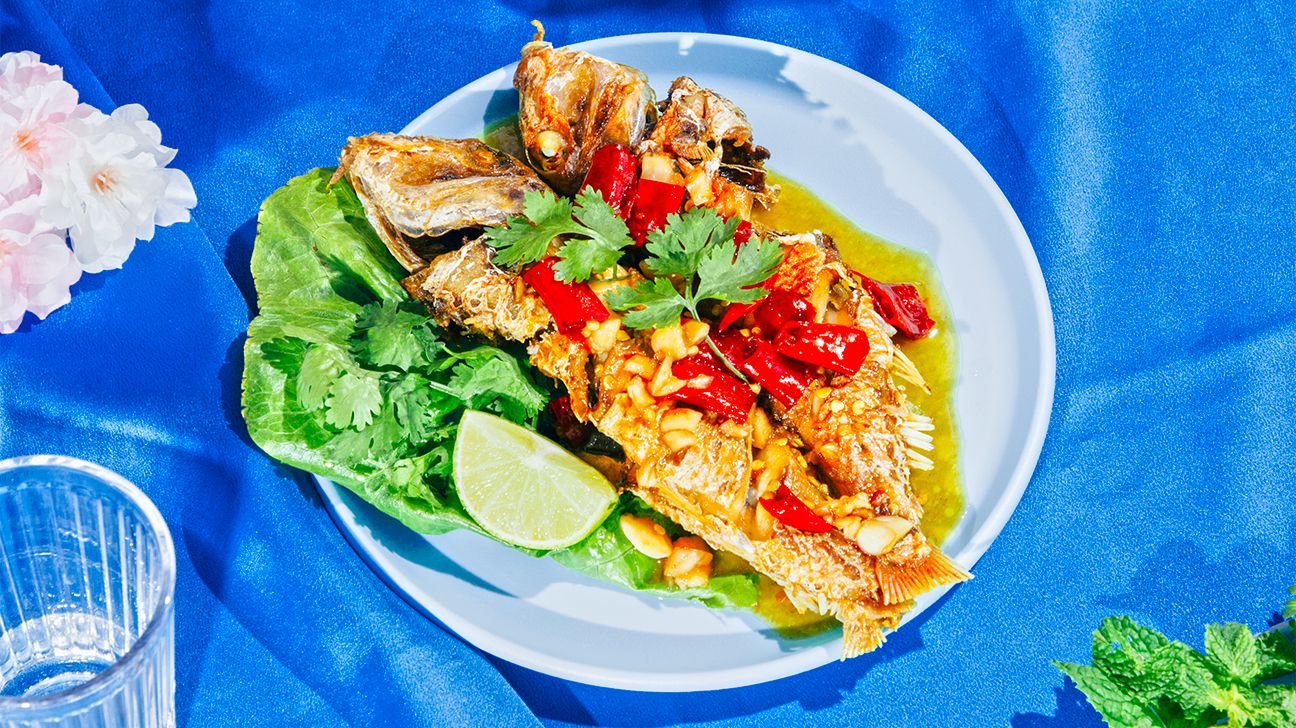 Oyster sauce can make sure you don't shuck up this sauté. It's a good substitute in a pinch, as long as you're OK with a bit of a sweeter flavor and thicker consistency.
FYI: If it's too thick for what you need, just add some water to thin the sauce out and get closer to a fish sauce consistency.
How to sub: You can use oyster sauce to replace fish sauce with a 1:1 ratio.
Order oyster sauce online.
If you're reading this without time to go to the store, don't worry. Soy sauce is a strong, versatile alternative. And chances are, you probably have at least one leftover soy sauce packet from your last takeout order.
According to a research review, soy sauce is vegan-friendly, and its plant-based amino acids add that umami flavor. If you're missing the fishy taste, you can add some anchovies.
Just keep in mind, soy sauce is about 879 milligrams of sodium per tablespoon. So, you'll want to use this ingredient in moderation.
How to sub: You can swap soy sauce for fish sauce with a 1:1 ratio.
Order soy sauce online.
Have some Worcestershire sauce in the fridge from Sunday's Bloody Marys or BBQ?
You can put that to work as a fish sauce alternative. Worcestershire sauce is also made from fermented fish. So, it holds its own as a source of that umami taste, but it brings a slightly different flavor to the table.
How to sub: Even Steven. You can replace fish sauce at a 1:1 ratio with Worcestershire sauce.
Order Worcestershire sauce online.
If you're looking to save some sodium, coconut aminos is a great switch to make. While it won't give you the same strong flavor as fish sauce, you don't have to worry about getting a coconut taste.
Just keep in mind that even though this is a lower sodium option, you'll still get 198 milligrams of sodium per tablespoon. If you're sticking to a strict daily limit, make sure you don't overdo it.
How to sub: You can replace fish sauce at a 1:1 ratio with coconut aminos. But if you're looking to cut even more sodium, try starting with less than the recipe calls for and increase it, if needed.
Order coconut aminos online.
If you've got some time to pick up a vegan alternative, you're in luck. Vegan fish sauce makes for an easy, savory swap. It's typically made from mushrooms or soy amino acids so you can get that umami flavor totally fish-free.
How to sub: This option was born to be a stand-in for traditional fish sauce, so you can sub it in with a 1:1 ratio.
Order vegan fish sauce online.
Fish sauce is a common ingredient in Southeast Asian-inspired dishes, adding the umami or savory flavor to your meal. This unique taste comes from amino acids. So, other plant-based sources, like soy and coconut, can work as stand-ins.
Some alternatives are better than others at taking fish sauce's place depending on the dish and your dietary restrictions. Consider things like sweetness, consistency, and sodium to make the trade that works for you.