We include products we think are useful for our readers. If you buy through links on this page, we may earn a small commission. Here's our process.
Greatist only shows you brands and products that we stand behind.
Our team thoroughly researches and evaluates the recommendations we make on our site. To establish that the product manufacturers addressed safety and efficacy standards, we:
Evaluate ingredients and composition: Do they have the potential to cause harm?
Fact-check all health claims: Do they align with the current body of scientific evidence?
Assess the brand: Does it operate with integrity and adhere to industry best practices?
We do the research so you can find trusted products for your health and wellness.
Are those sleigh bells jingling or just your credit cards cha-chinging?
We all have those *special* people on our shopping list we simply cannot regift a T.J. Maxx vanilla candle to (rats!).
If you're totally stumped on what to get the bougie darlings in your life, you'll find this luxury shopping guide handy AF.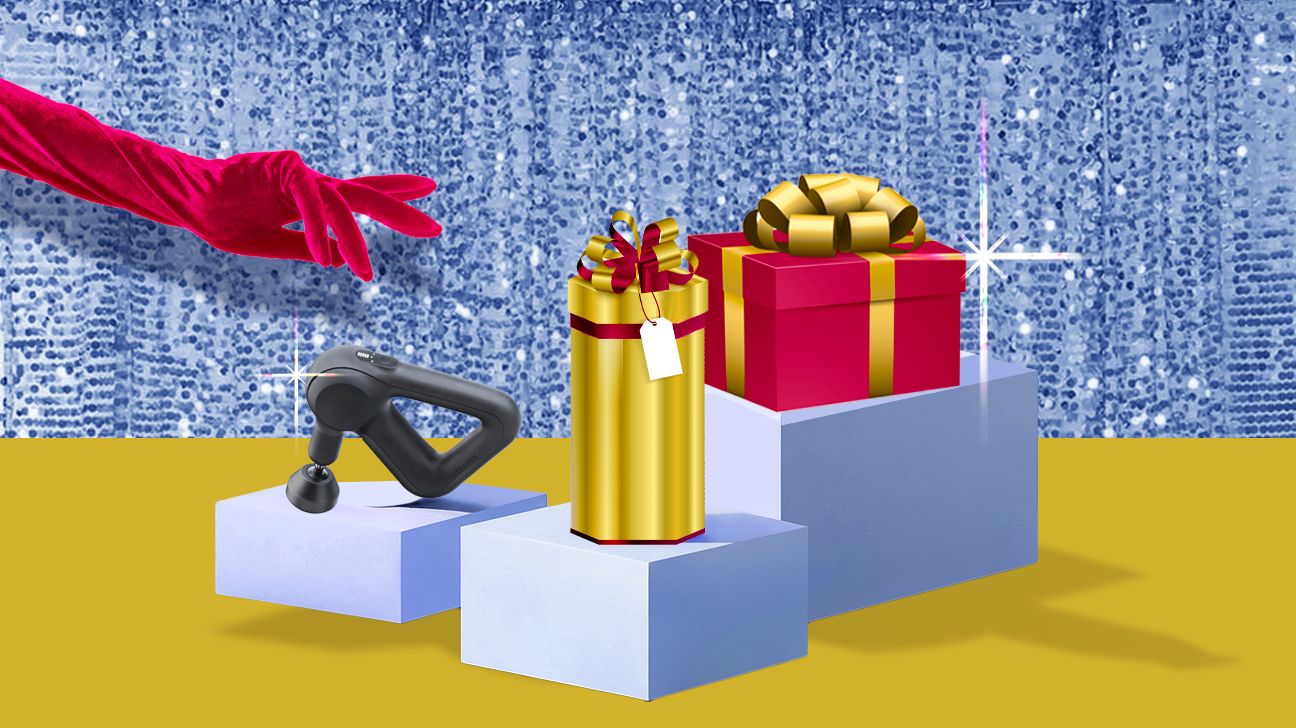 Consider us Santa's little helpers. We looked at luxury gift items across popular and practical categories: makeup, tech, fitness, bath and beauty, and kitchen.
We chose new as well as tried-and-true luxury items from trusted brands with glowing reps and heaping piles of happy customer reviews. You'll def spot something for that pampered pal who has it all but still wants — or at least deserves — *more.*
Pricing guide
$ = under $75
$$ = $75–$150
$$$ = $151–$450
$$$$ = over $450
It's probs a good idea to sneak a peek at your makeup lover's collection before buying (if you can!). You can help 'em out by replacing their faves or grabbing them something even better. Either way, these guys are bestselling for good-ass reasons!
Name a better gift than the gift of Rihanna. We'll wait.
If you want to give your MUA a little something of everything from this lush brand, consider slipping this beauty box into their stocking. Fenty says this gift set (which features some of the brand's bestsellers) is actually a $142 value, making it a steal. Here's what you'll get:
body luminizer
liquid eyeliner
mascara
hydrating face mist
lip gloss
This gift is basically the perfect pick to spoil your MUA who has hesitated to treat themselves to Fenty Beauty.
Sephora places this palette under its "Bestselling Eyeshadow Palettes of All Time" category and with nearly 3,000 Sephora reviews and 95K Google reviews (and an almost 5-star average with both), we believe them.
This palette is called "soft glam" because it's intended to take your look from day to night. It includes 14 shades, with mattes and glam shimmer finishes. Many Sephora reviewers uploaded their looks using this palette, and when we say the results are stunning, we mean it.
If you want to take the guesswork out of pleasing the lash queen in your life, grab this full-size mascara trio by Benefit Cosmetics. Odds are you'll end up gifting them their fave tube while also giving them the chance to test out some they haven't tried yet.
Plus, you're gifting three *full-size* tubes rather than travel-size ones. And at this price point, this is a luxury steal. You're welcome.
Nothing screams luxury like "limited edition." This set of 12 mini lipsticks is a new, limited edition bundle by MAC, and the brand promises it's actually a $171 value.
You're basically giving the gift of exploration with this one. There are multiple shades and finishes of MAC's bestselling lipsticks. We actually like the mini versions of lipsticks in this case because you can shove them easily into micro-teeny purses — super handy when you're out and need to reapply STAT.
Could your tech lover use a spruced-up speaker or just a little something frivolous? Get to it with these oh-so-fancy tech gifts.
This speaker has truly happy reviews behind it. Sonos is a hyped name for a reason: It's a trusted brand for basically all things audio. So, this speaker is vv likely to give the gift of big fat bass.
This is a pick ideal for listening to music at home (not exactly a travel option). Considering the brand's amazing reputation, this speaker comes at a pretty reasonable price, too.
Because sleep tech is a thing and sleep is important AF for everything you do in your life, your tech geek should def have this gadget in their life. It's more than just an alarm that wakes you up gently — the brand says it's also designed to boost mood and energy too (can we have one?).
The light is customizable, but the warm glow is supposed to be hella calming and even help you out in those dark winter months.
OK, we must confess, we geeked out over this one. This chic mug is actually a smart mug that lets you set your exact drinking temperature. This means your coffee will never be too hot or too cold (built-in battery, BTW).
The one linked here is for the office or home, but Ember also has a travel version, which is recently back in stock after selling out. We told you we only picked the most popular!
Help your workout bud get into some luxuriously nice fitness habits in the new year with these high-end fitness gifts. Make sure they are open to hearing about their fitness journey, though!
Luxe is in the name, so you know what's up. Obvi, this watch is going to track your fitness lover's physical activity, but it's also got stress management and sleep monitoring tools, and it handles texts and calls. An added perk: a five-day battery life. There's also this super cute limited edition jewelry bracelet option, if you're feeling *extra* fancy.
Know a fitness guru who could use a breathable mask for their runs or gym sessions? Us too. This mask is designed to be skin-friendly and good for 40 hours of use. It's a good idea for those long training days. These are said to be the best in breathability and comfort, plus they come with 4 replaceable filters.
After training hard, your fitness babe could use a deep muscle massage. This massager has customizable speed, 120 minutes of battery life, hella good reviews, and is also touted for being nice and quiet. There are a few different versions of this massager available if you'd like to upgrade to one of the brand's even more elite options or spend a little less and get your fitness lover the mini version.
This one is no doubt a splurge. This mirror is more than a gift, it's a new, at-home fitness routine. You've probably seen some ads for it by now, but this mirror offers live, on-demand fitness classes, personal training, and more. This is perfect for the fitness lover who is tired of hitting the gym for classes. It's also a high-tech gift that'll keep on giving.
These gifts are perfect for the people in your life that def need to relax and pamper themselves. This is a more personal category for those you know pretty well (so, like, not your new neighbor).
Help the bath lover in your life stay as cozy and chic as possible. This is a high-end robe designed for any gender. It comes in four neutral color options and is made of machine-washable microfiber. It's a super luxurious way to slip into something soft post-bubble bath.
It doesn't get much bougie-er (is that a word?) than this. When your BFF is ready to dry their hair, they can grab this luxury dryer and know you're the hero who gifted it to them.
It has 20k Google reviews and a nearly 5-star rating. It includes 5 styling attachments — including one specially designed for flyaways (!!!). This dryer also comes with a 2-year warranty and a 30-day return policy, which we appreciate. Plus, Dyson is known for being super high quality — so you know this thing is built to last.
This one is basically the gift of a spa day at home. This is a higher-end facial steamer that's supposed to be good for moisturizing and purifying, especially for dry, uneven skin types — but it's also supposed to work wonders for allll skin types. We love that it has a carrying handle and an automatic shut-off feature (for those of us who get so lost in the relax sesh that we forget to power down).
These throws scream luxury — so much so that we're fantasizing about slipping under one right now. They are also majorly chic and are available in a small slew of styles and color options. It would be tough to be disappointed opening this gift. Oh, hello, long winter nap season.
Sure, you could get them another cookbook *orrrrr* you could get them these gorg kitchen gifts they probably wouldn't ask for (at least not directly).
If your foodie hasn't given in to the air fryer revolution yet, go ahead and give them the green light. Since there are about one billion things you can air fry, they have endless options for playing with their new kitchen gadget. This particular air fryer by Ninja is popular, has positive reviews, and if we may so say, is pretty sexy too.
We are shook by this mixer's 31K Google reviews and a whopping 4.8-star rating (it's also a wedding registry fave).
It's touted for its tilt-head design and 10 speeds. There are a ton of color options, too, so you can get personal with it. This is a good idea for the kitchen pros who need to update their mixer and would love a lush-ass option like this.
This is a splurge option for the pizza lover in your life. With this gift, you're giving them their wood-fired oven fantasy. This little portable oven has a simple setup, features a cooking area for 16-inch pizzas, and heats up to a wild 932°F (500°C). The best part? It can cook up a pizza in just 1 minute. Bc yes, we need pizza that fast.
OK, how cute is this pizza cutter shaped like a bicycle? If you don't want to spring for the portable pizza oven we just mentioned, this is a chic backup idea.
There are three adorable styles to choose from and they come with little kickstands too — so when they are not cutting pizzas, they are posted up in your kitchen, looking adorable and whimsical as ever.
There are so many luxury items to shop this season. You'll find something fancy for everyone on your list (don't forget about yourself!).
Just remember to get shoppin' sooner rather than later — or else you might be stuck giving your giftee an IOU this year.