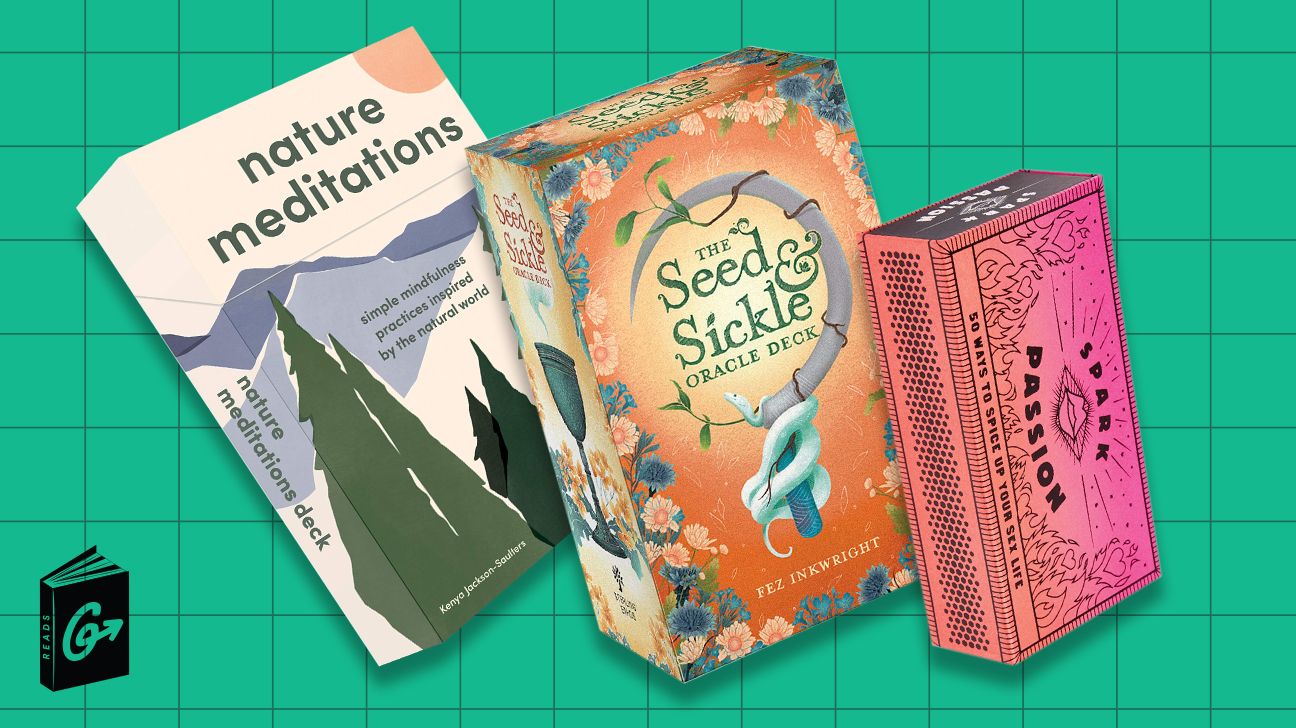 We include products we think are useful for our readers. If you buy through links on this page, we may earn a small commission Here's our process.
Greatist only shows you brands and products that we stand behind.
Our team thoroughly researches and evaluates the recommendations we make on our site. To establish that the product manufacturers addressed safety and efficacy standards, we:
Evaluate ingredients and composition: Do they have the potential to cause harm?
Fact-check all health claims: Do they align with the current body of scientific evidence?
Assess the brand: Does it operate with integrity and adhere to industry best practices?
We do the research so you can find trusted products for your health and wellness.
What do your nightly cup of tea, your skin care routine, and eating dinner with your fave peeps all have in common? They can all be practiced as rituals to enhance your quality of life and well-being.
Rituals are more than just habits or routines. When you practice them consistently and with the right intention, they can help you connect more deeply with yourself, others, and nature — no matter how small or insignificant they might seem.
But where should you start? We found some of the best recent books and products to help light the way when getting started with rituals on your self-care journey.
Practicing rituals with respect
Self-care rituals (and many other kinds of rituals) are nothing new. Though the products on this list are great tools to help you cultivate a healthier life, we want to acknowledge that rituals go well beyond trends.
Many cultures have used ritual as a way to improve mental health for centuries, and many modern rituals may have ancient roots that are tied to cultural traditions.
We suggest cultivating your own daily rituals with respect for those that may have come long before.
How we connect in this world is always changing, but we still seek out rituals of connection in many ways — like regular meetups with BFFs, weekly games with a club volleyball team, or a virtual book club.
This book is an invitation to deepen those rituals of connection to yourself, others, the natural world, and the transcendent.
We found this one to be full of light-bulb moments, with a compassionate tone and plenty of useful ideas and tips for everyday rituals. We particularly loved the author's thoughts on sacred reading (even with something like Harry Potter), creating a personal sabbath, and why eating together is so important.
What can animals teach us about ritual? Apparently a lot. The author has spent more than 3 decades studying animals in their natural habitats and has organized this book into 10 lessons that animals can teach us — including lessons on grieving, gifting, play, and greeting. We found it fascinating, inspiring, and eye-opening.
One of our fave lessons learned: Many animals will offer a gift when courting their desired mate — like Diego, the famous 110-year-old giant tortoise who diligently dropped a tomato at his desired mate's feet each day (BRB, sobbing).
This author and illustrator has an important PSA: Self-care is not selfish. "When you love yourself, you're better able to filter out the toxicity of the world," she writes.
Her playful illustrations and powerful words can inspire new rituals — even as small as remembering to take a moment each day to pause and really look around you. But even the book itself (which makes a great gift for a friend going through hard times) can become your new ritual as you turn a page a day and make your way through all the prompts.
This book is more than just a pretty cover (seriously tho, look at it). It's full of quick and easy self-care and wellness practices you can incorporate into your daily routine. In just a few minutes a day, it'll help you get started on the path of learning qi gong and incorporating gua sha into your skin care routine. And we can attest to that!
The author explains the key principles of traditional Chinese medicine and provides helpful notes on dealing with stress, anxiety, depression, digestive issues, and more. It's a great intro to the self-healing aspects of complementary medicine that anyone can follow.
The Japanese paper crane represents happiness — and in this book, you'll learn the 12 steps to folding one, practicing mindfulness as you go. But it isn't just a how-to manual. It's filled with beautiful illustrations, stories, and wisdom to show how the ritual of paper folding can add more hope, healing, and happiness to your life.
"Life, like folding paper, is a journey of small steps and many steps," the author writes. And we like to think of rituals as those steps that help pave the way for everything you wish to attract into your life. 💗

We can't talk about rituals without talking about baths. With chapters organized by moon cycle, this book offers insight into how to truly savor your bathing ritual as a way to connect with yourself and the earth through the element of water.
Whether you have a weekly bath-soaking ritual or just want to soak under the light of the full moon each month, you'll find a ritual (and a recipe with natural ingredients) for your next bath sesh.
Journaling is def one of the more popular rituals out there. If you're having a hard time finding your purpose and self-confidence and you're interested in journaling as a way to get through it, this little journal is a great guide.
It's full of bright, lively colors; inspirational quotes; and tons of interactive prompts and questions to help you get your journaling on. But take note: Some of the prompts pose deep questions but don't give a lot of space to journal, so you might want to designate a blank journal as a companion writing space.
Let's set the record straight: Rituals are NOT about doing something perfectly. They're about intention — whether it's something that becomes part of your daily routine or something that carries a greater significance and marks a once-in-a-lifetime event.
The wabi sabi philosophy can help you embrace the beauty of imperfection in all areas of your life — starting with small daily or weekly rituals.
We love this aesthetically pleasing book that looks at wabi sabi as philosophy, in art, and as a way of life. Also check out Zen Wisdom for the Anxious, another of our favorites from the same publisher.
This experience goes way beyond a planner or journal — Silk + Sonder sends you a new wellness journal each month. Each one has a different theme, and they all contain beautifully designed calendar spreads, prompts for reflection, productivity trackers, and activities. Consider us impressed.
In addition to the analog experience, the company offers ways to connect to its online community through the mobile app, Sonder Club, Sonder Circles, and Daily Rituals — a guided audio experience to complement your journaling and help you dig even deeper.
A card deck — whether it's an oracle deck, a tarot deck, or simply an inspiration deck with positive quotes on each card — can be a great tool for creating meaningful rituals in your life. A few recent releases we recommend:
The Seed and Sickle is an oracle deck illustrated by folklorist Fez Inkwright that focuses on the cycle of sowing and harvest, exploring themes of productivity and rest.
The Nature Meditations deck features simple mindfulness practices and meditations inspired by the natural world. Use it to help create a ritual moment of calm in your backyard, in the park, or just looking out your window.
Spark Inspiration Boxes are a fun take on a card deck. Each of these little boxes contains 50 faux matches with prompts printed on them. There are more than a dozen themes to choose from, including "matchboxes" containing prompts for creativity, connection, wellness, gratitude, balance, courage, and more.