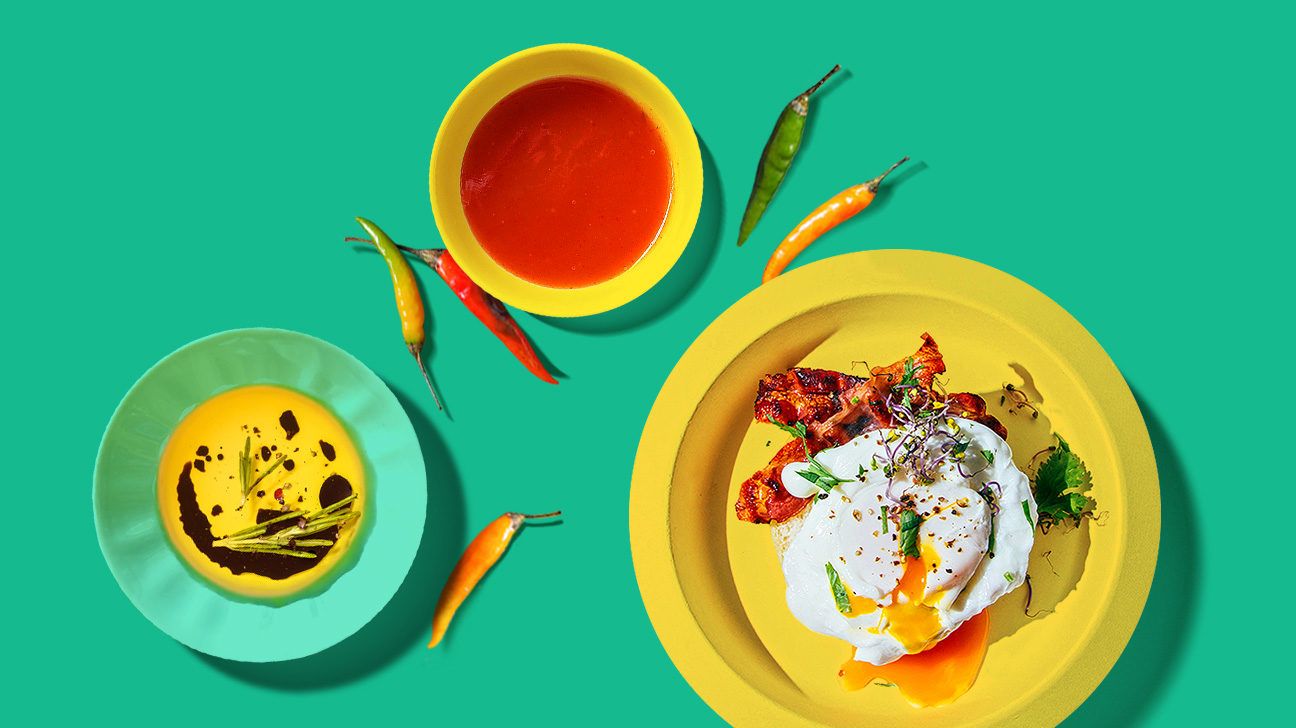 'Tis the season… to panic because you need a last-minute holiday gift and you're out of ideas (and patience, and time to shop). We've been there, and like Christmas elves, we've come up with some magically simple solutions.
It's pretty much a universal truth that you can't go wrong with food. Everyone's gotta eat — and most of us love to eat! Plus, the grocery store is an easy-access shopping destination on your way to a work party or family gathering.
But we're not suggesting you show up with the same old bottle of wine or box of chocolates — that feels a bit uninspired and, well, last minute.
To add some sparkle to store-bought goodies this season — for basically zero cash — pair them with fun DIY recipes. Suddenly, a bottle of Merlot inspires the creation of wine-poached pears… a jar of olives turns into homemade tapenade… or sriracha becomes a spicy topping for popcorn!
If your giftee is an all-star entertainer, they're sure to enjoy trying something new. And even if they're the "can't-cook-my-way-out-of-a-paper-bag" type, a simple cocktail recipe or snack pairing suggestion can point them in the right direction.
We've rounded up nine easy food items and accompanying recipes that make for more creative holiday gifting. Print recipes on fancy paper for a hint of glam and get gifting!
Salty and just right for sliding onto toothpicks, olives are the ultimate party app — so they're always a welcome stocking stuffer or Secret Santa present.
They go down easy all by their briny little selves, but help your giftee tap into olives' greater potential by suggesting them as an enhancement for a cocktail or hors d'oeuvre.
This dirty vodka martini uses green olives, so pair with a jar of Spanish manzanillas or French picholines. If gifting darker kalamatas, suggest an olive tapenade to slather on crostini.
Ah, the old hostess gift standby: The bottle of wine grabbed 15 minutes pre-party. Class up a lower cost red or white by including an elegant recipe to use it with.
A dry red like Cabernet or Merlot works wonders in these beautiful poached pears with vanilla mascarpone whipped cream. Or, when gifting white wine, tack on the recipe for this tasty lemon wine brown butter sauce that can accompany fish, chicken, or pasta.
Introduce your friends and family to the delights of traditional Indian cooking with the gift of ghee. This clarified butter has been used for thousands of years in curries and other savory dishes, and has a nuttier, richer flavor than regular butter. It won't break the bank, either.
Indian red lentil dal is the ideal vehicle for letting ghee work its velvety flavor magic. Gift this recipe along with a jar. Then, if you're feeling generous, throw in some spices like cumin and turmeric, too.
There are those who can power through an entire container of eggnog in one sitting… and those who can't. When you give the gift of creamy, spiced booze, help your gift recipient use it up in novel recipes like an eggnog cocktail with amaretto and vodka, an eggnog latte, or eggnog quick bread.
If your foodie friend is a member of the hot-sauce-on-everything crowd, they won't be sorry to see a bottle of Sriracha under the tree. Broaden their horizons beyond dipping and sprinkling with a recipe for spicy Sriracha noodles or Sriracha popcorn.
A good quality balsamic vinegar is a legitimately awesome gift for experienced home cooks. To sweeten the deal, throw in a recipe for Crock-Pot balsamic pork roast (and then invite yourself over for dinner).
Walk into any grocery store and you're likely to find a dried fruit and nut plate ripe for the picking (and gifting). For something a little more special and sincere, include a recipe or two.
Accompany a tray of dried citrus with a how-to for this easy Campari and orange cocktail. For fruit and nuts together, fruit and nut energy bites make the perfect post-workout snack, while a fruit and nut cookie recipe can finish off a meal on a sweet note.