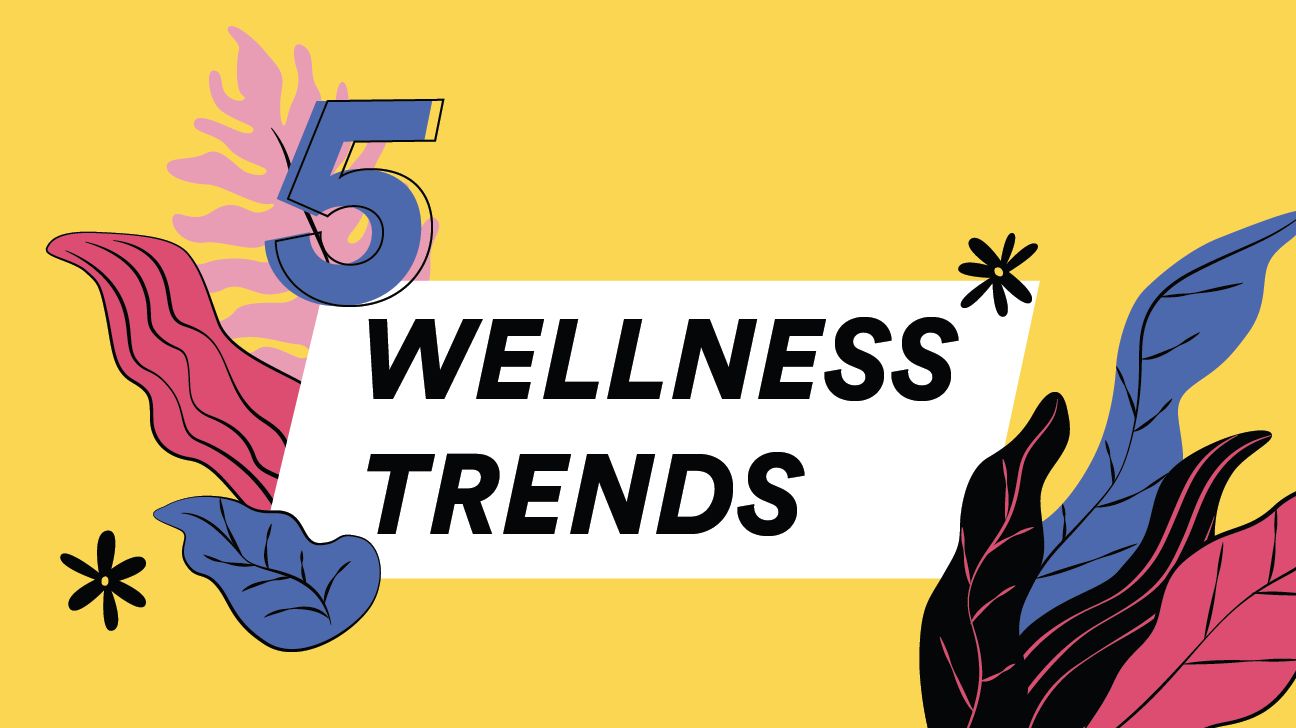 We include products we think are useful for our readers. If you buy through links on this page, we may earn a small commission. Here's our process.
Greatist only shows you brands and products that we stand behind.
Our team thoroughly researches and evaluates the recommendations we make on our site. To establish that the product manufacturers addressed safety and efficacy standards, we:
Evaluate ingredients and composition: Do they have the potential to cause harm?
Fact-check all health claims: Do they align with the current body of scientific evidence?
Assess the brand: Does it operate with integrity and adhere to industry best practices?
We do the research so you can find trusted products for your health and wellness.
Last year, we witnessed the least original evolution of trends. None of this should be surprising, trends are one way of making sense of our connection in a world of information overload, so it makes sense that many of 2019's trends were just an evolution of 2018.
Just look: oat milk (almond milk's cooler cousin), alcoholic seltzers (the younger La Croix), CBD (two mins away from the essential oil aisle), jumpsuits (fine, but Fleabag season 2 is character development from season 1, so actually I stand by this), and even astrology (a natural progression from 2018's healing crystal trend).
So what's going to be a big deal in 2020? Frankly it shouldn't matter, because no body is like another, but there is joy in community and sharing and helping others find relief. So that's what we, at Greatist, focused on when we curated this list.
Because when it comes to dispensing wellness advice, the least we can do is make it accessible!
So with the help of our marketing team, we took a look at Google trend search, from 2017 to 2019, for the best ways to spend your wellness dollars — and came up with ways to respectfully engage.
Search uptick: 108.32 percent since 2017
While oxygen bars were a 2017 trend, breath work is about learning an inhale/exhale technique, or "conscious breathing," to help better your health. Breathing from your diaphragm is shown to be an effective tool for relaxing, countering negative stress, and even boosting brain function.
The question is, do you have to go to a class for this? What seems like a minute-to-minute activity is, after all, free.
My skepticism probably points to a certain level of health privilege. After all, investing in your breath is a far more personal question. People with conditions, allergy sensitivities, or who live in environments that affect their natural breathing pattern might find these classes useful.
People with PTSD in fact may find breath work therapeutic (studies show respiration benefits veterans with PTSD) but having a professional guide them through the process may be more healing than trying to work at it alone.
Most meditation apps will have a breathing component but if you haven't got one yet, try Stop, Breathe & Think (available on Apple and GooglePlay).
Search uptick: 59.21 percent from 2017
Many outlets, from Harper's Bazaar to Essence, put wellness retreats and travel on their 2020 list. However, we all know influencer postings about paid-for vacations have to be taken with a grain of salt. So if you're considering a retreat based on an #ad, I say disregard the review. But this doesn't mean you can't experience a more low-key version of a "wellness retreat" in your own neighborhood.
For the first year, Yelp released their 2020 trend list, based on search queries, and they noticed a rise in: IV drip therapy, medspas, hydrafacials, and holistic healing (from reiki to salt room therapy). Costs for these appointments vary, but expect to drop at least $100 for a session.
If you want that low-cost, self-care thing, we stay stick to 2019 trends of jade rollers and facial massages. Or plan a reading retreat at home, blanket fort and all.
But if you're about racking likes, yes, that CBD massage via stranger at Burning Man counts.
Search uptick: 4611.30 percent since 2017
Last year, Amanda Mull reported on how millennials were sick of drinking. While statistical evidence behind this trend is slim, Mull also notes that someone who drinks a glass of wine each week falls in the same category as someone who drinks two to three glasses with dinner. For The Cut, Katie Heaney wrote about being "Cali sober," which refers to people who "don't drink but do smoke weed." Makes sense. Adopting less of a "go out and stay out" lifestyle is likely a product of multiple things: expenses, fatigue, and a general desire (or pressure) to optimize for health.
The hopeful upside is that as brands, restaurants, and influencers catch on, those who choose sobriety will feel less pressured and shamed in social situations. The downside of sober curious as a trend is how harmful language can be for those with alcohol or drug use disorders.
Mid-2019, Cory Stieg covered, for Refinery29, the importance of differentiating between alcohol addiction and being sober curious. "[They] aren't the same thing, and the two shouldn't be held in the same regard," she writes.
If you're exploring sobriety this year, consider stigma reduction can be part of any wellness journey. Ban words like "alcoholic" or "abuser" as well as "I was such an addict/alcoholic", or referring to alcohol as "cheating." These words can feel belittling to people in recovery.
As Mull writes, "Drinking… doesn't have to be as all-or-nothing as American culture has long regarded it." Fighting stigma, which could include reducing shame around non-participation, can help those in recovery feel supported.
Search uptick: 107.59 percent from 2017
Tracing back the viral moments of body positivity in 2019, we have Jameela Jamil and her @i_weigh movement, the backlash against Kurbo, and also The New York Times' viral op-ed "Smash the Wellness Industry," which introduced intuitive eating to an even wider audience.
While intuitive eating isn't anything new, especially to anyone who has dipped a toe into wellness waters, throwing out the entire dieting rule book is harder than you think, especially if you don't want to feel alone on this journey.
To fully understand what it means to opt out, don't just make intuitive eating your thing. Add a layer of education and activism to your approach.
Principles of intuitive eating
Reject diet mentality.
Honor your hunger.
Make peace with food.
Challenge the food police.
Discover the satisfaction factor.
Feel your fullness.
Cope with your emotions.
Respect your body.
Movement — feel the difference.
Honor your health — gentle nutrition.
Read more about intuitive eating here.
If you join this movement, include some education around fat acceptance
On January 1, writer Your Fat Friend tweeted "In 2020, we are standing up with & for people who are fatter than us," and followed with a great series of rules to include when practicing the "reject diet culture" mentality.
Here are a few of her resolutions that I'm adding to my book:
The fear, dislike, and hate of fat bodies that informs how one interacts or treats those with larger bodies.
By practicing and learning about both, you can rely on your own body for strength while learning to love your body — and appreciate others. Once you're confident in this practice, you'll also be able to recognize when marketers are disguising diets as health, even if they cap it off with #IntuitiveEating.
This practice, beyond trainings with a professional, has "no marketable products or services," writes Amanda Mull. The goal is to stop relying on other people's definitions for your relationship with food and, in many ways (but especially if you pair it with fat acceptance), the relationship you have with yourself.
There's a freedom that comes with opting out of a culture that uses guilt and fear as a motivation to (not) eat.
Search uptick: 63.21 percent from 2017
Since Deceim came into the picture, in 2017, skin care knowledge has increased, and now transparency is the newest demand. Transparency, no matter how loose the definition and criteria, is also how brands like Drunk Elephant rose to skin care gram consciousness in 2018.
And any beauty lover remembers the summer of 2019, which was all about scrutinizing sunscreen. Even other products such as retinol, hair dye, and even coconut oil have come under the magnifying glass.
In retrospect, Deciem may have also changed the way skin care products are now designed and discovered. Instead of a generic "best eye cream" hunt, you'll want to get specific, querying for "best eye cream with hyaluronic acid." Products or companies that hide or won't explain their ingredient formulations are likely to receive more backlash (see: Glossier).
To combat this, sites that break down ingredients and their efficacy are being created. If you're all about knowing what is in your skin care and why it works, these sites will help:
Honorable mention: Don't know where to start with ingredient transparency? Follow Estee Laundry on Instagram. They're a major force in industry accountability, tackling everything from industry bullying to improper ingredient sourcing.
Christal Yuen is a senior editor at Greatist, covering all things beauty and wellness. Find her musing about wellness on Twitter.