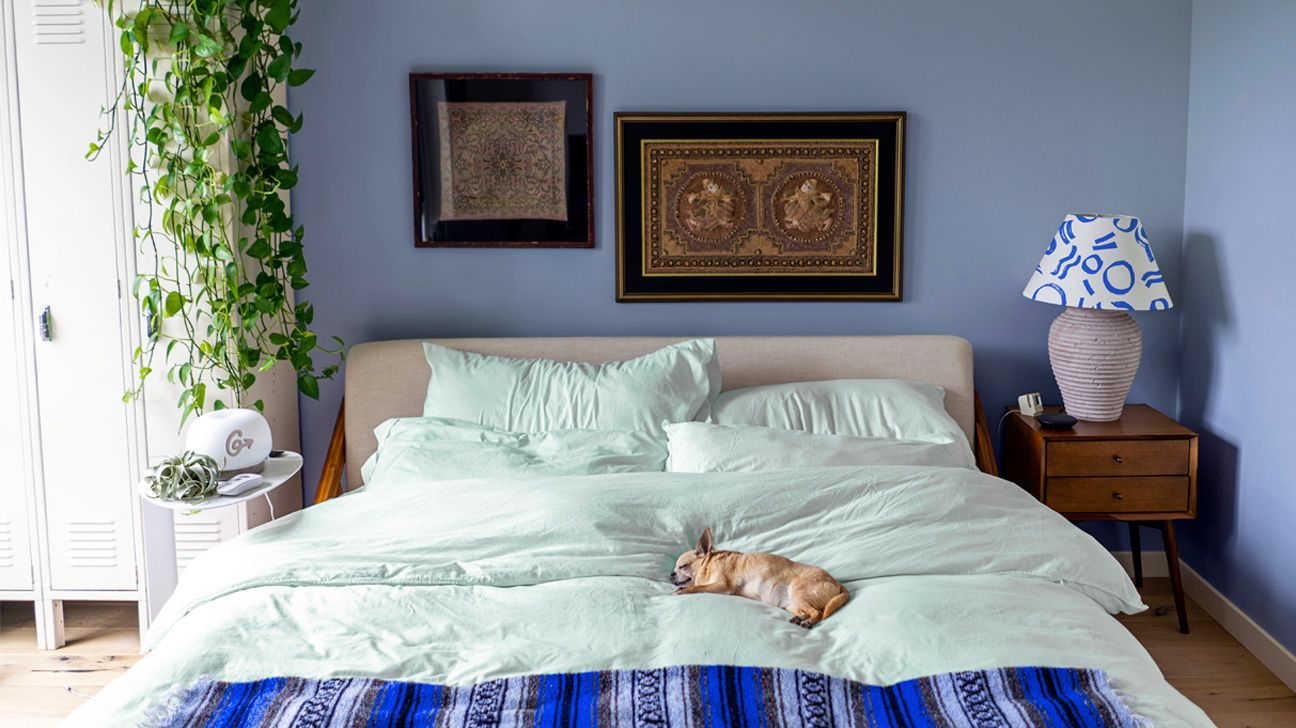 If you're craving a home refresh, there's a simple low or no cost way to go about it. It's called feng shui.
Feng shui translates to wind and water, respectively. The ancient Chinese philosophy revolves around the careful arranging of objects across our homes.
Pull it off, and you'll channel good energy call "qi" (aka "chi" or life force). On the other hand, cluttered, unorganized homes with poor flow can have negative effects on health, wellness, relationships, and even our wallets.
So, by applying the principles of feng shui to your home, you can improve energy within the spaces, which flow into your life as well. You can think of feng shui as applying mindfulness to your home.
"We've become so accustomed to the status quo in our homes," explains Anjie Cho, owner of Holistic Spaces.
"But even little things like a hard-to-open door or a cluttered entryway, add a little level of difficulty and frustration that trickle into other areas of our lives," she says. "Your space should support you. Feng shui can help remove physical barriers to help you feel more nourished by your surroundings."
Getting caught up all on the details can be stressful, and Cho advises against that. Since the principles can be both specific and broad, she's sharing some of her best tips for tackling the tricky, small spaces in your home that can have the biggest impact.
Rules of bedroom feng shui
Balance the space. If you share your room with a partner, make sure each person can walk around to their side of the bed. In other words, don't push one side again the wall if you can help it.
Check your headboard. A fixed headboard represents a secure relationship.
Don't store items below your bed. It can stop energy from circulating.
In feng shui, an entryway is among the most important areas to consider. Known as the mouth of qi, it's where all the energy and opportunity enter. "If you want to invite new opportunities, new work, or new people, it needs to be invited in from the outside world," Cho says.
First, check your doorway
Does it open easily? If not, make any necessary repairs or adjustments. Does it need to be cleaned? If so wipe off any dirt and grime. Make sure that your home or apartment numbers are able to be read clearly. Make sure the doorbell is functioning, too. Remove any obstacles that can keep people trying to reach you.
If you want to put a new coat of paint on the door, do it with intention. Red is a go-to color — one of vitality — and it offers protection, but there are no bad feng shui colors so go with what you're attracted to! Don't forget to add a nice doormat.
Now, make sure the area is tidy
An entryway that's cluttered with shoes, dog leashes, coats, bags, and keys doesn't feeling welcoming to you or to guests.
Items that are kept at the door should all have a designated place to go, such as in a coat closet or, in or on top of a credenza. If neither of these are an option, simple wall hooks or peg racks do wonders to keep items organized and off floor.
Now that you have your front door in order, it's times to move onto the office. This probably comes as no surprise, but your desk represents your career. And if you've been working at home, it's worth taking some time to evaluate where and how you use — and even how you sit — at your desk.
Location, location, location
Whenever possible, keep your desk out of your bedroom. It can blur the lines between rest and productivity, says Cho. This isn't an option for everyone. If that's the case, try to create some sort separation with a screen or room divider.
At the end of the day, make sure to put away your laptop, cover your monitor and tidy the space to signal the work day is done.
Take command (of your desk)
A commanding position is essential to good feng shui. If your space allows, don't work with your back to the door. Why? It subtly elevates that fight or flight response, says Cho.
It's a bit tricky, but Cho suggests placing your desk where you can see the doorway, but not so you're sitting directly across or in front of it. What all that boils down to is basically sitting diagonally from the door.
Clear your desk, clear your mind
There's no one way to organize or decorate the surface of your desk, says Cho. "Take an honest approach to your own style and decide whether having things out on your desk inspires or distracts you," she says.
If you're the type of person that prefers something decorative, keeping a plant in your work area can promote career growth, adds Cho.
A ritual that's helpful to Cho is clearing her desk at the end of the day. While you're in the process, use those moments to clear your mind of work, too. "I love the ritualistic aspect of it, we need more ritual in our lives," she says. Also, to encourage growth in your career put a plant on your desk.
Kitchens are nourishing spaces, it's where you store and prepare food. Naturally, it's another vital spot for drawing good energy. With that in mind, says Cho, always opt for healthy, wholesome meals.
Keep it clean
Don't use cleaners that irritate the senses. Opt for more natural, homemade cleaners that use ingredients such a vinegar, making soda, and essential oils.
Cut the clutter
Kitchen counter clutter and junk is a representation of what's inside your body. Stagnancy means the qi isn't flowing, so keep spaces clear and moving. "Again, there's beauty in the ritual of clearing, cleaning, and putting things away," Cho says.
We spend a good amount of time in our bedrooms, sleeping, reading, cuddling… so it's another vital spot for a feng shui check. "This is your most private space, you spend hours here in a passive state so it's important that the energy feels good and nourishing," says Cho.
Balance your bed
If you share your bedroom with a partner, Cho says a fixed headboard fosters and represents a secure relationship.
Second, whenever possible, don't push your bed up against the wall otherwise one partner can't get up from bed easily. "You want open spaces that have balance on each side, it represents a balance in the relationship," says Cho. "It's not great if someone has no room."
Don't store things under the bed
Aside from collecting dust and creating a cleaning challenge, under bed storage can also keep qi from circulating. "If you sleep over things, you're receptive to the energy of those things, so if you do need to use it for storage, don't keep anything active underneath the bed," says Cho.
So no shoes or luggage, you'll want to skip any emotionally charged items as well. It can impact your sleep.
Feng shui isn't all or nothing. There are simple, small steps that you can implement around your place, even one at a time. Even if you live small, don't be deterred. There are plenty of ways to implement these space-changing rituals into your life.
Caylin Harris is a writer, crafter, and stylist specializing in interior design and DIY. She lives in New England and loves scoring the perfect vintage find, reading, gardening, and givring guests restaurant recommendations. She lives with her husband and rescue cats in their own fixer upper.