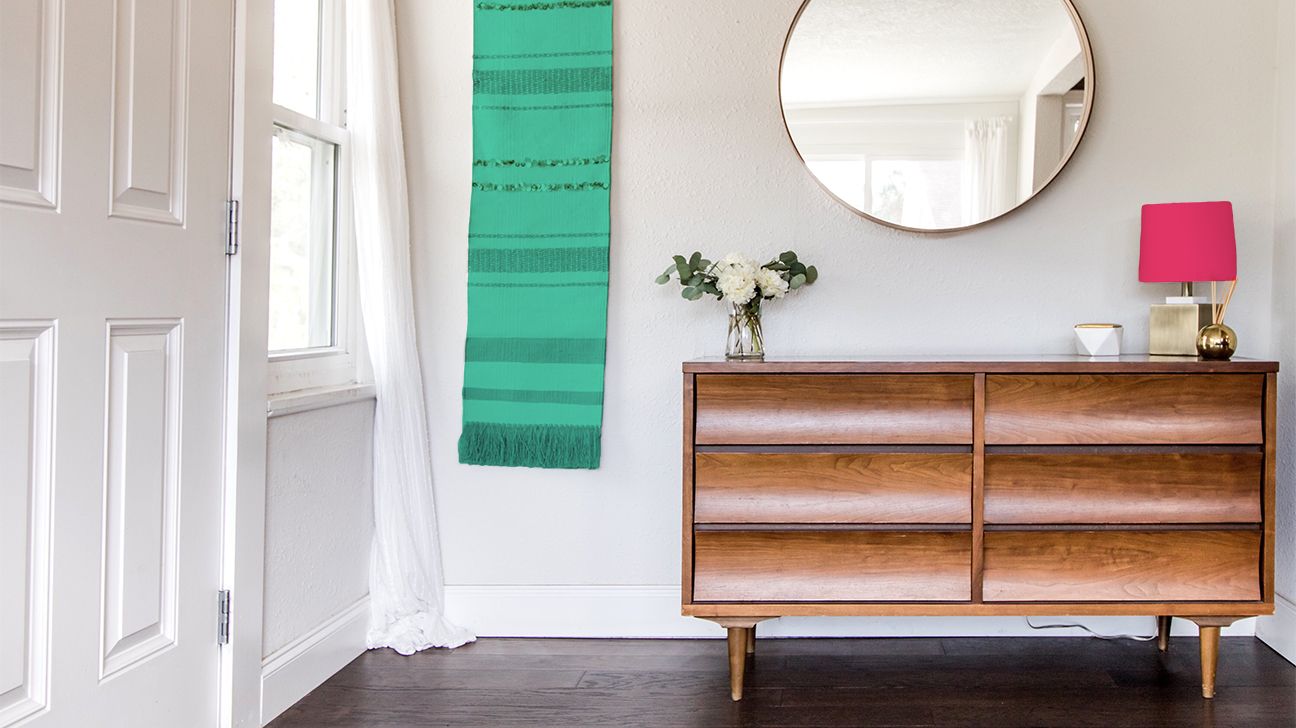 As a professional home organizer, I typically tackle the home entryway first. Sans functional system, it's far too easy for this high traffic area to turn into complete mayhem. If all of the items that enter and exit your home on a daily basis don't have a designated place to be stowed, you might find yourself confronting a jumbled pileup of hats, scarves, coats, umbrellas, bags, and papers by the door — who wants to deal with that?
Here's the good news: setting up an organized and functional entryway doesn't take much effort and will make a major difference in your day.
By creating a place for these items, they won't end up strewn across your home, possibly in random places. This will help eliminate those stressful cleanup situations at the end of the day. What's more, imagine being able to find everything you need within seconds, and coming home to a tidy, organized entryway. It can set the mood as you enter and leave the house.
Before you organize your entry, there's a few mindful clean-ups you might want to make. Think of these early steps as the foundation to the "don't just dump that there" muscle memory we're building.
1. Do the relocate shuffle
Step one is as simple as taking a good look at your entryway. Identify which items have lost their way and need to take a hike. Grab a bin or basket to gather up the items that need to be relocated (toys, coffee cups, credit cards) and take a few minutes to put them back where they belong.
2. Clarify your entry goals
Make sure you have clear and specific goals:
If you want to create a better first impression of your home, your entryway should be free of junk and clutter.
If there's a lot of housemates or family members, you want to make sure there are clearly designated places for people to store their stuff.
Maybe you just want to find your keys.
Whatever your goals are, keeping them close by will help anchor the hands-on work ahead.
3. Cut the clutter
Now that you've defined you goals for the space, it's time to cut down the clutter. Editing the volume of stuff that you own and store in your entryway will make it easier to maintain it. So, gather up the goods, and make sure to keep a donation bag close at hand. Sort into "keep" and "donate" piles, keeping only the items you use, love, and wear.
4. Organize by category
Being able to see exactly what you own and want to store in your entryway will help clarify what systems you need to set up later. (Again, consider the items you're commonly picking up or dropping off as you come and go. Is it convenient to store your dog leash and jacket by the front door?) If you're staring at anything you don't want to keep at your entryway, now's the time to find another home for it.
Next, sort the items that made it into categories. The most common items are coats, bags, hats, scarfs, umbrellas, dog leashes, kid or baby gear, sunscreen, hand sanitizer, mail and bills, etc.
Keep in mind that — depending where you live — your climate may oblige you to rotate and relocate seasonal items. For example, you don't need quick access to snow boots and winter jackets in the middle of July.
5. Make a list, check it twice
Now that you've determined your categories, it's time to write down all of the items that currently require a storage solution. By taking an inventory of exactly what you need to store, you can identify everything you must create a "home" for. So, maybe you need a shelf for shoes, hooks for jackets, and several baskets for sorting items such as masks, sunscreen, mail and so on. (The extent of your sorting may depend on how many people are in your household. Either way, you want a designated landing spot for every item you plan to keep in the entry.)
If you're aiming for a minimal entryway (or if you have limited space in your entry), rank the categories. If you want to pare down further, start by crossing the lowest priority items to keep at the entry. Remember to take into consideration what might simplify your routine as you come and go.
6. Set up shop
Next it's time to create an assigned place near the front door for each item on your list. If you don't have a mudroom or generous sized entry closet, you can still create a functional entry station.
Sturdy hooks. These work well for coats, dog leashes and bags. Make sure the hooks are mounted at arm's reach for kid backpacks and jackets, so they can be responsible for their own things.
Shoe storage. A storage credenza, free standing shelves, cubbies, or labeled bins or baskets will do the trick for shoes. (I encourage clients to store the majority of shoes in their bedroom closets.)
"Little things" bowl / basket. A pretty ceramic dish or shallow basket works well for tossing keys, cell phones, and loose change.
Paper storage. For mail and magazine storage I love installing wall pockets, or simply placing a large, pretty basket on your entry table.
For kids and pets. If you have kid or pet gear or seasonal items, you can use open bins or storage baskets to keep things tidy. It's also super helpful to set up a labeled bin or wall pocket for each child's homework and school forms.
Use what you have, and fill in any gaps by ordering what you need.
7. The finishing touches
Your entry area is the first thing you see when you walk in the door after a busy day. It really pays off to create a pretty and functional space. Once you've organized and set up some simple systems, you can elevate your space with some easy details. Get creative and shop your own home: Hang a mirror or a favorite photo or piece of art. Add a potted plant or fresh flowers. A small rug or runner will create texture and warmth.
Even though most of us aren't leaving the house much right now, when life returns to "normal," we'll be extra glad we took the time to set our entryways up for success.
Shira Gill is a home organizing expert and author with a less is more philosophy. Her book, MINIMALISTA, will be released fall of 2021.