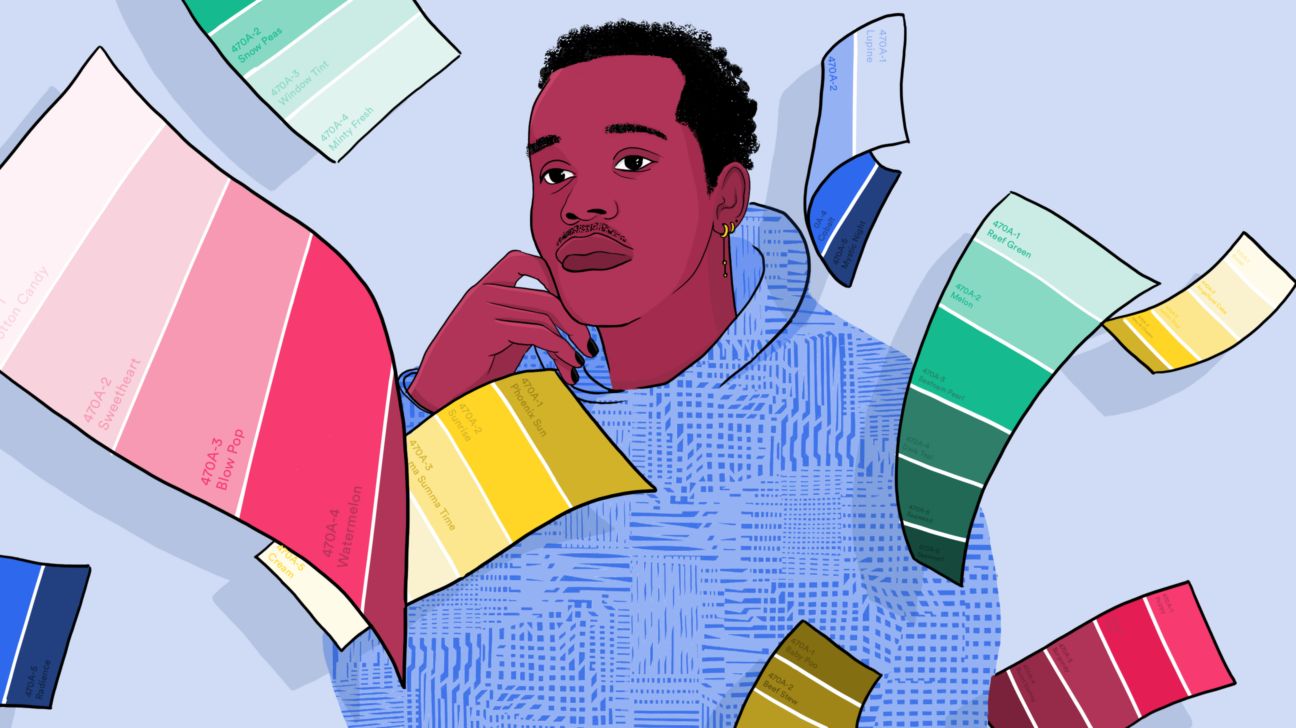 We've all been there, you're ready to paint that weird puke brown wall color you inherited from a previous tenant or homeowner, so you head to the paint store to pick up a gallon. It isn't until you're staring down the paint aisle at the thousands of options (no, we're not being hyperbolic) that you realize you have no idea what white paint even is or how to choose between Cottontail White and Blanc Snow. When you're asked what paint finish you'd like at the counter you begin to sweat. You panic, pick a high gloss and run home to paint your walls. You inevitably hate it and one wall of your home looks like a lacquer box.
Avoid this fate! Doing a little bit of research before you head to the paint store can save money, time, and stress. Here's some basic info that will make the process of choosing a paint color much smoother:
Choosing a paint color is subjective, but here are some things to keep in mind:
Choose color wisely based on the room you're painting. Bright, high energy colors like red, pink, orange, and yellow should be used with care. It can impact things like sleep for some people if a bright color is used in a bedroom. Softer colors like blue, greens, grays, and neutrals are typically recommended for a bedroom. That said, do what works for you and your tastes but keep the energy of a color in mind.
Using a dark color in a room with no natural light will feel like you're living in a cave. A room with a lot of natural light offers more flexibility with color. Where you live geographically can also impact how a color feels in your space. A home in a hot, dry climate might benefit from a color with cool tones, but if you live somewhere cold and dark warm colors or colors with warm undertones might work better.
A color isn't just flat and one-note. Some colors have warm colors like red, pink, orange, and yellow mixed in, while others have darker blues or greens incorporated. These undertones can either complement or clash with the rest of your décor so keep that in mind.
This is the most important tip. If you remember nothing else—always test your paint color before you buy it and commit to painting the entire room. Nowadays you can get peel and stick swatches directly from your paint company like Clare and Samplize or try larger size swatches you can hang from Benjamin Moore to see how a color will look on your wall. Or you can do it the old-fashioned way and get a paint sample and roll out a small area yourself. Leave it up for a few days and look at the color at different times in both natural and artificial light to see how the colors change.
While the paint finish name and offerings can vary slightly by company here are some basics about what to expect from the most common types and when to use them:
Flat
No sheen and not reflective, flat paint hides imperfections in the wall surface and works best in low traffic areas since it's more challenging to clean. Avoid using this finish in a busy family home or if you have pets. It is easier to touch up a spot in a room with flat paint, the new paint will blend seamlessly with the old.
Eggshell
Eggshell offers just the softest hint of shine and is easier to scrub clean than a flat or a matte paint finish. This is a common finish for the walls of your home and still does a good job hiding imperfections. Touching up an eggshell finish can be a little trickier than a flat paint, but is still possible.
Satin
Truly the middle of the sheen spectrum, satin paint is easy to clean and great for rooms that need more heavy-duty cleaning like the kitchen and bathroom. Since it's not as shiny as a semi-gloss it still works to hide surface imperfections.
Semi-gloss
Durable and shiny, nothing throws light around a room like a semi-gloss paint. However, it's not your standard wall color typically. Used on cabinetry, molding, trim, and other architectural details, it immediately catches your eye. A semi-gloss paint does show imperfections, so make sure to properly smooth and prep your surface before you paint.
High-gloss
The most reflective sheen, a high gloss paint is almost lacquer-like in appearance. A very design-forward finish, it's uncommon to see walls painted in a high gloss but it's possible. More typically it's used for pieces of furniture or built-ins, cabinets, or doors though. It's incredibly easy to clean, but tricky to apply—call a pro if you don't have painting experience.
There are advantages and disadvantages to both oil and water (also known as latex) based paints. Oil-based paints are much more durable, and provide better coverage. However, they take longer to dry, and have higher amount of emitted gasses known as VOCs or Volatile organic compounds. Water-based paints however usually contain low or no VOCs, but it's always best to check the manufacture's website. In addition, some water based paints aren't as durable, and take longer to apply but they tend to dry within an hour.
The cost of paint ranges pretty widely, varying from under thirty dollars to over a hundred dollars per gallon. A less expensive paint may not have complexity in color, may not last as long or hold up to cleaning, and it may not apply and cover as well as more expensive brands. Go with what you can afford, but know that there are compromises in quality when you're paying next to nothing for a gallon.
Painting is a lot of work so understandably, people are often eager to skip priming. But the truth is, nothing beats the coverage that a coat of primer offers and it may very well save you time in the long run. It can cut down on the coats of paint you need (saving you money), it can cover stained walls and cover odors. If you're transitioning from a dark to light color, it's a must. Overall, primer is a step that helps ensure a more professional level paint job. But, if you are really against it, we suggest checking to see whether your paint shop offers a paint-and-primer-in-one option.
Best of luck choosing your paint color. When in doubt pick up some paper swatches and start comparing colors. Narrow it down to what you really love and then pick two or three colors to sample. Now that you have a better understanding of paint, it should be so much easier.
Caylin Harris is a writer, crafter, and stylist specializing in interior design and DIY. She lives in New England and loves scoring the perfect vintage find, reading, gardening and giving guests restaurant recommendations. She lives with her husband and rescue cats in their own fixer upper.