Good news Starbucks stans! You can now order two new summery items off the Starbucks menu:
Chocolate Cream Cold Brew
Lime-Frosted Coconut Bar
But wait, there's more! They're also bringing back seasonal favorites like the:
Bacon, Sausage & Egg Wrap
Unicorn Cake Pop
Lianna from our editorial team tried each item to let you know if they're worth a taste. Spoiler: They're all delish AF!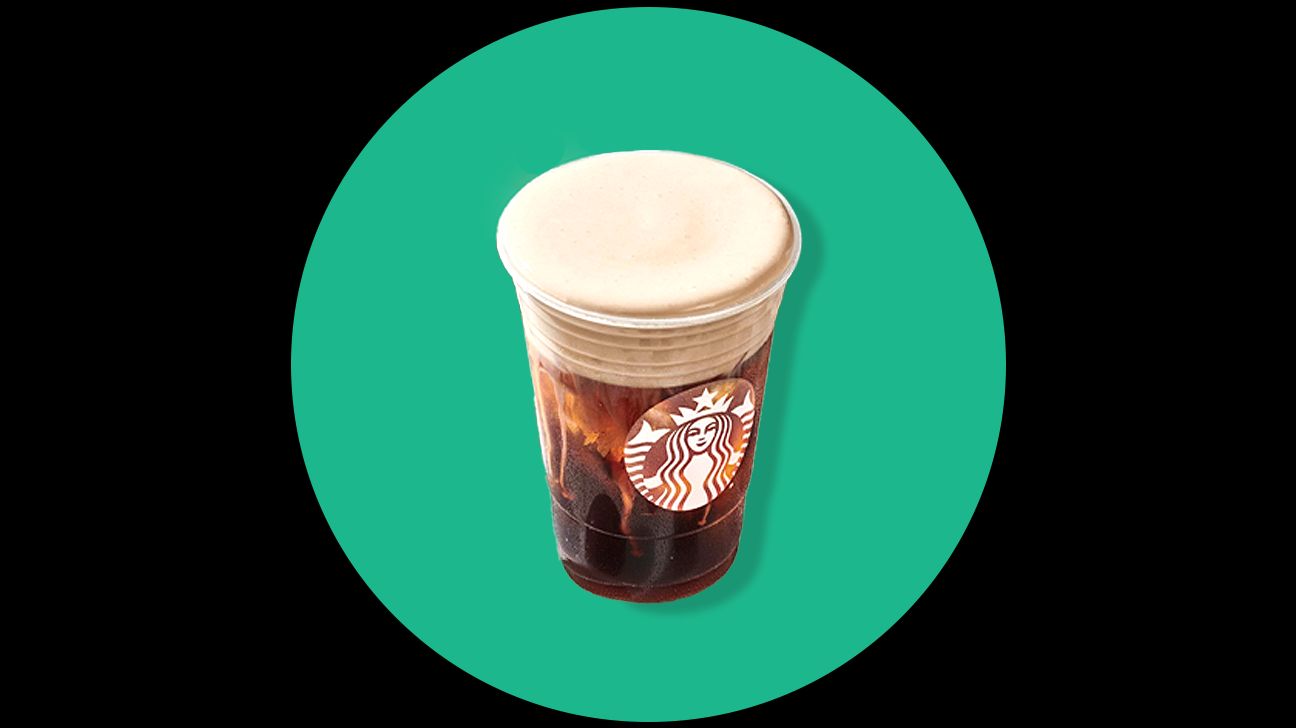 The Chocolate Cream Cold Brew is Starbucks's latest addition to their permanent drink menu. And it's dope as hell.
It stars Starbucks Cold Brew, which is, IMO, a lot less bitter than regular iced coffee. It's made in small batches on the daily by slow-steeping African and Latin American beans in cool water for 20 hours. Yum.
While the cold brew is great on its own, it gets a topping of rich yet oh-so-frothy chocolate cream foam with vanilla syrup. The smooth, sweet flavors hit my taste buds in a flash and I'm suddenly not mad at the person going 25 miles per hour in a 40-zone in front of me.
Starbucks says this silky, frothy bevvy was inspired by nostalgic summer moments. And NGL, they nailed it. Caffeine + chocolate + fun childhood memories? I'd take this over a chocolate milkshake any day.
Chocolate Cream Cold Brew nutrition info
Calories: 250 kilocalories (kcal)
Total fat: 14 grams (g)
Saturated fat: 9 g
Carbs: 29 g
Sugar: 28 g
Protein: 2 g
Ummm, yum. The new Lime-Frosted Coconut Bar is a bomb blend of coconut, oatmeal, and white chocolate chips. It's topped with a creamy lime frosting and a delicate drizzle of white icing. Oh, and even more shredded coconut 🥥 😋.
TBH, I'm a bit of a lime fanatic. So I went into my first bite a bit skeptical since so many products have a weird artificial taste. But, dang. I can honestly say this bar is delightful.
I was pleasantly surprised by how moist and chewy the oatmeal is. But the best part? The lime frosting tastes like a key lime pie cheesecake. I could legit eat it with a spoon and feel no shame. #NoRegrets.
Lime-Frosted Coconut Bar nutrition info
Calories: 240 kcal
Total fat: 14 g
Saturated fat: 8 g
Carbs: 30 g
Sugar: 21 g
Fiber: 1 g
Protein: 3 g
*Bill Hader as Stefon voice* This wrap has everything. Double-smoked bacon. Savory sausage. Fluffy cage-free scrambled eggs. Tangy, gooey cheddar cheese. Soft sous vide potatoes. Now, wrap all that good stuff in a warm tortilla and BAM! Breakfast is served. (Or second breakfast, we're not gonna judge.)
Not only did I love the nice ratio of egg:cheese:meat, the portion was big enough to keep me full for hours. Plus, it's packed with protein. According to the Starbucks website, this wrap has 28 grams. Love that.
Bacon, Sausage & Egg Wrap nutrition info
Calories: 640 kcal
Total fat: 33 g
Saturated fat: 13 g
Carbs: 58 g
Sugar: 2 g
Fiber: 3 g
The Unicorn Cake Pop is almost too adorable to eat. But since it's only back for a limited time, we're gonna look past the cuteness and eat one (or five). The center is made with vanilla cake and colorful sprinkles. It's dense, moist, and oddly fun to mush in your mouth. Just me? OK. Moving on.
The cake pop is dipped in white chocolate icing and decorated to look like a (you guessed it!) unicorn 🦄. It's the perfect on-the-go treat when you want something sweet.
Unicorn Cake Pop nutrition info
Calories: 150 kcal
Total fat: 7 g
Saturated fat: 4 g
Carbs: 20 g
Sugar: 14 g
Protein: 1 g
Here are 10 fan faves from Starbucks's year-round menu that just hit better in hot weather:
Pink Drink
Iced Matcha Lemonade
Iced Passion Tango Tea
Iced Honey Almondmilk Flat White
Iced Starbucks Blonde Vanilla Latte
Vanilla Sweet Cream Nitro Cold Brew

Mocha Cookie Crumble Frappuccino blended beverage

Caramel Ribbon Crunch Frappuccino blended beverage

Strawberry Açaí Lemonade Starbucks Refreshers beverage

Mango Dragonfruit Lemonade Starbucks Refreshers beverage