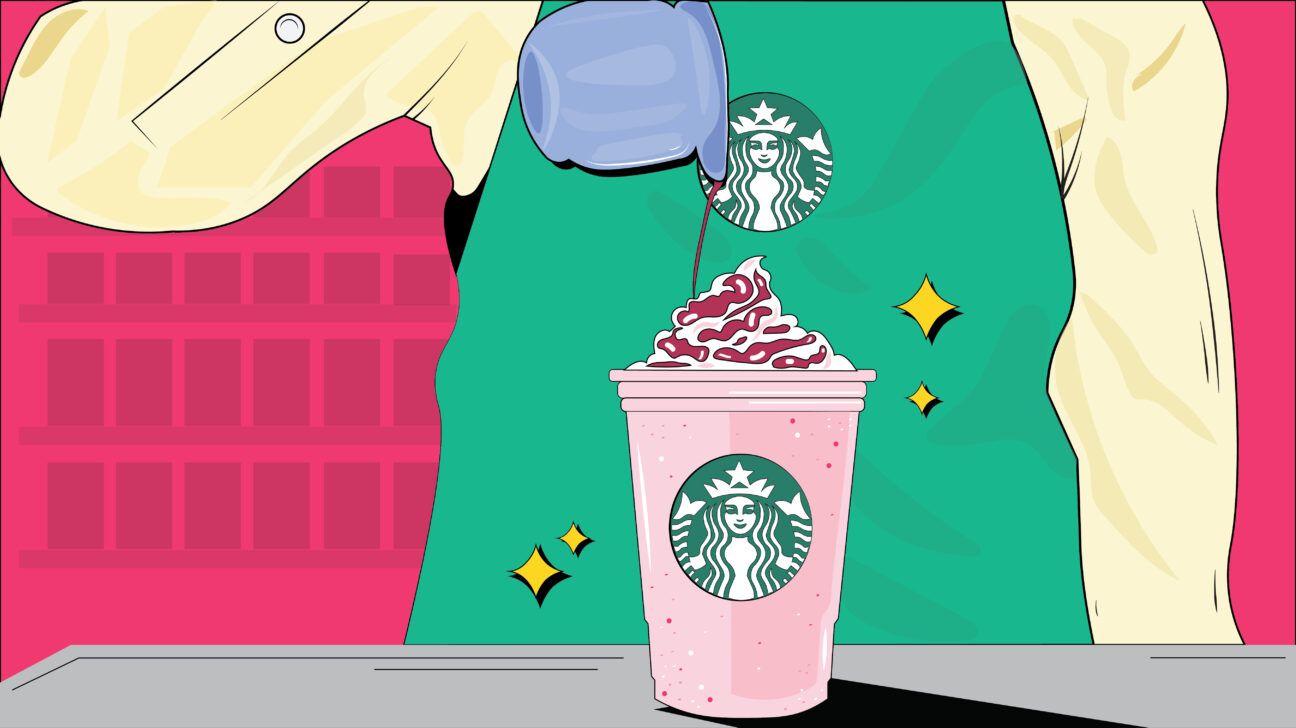 We include products we think are useful for our readers. If you buy through links on this page, we may earn a small commission. Here's our process.
Greatist only shows you brands and products that we stand behind.
Our team thoroughly researches and evaluates the recommendations we make on our site. To establish that the product manufacturers addressed safety and efficacy standards, we:
Evaluate ingredients and composition: Do they have the potential to cause harm?
Fact-check all health claims: Do they align with the current body of scientific evidence?
Assess the brand: Does it operate with integrity and adhere to industry best practices?
We do the research so you can find trusted products for your health and wellness.
I'll admit it: I love Starbucks, but I'm ballin' on a budget, so I don't always have the money to shell out $8 for a drink. Feel me? It happens to the best of us.
But I have a solution! I'm here to help you become your own barista, and pretty soon you'll be able to make some of the most classic Starbucks drinks — hot or iced — from the comfort of your own home.
And if you buy all the ingredients up front, you'll probably save money on coffee in the long run, which is a huge plus.
The fall favorite that I admittedly have still never tried(!) has become synonymous with the Starbucks name, so I'd be totally remiss not to teach you how to make it at home. This way, you can start every day with a lower-sugar (but still seasonally delightful) PSL. You're so welcome.
For the latte itself, you'll want to start by heating your milk for 1 minute and then frothing it a bit. If you don't have a handheld frother, never fear. Here's how to froth milk without an espresso machine (or an electric frother, for that matter). For the full PSL effect, be sure to top with whipped cream and some pumpkin pie spice.
This is the perfect drink for a hot day, the one that got me hooked on Starbucks years before I discovered my need for pure shots of espresso straight into my bloodstream. You can use espresso shots or strongly brewed coffee, and any milk you like. You'll also need caramel syrup, which is worth the splurge if you enjoy these drinks as much as I do.
Because you're the barista, you get to decide exactly how tall to make your mountain of whipped cream on top. Wanna go full dairy Everest? You do you.
A more restrained but equally refreshing option that still satisfies the craving for a little something sweet (and salty), this simple cold brew with creamy, salted sweet foam is perfect. The recipe promises everything you love about the drink, except the instant gratification part, since you'll need to steep your cold brew for about 18 hours.
White chocolate mocha is one of Starbucks' most popular drinks, and is it any wonder? It's sweet, rich, and just a smidge more interesting than a traditional mocha.
This recipe calls for about 3 tablespoons of white chocolate chips rather than syrup, but if you like it sweeter, just add more chocolate! Make sure to whisk often when heating your coffee, milk, and chocolate, and don't skip the whipped cream and chocolate shavings on top.
Hot or iced, the Starbucks vanilla latte is my thing. It's so simple, yet so delicious. It's even perfect with any kind of milk — regular, soy, coconut, you name it! Plus, it's so easy, you barely even need a recipe… but, OK, we'll give you one.
Perhaps the most Instagram-worthy drink on this list, the iced caramel macchiato looks difficult because the espresso is so beautifully layered on the milk, but I promise it's super simple, thanks to this recipe.
That caramel sauce you snagged for your homemade caramel frapps comes in handy here too, but the rest of the recipe relies on super common everyday ingredients.
In what is perhaps the most basic thing in the world, I stop in a Starbucks drive through once a week every summer on the way to beach volleyball for one of these things. The passion tea lemonade is as addicting as it is delicious, and I think it's just as good unsweetened.
For this copycat recipe, you'll need the straight up passion tea that Starbucks makes. But good news, they sell it in stores and in bulk online! Once you've brewed and sweetened, all you need to do is add lemonade.
Closely related to the above thirst quencher, the equally Instagram-friendly Pink Drink is made from passion fruit, acaí, strawberries, and coconut milk. This recipe has a base of acaí berry tea and uses white grape juice to help sweeten it and intensify the fruity flavors.
Adjust the sweetness to taste with agave nectar (you'll need a LOT if you want it as sweet as Starbucks') and add coconut milk to give it that pale blushing color and creamy texture. Sliced strawberries add the finishing touch.
There was a time when I'd leave for Starbucks and my dad would always yell, "Get me a chai tea latte," so this is the first one on this list I'm dying to make for myself.
While you can buy chai latte tea cups for your Keurig, it's a little more fun to run down the spice aisle at the store and get everything you need to follow this DIY chai tea latte. You'll need cinnamon, cardamom, nutmeg, cloves, and ginger, plus honey, black tea, and milk (and water, of course).
Shout out to this copycat recipe for making it possible for me to enjoy a piping hot peppermint mocha even in the middle of July. Isn't that what everyone wants? After all, mint is harvested in summer, so I'm calling it seasonal.
To get really festive, top it with whipped cream and crushed candy canes (which, I'll admit, may be hard to find when it's not Christmas time. I won't tell if you use the peppermint candies from your grandma's house in the off season).
The wildly popular flat white got me through midterms and finals week in college. Not even kidding!
The key to a successful flat white is a fine, frothy milk. If you actually have a frother, now is the time to use it. If not, you can blend or whisk the milk until it froths. All you need to do is pour the milk over the coffee when you're satisfied with the froth. Stir in sugar to taste, but this is a drink that may actually better without the sweetener.