We include products we think are useful for our readers. If you buy through links on this page, we may earn a small commission. Here's our process.
Greatist only shows you brands and products that we stand behind.
Our team thoroughly researches and evaluates the recommendations we make on our site. To establish that the product manufacturers addressed safety and efficacy standards, we:
Evaluate ingredients and composition: Do they have the potential to cause harm?
Fact-check all health claims: Do they align with the current body of scientific evidence?
Assess the brand: Does it operate with integrity and adhere to industry best practices?
We do the research so you can find trusted products for your health and wellness.
Some food items just underpin the whole pantry.
We know meal prep is essential to upholding our healthy-eating goals, but for those weeks when we can barely find the time to find matching socks, a solid arsenal of pantry staples can help.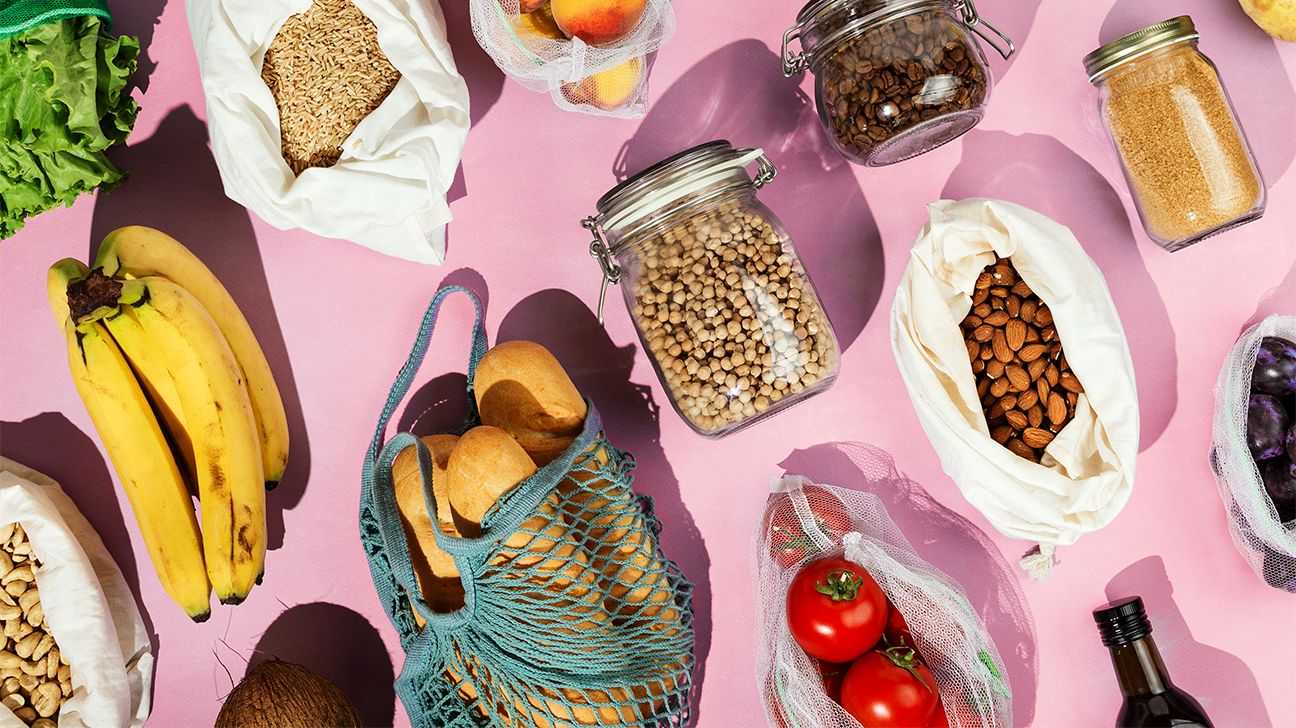 We round up the absolute essentials for you, explain the basics of pantry power, and give you some unusual but essential ideas for items you can keep in your pantry to boost you on those more absent-minded days where meal planning just hasn't gone the way you'd hoped (or at all).
From seasoning mixes to side dishes to easy protein add-ins, when you're short on time, these pantry staples will help get you through the week when you're too tired to cook on a Sunday.
There are plenty of items you can keep in your closets to make sure that even on those CBA days where the grocery store seems so far away, you'll always have the ability to put together a tasty, nutritious meal.
Rice
To quote the late comedy legend Mitch Hedberg, "rice is great when you're really hungry and want to eat 2,000 of something."
The bedrock of many cuisine styles around the world, including Mexican, South and East Asian, and Caribbean dishes, rice is a must-have in your pantry.
You'll see plenty of varieties, and it can be hard to know exactly which type of which it will be best to stock up.
Brown vs. white rice. White rice is delicious and versatile, but if you want to top up on your quota of whole grains for the day, brown rice is the way to go, as it still contains the germ and bran — the bits of the grain that provide the bulk of fiber and nutrients.
Long-grain. Long-grain rice cooks quicker than its short-grain cousin, and is named so due to the length of each grain — naturally, it's longer and thinner. Long rice is better for salads, side dishes, and as a bed for curries.
Short-grain. Short rice gets stickier and clumpier, so is great for molded salads and homemade sushi. However, it's a slower cook than long-grain rice, and it's best to stick to the type of rice singled out by your recipe.
If you've got a rice cooker, even better.
Spice
The last thing you want is to get bored of your food, especially if you're looking to mix it up from your batch cooking.
Enter spices, the absolute bedrock of flavor-switching and colorful tastes. While the word "spices" probably conjures up the intense flavors of cumin, chili, and Thai five-spice, it also includes staples like oregano, thyme, rosemary, and humble ol' black pepper.
We've got a guide to spices that will walk you through where each major one really bangs. In the meantime, just make sure you keep your spice rack topped up.
Egg
Unless you follow a vegan diet, egg is a powerhouse food.
Whether you're eating them as a side to a main, a snack on their own, or a glue to hold your homemade burger patties and cakes together, eggs are going to play a role in your meal planning at some point.
They're a superb natural source of protein, and the range of ways you can prepare them (boiled, scrambled, fried, poached) makes their use borderline infinite.
Make sure you choose cage-free eggs from happy chickens.
Pasta
On low-inspiration evenings, throwing some roasted veggies on top of some pasta with sauce is simple, filling, and effective.
With a range of shapes and types available, it really becomes a matter of preference. However, whole-wheat pasta packs more of a nutritional punch than white pasta due to the germ and bran content.
Plus, pasta is super easy to batch cook for a week's worth of lunch salads.
Vinegar
A little acid is usually essential for bringing out the strongest flavors foods have to offer. Enter vinegar.
Most pasteurized vinegars are way too acidic for germs to party there, so you'll be safe keeping them out of the fridge pretty much forever. There are several types of vinegar that play different roles in a meal, including:
Apple cider vinegar. This is a health scene superstar, with plenty of benefits outside of its restrained tartness and versatility. Use it in fruit dressings, sauces, coleslaws, and even cookies.
Balsamic vinegar. The source of your sauces. This sweeter, more syrupy vinegar can team up with an olive oil to make a salad dressing pop or be reduced to a thicker component of sauces and marinades.
Red and white wine vinegar. Both of these are great in sauces, dressings, and marinades, although red wine is better for those with flavors that need to pop more, like chimichurri.
White vinegar. The intense flavor of white vinegar make it a star pick for use in making ketchups and preserving pickles. This one is also an Indian cuisine staple, meaning that your curries will burst with flavor when you add it.
Plus, many of these can double up as a makeshift cleaner when mixed with water. Neat.
Rolled oats
Have a healthy breakfast just waiting for you in your closet. Making yourself up a sweet or savory oatmeal is a great way to kick off the day, make yourself cereal bars, or top your desserts.
Plus, for someone assembling a pantry on a budget, rolled oats are pretty cost-effective and last for ages.
It's also a great way to make overnight oats a regular part of your life. Breakfast that makes itself while you sleep is never a bad look.
Flour
Let's not forget cakes while you're filling up your pantry. Flour is vital for providing structure to your bake. Flour isn't a cake-specific tool, though — you'll need it for thickening sauces and gravies, too. And cookies. And bread. Okay, all baking.
Baking is good for your soul, so after stocking up your pantry, get familiar with some of the techniques.
Garlic and onion
These are excellent for when you're plagued by vampires or generally want to add any flavor at all to a chili, curry, pasta dish, cooked salad… you name it.
Basically anything you fry or turn into a sauce, you'll want onions and garlic on hand as a way to spread the flavor.
Red onions are a little less biting in terms of flavor, so you can caramelize them and stick them on pizzas and salads and even eat them as wedges.
Honey
Honey isn't just a sandwich topping or sweetener for herbal teas.
You can roast veggies and meat in it, use it when putting together sauces, and include it as a natural sweetener in desserts and cereals. Make sure there's some honey in your closet for sweetness on-hand.
Sheesh, that's a lot of stuff to buy. But don't worry! You needn't spend the Earth to eat the healthiest stuff that grows out of it.
Head straight for the bulk bins. Whether you need a bunch of beans or a load of lentils, plenty of stores have bulk bins that sell by weight. If you don't need a massive amount of something, like chia seeds, for example, you can just buy what you need. Plus, less waste. Win-win.
Split bulk purchases with friends. Of course, you don't need all the beans in the world every time. In those cases, split bulk purchases with friends who may need the same. Same bulk savings, less food going off.
Post-seasonal sales. Pumpkins aren't en vogue year-round. The moment Halloween is done, have your own trick-or-treat in the store isles. Do this after every holiday to see what you can stock up on.
Be aware of expiration dates. Save all the money you want on goods at the store, it's wasted money if you don't use the food before it goes off. Move soon-to-expire goods to the front of the shelf to make sure they go to good use.
Coupons, coupons, coupons. Keep a coupon book and make sure you use the ones at your favourite store. Stock up even on things you don't need at the moment — canned goods stay fresh for ages and the savings cut your budget over time.
Dodge the big brands. Many stores' own brand goods are just as good as the more expensive brands at a pinch of the cost.
Make your own. Making your own nut butter or growing your own veg, if that's possible, is a great way to cut down costs and use up items in your pantry.
Only buy what you like. You might be tempted to experiment with different brands and types of, say, beans. But hold that for the weekly shop. Your regular pantry should consist only of stuff you know you like. That way, nothing gets wasted.
If you're looking for more ways to save money around the home, look no further.
Sometimes, you want an easy route to an even easier meal. Here are some pantry hacks:
When we're low on inspiration, time, and willpower, these one-skillet meal starters from Knorr really help us get by.
Just sauté your chicken and veggies, then add in your pre-seasoned pack of flavorful grains. Boom… you've got a protein-packed one-pan meal to inspire you all week.
Taco Tuesday gets a little more flavorful (and much easier) with these taco skillet sauces.
They're available for ground beef, chicken, shrimp, steak, or veggies. Just pour a pack into your skillet with your cooked protein, slap it into a tortilla, and get in there.
Just when you thought Campbell's was only good for its canned tomato soup, they bring us these packs of skilletty goodness.
If you've got frozen raw protein in the house but no inspiration, the Campbell's skillet sauces have got you covered. These sauces are surprisingly low cal and low sugar but help breathe new life into your meals each week.
To make a lunchroom envy-worthy shrimp scampi, just cook your shrimp in a skillet, pour in the sauce, and heat through. No need to stick to simple olive oil and sea salt when you can have flavors like this in an instant.
Canned tuna has come a long way from the days of sad mayo-heavy sandwiches and potato chip-topped casseroles, yet it remains a pantry staple for a reason.
It's versatile, inexpensive, and chock-full of protein, and if we can find a way to make it tasty without too much work, we're in.
That's why we're loving these seasoned tuna pouches for throwing on salads, sandwiches, quesadillas, and more. They also come equipped with a spoon for the days you just can't be bothered with life.
For vegans and vegetarians
Those who live a plant-based lifestyle needn't be left wanting when it comes to stocking up their supplies.
(For a full vegan shopping list, click here.)
Perfect for #Veganuary, this new canned seafood alternative is made with non-GMO, plant-based protein ingredients and is gluten- and mercury-free.
It's packed with nutritious omega-3s and has 7 grams of protein in 50 calories, so it's an amazing base for any quick meal or snack.
We're partial to the Tuno with Sriracha, but there is also Tuno in lemon pepper and springwater flavors to help switch things up.
Tuno what's up.
Eggs are often an essential fridge staple, but we love keeping this all-natural plant-based egg replacement in the pantry for our weekly baked goods or anything else that needs egging on, so to speak.
Made with just chia seeds and garbanzo beans, the neat egg is easy to mix and offers 2 grams of protein per 25-calorie tablespoon.
Looking for some new ways to effortlessly sneak more veggies into meal prep (without actually prepping)? We got you.
This shelf-stable "stir-and-go" meal is completely vegan, gluten-free, low carb, and non-GMO, with tons of fiber and protein in each serving.
You might want to make this one a bulk order.
We'll never say no to a big bowl of pasta, but when it comes packed with 25 grams of protein and 13 grams of fiber per serving, you know we're stocking up.
This naturally vegan, gluten-free pasta is made with organic chickpeas with no added sugars, salt, or wonky ingredients. Add a jar of healthy store-bought sauce and your favorite veg, and you've got a protein-rich, plant-based, super easy meal.
With a simple combination of brown rice and lentils, this all-natural heat-and-serve grain pack is as close to homemade as it gets.
Bonus points for the fact that we can get this gluten-free, vegan side dish in our mouth within 90 seconds and that there are no strange preservatives or additives inside.
With 5 grams of protein and 3 grams of fiber per serving, this whole-grain, nutrient-dense staple can be in your Tupperware and ready for the week in fewer than 2 minutes.
It's also certified organic and free of artificial colors, flavors, and preservatives, which adds a healthy, hearty side dish to your weekly rotation.
The only thing more comforting than stewed lentils in a spicy, aromatic sauce is not having to make said lentils.
These organic Indian Dal packs are vegan and gluten-free, with 6 grams of plant-based protein per serving. Just zap in the microwave and serve on quinoa, rice, or naan for a super-simple meal.
Overnight oats may seem like a great make-ahead meal-prep option, but making them tasty requires a little more imagination than mixing oats in a bowl with milk.
Simplify the process with these overnight oat cups packed with quinoa, chia, and flax.
Available in 6 tasty flavors with up to 10 grams of protein and 5 grams of fiber per cup, these "just add milk" breakfasts are an easy way to start your day.
Having a solid pantry is the best way to cook on a budget and become completely self-sufficient in the kitchen.
Being savvy when buying in bulk, focusing on supermarket own-brand products, and using coupons can help you further reduce the cost.
These are the absolute basics of being prepared to cook a meal. However, you'll also need the right tools in your kitchen — learn more here.