There's no doubt that fall is popular due to the changing outdoor colors, the swanky sweaters, the warm drinks, and definitely the food. And if there were ever an official mascot for fall that encompasses all the season's variety, the pumpkin would certainly be in the running.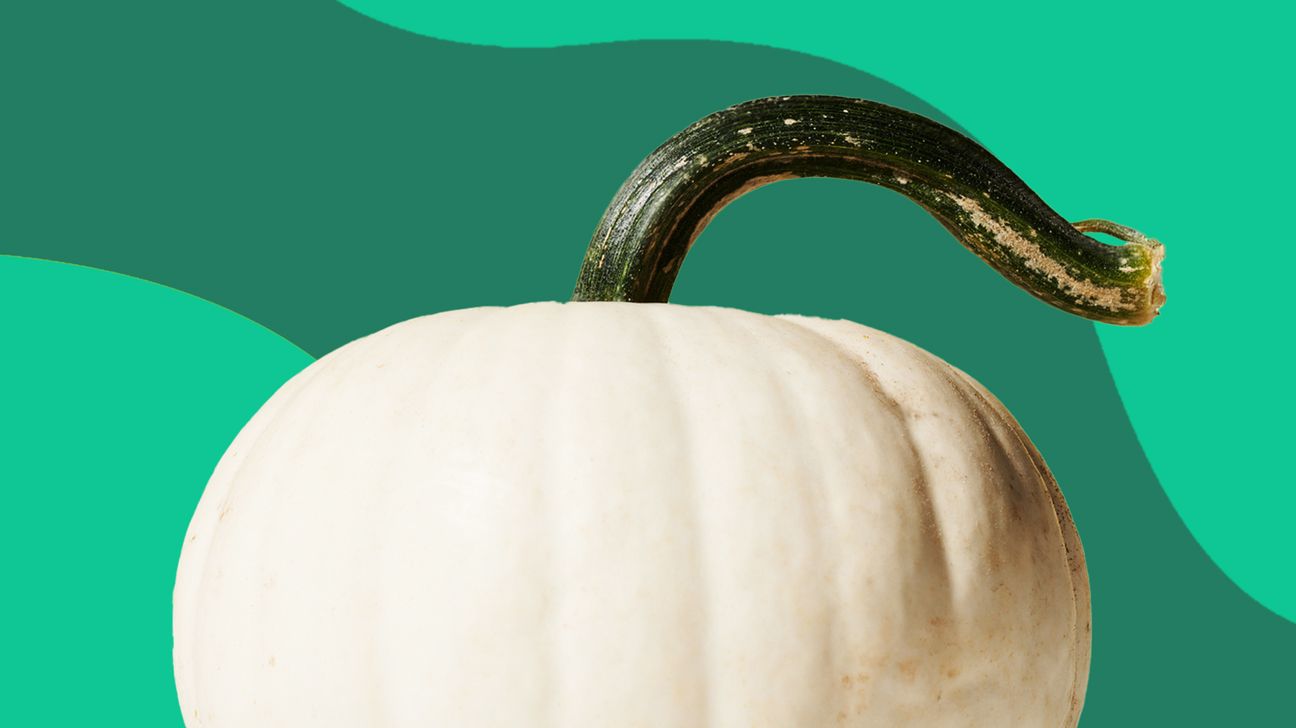 If you give pumpkin the time of day only when you need a Halloween decoration or a Thanksgiving pie, you're missing out on a super healthy, super tasty squash with a 5,000-year history of cultivation in North America.
And no offense to those who think a pumpkin's sole purpose is fulfilled in pumpkin spice lattes — but that's kinda limiting. This thing is a superfood.
Here are the best ways to use a pumpkin, sweet or savory, seeds and all.
First, let's give props to the pumpkin for its health benefits.
Pumpkin — a fruit that masquerades as a veggie — is loaded with nutrients, including vitamin K, vitamin C, vitamin E, potassium, copper, manganese, iron, folate, niacin, thiamin, and the antioxidant beta carotene, which your body can convert to vitamin A.
And because pumpkin is high in fiber, eating it may help you lower your blood sugar, cultivate healthy gut bacteria, maintain bone density, and keep things regular.
While canned pumpkin is pretty convenient when you're whipping up a pie, fresh is the best way to cook it. Pumpkin seeds load you up with protein, magnesium, zinc, and potassium. The nutrients they contain have many possible health benefits, including lifting your mood and lowering the risk of bladder stones and an enlarged prostate.
Those huge orange pumpkins you see at the farm are best used for jack-o'-lanterns. For eating, search for these pumpkin varieties, which have superior flavor:
Long Island cheese pumpkin. Shaped like a huge cheese wheel, this giant pumpkin has dense, sweet flesh and pale ocher skin.
New England pie pumpkin. Weighing in at 4 to 6 pounds, this classic orange-skinned variety is ideal for all those sweet fall treats.
Cinderella pumpkin. This massive, bright-orange pumpkin is a French heirloom. While it's often used to decorate, chefs also enjoy the mild-tasting flesh for pumpkin soups.
Queensland Blue pumpkin. Native to Australia, this dusty blue pumpkin weighs up to 20 pounds. Its dry flesh holds up well when fried.
Kabocha squash. Sometimes referred to as Japanese pumpkin, this squash looks like an immature pumpkin with mottled green skin. It works well for tempura and other fried dishes, plus soups, purees, and roasted pumpkin dishes.
When it comes to pumpkins, bigger isn't always better. Large globes can be watery or stringy once cooked. And orange isn't the only color these large fall fruits come in. So what do you look for when choosing a pumpkin?
Pumpkins don't need to be cosmetically perfect to be considered "good." They should be uniform in color, whether the skin is cream, greenish-blue, or orange. Check for bruises, gouges, or soft spots on the skin that can indicate rot, which will shorten the longevity of your squash.
Fresh pumpkins will have a shiny skin. A dull skin indicates they've been sitting in storage (which is fine, FWIW — pumpkins keep for months at room temperature).
While pumpkin pie might be the go-to recipe at the front of everyone's mind, that's really just the tip of the pumpkin food iceberg. Here are some other dishes that really tap the value of this gem.
Roasted pumpkin seeds
Chop off the top of your pumpkin, scoop out the seeds with a spoon, and give them a rinse in water. Let the seeds dry so they'll roast, rather than steam, in the oven.
Toss the seeds in oil along with your flavoring of choice (I usually go for smoked paprika, garlic powder, and salt or a cinnamon-sugar sweet version) and bake at 325 degrees until toasty brown. It's tempting to turn the oven up higher, but the seeds can burn easily.
Kabocha squash and kale salad
Make a fall/winter kale salad loaded with roasted kabocha squash, sunflower seeds, pomegranate arils, and a creamy maple-Dijon dressing.
Cheese pumpkin soup with sage and apple
Long Island cheese pumpkin, carrot, sage, and apple: This soup is autumn in a bowl. If you can't find a cheese pumpkin, a Cinderella pumpkin or kabocha squash is an ideal substitute in this pumpkin soup from Long Island chef Jeff Schwarz.
Kaddo
This Afghan caramelized sugar pumpkin dish, served with a garlicky yogurt and spicy tomato sauce, is one of those recipes that seems complex but actually isn't. It's also incredibly delicious. Joy Huang's Helmand kaddo copycat recipe tastes *almost* as good as the real deal. It's also vegetarian (some versions include beef in the tomato sauce).
Pumpkin, sage, and greens lasagna
Layers of kale, cheese, and pumpkin offer the richness of pumpkin lasagna without the pasta. If you can't find a Kent pumpkin, use Queensland Blue or kabocha — you want a firmer-fleshed pumpkin with a low water content for this dish.
Roasted cheese pumpkin
This cheese-stuffed pumpkin is as easy to make as it is comforting to eat. Use a medium sugar or pie pumpkin and serve with crusty bread for scooping up the cheesy pumpkin.
One-pot pumpkin yellow curry
Minimalist Baker's one-pot pumpkin curry is the kind of creamy, mild plant-based comfort food staple I tend to throw on repeat come midwinter.
Browned butter pumpkin pie
Permission to use the canned stuff for this one from Brooklyn's Four & Twenty Blackbirds pie shop, though you can make your own pie or sugar pumpkin puree. The browned butter imparts a nutty complexity to the classic holiday pie.
Pumpkin bread with maple glaze
This moist pumpkin bread topped with a crunchy streusel and maple glaze from Butternut Bakery Blog is a mash-up of everything that's right about pumpkin muffins and pumpkin bread.
As you're preparing for fall and experimenting with seasonal concoctions, keep pumpkin near the top of your versatility list.
Lindsey Danis is a Hudson Valley-based writer who covers food, travel, and LGBTQ stories. Follow her on Instagram and Twitter.