Meal prep is an affordable, easy way to eat fewer processed foods. Summer seems to whoosh by in an endless blur of cookouts, outdoor happy hours, and ice cream runs. So, give yourself a cozy boost of nutrition while you *hibernate* this winter.
It's all about the healthyish, you know?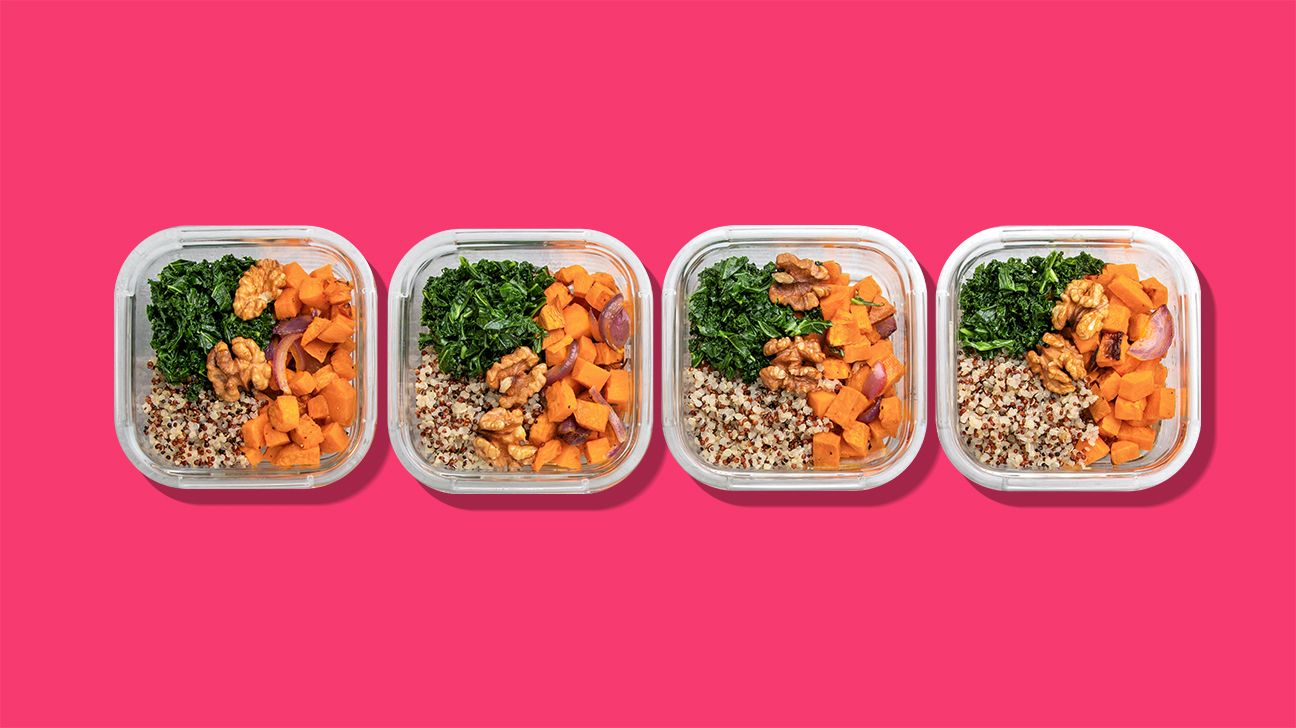 These fall meal-prep lunches make eating easy and nutritious. Cook 'em up on Sunday, and you'll have lunch (or dinner) (or breakfast, if you feel like an absolute maverick) for the week.
They're so pretty, you won't get bored of looking at them (but you should probably stop staring and start chowing down). Plus, you can tweak each recipe just a little so you're not bored by meal five.
Winner, winner, chicken… lunchtime. Without further ado, here are our favorite meal prep recipes for fall.
Salad up and get ready.

Butternut squash and cranberries are basically chewable pumpkin spice lattes.
Mix them with quinoa, red onion, and pumpkin seeds to make a warm, cozy meal you'll be happy to eat all week.
Pro tip: Keep the dressing on the side so leftovers don't get soggy. The butternutty chunks make this barely feel like a salad.

If you haven't made an apple cider vinaigrette, it's honestly life-changing.
It's just the right amount of tangy and sweet, especially when you mix it with a little olive oil and Dijon. Every salad gets a leg up. It'd be borderline magic if it wasn't so easy to make.
Again, keep it on the side so your salad doesn't wilt throughout the week. But this salad may well be the key to preventing your own wilting.

Oh, turmeric, you're a beaut. You make everything better — yes, even that constant windchill that seems to move in around October and stay there until flowers bloom in the spring.
These power bowls are here to replace your summer salad. They've got yellow potatoes, chickpeas, kale, and avocado. That's basically a who's-who of foods that fill you up and keep your body happy.
If you still think vegan meals won't fill you up, this bowl will change your mind. Vegan power bowls are the absolute one.
For when you feel like dinner at lunchtime.
Is there anything better than this one-pan chicken? Doubtful.
Get your stomach (and brain) (and soul) ready for Thanksgiving with these baked chicken thighs.
They're coated in a maple syrup and balsamic marinade topped with cranberries (that really make the whole affair pop) and Italian-inspired herbs.
Add some quick roasted veggies and sweet potatoes to your lunch box to round out your meal. There are so many flavors here, you won't think twice about having them for 5 days in row.
The color in these Southwestern chicken packets will brighten any overcast fall day or chilly winter lunchtime. The flavors won't be too far behind, either.
Red peppers, black beans, cheese, and chicken are melt-in-your-mouth good but healthier than your average take-out burrito (because you don't have the carb delivery of a tortilla wrap).
We're willing to bet you won't miss the carb overload, though.
There are so many ways to prepare elaborate chicken meals in a foil wrapping that completely take the work out. This is up there with the best of them.
Sometimes, you really need a kick in the palette to get you through to the end of your shift. This warming, spicy assortment of flavors and nutrients is a lunchtime feast.
Let's be real, "thinking outside the box" is for your manager's pep talk and not your packed lunch.
This meal-prep box is so simple but insanely pretty, thanks to a mix of colors. Bright green broccoli, deep orange spicy sweet potatoes, red apples, and crispy chicken make this a smorgasbord of good times in one box.
So, Chinese-inspired cuisine isn't your archetypal fall food choice, but it provides a heap of comfort. You can make it way healthier at home and you can make it with any seasonal veggies. So, let's roll with it.
Serve the sweet and spicy chicken with brown rice, quinoa, or zoodles to make it even better for your bod.
Does anything scream "fall" louder than a good soup?
It's all about the presentation here. Goodness, how pretty is this chili?
Take your avocado slices and a sprinkle of cheese in a smaller container if you're taking this soup to go. You don't want to mess with this chili's drip (and you don't want the cheese and avocado to become too drippy itself).
Bonus: Make this in a Crock-Pot for minimal required effort. And quinoa is always an exceptional dose of nutrients.
Sweater weather = soup weather. Snuggle up and hunker down on this insanely flavorsome winter warmer.
You can skip the deli line and make your own, like this gorgeous carrot-apple concoction. It's made with a cashew base, fennel, carrots, apple, and ginger.
If you need to bust a cold, this is your soup.