From "set it and forget it" slow cooker dinners to no-cook breakfasts, we love recipes that cut down on kitchen time (especially all the time spent doing dishes) without compromising on nutrition.
These well-balanced, one-sheet dinners do just that. With minimal hands-on cooking required and easy breezy cleanup, what's not to love?

This recipe gives you even more reason to believe that chicken breasts are anything but boring: Perk up the poultry with a tangy balsamic and honey glaze that becomes more concentrated in flavor as it bakes in the oven.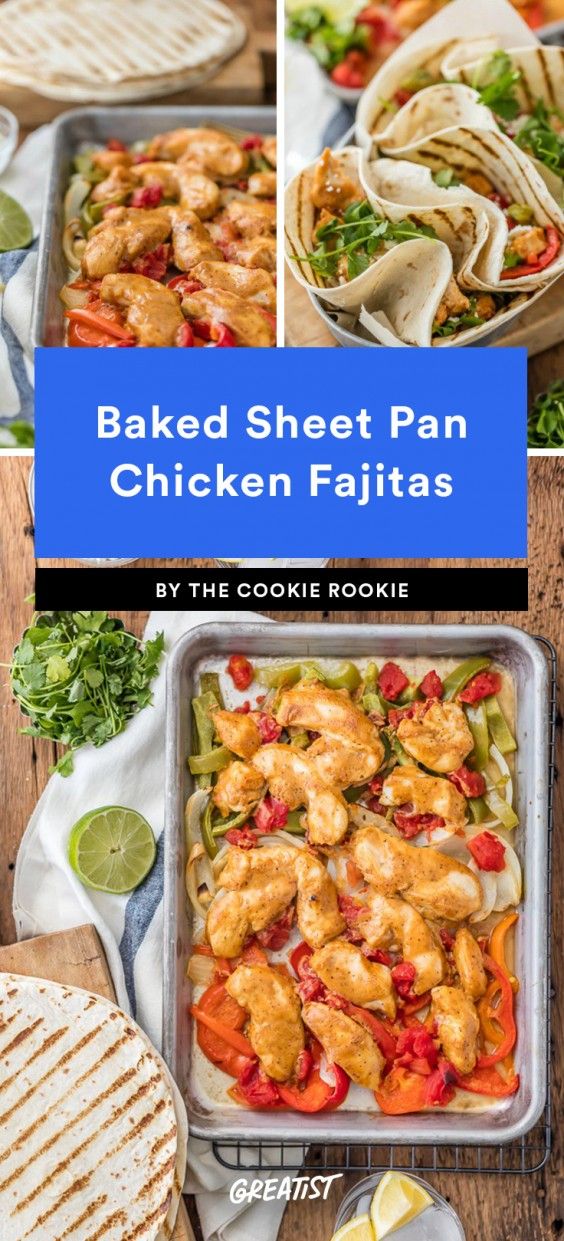 The mix of yogurt with fajita seasoning used to coat the chicken is so tasty on its own, you may not even need extra condiments (although who's going to say no to a dollop of guac?). Simply scoop into tortillas and devour.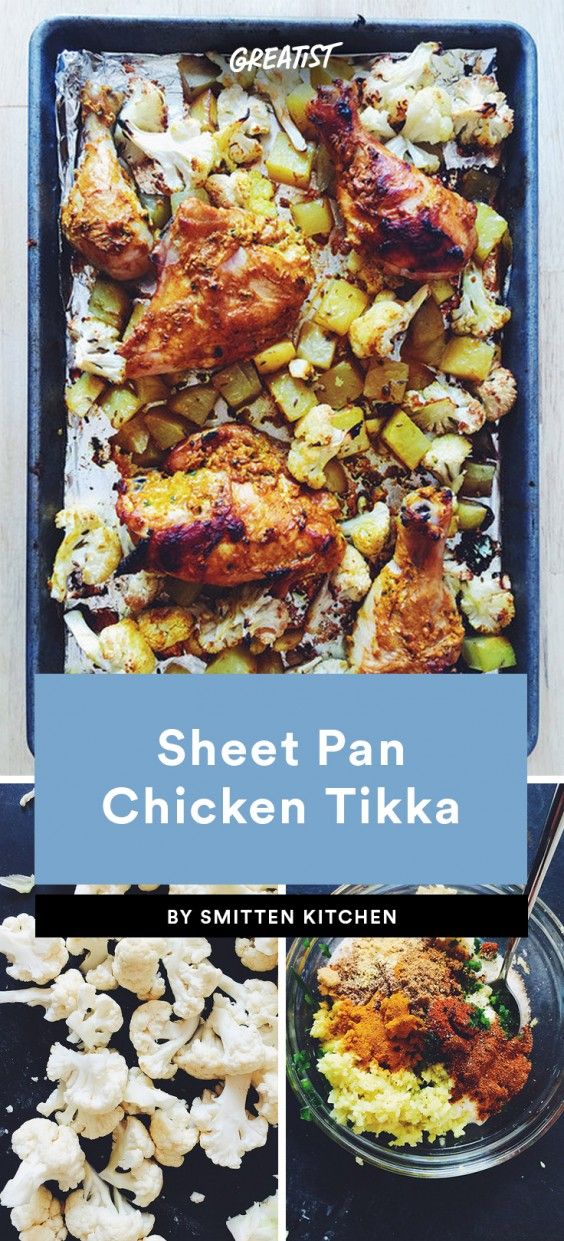 It's worth the extra effort to get a few additional spices to transform regular old chicken and potatoes into an Indian menu favorite. It's restaurant-level delicious but still requires much less hands-on time than a stovetop curry.
Turkey kielbasa and colorful veggies are coated with a generous serving of olive oil, Italian seasoning, and paprika, then baked to perfection. This recipe is keto-friendly, Whole-30 compliant, and gluten-free — yaass! 🙌
With crunchy parmesan potatoes on one side and sea-salted asparagus on the other, the steak in the middle cooks up nice and juicy. How on earth can a full meal be so delicious, yet so simple? It's all in the spices.
The hardest part of this whole meal is slicing and dicing a few veggies, and really, how hard is that? From there, bake the meat with red peppers, sweet potatoes, and broccoli for a well-rounded (and beautiful) dish.
Pro tip: Enjoy with brown rice or quinoa to dress it up.
There are fewer than 10 ingredients in this recipe — talk about the easiest one-pan meal ever! Perfectly flaked salmon meets hearty greens in this meal, and don't forget the best part: a fresh squeeze of lemon juice.
We're mixing it up with the veggies in this one! Yukon gold potatoes, Brussels sprouts, radishes, sugar snap peas, and carrots sit pretty next to tilapia, providing a colorful and nutritious medley of flavors.
Peanut sauces are a dime a dozen, but this recipe goes for cashew butter instead. It's milder in flavor than its peanutty counterpart, so other ingredients like Sriracha and sesame oil can grab a bit of the spotlight too.
Slicing the veggies into thin rounds is probably the most time-consuming part of this meatless meal, but the end result is so worth it. Whether you leave it dairy-free or go with the goat cheese crumbles on top, it's as delicious as it is photo-worthy.
Sweet potatoes and black beans have to be one of the best combos out there for plant based dieters. This delicious duo cozies up with corn, zucchini, bell pepper, cumin, and other staple spices. Don't forget the hot sauce.
No fancy seasonings. No elaborate sauces. We're coming back to basics, people. All it takes is salt, pepper, and olive oil to make a pan of tofu, sweet potatoes, and veggies taste amazing. Believe it.
Between crispy tofu soaking in all the flavors and tender, oven-roasted butternut squash, no one is going to miss the meat in this recipe. The tahini sauce is *everything* drizzled over the top.
At the end of a busy day, the last thing most of us want to do is pour over a million recipes in the Google hole, cook something complicated, and clean up dishes all night — how did I end up with so many for ONE meal?!
Instead, grab a sheet pan, dig around your fridge for some veggies, and locate a source of protein. Coat it all in olive oil, sprinkle a few spices, and let it bake while you catch up on "Love Is Blind."
See? Dinner can be easy peasy lemon squeezy. Thank you, sheet pan gods.