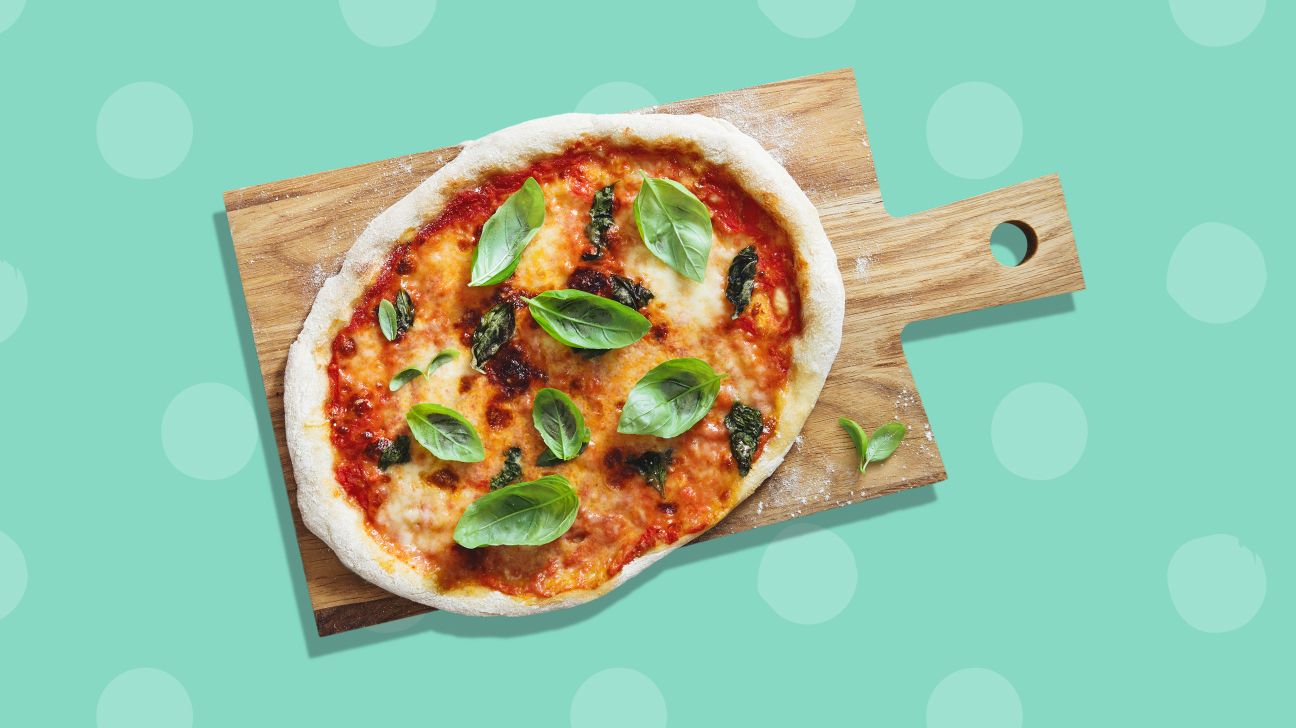 On a manic Monday or lazy Saturday, frozen pizza is an easy fix to save your bacon (or, uh, pepperoni), come dinnertime. But homemade pizza is easier than you might think.
With only four ingredients (five if you count water), and in about an hour, you can make a delicious crust that'll put to shame anything that emerged from the frosty bowels of the grocery store freezer case. Top this tasty recipe however you want for movie night, a casual dinner party, or any other time when you need to satisfy a pizza craving.
Once you try it, you'll be happy to leave frozen pizza behind for good.
Making the DIY pizza of your dreams is super simple — but it might take some trial and error to get it just right. Follow these tips to get to pizza paradise faster.
What to do if you don't have yeast
Sourdough pizza that uses a bit of sourdough discard instead of dry yeast is a fantastic take on homemade crust (though if you don't already have a sourdough starter going, you'll obviously have to wait a while longer).
No-yeast pizza dough recipes can also be found, but be aware they won't give you quite the same texture or flavor you're used to. But you'll still have pizza, and sometimes that's all that matters.
Make-ahead option
Extra dough can be refrigerated for up to a day in a container with a lid (allow room for it to continue to rise), or frozen for up to a month. You can also bake naked pizzas in advance and freeze them for future pizza-making adventures.
More fun with pizza dough
Since this dough is neutral (neither sweet nor savory), it also makes excellent cheesy garlic bread sticks. Roll portions of dough into long rectangles, top with garlic-infused oil and a sprinkle of garlic bread seasoning and cheese, and bake until golden.
Or go with sweet dessert sticks! (Because pizza + dessert = bliss.) Roll portions of dough into long rectangles and top with melted butter and a cinnamon-sugar mixture. Bake until golden and serve with gently warmed hazelnut or chocolate spread for dipping.
Prep time: 1 hour and 20 minutes
Cook time: 12 minutes
Makes 4 8-inch pizzas
Special equipment
Pizza stone or baking sheet
Parchment paper
Pizza peel or wide spatula
Ingredients
2 ½ teaspoons active or instant dry yeast
1 cup warm water (aim for 110°F/45°C, no warmer)
2 ½ cups all-purpose flour, plus more for kneading
1 tablespoon kosher salt
Olive oil for baking
Toppings of your choice: tomato sauce, shredded mozzarella cheese, pepperoni, sausage, green peppers, olives, ham, pineapple, etc.
Instructions
1. Measure water into a large measuring cup and add the yeast, stirring to dissolve. Give it time to activate, about 5-10 minutes. If you don't see any activity, you may need fresh yeast. (See our guide to yeast for more tips if you're new to it.)
2. Measure the flour into a large bowl. Once the yeast and water mixture is foamy, stir it into the flour and combine until no clumps of dry flour remain. Cover with a damp towel and rest for 15-20 minutes. (This allows the water to hydrate the flour and give the yeast time to grow.) Once the time is up, the dough will have risen a little bit.
3. Add the salt, stir gently to combine (it will deflate a bit), cover again, and allow to rise for at least 20 minutes or up to several hours. You can also proof pizza dough in an Instant Pot.
4. When you're ready to form your crust, generously flour a flat area like a countertop to work on your pizzas. The dough will seem sticky, so generously flour your hands to make handling easier.
5. Scoop dough onto the floured surface and divide into roughly four pieces. Take a piece of dough and roll it in flour, forming a ball.
6. Knead the dough by gently pressing your palm into the ball, flattening it and then folding in half, and pressing again. Repeat this until it is elastic and no longer sticky, 30 seconds or so. Shape the dough into a ball, set aside, and repeat with the other pieces, adding more flour to your hands and the surface if you need to.
7. Cover the dough balls with the damp towel and allow to rise for 15-20 minutes or more, up to 1 hour. They will increase in size.
8. When you're ready to bake, use a pizza stone or heat a baking sheet in an oven preheated to 450°F (230°C).
9. Meanwhile, take a ball of dough and flatten it out on the still-floured surface. Press the middle, gently patting from the center to about ½ inch from the edge around the ball, forming a circle. Gently lift the flattened dough and place it on a piece of parchment, shaping back into a circle as needed.
10. Brush entire dough lightly with olive oil, and spoon tomato sauce into the center (if desired), leaving as much crust around the edge as you prefer — about a ¾ inch of crust works well. If you're doing olive oil pizza and no sauce, you can bake it "naked" at this point.
11. Bake the pizza on parchment on the pizza stone or baking sheet for 7 minutes. The crust should barely begin to turn brown on the edges and bottom. Remove pizza and parchment and top with cheese or other toppings as desired. Return to the oven for an additional 4-5 minutes to melt the cheese and heat the toppings.
12. Remove from the oven when the crust is golden-brown and the cheese starts to turn brown at the edge of the crust. Allow to cool a few minutes (if you can wait!) before cutting and serving.