There's never really a bad time for Italian food. Whether you're planning a fancy date night, need a crowd-pleasing cuisine for a group dinner, or simply want a casual slice of pizza, you can count on Italian as a pretty safe and satisfying bet.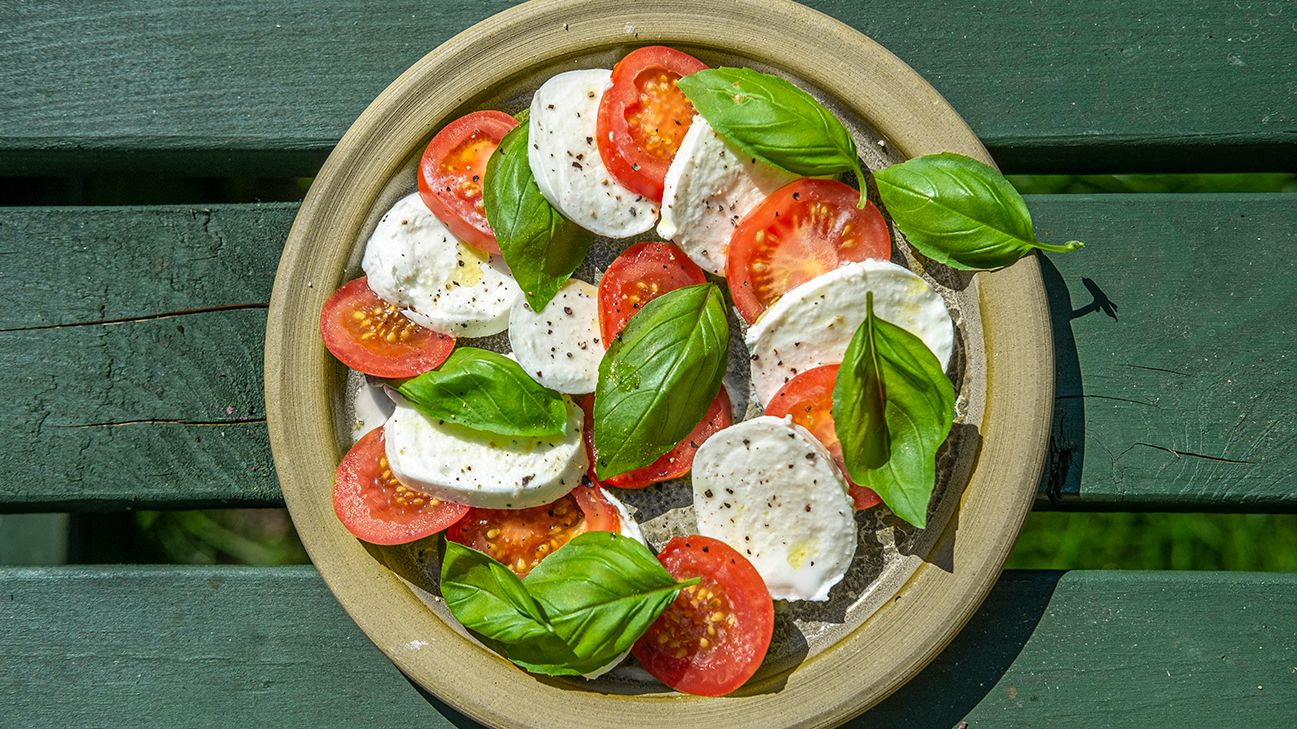 That said, we're not going to lie—a lot of the food at American-Italian restaurants these days can leave you feeling like there's a huge rock in your stomach, thanks to being heavy on the carbs, drenched in rich dairy, and often pretty meaty.
But it doesn't have to be that way. From eggplant Parmesan to risotto, these recipes take some of the most commonly found menu items in restaurants and give them a healthier spin. Buon appetito!
Considering they're usually fried and packed with cheese, nothing about traditional arancini balls are that healthy (or vegan). They are mouthwatering, though, so re-creating them is a must. This recipe uses nutritional yeast for the cheesiness factor and bakes the balls to keep them practically oil-free. What could make them even better? A marinara dipping sauce, made creamy with the addition of tahini to keep everything dairy-free.
Minestrone soup in restaurants usually contains tubular or shell macaroni, but when it's your kitchen, it's your choice—why not switch things up with gluten-free spaghetti torn into shorter strips? Plus, while most versions of this soup contain a ton of ingredients, this one takes the "less-is-more" approach and relies on fewer than 10 main components to create a well-seasoned, super-filling vegetarian soup.
The king of all Italian salads is also probably one of the simplest and most satisfying. In restaurants, you'll find it presented as thick slices of tomato and mozzarella, with basil leaves in-between and balsamic drizzle on top. This version serves it up slightly differently, with cherry tomatoes, balls of the cheese, chopped herbs, and balsamic reduction all mixed up in a bowl. Rest assured, this way tastes just as good, if not better.
This pasta and bean soup can usually be counted on as a healthy starter at most Italian restaurants, but making it at home guarantees quality control on every single ingredient. This recipe uses fresh veggies and canned beans, while opting for gluten-free pasta and swapping the bacon out for ground beef to make it a heartier dish.
Egg whites, oats instead of white bread crumbs, and lean ground chicken instead of beef for the meatballs make this Italian wedding soup a good deal lighter than the regular kind, while pearled couscous instead of pasta simply switches up the textures. Plus, while most wedding soups use spinach or escarole as their green of choice, this one opts for kale for a chewier bite and tons of vitamins.
Few restaurants are memorable for their salads, but Olive Garden's bread crumb-studded, cheese-garnished pile of veggies drizzled in creamy dressing can't be beat. While this recipe is super faithful to the salad ingredients (down to the black olives and the pepperoncini peppers), it takes a somewhat healthier approach to the dressing, with Greek yogurt option instead of mayo and presumably less sugar.
At restaurants, antipasto salads are more like bowls of chopped meat and cheese with a few peppers thrown in. Not this one. With romaine, cherry tomatoes, artichoke hearts, roasted peppers, and mushrooms, the veggies are the stars here. Don't worry, though: Provolone, ham, and salami certainly make their presence felt, but a little of each goes a longer way than you'd think.
Sure, Noodles and Company isn't the epitome of authentic Italian food, but there's no denying that its penne rosa dish is the kind of fantastically creamy and carb-loaded meal you want to face-plant into. Before you do, whip up this copycat version, which uses Greek yogurt instead of cream, whole-wheat pasta, and lots of fresh spinach for added fiber. All right, now you can face-plant.
This veggie-packed Bolognese recipe is notable for thoughtfully offering several ways to enjoy this Italian restaurant staple without compromising on your dietary choices. Need to make it Paleo? Serve it over zucchini noodles. Go for gluten-free pasta if you wish. Not a meat eater? A can of lentils works great in place of the beef or chicken. No matter how you choose to eat it, there's no way you'll go wrong.
Oodles of cheese. A meaty filling. Thick sheets of refined flour pasta. How could you possibly healthify the decadent lasagna? For starters, layer lots of sliced veggies in-between the other ingredients. Then, substitute cottage cheese in place of the ricotta. With just those two simple tweaks, you can turn this restaurant favorite into a meal you don't have to save for special occasions.
Leave that take-out menu in the drawer. Instead, you can roll out a pizza dough, layer on the toppings, and bake the entire thing, all in just 20 minutes! Don't believe it? Try it for yourself and let us know how it worked out in-between bites of thin, crispy crust, juicy tomato sauce, and ooey-gooey cheese.
Eggplant soaks up oil like a sponge, meaning that deep-frying it—as one does for regular eggplant Parm—essentially amounts to eating glugs of extra fat that may leave you feeling weighed down and queasy (and that's before the cheese is added!). For results that are equally delicious but come without the food coma, this recipe broils the eggplant slices without breading them, uses thin slices of cheese instead of entire layers, and opts for a light bread crumb topping.
With cheese, eggs, bacon, and pasta—and sometimes, even cream—pasta carbonara is basically the dish that inspired this article. Give it a makeover with turkey bacon, less cheese, and whole-wheat pasta without losing the killer sauce that the egg yolk creates. You're welcome.
You may not think of a luxurious risotto as the type of meal you can cook at home, but not only is it possible, it's also a quick, 20-minute endeavor! With a pinch of saffron, a splash of white wine, and just enough butter and cheese, this has all the ingredients it needs to achieve restaurant quality without nearly as much richness.
Spongy, espresso-soaked ladyfingers, heavy whipping cream, that light cocoa dusting… it's really not the end of an Italian meal unless tiramisu makes an appearance. These individualized cups not only make for easy portion control but also use honey for a slightly healthy sweetener, while ricotta instead of mascarpone cheese adds more protein.
A crunchy shell on the outside, a creamy sweet cheese filling on the inside… what's not to love about cannoli? This healthier version keeps all the good stuff about this quintessential Italian pastry but leaves out the less desirable bit, going for a baked method instead of deep-frying the dough. It's healthier, less messy, and just as finger-licking good.
With eggs, cream, and generous spoonfuls of sugar, this fluffy, semi-frozen dessert is like the cousin of an ice cream cake—no ice cream maker necessary. This egg-free recipe makes it a tad healthier, using part-skim ricotta and reduced fat cream cheese, plus just three tablespoons of honey in the entire thing.
Zabaglione essentially amounts to egg yolks whipped with sugar and wine to make an impossibly airy yet rich custard. Pretty simple, right? This recipe doesn't stray far from that basic formula but jazzes things up with the addition of biscotti and fresh strawberries to make a pretty, layered dessert that couldn't be easier to make.
Finally, a panna cotta even nondairy dessert fans can enjoy! While its name literally translates to "cooked cream," there isn't a drop of the stuff in this custard. Instead, that gelatin, coconut cream, and pumpkin puree combine with cinnamon and cloves to form a mildly spiced, silky mixture that, when chilled, rivals any restaurant rendition.