There's meatless Monday and taco Tuesday … how about adding a slow cooker Sunday to your weekly lineup? The all-purpose slow cooker does the work of turning meats, veggies, and more into juicy, tender mains that fall apart at the touch of a fork.
The best part: Slow cooker recipes typically require just a few dumped-in ingredients — meaning you can devote your Sundays to the important stuff (like sipping prosecco with pals or taking your dog for walkies).
This variation on slow-cooked pulled pork highlights flavors from Mexico (the Yucatán, specifically). The whole thing is a delicate balancing act: The tart flavor of the tomatillos balances the earthy, slightly smoky achiote spice, while the sweet-sour orange juice balances the spicy jalapeños.
All the components merge with the richness of pork shoulder to make something simple and laid-back — just like Sunday itself.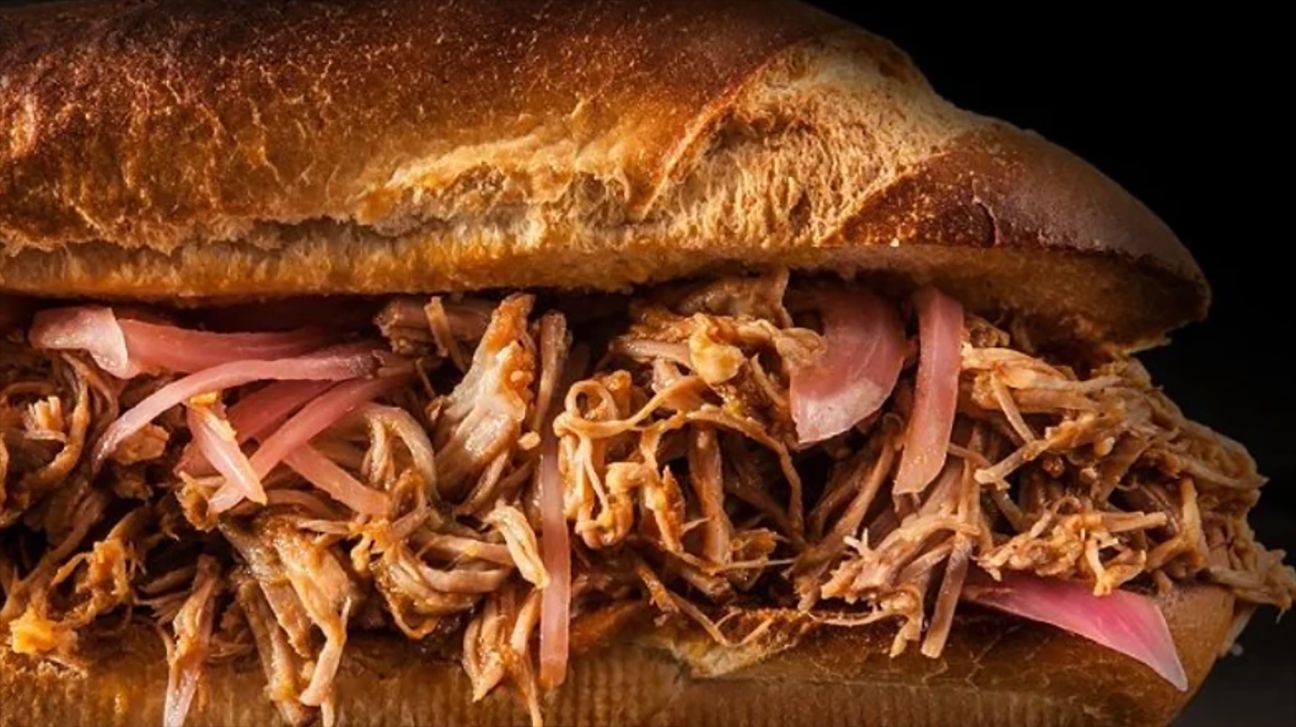 How to eat spicy pulled pork? Let us count the ways!
Serve it on toasted French bread or ciabatta rolls.
Spice up your taco salad by pairing spicy pulled pork with black beans and pico de gallo atop a bed of greens.
Pile it into warm tortillas and top with fixings like queso fresco and fresh cilantro.
Sprinkle with pickled red onions and serve over rice or quinoa.
Layer on pizza dough with Monterey Jack, pop under the broiler, and enjoy a new spin on Mexican pizza.
Add to mac and cheese for an even more savory version of comfort food.
Ingredients
1 (4 1/2 to 5-pound) boneless or bone-in pork shoulder or pork butt, twine or netting removed
1 tablespoon ground cumin
4 jalapeños, sliced
1/2 cup orange juice, freshly squeezed
6 medium cloves garlic, smashed
1 large yellow onion, coarsely chopped
1 (3 1/2-ounce) package achiote rojo, crumbled
1 teaspoon kosher salt
1 1/2 pounds tomatillos, quartered
Instructions
Place the pork, cumin, jalapeños, orange juice, garlic, onion, achiote rojo, and salt in the pot of a 7-quart slow cooker. Spread everything around evenly.
Evenly spread the tomatillos on top of the other ingredients.
Cook on low for 8–9 hours, or on high for 4–5 hours, until the pork is fall-apart tender. When ready, remove the meat from the pot and set it aside.
Scoop out about half of the juices, skim most of the fat, and set the liquid aside. Return the meat to the pot and shred it with the remaining juices. If the meat is too dry, simply add more of the reserved cooking liquid.