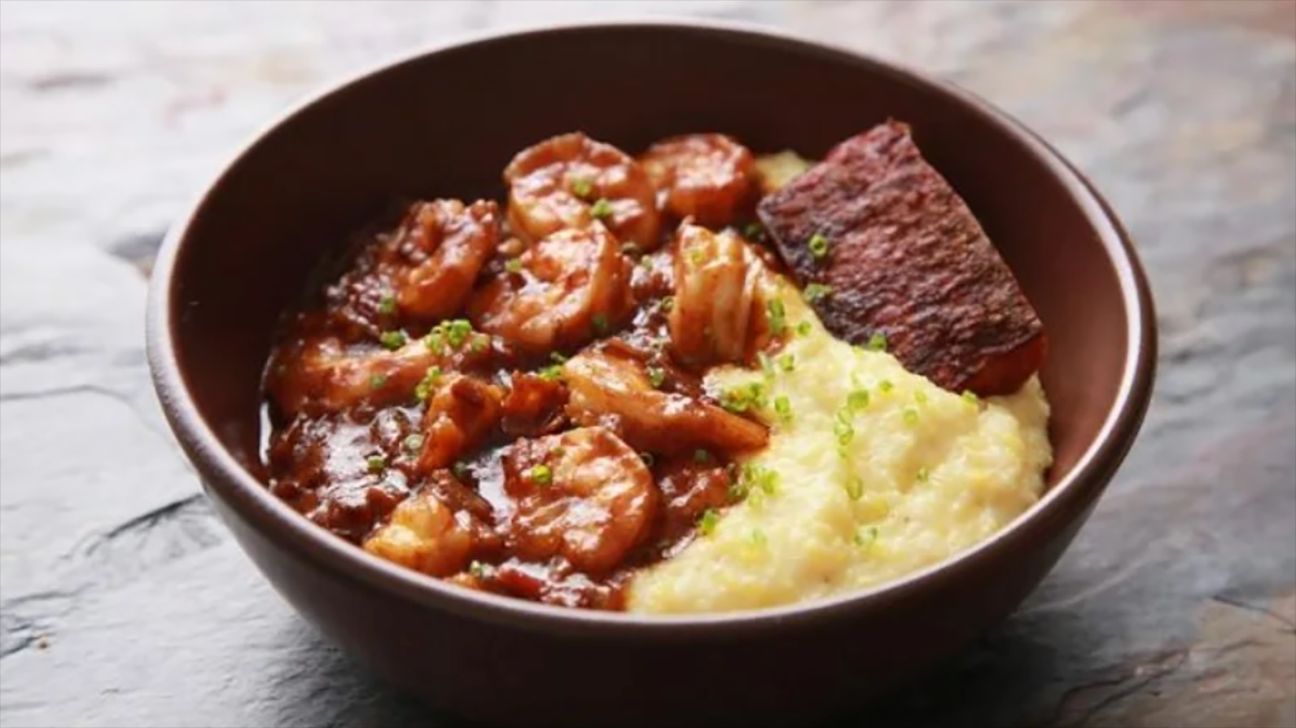 If you've only been eating grits for breakfast, you've been missing out (and if you've been flavoring them with maple syrup or brown sugar, well… you do you, but plenty of people believe sweet grits are inferior).
Grits — which are made from ground, dried corn and are similar to polenta — are incredibly versatile and make a great base for all sorts of sauces, meats, seafood, and poached eggs. They take beautifully to cheese, butter, and herbs if you want to get a little fancy, and are great with hot sauce.
One word of caution: Don't use instant grits (too fine and mushy). Quick grits are acceptable and still have some texture, but if you have more time to stir, regular stone-ground grits are even better.
Here are seven of our favorite grits recipes to eat all week long.
These creamy cheese-enriched grits are topped with crisped cubes of salty ham, sharp scallions, and hot sauce for good measure. They do triple-duty as a delicious breakfast, lunch, or dinner.
This crowd-pleasing grits casserole is creamy like regular grits, but is a bit firmer than the usual porridge-style dish.
Here, the little cornmeal pieces are mixed with milk, hot sauce, eggs, and plenty of sharp cheddar before being baked for 45 minutes (which gives you time to get the rest of dinner finished). They go with everything from crisp bacon at brunch to baby back ribs at a barbecue.
This soufflé is so easy you'll be kicking yourself for not trying it sooner.
With shredded Jack cheese (substitute aged cheddar, gouda, or manchego for a similar sharp, nutty flavor if need be), and a ton of chopped scallions, it's a fantastic party food, but easy enough to whip up on any weeknight. We particularly like it with a pot roast, but paired with a green salad it's a great light meal.
Shrimp and grits are one of the South's most beloved dishes, so get ready for a few different versions.
This one from Maxie's Supper Club (which, full disclosure, is in New York), uses spicy Tasso ham, curry powder, cumin, cayenne, and several other unexpected ingredients for a tongue-tingling take on grits you haven't tried before. Top it off with andouille sausage for even more meaty kick.
While fresh corn is still summer-sweet, make this delicious dish that combines traditional grits with juicy kernels and tender ale-spiked shrimp.
While most grits are made creamy with plenty of dairy, this recipe uses the starchy liquid from the fresh corn to thicken and enrich the mixture. If you leave out the shrimp and the little bit of prosciutto that's there for extra flavor, it's actually vegan.
If you're looking for a simple shrimp and grits recipe, this is the one. Sharp white cheddar adds savor to the grits and the shrimp swim in a spicy sauce on top with briefly warmed fresh tomatoes for sweetly acidic bursts of flavor. Oh, and crisp bacon too.
Talk about savory! These egg-topped grits get treated to a homemade Creole sauce of piquant veggies, bacon drippings, and a pinch of cayenne.
And don't fear the egg-poaching process. This recipe walks you through exactly how to prep the perfect poached egg.