We admit it: There are some (OK, many) mornings when it's all we can do to will ourselves out of bed and grab a fistful of cereal or a granola bar on our way out the door.
A gourmet breakfast isn't a realistic everyday goal. But that doesn't mean we should settle for a sugar rush that'll leave us sad and hungry a half-hour later. You'd be surprised how many healthy breakfast ideas require very little effort when put into practice.
We're about to blow your mind with everything from über-easy, make-ahead breakfast muffins to lots of delicious vegan breakfast ideas and healthy smoothies you can whip up in just minutes. Overnight oats recipe? Oh, yeah. We've got a killer one of those.
There's also no need to limit these healthy breakfast recipes to the morning hours, friends. Expand your horizons and try these 31 healthy options to satisfy those breakfast-food cravings all day long.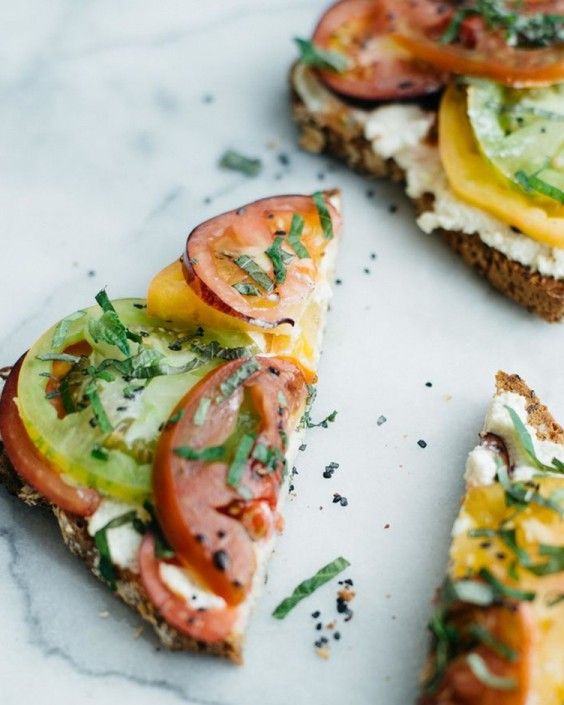 Here's a vegan take on a classic summer breakfast sandwich. Instead of mayo, a fluffy, rich mixture of nuts, garlic, miso paste, and nutritional yeast is spread on hearty whole-grain bread. Then slices of ripe tomatoes are layered on — we love to mix red and yellow heirlooms.
Season this open-faced sandwich with ribbons of basil or shiso, kosher salt, and fresh cracked black pepper.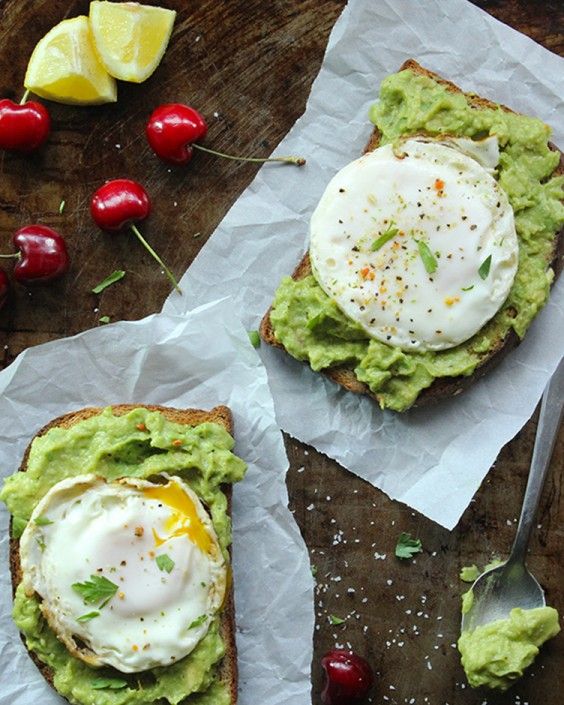 Sometimes simple is just better. Top two lightly toasted slices of whole-grain bread with smashed avocado and a sprinkling of salt and pepper. Layer on two sunny-side up eggs for a healthy dose of protein and you've got a well-rounded breakfast.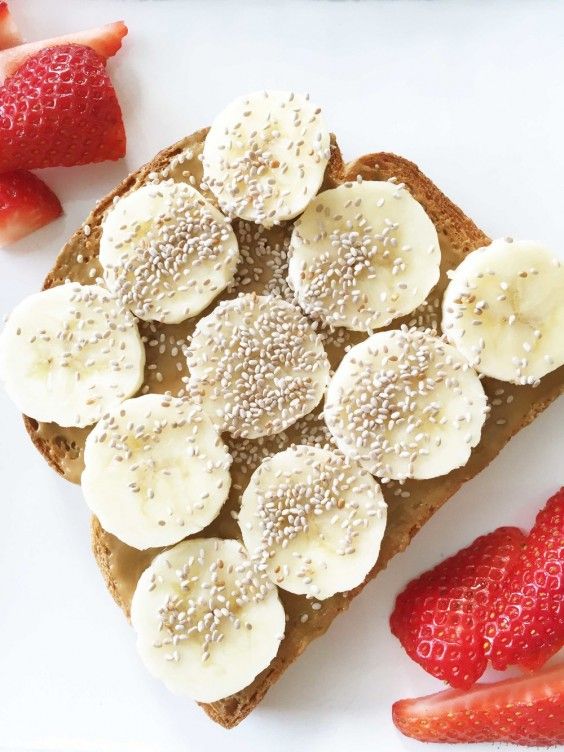 Try this superfood twist on classic PB and banana, using sunflower seed butter (or your favorite seed or nut butter) and a sprinkling of whole raw chia seeds, which are packed with an amazing array of nutrients.
Here's a simple and delicious smoothie for the morning rush. It takes less than five minutes to blend fresh or frozen fruit (banana and berries work well) with Greek yogurt and a liquid of your choice (milk, juice, coconut water — whatever you like).
This recipe makes two servings, so freeze one overnight and let it thaw throughout the day to enjoy in the afternoon.
One of the easiest, healthiest, and tastiest breakfasts out there is a classic fruit and yogurt parfait. The best part? It can be made with any toppings you like. Choose fruits that are in season to get the best flavor. But in a pinch, (thawed) frozen will do.
Smoothies are a perfect on-the-go snack any time of day. Blend frozen bananas, peanut butter, soy milk, Greek yogurt, honey, and a few ice cubes and you'll swear you're sipping a milkshake.
If this is a morning snack, keep it in a tight-sealing container and secure it in a pocket in your gym or work bag. For an afternoon boost, prep it the night before and freeze it. Remove it in the morning, and it will be thawed and ready when that 3 p.m. lull sets in.
Tip: Add a scoop of your favorite chocolate or vanilla protein powder for an extra shot of protein.
This one's perfect to try out as fall sets in. In your favorite small container (with a reliable lid!), layer rich pumpkin pie cashew cream with plain Greek yogurt and a handful of granola, and then sprinkle with cinnamon.
The best part? Pumpkin is a bona fide superfood rich in beta carotene, which is essential for eye health.
A fruit salad of berries and mango gets extra texture, body, and protein from a scoop of quinoa. Toss the whole shebang around until the quinoa is evenly distributed. Then drizzle on a sweet-tart dressing of honey, lime, and basil and toss to coat evenly.
This recipe makes 4–6 servings, so you can prep in advance and throw together a serving or two as you need.
This is the ultimate busy-bee breakfast. Combine oats, chia seeds, blueberries, vanilla, almond milk, and maple syrup in a sealed container and refrigerate overnight. In the morning, top with slivered almonds and half a sliced banana and you're ready for breakfast. If you're in the mood for something warm, heat in the microwave for 1–2 minutes.
Savory oatmeal? What the… ?! Yes, this recipe takes oatmeal to a whole new level. Quick-cooking steel-cut oats (or regular rolled oats) are cooked in the microwave, mixed with white cheddar cheese, sprinkled with diced red pepper and onion, and topped with an over-easy egg.
Bonus: This recipe has useful tips for cooking in the microwave without making a mess. (We admit it: We've wreaked havoc a few times. Sigh.)
Here's a new way to enjoy quinoa: Make mini quinoa breakfast quiches! These two-bite mini muffins are light and fluffy. And this recipe can be adapted to include your favorite
veggies (spinach or zucchini works well) and cheese (ummmm, cheddar).
Cooking quinoa in milk (dairy, soy, or almond) with healthy spices like cinnamon, cardamom, and turmeric infuses flavor into this great substitute for a classic hot breakfast cereal. Plus, it's high in protein.
Simply put all the ingredients into a pot and bring to a boil. Then simmer, stir, and top with your favorite seasonal add-ons.
Try this superfood twist on the classic combo of PB and banana. It tastes like breakfast for dessert, if dessert were healthy. All you need is love — in the form of chia seeds, a banana, some PB, and milk of your choice. And time: The pudding can rest in the fridge for four hours, but overnight is better.
Turn a classic summer quick bread into oatmeal with this recipe. Adding shredded zucchini and chia seeds to the simmering oatmeal pumps up the nutritional value and starts your day with a serving of veggies. Throw on a handful of toasted walnuts for added crunch.
By this point, it's obvious we think quinoa makes anything better. So when it comes to muffins, it's a no-brainer (especially if you add flaxseeds, oats, banana, and applesauce, too). Try these moist little bites for breakfast or an after-lunch treat.
Cookies for breakfast? Yes, please. While Oreos or Chips Ahoy may not make a balanced breakfast, these soft, thick, chewy cookies are a top-notch choice. The recipe calls for carob chips, but you can substitute semisweet chocolate chips.
Plus, you can pick and choose what you like to mix in for flavoring — go for almond butter and raisins in one batch and peanut butter and chocolate chips in another.
With oats, shredded zucchini, and maple syrup, this vegan breakfast will start your day with veggies and grains. Make a batch of these baked oatmeal cups in advance, keep them in the fridge, and grab one for breakfast on your way out the door.
Oatmeal is a great option for a hearty snack or breakfast, but what's the best way to make it more convenient and portable? Bake it into squares! In this recipe, a crisp topping covers a layer of apples over a base of banana and oats.
Tip: Individual servings can be frozen and later thawed or warmed in the microwave.
These oat-based muffins (pssst… it's a Martha Stewart recipe) are packed with healthy carrots and zucchini and lightly sweetened with raisins and a pinch of sugar. Use a mini muffin tin for smaller portions and cut back on the brown sugar or choose a healthier substitute).
These tasty, easy no-bake granola bars will remind you of your morning oatmeal, but you can eat them anywhere you like. This recipe calls for honey, but we like to replace it with maple syrup to make the bars vegan.
Any recipe that fits a serving of veggies into a delicious baked good is a winner in our book. These muffins are jam-packed with better-for-you ingredients — coconut oil, zucchini, banana, and whole-wheat flour — plus chocolate chips for an extra bit of sweetness.
Finally, a muffin without allllll that sugar. These are simple to make ahead of time, and they last all week — great for grab-and-go breakfasts. Blend or whisk eggs with spinach, bacon, and cheese, and then pour the mixture into muffin tins. Bake for 15–20 minutes before serving.
Tip: Once they've cooled, store them in the fridge. They'll warm up nicely in the microwave in your office (sorry it smells so good, co-workers).
Yes, it's possible (and easy) to make a quiche in the microwave! Cover half a cup of spinach with water in a mug and microwave it for a minute. Drain the water and add an egg, milk, cheese, and a crumbled slice of bacon. Mix thoroughly, and then microwave for three more minutes.
Transfer it to a container to eat later or enjoy it right away.
Wake up to a house smelling like sausage and effortlessly put breakfast on your plate, all thanks to the beauty and benefits of a slow cooker.
Layer the vegetables, sausage, and cheese in the slow cooker; top with a mix of eggs and cream (you'd be fine using regular or nondairy milk for a lighter option); and you're just one sleep away from a delicious and hearty meal. (And yes, of course you can omit the sausage.)
Fried eggs are great, but how about baking a whole egg in a muffin tin or ramekin with veggies and cheese, using a lot less oil? A batch of these babies will feed the whole family for breakfast and make Monday feel like Friday. (Yes, you're a star and they appreciate everything you do.)
Here's a yummy vegan way to have chocolate for breakfast. A bowlful of quinoa cooked in almond milk and flavored with cocoa and maple syrup makes for a flavorful, filling, protein-rich base. Top with banana, berries, and vegan dark chocolate (read the label — some brands of chocolate use milk products).
Craving dessert for breakfast? Or breakfast for dessert? This gluten-free, vegan bowl should hit the spot. Simply bake a blend of berries in the oven until soft, remove from the oven, and sprinkle with shaved vegan dark chocolate (it'll melt into the warm fruit) and crunchy toasted coconut.
Serve in bowls with warm or cold nut milk.
These hearty, wholesome, and not-too-sweet muffins make the perfect portable breakfast. Flaxseeds provide a healthy dose of fiber and omega-3 fatty acids. Mashed banana (one of our favorite healthy baking substitutions) allows for a slight reduction in the added fat and sugar, too.
This is a perfect pick for apple season. Cut your favorite kind of apple into wedges and scoop nut butter onto each slice. Sprinkle with oats or granola and cinnamon and drizzle a bit of melted chocolate on top.
Stuck with last night's leftovers? No problem. If you have some leftover tofu and veggies (like peppers and kale), you're good to go for this easy eggless scramble. (Yes, it's vegan.) Combine your ingredients in a pan and throw some potatoes on the side for a hearty dish.
The "compote" part might make this recipe sound complicated, but we've got your back. If it's not a slow weekend morning when you're ready to spend some time in the kitchen, use some substitutes (like regular jelly) to top these tasty PB waffles.
Bonus points because they're gluten-free AND vegan, so no one has to miss out.