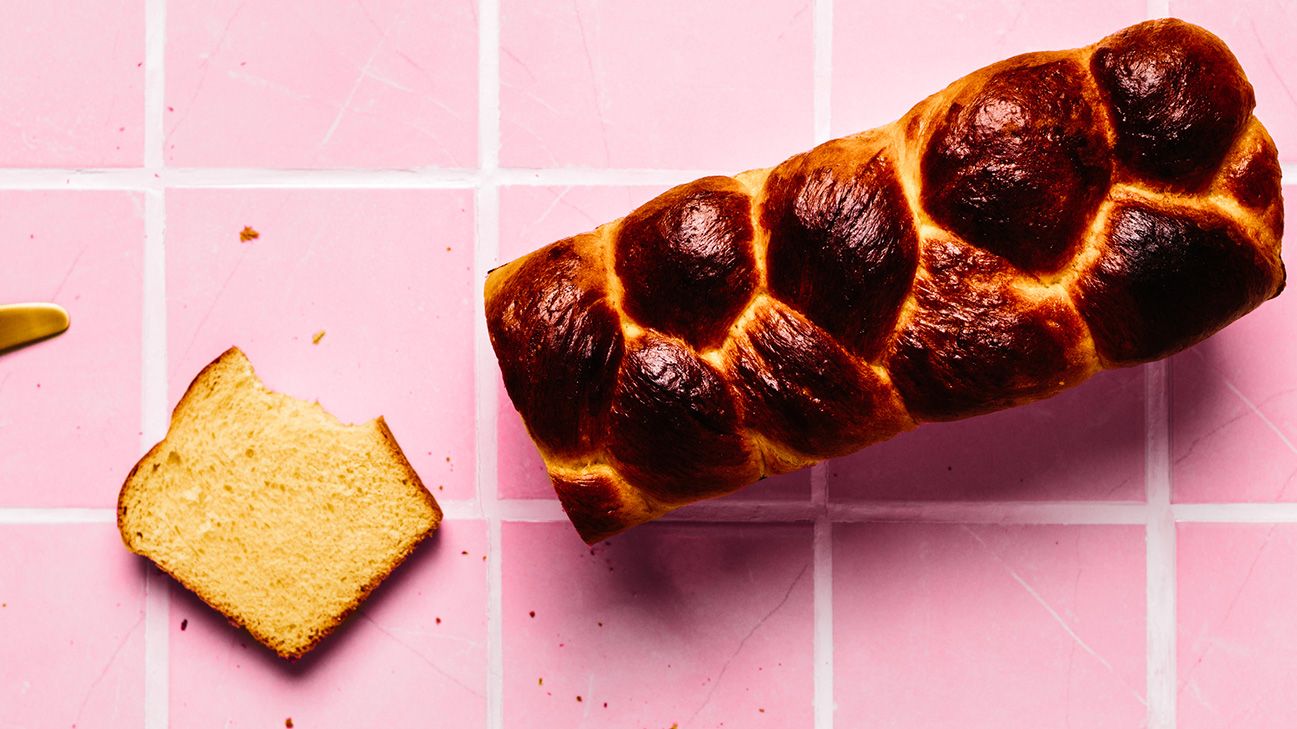 Challah is a bread that's steeped in tradition, holding a symbolic place at Jewish Sabbath meals and in the Rosh Hashanah spread.
But beyond its religious significance, challah has a universal appeal, with a fluffy texture and eggy richness that can be exquisite even in non-kosher dishes. It's ideal for sweets like French toast and bread pudding, and can also add an extra layer of decadence to savory sandwiches and bready casseroles.
Ditch the squishy supermarket slices and make your own challah (recipe below) — then use it as your soft-as-a-pillow bread of choice in the additional recipes we've lined up.
Making any delicious challah recipe requires you have a loaf to start off with. Just in case you don't have one handy (or if you wanna make one that puts the grocery store variety to shame), our recipe for homemade challah will set you on the right track.
There are tons of options for enjoying summer's bounty of stone fruits, but we can't think of a better way to use them up than this peachy special occasion bread pudding. If you've got a challah loaf that's starting to turn stale, an armful of cream, eggs, and butter will hide those rough edges in a jiffy, turning them into something luxurious and dreamy.
Get our roasted peach and dulce de leche bread pudding recipe.
Toad in the hole, eggs in a basket, badger in the cave (OK, we may have made that one up) — whatever you like to call a hollowed-out slice, challah is especially suited for the task because of its eggy-bread-on-egg action.
Four simple ingredients are all it takes to whip up this classic, but feel free to add sliced avocado, sun-dried tomatoes, or a side of bacon for extra oomph.
Challah could be your best friend when looking to feed brunch to a crowd. Just let chunks o'challah soak overnight with some sweet Italian sausage and its drippings, plus onions (or shallots) and cheese. The next morning, pop the savory combo in the oven for a stove-less recipe that makes more than enough to go around.
Challah's richness can also help you add a bit of decadence to an otherwise simple meal. The meaty mushrooms and melty cheese here certainly don't hurt. This savory bread pudding can serve as a side dish or be the star with a simple salad to prop it up.
Treat challah like a sponge and you'll be vastly rewarded. It's a pro at soaking up sweet fruit juices, like in this cheerful berry-laden summer pudding. Bonus: The pudding is way easier than it looks, since it's a totally no-bake dessert.
You can't go wrong with grilled cheese of any persuasion. But grilled cheese on challah with spinach and artichokes? That's a whole other level of delish.
The hint of sweetness in challah makes it perfect for experimenting with salty-sweet combos. Here, a classic grilled cheese takes on new life as a baked casserole featuring the tried-and-true flavors of everyone's favorite dip.
One more plug for French toast. You can make any recipe for it with challah, but this stuffed version crosses the line into dessert territory… especially if you serve it with a scoop of ice cream. Even unadorned, this marriage of molten chocolate and crisp, fluffy bread is just about the most lavish thing that could happen between two slices.
Challah ain't your average bread. With its light sweetness and eggy texture, it does double-duty as both a vehicle for desserts and the perfect foil for savory ingredients. Whatever the bready recipe, we say holla for challah!