Physical distancing has given people a whole new understanding of what it means to be horny. For single folks, the 6 foot rule has essentially prohibited intimacy, leading to a surge in the use of live sex webcams.
According to the New York Times, live-streaming and e-commerce websites like ManyVids and CamSoda are doing record business. Popular adult entertainment site — and recent Beyoncé shout-out — OnlyFans reported a 75 percent increase in overall sign-ups in March, for a total of 3.5 million new accounts.
With so many new eyes on live sex websites, we wanted to get insights directly from the cam models. Nikki Night, coach and trainer for VXPages, and webcam model Allie Awesome were generous enough to sit down with us to help newbs and regulars alike get (respectfully) situated in the world of webcamming.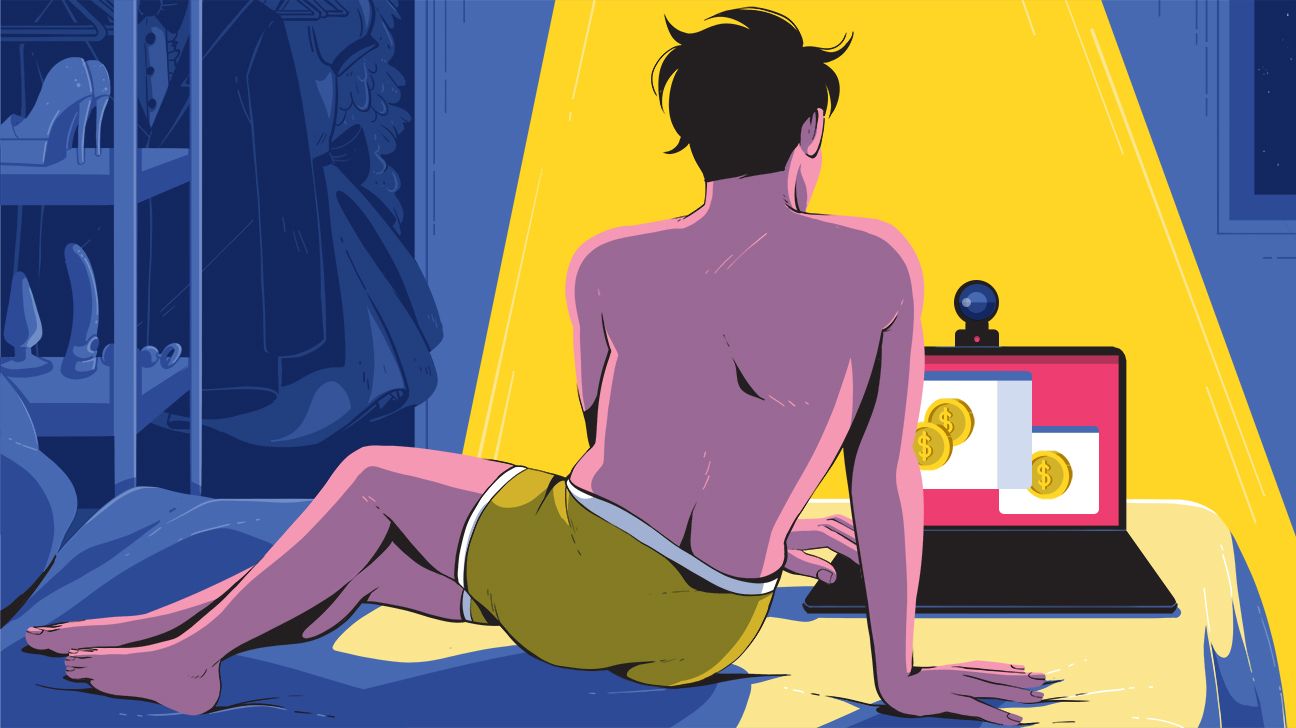 Before tuning in to a cam show, you should set expectations. What are you looking to get out of the experience? Are you after physical release or emotional fulfillment? Sometimes, it can be a mix of the two.
Even if you don't know, models usually have a good idea of a viewer's needs within the first few minutes.
"We ask what we should call them in a private session to get a better idea of what they want," Night says, explaining that if they answer with a "real" name, then they're generally after a girlfriend experience (GFE), which tends to be more emotional in nature. If they answer with something taboo like "bitch," "sissy," or "slave," then they want more of a BDSM-style show.
Models usually let the viewer take the lead, but they can sense nervous energy and will take over to spare discomfort. "We just have to be prepared to either strip down nude or ask them questions when they want a GFE type of thing," Night says. "It all comes down to asking the right questions."
When you start a session with a model, the agreement is that you'll abide by their rules and limits. Don't choose a model you're attracted to who explicitly says they won't do a specific act, hoping they'll do it once you get to know them. This is manipulative behavior and, generally, not a very healthy way to establish relationships.
Models each have their own limits and specialties. Most will let you know what they will and won't do via their profile on their "model menu." If they don't have one, you can tune in to a live session and see for yourself.
Most models will also have a personalized "chat etiquette" in their profile that you can (and should) consult.
Unfortunately, models are susceptible to scams and "time-wasters" and can therefore be weary of newcomers. Generally, all you need to do to establish yourself as trustworthy is be respectful and friendly and tip when you can. But don't take it personally if a model declines your request for a private show in the very beginning.
"Chat rooms have consequences the same as in real life, so bad manners, attitudes, or intentions will get you quickly banned from the room," Night says.
For viewers looking to fast-track their fan status (meaning you get in a model's good graces by regularly tuning in, tipping, and being respectful), it's especially important to follow these pieces of advice.
Quick tips for not being a jerk
Say hello as you join a room and engage in chat when it's appropriate, says Night. This will help dedicated fans and room members warm up to you faster.
Do not — do not — recklessly type the acts you want a webcam model to perform without tipping. They're people, not puppets.
Compensate in some way. "If tipping through tokens isn't your thing, join their fan club if they have one, subscribe to their monthly content, sign up on their personal website, see if they have an Amazon wish list. These will be listed somewhere in their profiles," says Night.
On "token sites" like MyFreeCams and Chaturbate, models perform shows in a "free chat" forum where the audience tips via tokens for various acts. But don't be confused by the name "free chat." Tipping is always expected.
"Sex work is work, and if a model is providing value, it's a good idea to pay them," Awesome says.
The others are known as premium sites, like Streamate, where models hang out in a free public chat until a viewer requests a private session. When the private session begins, models earn money at a per-minute rate, though tips are also encouraged.
"I am incredibly grateful to the people who support my work financially because it allows me to do this full-time," says Awesome. "In return, I'm able to give them my attention, get to know them, and build relationships. I should add that they also get to see some really sexy content!"
These sexy folks dedicate their time and effort to provide a service that we consumers have come to rely on (an estimated 40 million Americans view porn sites regularly). But sex workers rarely receive the respect expected in other industries. In fact, many are currently being denied COVID-19 relief funds despite a significant drop in income.
There are plenty of sites that don't charge you to stream porn, like Pornhub, but opinions on these goliaths vary by performer. Some dislike them due to the nature of stolen content. But because these sites have large audiences, most performers have accepted their presence and work with them rather than against them.
"I put [content] up there because I get exposure and paying customers will find me on there and sign up for my pay sites," says Awesome. "I paywall my premium videos and the personal experiences I provide."
Most webcam models are everyday folks like you and me, meaning you might see them out in public. So what are you to do when you're strolling through the produce aisle and you spot a webcam model inspecting an avocado's ripeness?
"Calmly hide your erection and carry on with your day," Night advises. "It is never a good idea to approach models unexpectedly out in the real world. They could get freaked out or, worse, you could accidentally expose them to the people they are with."
Same goes for when you come across their personal IG or social accounts. If it's set to private, assume they're not interested in fan messages. Boundaries are especially important in sex work not only to keep the model safe but also to protect the emotional health of the fans. These aren't your partners, they're professionals.
Having dealt with stalkers and overzealous fans in the past, Awesome and Night believe cam conventions and industry events are the most appropriate places to enchant your favorite models with witty banter and charm.
Some subjects and acts are off-limits to models, mostly for reasons of safety and privacy. Awesome shares her list of do's and don'ts as a guideline, noting that all performers are different.
The don'ts
Don't ask me for my PayPal or Cash App. (It's illegal to pay sex workers directly for their time. That's why sites have come up with the token payment system.)
Do not ask for my personal information.
Don't spam, i.e. barrage me with constant messages.
Do not ask me to do anything unless you are paying.
Do not demand attention.
Do not expect me to be a sexual robot.
Do not send unsolicited dick pics.
The do's
Do tell me what you want in a private session.
Do pay me on the site where you found me.
Do follow the site's terms.
Do pay me for my time.
Do honor my prices.
Do have a normal conversation with me at the beginning of our session.
Do tell me what your kinks and interests are.
Do have fun!
Please be polite and respectful.
The adult industry is shrouded in stigma, so Night and Awesome have some things they'd like you to know from the start.
1. Models aren't victims
There's a misguided belief (commonly linked to female and trans performers) that a mastermind behind the scenes is making the decisions.
"Women (and identifying females) are 100 percent allowed to explore and enjoy their sexuality — camming is wonderfully empowering," Night says. "We're not out here to steal your partner, either. We're down for dildos, not dates."
That is to say, don't make it your fantasy to come save them (unless you plan on paying for that fantasy!).
2. It's not easy money
"The myth that drives me absolutely bonkers is that it's fast, easy money," Awesome says. "While a small, visible fraction of people get overnight success, the vast majority of us put in a ton of time and effort before gaining momentum."
It took Awesome nearly 4 years on webcam to earn a "decent wage" as a performer. Both Awesome and Night say that most webcam models work 50 to 60+ hours per week, with most of their time spent off camera completing various marketing tasks and interacting with customers.
3. Models receive only a portion of the money they earn
The payment processing company and the camming site both take percentages, so a model's take-home income is much less than what they take in initially. It varies, but models generally come away with between 30 and 80 percent of their total money earned.
Because of this, many models rely on multiple sites as income sources.
"The more pressure a model can take off their live show the better," Night says. "Having multiple sources of income allows you to focus on having fun on cam instead of stressing yourself sick over viewer numbers and reaching your tip goal."
4. Don't be shy about setting up a second session
If you loved a session and would like a second, setting one up is less formal than you'd think. "Tell us you enjoyed the show and that you want to do it again!" Night advises.
From there, you can either set something up in the chat or consult their cam schedule to see when they'll be online next. Night says most will send a message after the private show or in the public chat that they had a great time and would like another one.
5. It's *your* job to remember this is a show
For the most part, when you go to a movie, you don't leave the theatre thinking actors are like that in real life. And in their personal lives, actors shouldn't have to remind you that their on-screen personality isn't them. In the same way, it's not the model's job to "break the fourth wall" so to speak. It's your job to remember there is one.
It should go without saying, but the human element of the sex worker-client relationship makes it a unique transaction, one where decency and respect are crucial to the health and safety of both parties.
You're paying for a service, but you're also engaging in an inherently intimate exchange. It never hurts to put yourself in their shoes for a second and consider how you'd like to be treated.
As long as you're friendly and treat models with respect, there shouldn't be any issues. If you have the funds to do so, help them out with a tip, purchase a video, or subscribe to their fan sites.
Other than that, just sit back and enjoy the show.
"Come to our show with the intent of having a good time," Night says. "All cam models want is for you to enjoy their show." Awesome agrees: "Beyond that, just be nice to us, please!"
Bobby Box is a journalist whose work on sex and culture has been published just about everywhere. Coming out as queer halfway through his career, Bobby has amassed a considerable and respected audience and has become recognized as a studied and shameless voice in the community. Follow him on Twitter at @bybobbybox.