Blue Apron has long been known as the meal delivery service for people who love to cook. The brand's new WW-approved meals are a way to help you make healthier choices as you work toward your weight loss goals.
The WW meals are not full plan option — rather, they're two or three weekly menu items that can be included in Blue Apron's Signature Plan. The Signature Plan lets you select up to four recipes/meals per week, with a rotating list of menu items.
Each week you can select all the WW meal options or create a custom mix of WW and regular Signature meals. It's up to you!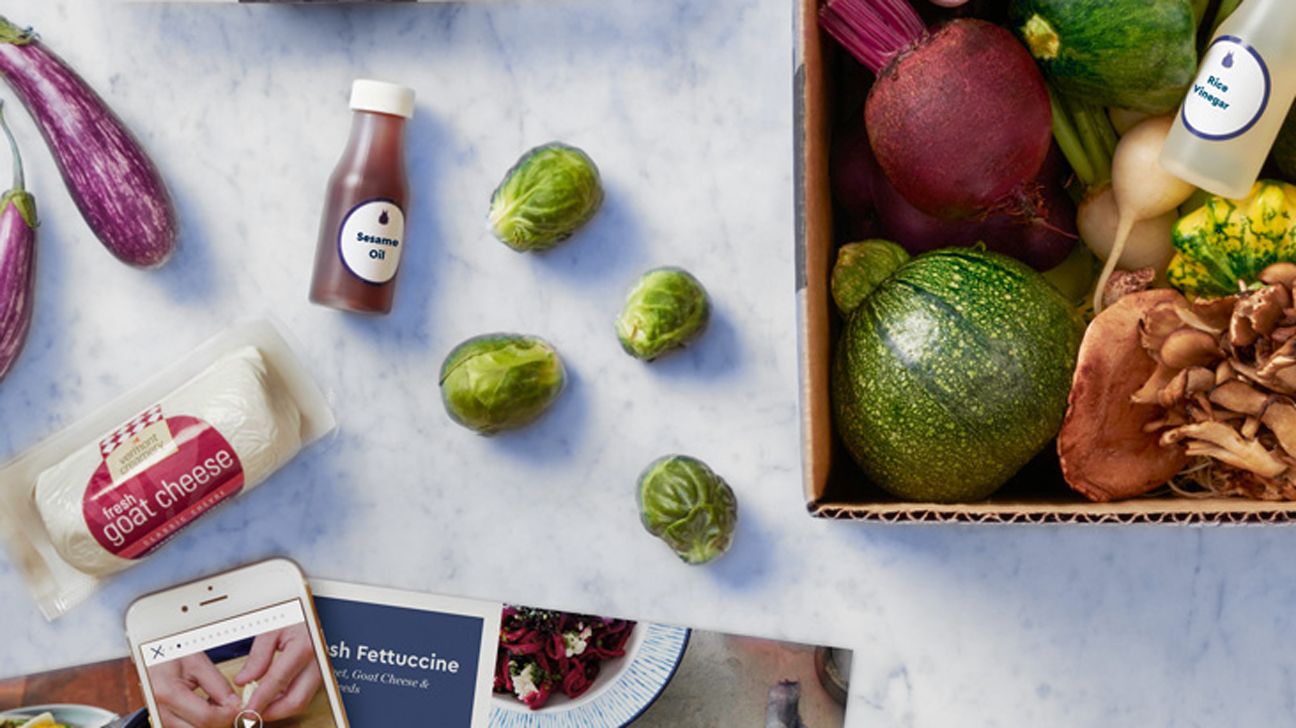 Quick look: What you'll get
The price: Meals range in price from $7.99 to $9.99 per serving, depending on the number you order each week.
The # of meals: You can pick either two or three WW recipes/meals per week as part of the Signature Plan, each with two or four servings.
The recipes: WW meals are designed to be veggie-rich and low in calories, saturated fat, sodium, and added sugar. SmartPoints are specified for each meal, making it easy to track the total number of points for your WW plan.
The delivery: Ingredients and recipes are delivered right to your door once a week. Shipping is free for most plans, but some plans charge $7.99 for shipping.
It's all about fresh, globally inspired flavors. Like all of Blue Apron's offerings, the WW meals feature fresh, high quality, non-GMO ingredients.
Just as good, the recipes are easy to follow and each one specifies how long it'll take to make. (Most are in the 25-to-45-minute range, but some take an hour.)
Some examples from the always-changing weekly menus:
Tilapia & Creamy Romesco Sauce with Barley, Tomatoes & Brussels Sprouts
Couscous-Stuffed Poblano Peppers with Spinach, Raisins & Tahini Dressing
Sheet Pan Harissa-Honey Chicken with Vegetables & Roasted Lemon Labneh
Vadouvan & Cashew-Crusted Tofu with Chutney-Braised Vegetables & Cilantro Sauce
One-Pan Pork Chops & Sautéed Cabbage
WW meals aim to go the extra mile in terms of healthfulness by emphasizing veggies and keeping the total calories, saturated fat, sodium, and added sugar in check. (Some are meatless, FYI, but that's definitely not always the case.)
Each WW meal also has the number of SmartPoints all counted up for your individual plan color. To see how the meals factor into your plan, just scan the meal barcode to track it on your WW app.
All the meals are designed to be veggie-rich and low in calories, and the SmartPoints are calculated for you. So there's definitely weight loss potential here, if that's your jam.
But you can't rely just on Blue Apron's WW meals to reach your weight goals. The brand offers only two or three WW meals per week, so you'll need to make other WW-friendly meals on your own if you want to stick with a SmartPoints-based WW plan designed to help you lose weight.
That said, eating healthy doesn't have to be all or nothing. Every wholesome meal choice counts, and eating two or three lower-calorie, plant-forward meals per week is good for your body whether it leads to lower poundage or not.
And hey — over time, making a few small changes can start to add up to big progress.
Blue Apron meals aren't effortless. You still have to do the chopping and the actual cooking.
But working with fresh ingredients and cooking everything yourself instead of just reheating means you'll get rewarded with food that's way more delicious than premade frozen fare.
That's true even if you're not super confident in your kitchen skills. The ingredients are premeasured, and the step-by-step recipe instructions are pretty straightforward. As long as you have some basic cooking equipment (y'know, a knife, a cutting board, some pots and pans) and you read the directions, the chances for tasty results are pretty high.
Just pay attention to how long the recipe is supposed to take. While some come together in 20 minutes, others take 45 minutes or even an hour.
The cooking time is spelled out on the menu, so you can pick quicker or more time-consuming recipes based on your schedule or what you're in the mood for when you're placing your order.
If you're looking for creative WW-compatible meals — or just healthier meals — with fresh flavors but don't want to put the energy into coming up with menus and shopping for ingredients, this is definitely a good option.
The only real downside is that there are only two or three WW-friendly meals to pick from each week — not a ton of variety, especially if you're a little picky or have dietary restrictions. And if you want to stick with WW, you still have to come up with the rest of your eats and calculate the SmartPoints on your own.
The meals are creative and affordable, they meet WW guidelines, and they tally SmartPoints for each meal.
Fresh ingredients = deliciousness.
You can choose new menu items each week.
You can incorporate WW meals into Blue Apron's Signature Plan.
The food is delivered right to your door, usually for free.
The WW plan doesn't offer a whole week's worth of meals.
The WW options meal are limited, so they might not work if you have dietary restrictions or want a lot of variety.
It's not the best option if you don't actually like cooking.
You may have to pay for shipping if you pick a small plan.
Want in? Sign up for Blue Apron's Signature Plan and start getting the new WW-approved meals ASAP.