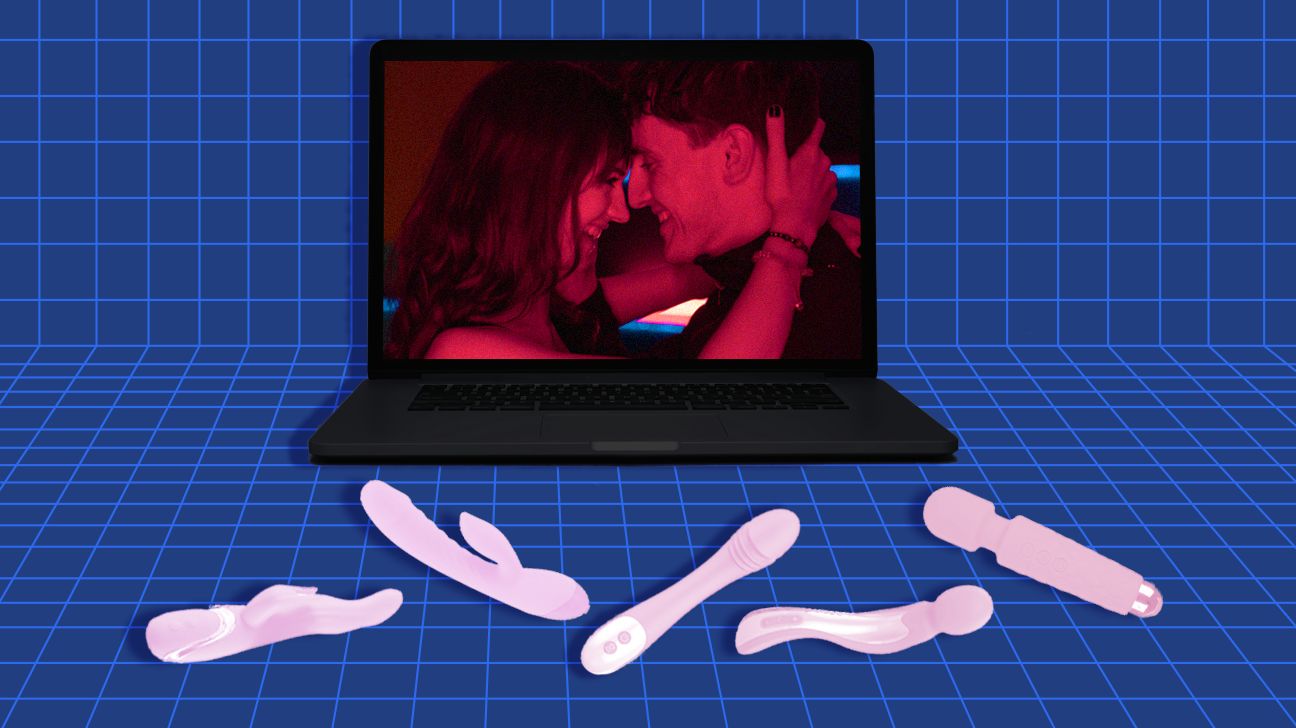 We include products we think are useful for our readers. If you buy through links on this page, we may earn a small commission. Here's our process.
Greatist only shows you brands and products that we stand behind.
Our team thoroughly researches and evaluates the recommendations we make on our site. To establish that the product manufacturers addressed safety and efficacy standards, we:
Evaluate ingredients and composition: Do they have the potential to cause harm?
Fact-check all health claims: Do they align with the current body of scientific evidence?
Assess the brand: Does it operate with integrity and adhere to industry best practices?
We do the research so you can find trusted products for your health and wellness.
Unboxing videos are popular for a reason, and that's because they're basically porn. A special, pleasure-delaying sort of porn where the build up leads to "damn, look at that wireless Xbox controller, let's touch it" rather than "and now here are my genitals."
Oftentimes that build up, the wanting, the anticipation, the fixating on small details and elements of something that you can't wait to one day grip and consume, but are afforded no certainty of having, is the sexiest part about most things in life. That's why there are multiple articles written about being horny for Normal People (that guy's necklace) right now.
It's gotten people so horny, a recent Guardian article suggested it might be the end of sex scenes as we know it. Yep, in good old-fashion prudishness, the British Film Commission is suggesting in-person scenes might be better filmed with people positioned… back to back? Honestly when you think of a good way to get down with your partner back to back, please do let us know.
But since film production is on a hold in most countries right now, we're not going to fret about all the sex scenes we could have had.
Instead let's focus on what we do have, from the build up to the actual *makes that gesture where you put the pointer finger of one hand through a circle made with the the other* — which we have to admit is in many ways way more realistic than the explicit, incognito stuff.
Because you might arrive at release in a different way, and that's half the fun, filling in those blanks with your own sexy imagination. Especially when sex scenes are always unrealistically short (time-wise) to IRL sex. The main event might be over and done for Marianne and Connell, but we get to hold onto that sweaty tension to fuel later daydreams — or right now. Like now, now.
Seriously, if you're up for it, here are a few shows and movies for your *ahem* viewing pleasure. Shows and movies that let us have our emotional pleasure and "get out the vibrator moment" too.
Stream on Hulu.
It would seem like we haven't touched a TV or laptop for the past month or so if we didn't start with this one, so let's just get down to it. Everyone is freaking out about how hot Hulu's "Normal People" is — and it's primarily because the show's sex scenes are pretty realistic.
I say "pretty" here, and not "extremely," because the two main characters, Marianne (Daisy Edgar-Jones) and Connell (Paul Mescal) look like they live inside of a Planet Fitness, and that's not 100 percent realistic.
Even still, the willingness on the show runners' part to let the sex scenes breathe is undeniably sexy. The second episode has a sex scene that lasts almost 10 minutes, which is more than enough time to, you know. With a good vibrator you could start at the beginning of the scene and still have a few minutes left at the end to check your email.
Stream with subscription on Hulu, HBO, or Amazon Prime.
In the mid 2000s, television and film took the "whatever, IDK, I live in Brooklyn and collect tote bags" character and ran with it. The first of its kind to do this in a problematically perfect way was HBO's "Girls," which ran for six seasons starting in 2012. What was the show about? Absolutely nothing. Was it sexy? In a "strange boner" kind of way.
Strange boner is usually used to describe being turned on by something, but feeling kind of on the fence as to why. And it's the perfect way to describe furiously masturbating while watching Jessa (Jemima Kirke) say the word "milk," Marnie (Allison Williams) show the world what analingus in broad daylight looks like, and Adam (Adam Driver) build his pre-Kylo Ren body by flexing a variety of pained expressions while breaking furniture and peeing on people in the shower.
I literally have a strange boner just thinking about it right now, and I don't even have a penis.
Pay to stream on Amazon Prime or Google Play.
The May 4th announcement that Stephenie Meyer will be releasing the Twilight prequel, Midnight Sun, on August 4, 2020 reignited a lot of #TWIHARD flames. I'm not embarrassed to say that I loved, and still love every book in the Twilight series, and the films as well. Just like I'm not ashamed to say that I still listen to "All of the truth," by "Bright Eyes" etc. Vampires are sexy, and that's just a fact.
Know what's even sexier? Shirtless Jacob Black (Taylor Lautner) walking in jean shorts like he has a load in his pants, breaking into a run, and then leaping into the air and exploding into a wolf. Shirtless wolf boys are hot. Just allow this for yourself.
Question though, where do Jacob's shorts and underpants (provided he's wearing any) go when he goes into wolf mode? I like to think they also burst, and flutter down like confetti. That's romantic.
Stream with subscription on Hulu and HBO.
The best part about the sex scenes in HBO's "Insecure," which is a few episodes into its fourth season, is that they look so fun. A lot of the time shows will set up sex in this way where the characters are doing normal things, like grocery shopping or something, and then it cuts to this elaborately staged sex scene completely absent of pores. No one is sweating. No one is visibly wondering if their body looks weird.
On "Insecure" the segue from doing whatever into full-on naked sex is just as quick, but the characters are making real life sex noises, laughing, saying strange, sometimes corny things, all while pumping and skin slapping away. It makes you want to join right in, which you can, with whatever vibrating device you have handy, or your finger(s). As Issa would say … "Look at God."
Stream with subscription on Hulu.
When I first watched this French film, directed by Céline Sciamma, I thought I was going to explode. First from the eyes, then from the heart, and then from the pants. In that order.
I have a lifelong appreciation for physical media. Growing up in the 80s and 90s instilled in me a love of THINGS. So when, almost immediately after the credits rolled on this, I started Googling "Portrait of a Lady on Fire merch," I knew I had it bad.
This film centers on two women, Marianne (Noémie Merlant) and Héloïse (Adèle Haenel) who are shoved into a utilitarian association based around the painting of a portrait, and then smolder for each other until they can't keep away any longer, even though they know that their love for one another will only, and very quickly, lead to pain.
The whole movie feels like the 5 seconds right before you have a slow and deep orgasm that starts from the top of your head and ends at your toes. Even if you don't have passionate love in your own life, you can watch this and feel the experience of it.
Pay to stream on Amazon Prime or Google Play.
Lizzy Kaplan can get it done in just about anything. She is, hands down, the sexiest actress to ever live. In "Masters of Sex" she plays the character Virginia Johnson, and even makes a name like Virginia sound sexy.
The plot of the show is loosely based on Thomas Maier's biography Masters of Sex, which centers on studies performed by real-life people, William Masters (played in the show by Michael Sheen) and Virginia Johnson. They studied sex, y'all. And you get to see lots and lots of it in this show, revolving around Lizzy Caplan's character being a little cold and crabby while wearing old-timey underthings and sexing the living shit out of Michael Sheen. Like, that's the whole show. Can you believe how lucky we are?
Pay to stream on Amazon Prime or Google Play.
This is one of those movies where you find yourself surprised that it ever got made, because it's just too perfectly niche. Based on a short story of the same name by Mary Gaitskill, it stars James Spader as an anal-retentive lawyer, and Maggie Gyllenhaal as his submissive secretary.
There's a lot of super hot office scene BDSM stuff, and at one point the audience is made to worry about the secretary, Lee Holloway, because she's a cutter, and maybe she's not in her right frame of mind for all of this, but then she puts a cockroach on the lawyer's desk and we know she's actually gonna be just fine.
Pay to stream on Amazon Prime.
I like to think of "Carol" as being the first ever lesbian Christmas movie. I watch this AT LEAST once a year and am so conditioned at this point that I quiver at the mere sight of a woman holding a pair of leather gloves.
Based on Patricia Highsmith's book, The Price of Salt, it's a veritable who's who of lesbian heartthrobs dressed in sweater suits with a cast consisting of Cate Blanchett, Rooney Mara, Sarah Paulson, and a little Carrie Brownstein thrown in for good measure.
You may find yourself asking "is this creamed spinach over poached eggs too hot?" Never, Carol. Never. Now get under that Christmas tree.
Stream on Hulu and Amazon Prime.
This Showtime classic has it all: pee stuff, "Love Boat" cosplay, pool sex, gynecologist office sex, sex with a guy who's never heard of Kathleen Hanna.
The L Word isn't just a show for the LGBT community, it's the people's show. Bonus points for the existence of Bette Porter (Jennifer Beals) and Jenny Schecter (Mia Kirshner) who have the hottest sex scenes and are the hottest characters. This isn't up for discussion.
*Screams "Justice for Jenny!" and closes laptop*
Kelly McClure is a writer who has written for NY Magazine, GQ, The Hairpin, Rolling Stone, and more. Find more of her work here.