Content note: This article uses the term "couples therapy," but that term applies to all relationships.
Decades ago, therapy was mainly reserved for people with enough time and cash to sit on some tweed-wearing therapist's couch and complain about their childhoods. Now lots of people realize, "Hey, I could benefit from a little talk time."
Therapy isn't just a solo endeavor. It's also a way to address conflicts in your relationship.
Though the name "couples therapy" might sound like you're on the road to a breakup, it's actually a tool to help you communicate better and grow closer. This type of psychotherapy is led by a licensed therapist who specializes in relationships. And there's no shame in working on your love game!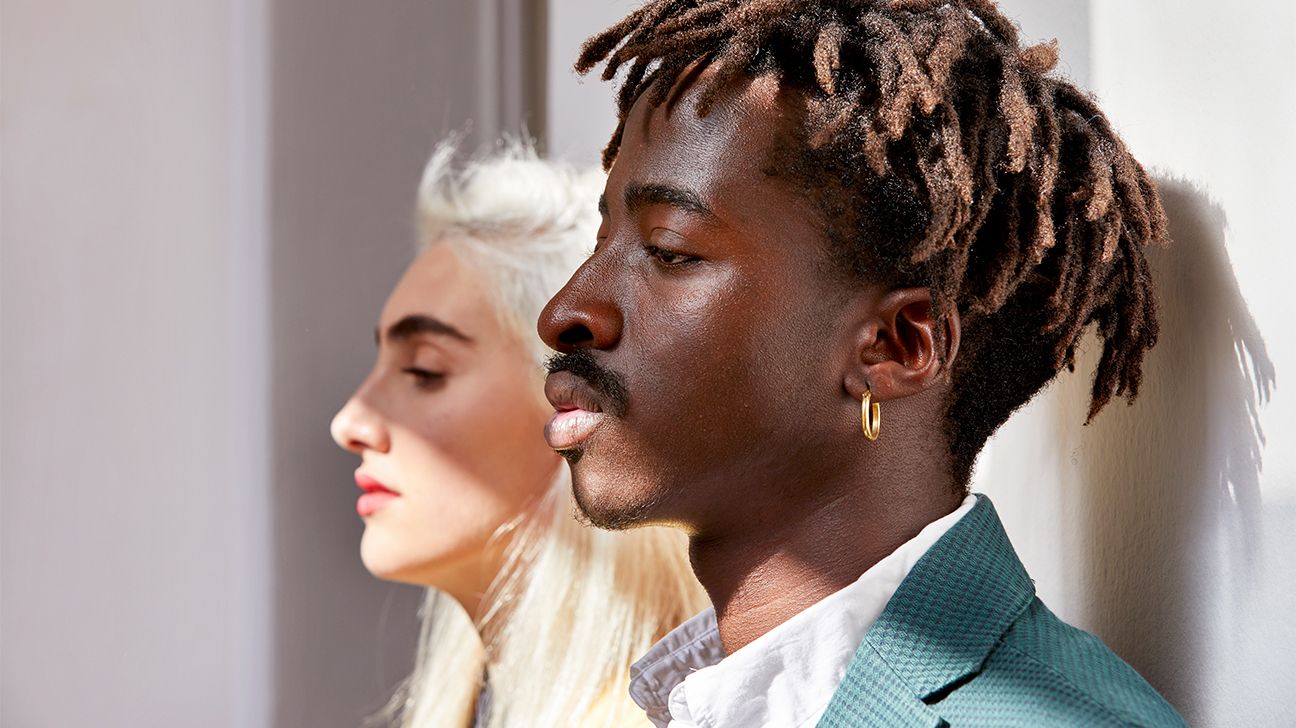 Couples therapy is not a one-size-fits-all kind of deal. Your therapy should be as unique as your relationship(s). Here are some of the most popular kinds of couples therapies to help you figure out the best fit for you and your partner(s).
1. The Gottman Method
The Gottman Method is an approach to couples therapy developed by real-life couple and relationship experts, Drs. John and Julie Gottman. Its aim is to help couples:
improve communication
increase intimacy
develop respect and affection
create understanding
To achieve all of those goals, your therapist first has to learn a bit about you and your partner(s). The process starts with a super-detailed questionnaire that you and your partner fill out separately.
Using your responses, the therapist runs you through interventions based on Gottman's "Sound Relationship House" theory. The house has two load-bearing walls made up of trust and commitment. From there, you and your partner(s) build, floor-by-floor, until you've formed the foundation of a healthy relationship.
2. Emotionally focused therapy (EFT)
For people who've been feeling "stuck" in their relationship, emotionally focused therapy is one method to try. Based on attachment theory, EFT creates a safe space for you and your partner(s) to get out any negative emotions you may have kept bottled up.
Under the guidance of a totally nonjudgmental and supportive coach, you work through any issues you've been having in your relationship. Over time, you and your partner(s) learn each other's wants and needs. And eventually, you turn the negative energy into a more positive emotional connection.
3. Imago Relationship Therapy
Imago Relationship Therapy is the brainchild of Drs. Harville Hendrix and Helen LaKelly Hunt, who came up with the concept in 1980. It starts with the idea that some of us bring a lot of baggage into our relationships. Any childhood feelings of abandonment or neglect we harbor eventually bubble up and mess with the bond we have with our partner.
Imago (which means "image" in Latin) digs into those childhood experiences to help resolve relationship conflicts. Rather than blaming each other, you use understanding and empathy to stop negative relationship cycles and heal as a couple.
4. Narrative therapy for couples
Each person comes into a relationship with their own story. In narrative therapy, you take full ownership of your story and understand that each person's individual story impacts the relationship.
This treatment has been around since the 1980s. One element of it is distancing the problems from your relationship. So, if you've been getting annoyed with your partner(s), you put the annoyance to the side (externalize it), so you can focus on each other's stories, weaving them together to become a whole.
5. Art therapy for couples
If you can't talk through your problems, why not make art out of them? Art therapy lets you express emotions on a canvas that are too hard or painful to put into words.
Instead of telling your partner how you feel, you use painting and drawing to resolve inner conflicts. An art therapist guides you through this process.
6. Reflective listening
How many times do we listen to someone we care about, without really hearing them? Though it's not a specific type of therapy, reflective listening is a more active form of listening that makes you really tune in to what your partner(s) is saying.
In this type of therapy, you don't just hear the words coming out of your partner's mouth. You also try to understand what emotions or worries they're trying to get across through their words and body language.
Don't share your feelings or opinions. Just acknowledge that you hear them. At the end of a conversation, you should be able to say, "I know what's going on with the person I love right now."
7. Solution-focused therapy
Lots of couples face problems at one time or another. Money issues, work stress, and jealousy can all strain a relationship. Complaining or blaming each other for problems can magnify them even more.
This therapy takes the spotlight off of your problems and does not focus on the past. Instead, the therapy focuses on the solutions that focuses on the future rather than the past by asking questions that bring out positive changes. The therapist uses your strengths to help you create goals, so you can resolve any issues you face.
8. Relational Life Therapy
Therapist and author Terry Real has a very different approach to couples therapy. You could call it a "no BS" way of dealing with relationship problems.
In Real's program, you confront your problems head-on, and take decisive action to fix them. You might have to face the truth about your own self-defeating actions, like selfishness or jealousy. But Real says, dealing with problems aggressively can help resolve them more quickly.
9. Discernment counseling
Are you thinking of calling it quits, while your partner(s) wants to keep trying? Or are you still committed, but your spouse is ready to walk? Discernment counseling is for couples who are thinking about breaking up or getting a divorce, but aren't on the same page.
In discernment counseling, which is a brief therapy technique, the therapist helps you work through the next steps of your relationship. You can take one of three roads:
Call it quits.
Take 6 months to try to resolve things.
Put off the decision.
You meet with the therapist separately and together. The goal isn't to help you save your relationship, but to figure out if it's worth saving.
If you really want to work on your relationship, there are a few activities you can try as a couple to strengthen the bonds.
1. Practice reflective listening
Reflective listening means being an active listener when your partner talks. As you listen, you really process what they're saying and how they feel.
Don't judge or offer your opinion. Instead, let them know you've heard them by repeating back what they've said. For example, "I understand that you're upset because I don't do enough around the house."
Reflective listening can improve your communication as a couple. It's also a good way to address conflicts when they arise.
2. Identify your partner's love language
Through his years of work as a marriage counselor, Dr. Gary Chapman discovered that people in relationships have five unique ways of expressing love. He called them "love languages." They are:
words of affirmation
acts of service
receiving gifts
quality time
physical touch
A simple online quiz can help you and your partner learn each other's love language, so you can relate to one another better.
3. Practice partner yoga
Cat-cow might not seem like the solution to marriage troubles, but practicing yoga together can be a creative (and fun) way to get closer. The combination of touch and breathing builds intimacy. Having to lean on each other (literally) can help strengthen the bonds between you.
4. Schedule in couple's time
Time is a resource that can be in short supply for busy couples. In between work and other responsibilities, there's sometimes little time left for each other.
Schedule in at least an hour each week to reconnect. It doesn't matter what you do during that time, as long as you're focused on each other.
5. Share your wants list
Your partner can't fulfill your needs unless they know what those needs are.
Write down all the things you want out of your relationship. Now share that list with your partner. Keep the items actionable, like "Pick up flowers on your way home" or "Call me once a day."
If you're often at odds with your partner(s), therapy is an obvious option, but there are lots of other reasons you might want to try couples therapy:
Besides helping with the obvious problems, couples therapy can also provide the following:
time together that's focused solely on your relationship(s)
effective communication skills to use down the line
methods to handle conflict without hurting each other
a stronger emotional connection
more overall satisfaction with your relationship(s)
perspective for the specific problems you and your partner(s) face
You don't have to be an old married couple to benefit from couples therapy. In fact, you don't have to be married at all! New relationships need nurturing too.
You may not feel comfortable asking friends and family for therapy recommendations, but there are other sources for finding a good relationship therapist.
Tips for finding a therapist
Ask your healthcare professional or individual therapist for recommendations.
Check with your insurance company for a list of covered professionals.
Dig into some online directories.
Tap into Google to search for "couples therapy" + your location. You might also try "relationship counseling" or "sex therapy."
Taking the counseling couch virtual
Can you do couples therapy virtually? You can, and for now, you should! In the time of physical or social distancing, the need for therapy is still strong, and therapists are meeting that need safely and virtually.
In a research review of 25 articles on virtual mental health care (internet or telephone-based), researchers concluded that virtual or phone therapy is effective and comparable to in-person mental healthcare.
According to a small study, couples had a positive experience doing therapy via video chat.
What about the cost?
Therapy can be expensive, but it doesn't have to be. If your insurance covers couples therapy, take advantage of your good fortune and many blessings!
If you are paying out of pocket and money is tight, many therapists charge on a sliding scale depending on income. It never hurts to ask! Check out popular therapy apps to see if they offer relationship counseling. They are often less expensive than traditional therapy.
Once you determine your goals for seeking therapy for your relationship(s), the next step is research, research, and research. Start by reviewing mental health professionals' websites.
See what your prospective therapist is blogging about and what techniques they specialize in. Your comfort level will tell you a lot about which therapist may be right for you.
Ask for a short consultation with the ones that interest you. Treat it like a job interview and hire the one that can do the work you and your partner(s) need. Be honest about your relationship issues so you can gauge how the therapist responds.
Questions to ask a prospective therapist
What are your rates and do you accept my insurance?
How many sessions will we need?
Do you offer virtual sessions, and how does that work?
Do you specialize in working with LGBTQIA relationships?
What are your licenses and certifications?
What is your therapeutic style?
What is a typical session like with you?
How do you approach issues like ours?
What training do you have with social justice issues and racism, working with sexually diverse or gender-expansive clients, etc.?
Whether you've been together for months or years, couples therapy is an effective way to learn some relationship-building skills. Investigate the types of therapy offered and start looking for qualified therapists in your area.
Once you know what you need and what your priorities are, you can determine which therapist will work best for you.