We include products we think are useful for our readers. If you buy through links on this page, we may earn a small commission. Here's our process.
Greatist only shows you brands and products that we stand behind.
Our team thoroughly researches and evaluates the recommendations we make on our site. To establish that the product manufacturers addressed safety and efficacy standards, we:
Evaluate ingredients and composition: Do they have the potential to cause harm?
Fact-check all health claims: Do they align with the current body of scientific evidence?
Assess the brand: Does it operate with integrity and adhere to industry best practices?
We do the research so you can find trusted products for your health and wellness.
If a truly perfect dish exists, it just might be shakshuka. Easy to make, both comforting and exciting, healthy, inexpensive, and composed of ingredients you likely regularly have on hand, it checks all the boxes for an ideal meal. Plus, it's fit for breakfast, brunch, lunch, or dinner!
As long as you like eggs and tomatoes, you'll love this one-pan marvel — but even if you don't do one or another of those ingredients, you can still make a version that appeals to you.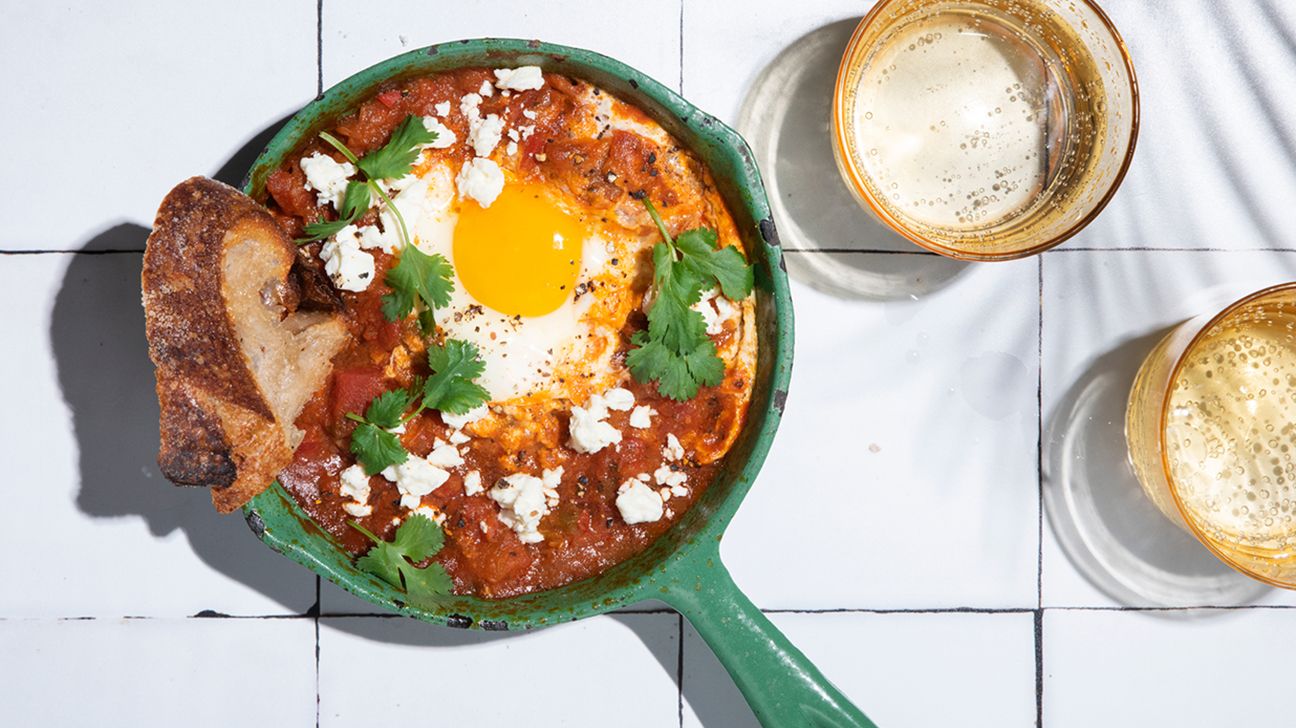 Shakshuka (also spelled shakshouka), in it simplest form, is a warmly spiced vegetarian dish of saucy tomatoes, often with peppers or onions, with eggs cracked right into the mix, usually left whole and simmered to desired doneness.
Haya Molcho, restaurateur and author of the Tel Aviv cookbook/travelogue, notes that "many families make [the sauce] over the weekend" because "you can prepare the ragout and use it over several days for different dishes such as pasta, as a bread spread, or as shakshuka."
The dish as we know it has North African origins, although it may have descended from the Ottoman Empire's saksuka, which did not include tomatoes but did feature meat.
Today, shakshuka is most strongly associated with the Middle East and Israel in particular, where it was introduced by Jewish immigrants from Tunisia, Morocco, Algeria, and Libya.
It's always been an affordable, filling, and undemanding meal, so it's no wonder it keeps gaining popularity all over the world.
Its inclusion in renowned Israeli chef Yotam Ottolenghi's 2011 cookbook Plenty helped spread the word, and nowadays, Instagram is a steady source of tantalizing shakshuka shots.
While they have no direct connection to each other, Mexican huevos rancheros, Italian eggs in purgatory, and Turkish menemen (which scrambles its eggs) are all similar to shakshuka, proving that the combo of eggs and tomatoes is universally appealing. Eggs in purgatory (eggs cooked in marinara sauce) is the closest analogue.
Shakshuka is a fun onomatopoeia, as its name means, roughly, "shaken" or "mixed up" (also reflective of shakshuka's casual composition).
Cooking shakshuka basically just involves nudging things around a pan (a cast-iron skillet is the most common vessel, but whatever works). There are no theatrics, no tricks to master, no pitfalls except potentially burning things, but moderate heat and occasional stirring easily prevent that.
Generally speaking, yes! Shakshuka is packed with vegetables — especially tomatoes. Tomatoes are high in the antioxidant lycopene, which has been shown to have multiple health benefits like reducing inflammation and potentially lowering blood pressure.
Then, of course, there's the significant protein you'll get from eggs (6 grams each). Meanwhile, eggs come with other nutrients like choline (which supports brain function) and lutein and zeaxanthin (which boost eye health).
If you don't eat eggs, you can substitute silken tofu for a vegan version (purists will fight you, but it works). And good news for GF folks: Shakshuka is almost always gluten-free.
At the most basic level, making shakshuka simply means cracking some eggs into a thick tomato sauce — but beyond that, there are lots of ways to shake up your shakshuka.
Whether it's your first or fiftieth time cooking the dish, you can alter the basic formula by adding almost anything that appeals, like more vegetables, such as chopped eggplant, peppers, potatoes, artichokes, and squash. Greens like kale, spinach, and chard also add color and nutrition.
If you want to keep it vegetarian but add more substance, stir in beans, chickpeas, or lentils. Or if you'd like meat, add that, too — sausages like merguez or chorizo, ground beef, lamb, or chicken, and even fish or shellfish all work. Seriously, anything goes.
Then season it with smoked paprika, sumac, chili powder, za'atar, or your other favorite spices.
Finally, sprinkle on as much cheese as you please — feta is a classic choice — or leave it off entirely. Same goes for labneh (thickened yogurt), harissa or other hot sauce, and any other garnishes, like olives, fresh herbs (cilantro or parsley), fried shallots, preserved lemon… The choices are many, and they're all yours.
You can even subtract and substitute for the main components, although it will no longer be traditional (and maybe not technically shakshuka) — but everywhere it's enjoyed, there are countless variations offered, and personal spins on shakshuka are part of its beauty.
So feel free to go with a green sauce based on leafy vegetables and/or herbs if you're not feeling tomatoes, or swap in silken tofu for the eggs for a vegan version that still feels a lot like the real thing.
Once you're done tinkering with — or just following — the basic shakshuka formula, simply add pita, flatbread, challah, or slices of any rustic crusty bread for sopping up the sauce. Or do as Sababa author Adeena Sussman suggests and serve it with crispy latkes.
In any case, you'll be certain to come back for more.
Try one of these shakshuka recipes to get started.
This is a pretty classic version of the dish, streamlined and simple, with diced tomatoes, onion, bell pepper, garlic, cumin, and paprika, plus eggs of course. You can leave the yolks as runny as you like, or cook until they're set.
Get the easy shakshuka recipe.
Our slightly more involved take on shakshuka amps up the garlic, adds Anaheim chiles and feta cheese to the tomato sauce, and tops everything off with zhug, which is sort of like a spicy Yemeni pesto, made from cilantro, parsley, more garlic, and za'atar.
Get our shakshuka with zhug recipe.
There are many ways to make green shakshuka: Set the eggs in a nest of collard greens and kale; blend peas and lots of bright green herbs for the sauce; even use shaved Brussels sprouts, spinach, and zucchini.
But this version is more like a Mexican interpretation, with a sprightly green tomatillo sauce. When they're in season, you could try substituting green tomatoes for some or all of the tomatillos.
Get the green tomatillo shakshuka recipe.
This recipe demonstrates how easy (and delicious) it is to add extras to your shakshuka, like eggplant, leafy greens, and chickpeas. Check your fridge for any languishing produce that would be good to toss in — the dish will be happy to welcome it into the fold.
Get the eggplant, chickpea, and chard shakshuka recipe.
Shakshuka without eggs is really just a sauce, or maybe a tagine. But if you can't or don't eat them, try simmering soft dumplings of silken tofu in the tomatoes instead. Tofu adds protein, sure, but also evokes the tender texture and floating-islands look of the poached eggs in the original.
No matter what kind you make, if you don't mind cleaning two pans afterward, you can cook grains like kasha, couscous, quinoa, or rice and ladle the shakshuka over the top.
Get the vegan shakshuka with tofu dumplings over kasha recipe.
If you're craving meat, you can add something as basic as ground beef to shakshuka, but spicy chorizo is especially ideal paired with warming tomato sauce and gentle eggs. Try subbing in merguez sausage too if you can find it.
Get the spicy chorizo shakshuka recipe.
If you want to think of shakshuka as a method rather than a specific dish, you can get even more creative.
Scour the web and you'll find suggestions as novel as leftover chili baked shakshuka, but cooking fish in a more traditional rendition of the sauce (whether instead of or in addition to the eggs) makes for a great weeknight dinner.
Isn't it interesting that various cultures around the globe all came up with basically the same idea: rich poached eggs swimming in a hearty tomato sauce? If you ask us, it just goes to show that these simple ingredients are a match made in flavor heaven. With a handful of pantry staples, you can shake up any version of shakshuka you like.