Caring for cast iron means cleaning it, but it's not as simple as popping your pan in the dishwasher. So, how do you safely clean cast-iron skillets, Dutch ovens, or fryers?
How to clean a cast-iron skillet in 8 steps
It might not be hard — you just need some elbow grease.
Start with a seasoned cast-iron pan.
Rinse your cast-iron skillet with hot water.
Use salt and oil to remove leftover gunk.
Use a paper towel to rub the salt-oil paste in a circular motion.
Wipe out the salt and oil.
Rinse again and dry thoroughly.
Rub in a bit more oil.
Store with a paper towel placed in the pan to help prevent rusting.
People rave about the benefits of their cast-iron skillets: Oh, the heat retention! The stovetop and oven flexibility! The dietary iron! The nonstick surface after seasoning! But then there's the cleaning, a task which stirs up conflict faster than a closed-door meeting on Capitol Hill.
Cleaning your cast iron doesn't have to be tricky, though. Here's how to do it right.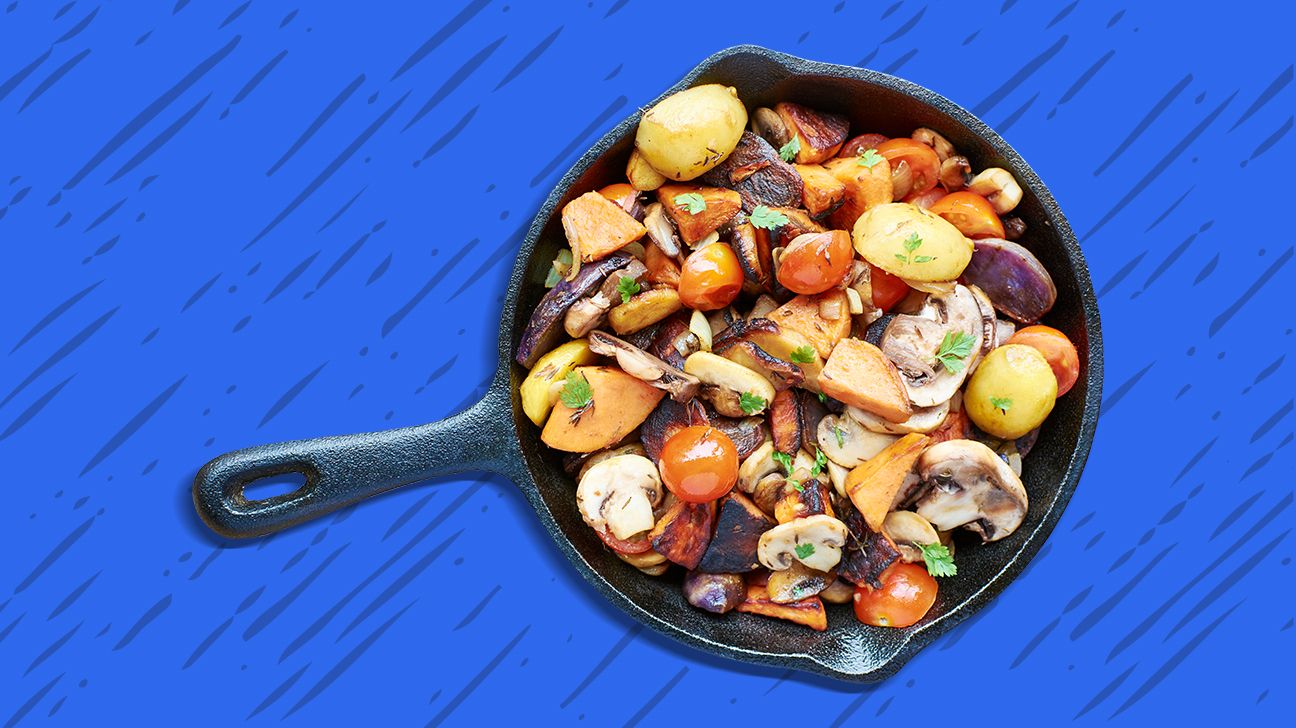 Here are our eight proven steps for cleaning a skillet.
1. Start with a seasoned cast-iron pan
If your skillet hasn't been seasoned yet, rub it with oil and heat it. Each successive time you cook with it, the oil, butter, or animal fat will form another nonstick layer that also prevents rusting.
Get cooking as soon as possible.
2. Rinse your cast-iron skillet with hot water
Then wipe out the dirty bits with a sponge or brush. Avoid using soap unless your pan has years of layered, polymerized seasoning on it. And never use steel wool because that can strip off the precious seasoning, especially with newer pans.
Don't put it in the dishwasher either. Due to how porous cast iron is, that flavor of yucky suds will become one with the pan.
3. Use salt and oil to remove leftover gunk
If you need something more abrasive to remove stubborn bits of leftover food debris, place a spoonful of coarse sea salt or kosher salt — or cornmeal — into your dirty cast-iron skillet. Pour an equal amount of cooking oil, such as canola, vegetable, or corn, over the salt or cornmeal.
4. Use a paper towel to rub the salt-oil paste in a circular motion
This should remove the unwanted bits, but you can use a metal spatula or pan scraper to scrape off any hard-to-remove debris that won't come loose.
5. Wipe out the salt and oil
When you're satisfied that the pan is clean, wipe out the salt and excess oil with a clean paper towel.
6. Rinse again and dry thoroughly
If your pan is burned, you can rinse it with water again and dry it thoroughly. Very thoroughly. If water stays on the pan too long, it will rust.
If you use a cloth instead of paper towels, have a couple of cast-iron-dedicated cloths, because the pan can blacken them, so don't use your heirloom dishcloths inherited from grandma.
Another way to dry it is to place the skillet over a high flame for a few minutes. Let it cool before completing the final step!
7. Rub in a bit more oil
Once the pan is totally dry and cool enough to touch, rub in some more oil just to give it a nice sheen, then heat it again for a couple of minutes to help the oil absorb — and prevent the pan from getting sticky or rancid-smelling.
8. Store with a paper towel placed in the pan to help prevent rusting
Keeping a paper towel in the pan can help put a barrier between your pan and the oxidation that triggers rusting.
Now that you know how to clean it, try some of our cast-iron skillet recipes!
Because this recipe contains acidic tomatoes, if your cast-iron pan isn't well-seasoned, use a heavy-bottomed ovenproof skillet or enameled cast-iron pan instead. All the savory, earthy filling is topped with creamy polenta, made even more awesome with Parmesan and tons of fontina cheese.
For the filling, you'll need
3 tablespoons olive oil
1 1/2 pound large Japanese eggplant, diced
1 pound cremini mushrooms, quartered and stem-trimmed
1/3 cup dry red wine
1/2 medium yellow onion, small dice
1 teaspoon dried oregano
3/4 teaspoon red pepper flakes
Kosher salt
5 medium garlic cloves, minced
1/2 cup green olives, pitted and coarsely chopped
1 can crushed tomatoes
1 cup water
Freshly ground black pepper
For the polenta and to assemble
3 cups water, plus more as needed
2 cups whole milk
2 teaspoons kosher salt
1 1/2 cups polenta or coarsely ground cornmeal
1/2 cup (1 1/2 ounces) grated Parmesan-style cheese
1 1/2 cups (5 ounces) shredded fontina cheese
Get our eggplant and mushroom polenta bake recipe.
Making the dough takes a while, but once you have that part done, the rest could be easy. Cast-iron pans tend to be the best when you need to put the pan on the stove first and then in the oven. The toppings are up to you, but tomatoes, burrata cheese, and basil leaves are suggested.
For the dough, you'll need
1 tablespoon sourdough starter
1/2 cup cool water at 60°F (16°C)
3/4 cup whole-wheat flour
1 cup lukewarm water at 80°F (27°C)
2 3/4 cups bread flour
2 teaspoons sea salt
For the toppings, you'll need
1 1/2 pounds heirloom tomatoes
20 to 25 fresh basil leaves
8 ounces fresh mozzarella cheese
8 ounces fresh burrata cheese
Olive oil
1 teaspoon Maldon salt
Parmesan-style cheese, for garnish (optional)
Get our skillet pizza recipe.
This is a drier version of some cornbread recipes, meant to be a vehicle to wipe up that chili or barbecue sauce. The other bonus to it is, you don't need to buy buttermilk to make this cornbread.
You'll need
6 tablespoons (3/4 stick) unsalted butter
1 1/2 cups fine ground yellow cornmeal
1 cup all-purpose flour
1 tablespoon baking powder
2 tablespoons granulated sugar
2 teaspoons kosher salt
1 1/2 cups whole milk, room temperature
3 large eggs, room temperature
If you want a more moist version that requires buttermilk, try our basic skillet cornbread recipe. For the regular-milk, drier variety, get our skillet cornbread recipe.
This is another recipe for well-seasoned cast-iron skillets only. The lemon's acidity can strip the lightly seasoned newer frying pans. Otherwise, it's a great idea for dinner using your lovely cast iron.
For the fish, you'll need
4 6-ounce salmon fillets, skin on and pin bones removed
Kosher salt
2 tablespoons finely chopped flat-leaf parsley leaves
Juice of 1/2 lemon
2 tablespoons olive oil
2 tablespoons unsalted butter
For the sauce
2 tablespoons unsalted butter
1 shallot, minced
1 small garlic clove, minced
2/3 cup dry white wine
Zest of 1/2 lemon
Juice of 1 lemon
2 tablespoons capers, quickly rinsed and coarsely chopped
Freshly ground black pepper
Kosher salt, as needed
Get our easy salmon with lemon and capers recipe.
If your cast iron is used long enough to be considered a nonstick frying pan, then use it to make this great hangover food. Reminiscent of those scattered, covered, smothered, and chunked hash browns, people love to get at Waffle House at 2 a.m., this is a good idea to satisfy a craving.
2 1/2 pounds russet potatoes, washed and dried
4 tablespoons canola oil
1 medium yellow onion, finely chopped
1 teaspoon kosher salt
1/2 teaspoon sweet paprika
1/4 teaspoon granulated sugar
1/4 teaspoon onion powder
1/4 teaspoon garlic powder
1 cup shredded cheddar cheese
2 green onions, trimmed and sliced
Get our cheesy skillet potato cake recipe.
Mmm, cake — in a skillet. Use fall and winter fruit like pears and apples in season, or swap in stone fruit for summer, and make this cake that you invert. It's got brown sugar, cinnamon, and ripe fruit that caramelizes and softens until succulent.
2 sticks unsalted butter, room temperature
1 cup dark brown sugar, packed
1/3 cup finely chopped candied or crystallized ginger
2 pounds firm but ripe Bosc pears (about 4 medium pears, peeled, halved lengthwise, and cored)
2 cups all-purpose flour
1 teaspoon baking powder
1/2 teaspoon baking soda
1/2 teaspoon fine salt
1/2 teaspoon ground cinnamon
1/4 teaspoon ground ginger
3/4 cup granulated sugar
2 large eggs, room temperature
1 teaspoon vanilla extract
3/4 cup whole milk, room temperature
Get our skillet pear cake recipe.
This camping-friendly dessert tastes great made in any Dutch oven — but one made from naked cast iron (as opposed to enameled) is best if you're actually cooking over an open fire. You can also make it in a skillet, on the stove, or on the coals!
2 21-ounce cans cherry pie filling
2 1/3 cups Original Bisquick mix
1/2 cup milk
3 tablespoons granulated sugar
3 tablespoons melted unsalted butter, plus more for coating the Dutch oven
Get our campfire cherry cobbler recipe.
Cleaning your skillet isn't usually hard — it just needs some special care and attention if you want it to last.
It's a good idea not to clean it in the same dishwater as everything else, use salt and oil as cleaning agents, and rinse it with running water. Storing it with a paper towel might also help you prevent the skillet from rusting.
Now you can make anything from pizzas to pear cobblers on the stove!