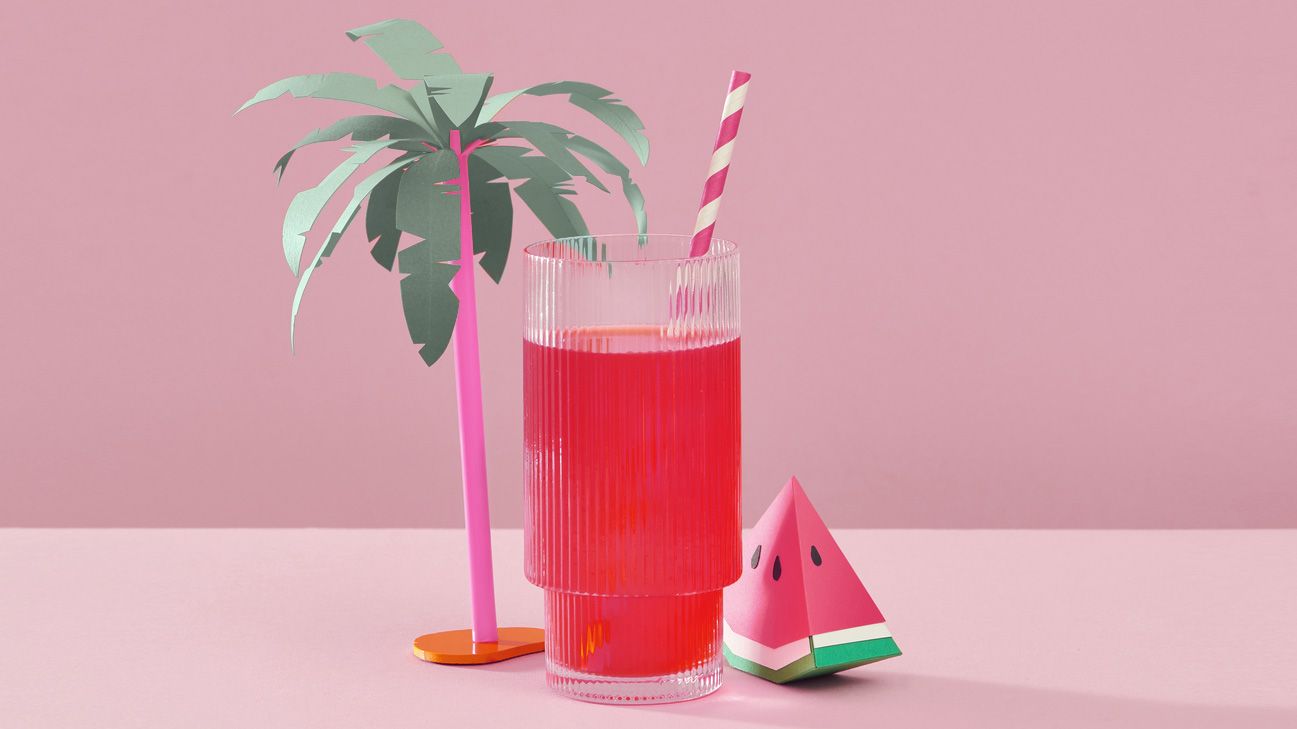 Watermelon happens to be one of the most hydrating fruits around (we're talking 92% water!). Eating it straight-up might even be enough to quench your thirst on a hot summer afternoon. But this juicy summer staple is also great in all kinds of watermelon cocktails, mocktails, smoothies, and slushies.
So check out these 10 watermelon drinks when you're feeling thirsty… and if you're not yet, you will be by the time you finish reading.
Haul out your dancin' shoes (and some Mason jars for sippin') — it's a summer hoedown! This refreshing, festively named drink mixes watermelon purée with sugar, cherry-pit-flavored maraschino liqueur, and beer. It may sound a bit unusual, but trust us, it's delicious.
Four ingredients are all it takes to whip up this easy, mega-hydrating smoothie that's perfect after working out in the heat. Just remember to pop some watermelon in the freezer before you head out for your run or cycle in 90-degree weather.
There are so many margarita variations out there, it can be hard to choose a favorite. But if you've got leftover watermelon looking for a good use, your cocktail hour decision is made: this tasty blended marg. It features jalapeños for an extra kick, but feel free to leave them out if you're not feeling spicy.
Soju — the Asian spirit distilled from grain or sweet potatoes — keeps a low flavor profile here, letting sweet watermelon (and spicy ginger liqueur) rise to the top. Serve at your next backyard Korean barbecue (or any time, really).
Need a reason to maintain your summer herb garden? Look no further. Fresh herbs in cocktails are almost always a great idea, but the pairing of resinous rosemary and sweet watermelon here is delightfully unexpected, to say the least.
Watermelon and lemonade are two great tastes of summer that are even better together. Combined with rum and fresh blackberries, this is destined to be a new favorite summer drink.
Fresh herbs make an appearance again, but this time it's spicy basil, used for its heady fragrance. This drink is otherwise pretty simple, but no less effective, with tequila, agave syrup, and lime juice along for the ride.
As for why it's called zapatos nuevos ("new shoes" in Spanish), we're not totally sure… but maybe because it'll have you feeling as good as a pair of new kicks.
Even though lime juice is an essential component of any mojito, don't think mojitos have to begin and end with citrus. Here, watermelon makes a splash in the classic drink, contrasting wonderfully with fresh mint, rum, and (yes) lime.
For the morning after your watermelon cocktails, you may need some extra hydration — not to mention electrolytes. This healthy smoothie fits the bill. Enjoy its nutritious smoothness any time (not just when you overdid it at happy hour).
Sure, this drink may have had its 15 minutes of fame a few years back, but that doesn't mean frosé is passé. We say it still deserves a moment in the sun (just not for too long, or it'll melt). A hint of peach Schnapps enhances this slushy mix of frozen watermelon, rosé wine, and lime juice.
With "water" right there in its name, it's no surprise watermelon makes the perfect base for all sorts of warm weather beverages. Make hydration a bit more fun with these juicy red recipes.