We include products we think are useful for our readers. If you buy through links on this page, we may earn a small commission. Here's our process.
Greatist only shows you brands and products that we stand behind.
Our team thoroughly researches and evaluates the recommendations we make on our site. To establish that the product manufacturers addressed safety and efficacy standards, we:
Evaluate ingredients and composition: Do they have the potential to cause harm?
Fact-check all health claims: Do they align with the current body of scientific evidence?
Assess the brand: Does it operate with integrity and adhere to industry best practices?
We do the research so you can find trusted products for your health and wellness.
If you were raised in the U.S. you'll recognize this scene: A warmly-lit house bustling with people of all ages, rich cooking smells wafting from the kitchen, gourds literally everywhere.
But those stereotypical Thanksgiving images aren't reality for many people. Whether you're away at school, living abroad, or just happier when you're a good distance away from your family, you don't need to feel pressure to celebrate Thanksgiving any one way.
And considering its deeply troubling history, not celebrating at all is also a reasonable choice. "It's OK not to like being alone. You don't have to pretend to love it to make the best of the situation that you have," says Aimee Daramus, Psy.D.
Since the shorter, cold days exacerbate low moods and can bring on Major Depressive Disorder with Seasonal Pattern (formally known as Seasonal Affective Disorder), taking care of yourself — in whatever form that looks like for you — should be top of mind. Here are some ideas to chew on.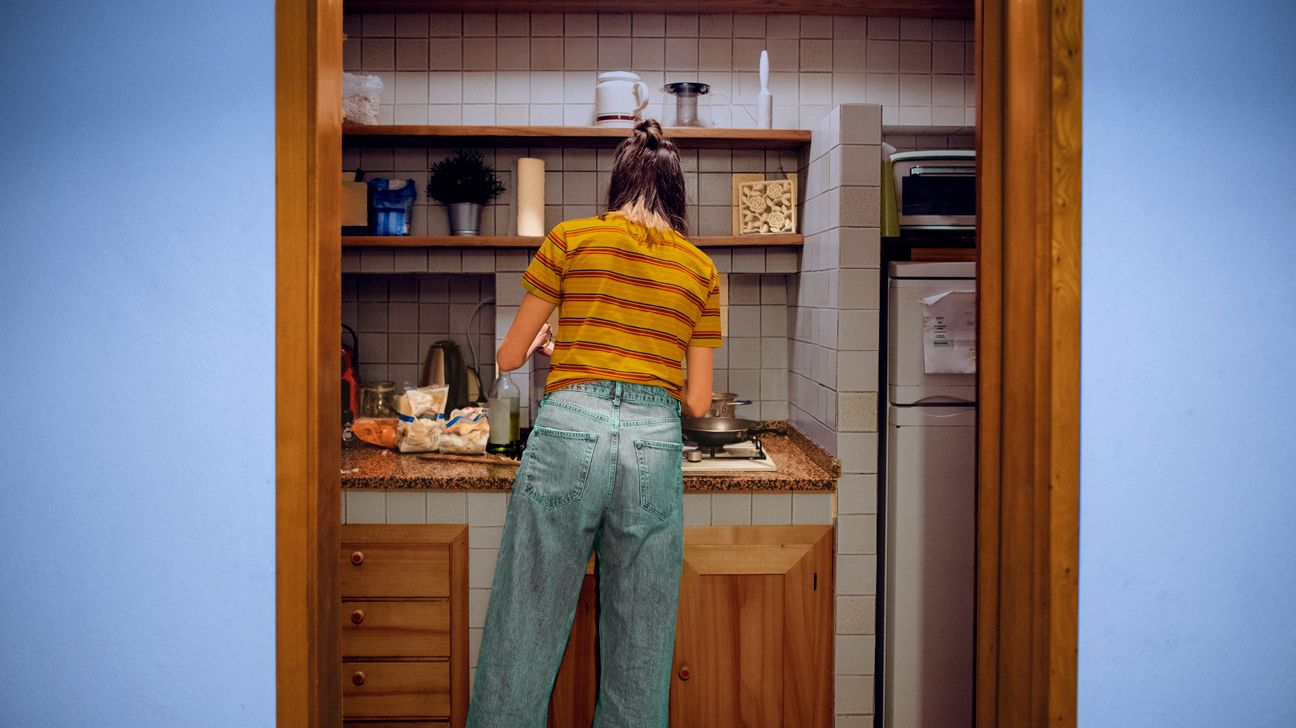 Being alone doesn't mean your day has to be uneventful. "There might be something you've always wanted to do differently about the holidays, but you never could because of your family's traditions. Imagine how you would do Thanksgiving your way, then actually do it," says Daramus.
Dive into a project
What have you always meant to learn or create, but never had time to try? Whether you finally master — or even attempt — a cross-stitch or replant your succulents into cute containers, there are so many soothing projects to spend your time on.
Projects to try your hand at
Do a jigsaw puzzle
There are few things as captivating and frustrating as a jigsaw puzzle. You can get lost for hours sliding pieces around a table, muttering cuss words under your breath.
There's even early research that suggests doing jigsaw puzzles regularly may benefit long-term cognition by engaging different areas of the brain.
Get lost in a good book
You know that incredible feeling of reading yourself into a different time and place? Or being so engrossed you let a whole afternoon go by without worrying about a thing? Immersing yourself in a book is a great way to enjoy your alone time.
Start a TV series
If you want to sit on your couch and devour an entire series instead of even glancing at the parade this Thanksgiving, do it. You're not on the clock, so there's no reason your brain needs to be working today.
When was the last time you had a chance to sit with yourself, free of any obligations or distractions?
"Taking stock of things that you feel grateful for will be helpful. Reflecting on happy memories, goals you would like to achieve, and how you can deal with difficult emotions can facilitate the process of self-growth and realization," says Anandhi Narasimhan, MD, a board-certified psychiatrist.
Journal
Journaling can serve many purposes. You can journal to practice gratitude, untangle your thoughts, organize your life, track your moods, and so much more. It's up to you to decide what you'd like to get out of it.
If being alone is tough for you right now, exploring where these feelings stem from can be a powerful way to process and make peace with your situation, especially if you live with a mental health disorder.
In one study, participants with major depressive disorder were instructed to journal about "their deepest thoughts and feelings surrounding an emotional event." After doing so for 20 minutes a day for 3 consecutive days, the majority of people reported decreased symptoms of depression.
Go outdoors
OK, we know it's November but think of this as a good excuse to bundle up in boots and a scarf. It'll be worth it, we promise.
According to research, getting fresh air seems to be a natural mood booster. A 2019 review of studies identified a trend of positive mental health benefits in people who spent time outdoors.
"Going for a walk or other physical activity can help move your body and make you feel rejuvenated, as well as having other positive effects on mental health," says Narasimhan.
Find your center with yoga
If the weather is too cold to go outside, set up a space by the window to practice yoga. While you may be turned off by its trendy, expensive legging reputation, practicing yoga is associated with a bunch of benefits for the mind and body, especially stress reduction.
There are many types of yoga, so feel free to experiment and find the one best suited for what you need.
Now's your chance to spend uninterrupted time pampering yourself. "Take the day to relax and do something you've been wanting to do but are too busy," says Daramus. "What's your dream weekend? That thing you've been promising yourself for months?"
It doesn't have to be pricy or over the top. All you need is something you want to do for no other reason than it will make you happy.
Splurge on some nice takeout food
Having a meal prepared for you is one of life's tiny joys. And just because it's a holiday, doesn't mean you need to feel pressured to make a home-cooked meal. Treat yourself to a dish from your favorite takeout spot and settle in for a delicious feast.
Buy something nice for yourself
If you're the fiscally responsible sort, this might be the perfect thing for you. Maybe it's a set of luxurious linen sheets or something as simple as a bouquet of flowers, but giving yourself a thank you gift is not only acceptable, it's a totally normal and healthy way to spark joy.
Throw yourself an at-home spa day
OK, this one is going to take a little forethought but you won't be disappointed. After all, when was the last time you had a foot bath? Or treated your skin to a bull body exfoliation?
Need some guidance? Follow our 11-step guide for how to pull off an at-home spa day fit for a queen.
If you can't seem to move past a sense of loneliness, or your negative feelings dominate everything you do, it may be a sign of a more persistent mental health issue. If many of the following symptoms look familiar, Narasimhan recommends seeking help:
a persistently low mood that never seems to rebound
sleeping too much or too little
feelings of guilt
trouble concentrating
thoughts of wanting to hurt yourself or others
If contacting a professional sounds daunting, reach out to a trusted friend or family member for support. Also consider making an appointment with your primary care provider. They may be able to provide a preliminary examination, prescribe medicine, and help you find a therapist.
If you can't afford therapy, look through this extensive list of free mental health resources.
Remember, Thanksgiving only holds as much importance as you give it. Before you know it, Friday will come, people will be fighting over sales, and the holiday will all but be forgotten.