When your days are packed with meetings, appointments, errands, and social time, sometimes the only chance to eat is when you're on the go. This is why we're big fans of portable snacks and meals.
We went on a mission to find as many recipes as possible that we could eat with our hands — no utensils required. After all, pretty as that mason jar salad may be, we've forgotten to pack a fork a few too many times (oops).
These dishes reimagine favorites into breads, pies, and even muffins — just bring a napkin if you still want to look somewhat civil when eating with your hands.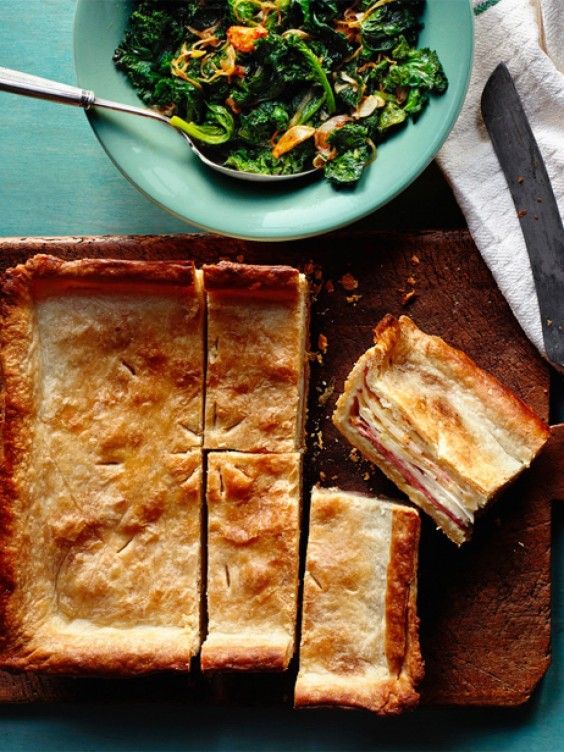 Grabbing a fast breakfast is easy enough, but it's usually a sugary muffin or croissant that can lead to a growling stomach in just a few hours.
Not so with this delectable recipe. Filled with caramelized onions, Swiss cheese, and ham, this tasty pie is sure to satisfy. Don't forget to add thyme for a fresh burst of flavor.
For days when you're on your feet nonstop, soup isn't exactly the best choice. Who can spoon pasta e fagioli into their mouth while walking? (Not us.) This recipe wraps up a classic in some pastry to make it handheld.
Filled with mushrooms and broccoli, these savory pies offer a dose of fiber that makes them super filling. A little cheese takes these over the top. You'll want a napkin handy.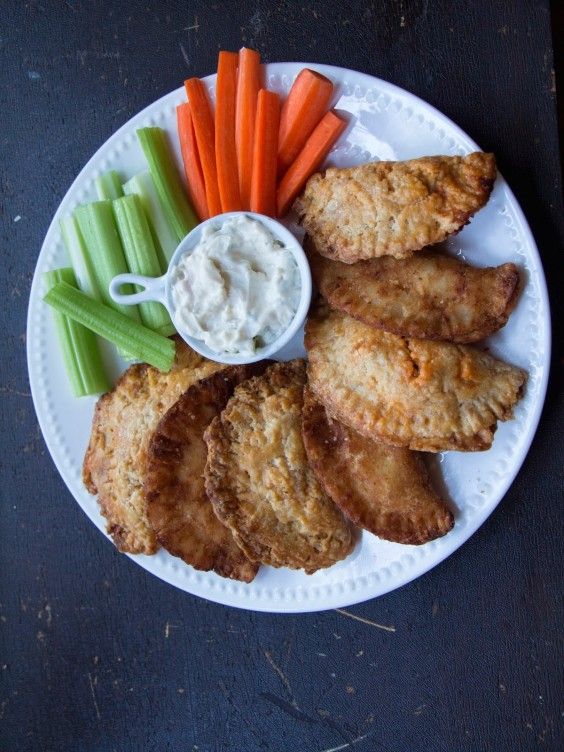 There's nothing more delicious than a pile of chicken wings. There's also nothing messier. These little pies wrap up all that tangy, spicy flavor into a portable package.
We realize that cooking bone-in chicken thighs might take a little more time, but it's worth it. This way, the meat stays extra moist.
You can also use any leftover chicken you have for faster cooking. Though the recipe calls for frying, baking works just as well, takes a lot less effort, and means less greasy hands.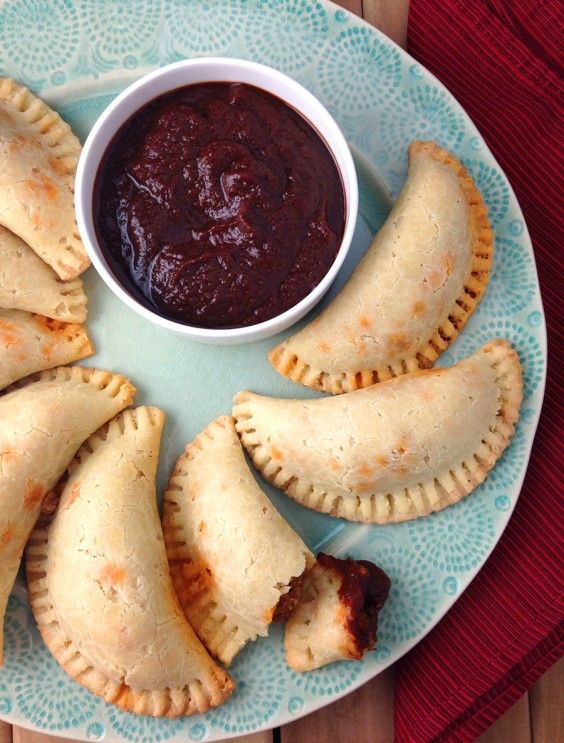 Most recipes for pies leave those on a Paleo or gluten-free diet in the dust. Not these flaky beauties. The crust comes together in just a few minutes from a mixture of almond flour, arrowroot flour, coconut oil, and eggs.
A hearty beef filling means these pies will be packed with plenty of protein and iron. It doesn't hurt that they're delicious either.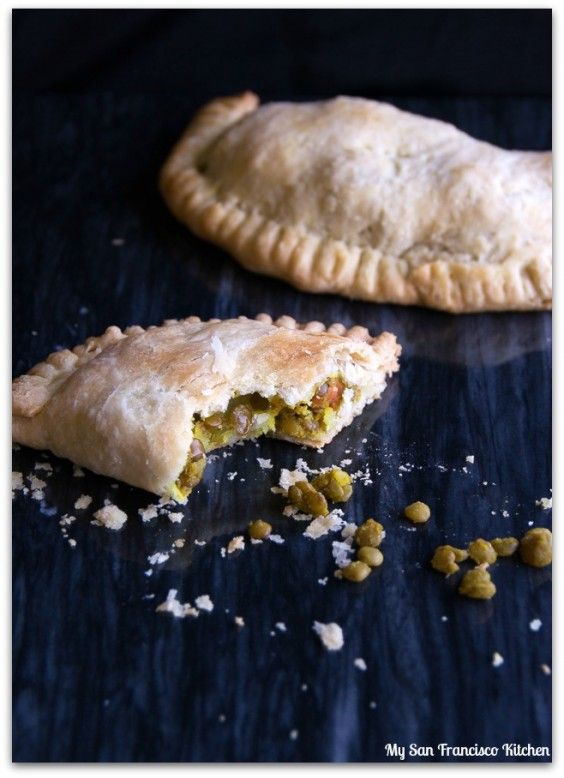 For a vegetarian take on hand pies, try this spiced lentil version — be sure to use vegetable broth instead of chicken. You'll basically feel like you're a customer at your favorite Indian restaurant.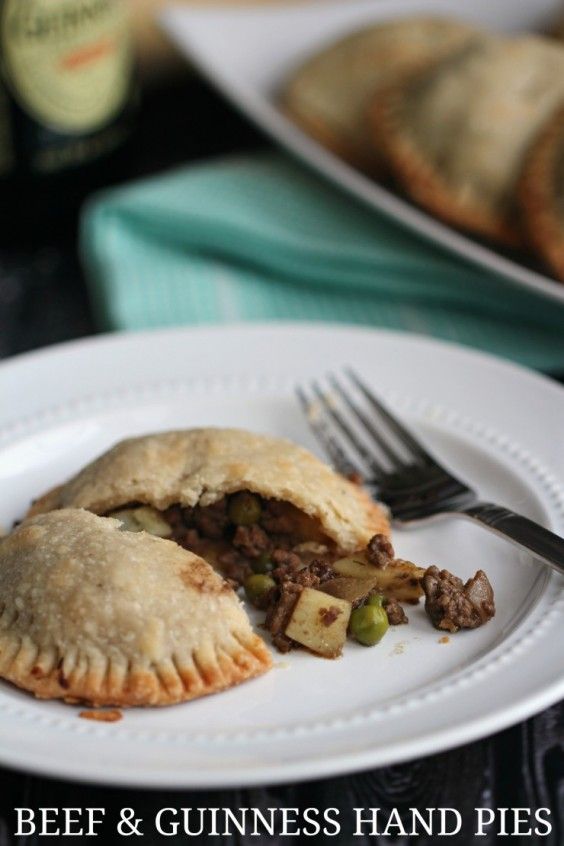 On cold days or days when the AC is cranked a little too high, this meaty meal delivers immediate happiness. A hearty stew gets the to-go treatment when it's packaged in some puff pastry.
This recipe requires patience, so it's an ideal project for a lazy Sunday afternoon. It's also the perfect opportunity to find something else to do with the rest of that beer… if you're not finishing it off at happy hour.
Think again if you believe all morning rolls have to be smothered in cinnamon sugar or frosting — not that we're complaining if they are.
This simple, three-ingredient recipe offers a savory breakfast alternative with ham and mozzarella cheese. Breakfast shouldn't get to have all the fun — these are perfect any time of day.
Any barbecue lover knows a good sandwich practically requires a beach towel to stay clean, so these calzones are a complete lifesaver for busy days when grazing (and getting messy) simply won't do.
Just toss some cooked chicken with a mix of cheese, barbecue sauce, and caramelized onions for a flavorful filling. No time to make the dough? Stop by a pizza place on the way home and pick up some of theirs.
French toast sticks from a drive-thru aren't the only way to make that breakfast favorite portable. This recipe wraps cooked bacon with a slice of bread before dunking in an egg and milk batter.
A couple of minutes in a sauté pan are all these rolls need before they're ready to jet out the door. Breakfast just got a lot more fun.
When a busy day means hitting the road extra early, breakfast is all but forgotten. These savory calzones are a perfect solution.
Why stick to just breakfast? They work just as well in the morning as they do in the evening. They're packed with eggs and sausage, so just one is sure to keep hunger at bay for hours.
The call of Mexican food from a drive-thru is pretty hard to resist, especially when you have a packed schedule and little time to eat. It can be loaded with all kinds of junk though.
For a satisfying meal with the same flair, these portable taco pockets offer plenty of protein without the scary ingredients. Just don't forget the guac.
Pizza might seem like a good on-the-go meal, but skipping a plate and napkins usually means ending up with sauce stains on your clothes.
These quick rollups offer all the taste of a slice of pie minus the greasy mess. Pepperoni is classic, but you can up the nutritional value by adding in some bell peppers, mushrooms, or broccoli.
When a busy day demands your full attention, this no-yeast bread recipe is definitely in order. It contains the perfect combination of aromatic herbs and salty cheese.
It's also a cinch to prepare. In just 10 minutes you can have a savory batter ready for baking. Your whole house is about to smell like heaven.
When a tough day means arriving home too late to cook, a stash of this bread makes the perfect last-minute meal. Think of it as the best way to marry your favorite Italian flavors: garlic, basil, and sun-dried tomatoes.
It's portable enough for noshing on the train, while running the streets, or immediately after stepping through the door.
It seems like banana and pumpkin always win the quick bread popularity contest, which is a real shame. We think savory versions deserve some time in the spotlight, and this bacon and cheese one is a great place to start.
Just mix up the dry ingredients, add in the wet, then pour it all into a loaf pan. It'll take close to an hour to bake, so feel free to catch up on your fave Netflix series while the house fills with amazing aromas.
Zucchini bread usually tastes like banana bread minus the banana: sweet and moist — and also kind of forgettable.
To mix things up, try a savory squash version spiked with black pepper and herbs. One bite of this bread will convince you that summer squash shouldn't be underestimated.
Crazy schedules usually mean the only way to enjoy seafood is fried in oil and dipped in ketchup (you know, like fish sticks).
These patties offer a delicious and way more nutritious alternative for those busy days. They also make it so you don't end up smelling like a deep fryer after enjoying lunch!
Making risotto is definitely a time commitment. Cooking the creamy treat ahead of time and turning it into patties makes it into a handheld lunch or dinner for busy weekdays.
Simply form the risotto into cakes and coat with seasoned breadcrumbs, then cook until golden brown. Top with Parmesan cheese and a squeeze of lemon juice for added freshness. Who says brown bagging is boring?
When unpredictable schedules mean arriving home at 10 p.m., recipes like these falafel patties are a lifesaver. They're great as a topper for a salad or sandwich, but just as good eaten right out of your hand on the way to work.
Loaded with ingredients like kale, broccoli, farro, and lentils, they're just about as healthy as it gets. We recommend dipping these bad boys in homemade hummus or Greek yogurt.
A buttery baked potato is pure comfort food that always tastes great. This dish captures the same flavors but transforms the knife-and-fork classic into a portable meal.
Swapping regular spuds for sweet potatoes adds even more flavor and boosts the fiber content. Save extras for easy meals all week and consider topping with spicy mayo for a creamy kick.
Morph quinoa and broccoli into a fork-free meal with these cakes. Simply combine cooked quinoa with steamed broccoli, sautéed onions, breadcrumbs, cheese, and an egg.
Form the mixture into patties and fry them up for a few minutes. These little delights will make running from place to place a breeze.
Take kale out of the salad bowl and introduce it to your muffin tin to turn this powerful green into a travel-friendly meal.
All of those antioxidants and vitamins make these a super smart choice for busy days. Bonus: No need to massage the leaves.
For a really fun way to transform breakfast, these egg cups are the winners. They're also about as simple as it gets.
Simply line a muffin tin with ham (smoked turkey is also delicious), fill each cup with an egg, and toss them in the oven. With two ingredients, plus whatever you want to add, we're in love!
Eating lasagna without silverware sounds like a recipe for disaster unless it's made in a muffin tin. These adorable minimeals make the Italian classic practical for any weekday.
Layering the meat sauce and ricotta cheese might be a bit of a project, but it goes really fast if you blast some tunes while you work.
It's easy to make oatmeal in a snap, but trying to eat it on your commute is a challenge no one needs first thing in the morning.
These filling cups turn the creamy porridge into a transportable breakfast that's just as tasty warm or cold. Any of your favorite oatmeal toppings can go right into the mix.
Turn Caprese salad into a mobile meal with these clever muffins. Line each muffin cup with the dough, then fill with mozzarella cheese, pizza sauce, tomato, and basil. Bake for 12 to 15 minutes and enjoy pizza on the go.
These muffins add a healthier twist to the cheesy favorite. It features whole-wheat pasta instead of white and nutrient-rich spinach, which adds in some extra protein, iron, and plenty of vitamins and minerals.
Plus, they're a time saver. The muffins cook for 10 to 15 minutes, which gives just enough time to sneak in a few sun salutations or a quick shower before heading out the door.
Let's be honest: Muffins are usually just an excuse to eat cake for breakfast. We're all for a treat now and again, but there are other options that won't leave you hangry after a few hours.
These baked goodies take a savory turn with spinach and black pepper. New to amaranth? It's a seed (not a grain) that's filled with protein, calcium, and iron. Eat up!
Mom might have made meatloaf back in the day, but it definitely wasn't as adorable as these miniature versions.
Turkey amps up the protein, while zucchini in the mix keeps the muffins moist. Swapping out traditional breadcrumbs for oats means these minimeals will have even more staying power. Skip the ketchup for less mess.
If you're anything like us, mornings are no time to mess around. When that alarm goes off, it's all about efficiency and ease, which is why these portables are so darn perfect.
For even more convenience and fun, maybe next time we'll figure out how to get these recipes on a stick. Until then, grab one of these hassle-free meals on-the-go and get out the door, so you can crush the day ahead.