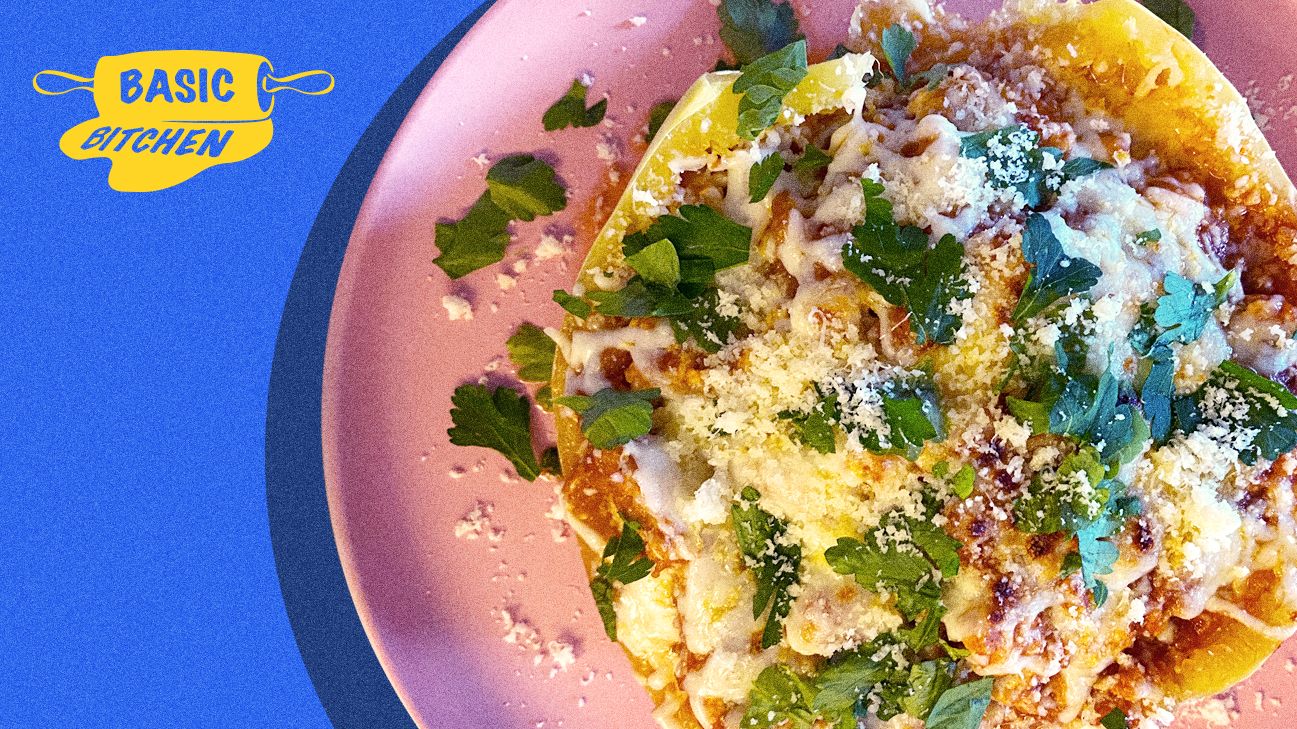 We include products we think are useful for our readers. If you buy through links on this page, we may earn a small commission. Here's our process.
Greatist only shows you brands and products that we stand behind.
Our team thoroughly researches and evaluates the recommendations we make on our site. To establish that the product manufacturers addressed safety and efficacy standards, we:
Evaluate ingredients and composition: Do they have the potential to cause harm?
Fact-check all health claims: Do they align with the current body of scientific evidence?
Assess the brand: Does it operate with integrity and adhere to industry best practices?
We do the research so you can find trusted products for your health and wellness.
I grew up with a great-grandmother named Vincenza Albanese, so you can imagine just how much of an Italian influence there was on my childhood. Unshockingly, pasta was a dinnertime staple and star, cooked and presented to saucy perfection in the form of lasagna, Bolognese, alla vodka, or "everything but the kitchen sink."
It is, inarguably, one of the world's most perfect foods — versatile, filling, and comforting, with a wonderful mouthfeel (if cooked al dente, of course) — which is why I continue to make it weekly in honor of my upbringing.
But since I'm genetically predisposed to house an entire box of noodles in one sitting, it made sense for me to search for pasta alternatives as part of my never-ending quest to be a tad bit healthier.
And while this decision has most certainly caused my dear great-grandmother to roll in her grave, I've found quite a few options, both store-bought and homemade, that really deliver on taste, texture, and nutrition. Check out my favorites below.
These keto-friendly faves go by many names — including shirataki, miracle, zero, and konjac. While they can be a bit smelly, after a good rinse and a quick toss in some olive oil, shirataki noodles they're an ideal vessel for your go-to homemade sauces.
Zero Plus spaghetti is a personal favorite — the noodles remain fresh in a liquid pouch, have an extended shelf life, and provide a wonderful crunch that mimics perfectly boiled pasta.
But there are plenty of similar brands, like Miracle Noodle and It's Skinny, that do the job just as well. Be sure to check out House Foods, which offers a diverse array of tofu and shirataki blends in the most popular noodle varieties.
Shirataki noodles are super easy to prepare which makes them perfect for those lazy, last-minute dinners.
Pasta in a can?! Blasphemous! But don't worry — this is nothing like Chef Boyardee. Hearts of palm get the noodle treatment with Palmini, one of my favorite low carb options that tastes slightly nutty and almost artichoke-like. It's a fantastic complement to cream- and lemon-based sauces, especially if toasted pine nuts are involved (which they absolutely should be, because #duh).
The "Shark Tank" success story also features an impressive line beyond linguine, including angel hair, lasagna, and even rice that all deliver on the promise of delicious low carb sustenance.
Jovial's cassava noodles may not be low carb, but they're grain-free and a great pasta substitute for those who are eating Paleo or gluten-free.
While these have a tendency to feel a bit heavier and gummier than the average noodle, a lot of this has to do with overcooking. Simply keep a close eye on that pot of boiling water and taste-test frequently throughout. I've found that removing the noodles a minute before the recommended cooking time is always a safe bet, as the pasta will continue to soften as it cools.
Be sure to also check out the company's other unique products, including an egg tagliatelle and brown rice elbow pasta.
Chickpea and black bean noodles are all the rage, packing high protein and fiber content into each and every bite. Banza is by far the most popular brand, and rightfully so, with a line dedicated entirely to macaroni and cheese that will send Kraft connoisseurs into a tizzy.
Chickpea noodles are the most nutty from this bunch, so pair them with cheese sauces or pestos to accentuate their natural flavor.
Much like bean noodles, lentil noodles tout an impressive amount of protein and fiber. Good ol' Barilla was one of the first to get on the red lentil train with penne and rotini that will make an arrabbiata shine (or at least become more red).
These definitely taste a bit sweeter than the average noodle, but that's nothing a bit of salt and pepper can't fix.
Almonds are the ultimate superfood, so it's no surprise that Cappello's capitalized on this trend to create almond flour-based noodles, pizza crusts, and even cookie dough. The nuttiness is absolutely present but way more mild than you might expect, making this an excellent base for whatever sauce or proteins you have in mind.
And frankly, on a Thursday night when you've run out of inspiration in the kitchen and simply don't feel like thinking, this is the most accommodating frozen box to have on hand.
Creativity knows no bounds when it comes to spiralizing vegetables to form noodles. Zucchini noodles (aka zoodles) certainly get the most fanfare, but you can use anything starchy, from sweet potatoes, butternut squash, and carrots to more bold options like broccoli, beets, and onions.
While many grocery stores are starting to offer pre-packaged spiralized veggies, I'm a fan of this easy-to-use appliance that has five interchangeable blades for different ribbon sizes. Parents, this is also maybe the easiest way to sneak veggies into your kids' diets.
Depending on your vegetable of choice, this swap tends to be much lower in carbs than traditional pasta, and much higher in natural fiber, vitamins and minerals.
You've probably tried it, you've probably loved it, and all for good reason. Spaghetti squash is as delicious as it is easy to prepare (plus, it's packed with vitamins and has about 20% of the carbs you'd get from a basic bowl of pasta).
The traditional prep involves baking the squash and then using a fork to scrape out the insides which naturally form spaghetti-like noodles. But have you ever made a spaghetti squash boat? One word: life-changing. Here's a quick recipe you can easily customize to your preferences.
Ingredients
1 medium spaghetti squash
1 teaspoon olive oil
1/2 pound ground meat (turkey, chicken, beef, sausage — whatever you're craving!)
2 cups tomato sauce
Salt and pepper
1/2 cup shredded mozzarella cheese
Chopped parsley and grated Parmesan cheese for garnish
Instructions
Preheat oven to 375°F (190°C).
Slice spaghetti squash in half, remove seeds, and place squash flesh-side down in a baking dish. Pour about 1/2 inch of hot water into the dish.
Bake for about 45 minutes, or until squash is tender.
Using a fork, scrape out squash flesh and set "boats" aside.
In a large pan, heat oil over medium-high heat and add ground meat. Cook for 5 to 7 minutes, until cooked through, breaking up meat in the process.
Add sauce and spaghetti squash to the pan and season with salt and pepper. Stir and allow the excess water from the squash to evaporate for a few minutes.
Preheat the broiler. Divide squash mixture between the reserved boats. Top with mozzarella and return to baking dish, flesh-side up and with any remaining water removed.
Broil for about 3 minutes, or until cheese is bubbling and browned.
Sprinkle with parsley and Parmesan before serving.